Texts were not created originally for making a video, but the use of text in video is now one of the factors that determines the success of a video. The text overlays engage the audience and make the video more implicit to know. Nowadays, more and more people are inclined to use a text template in the process of creating video content for convenience. However, without the right tool, editing the video texts cannot be so easy.
Fortunately, there are many text video makers in the market that can make the job easier. In this post, I'll share with you the top 12 best video text editors, some of them are free and have no watermark, while some compile interesting moving texts and text templates but you need to buy the subscriptions at the very beginning. Now, here goes!
[2022] 6 Best Video Text Editors on Computer in 2022
In this part, you'll learn the top 6 best tools to make a texting video. Comparatively, users can edit multiple videos with texts more easily and efficiently on a PC text video maker than the mobile or online solutions. Therefore, if you want to add more complicated and versatile texts to video, the following 6 PC video text editors are worthy of a try.
Top 1. TunesKit AceMovi Video Text Editor (Windows, Mac)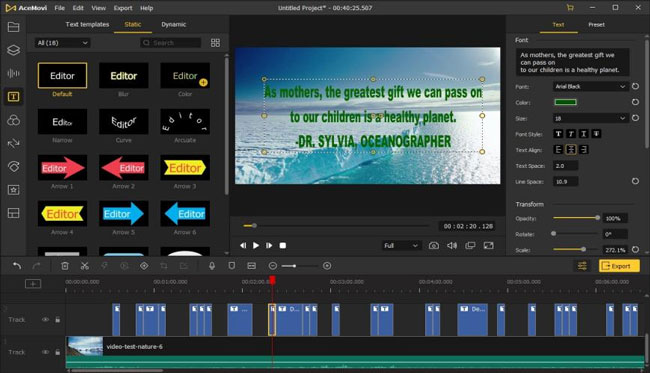 If you want to add hundreds of texts to a video, TunesKit AceMovi Video Editor can be of great help. As a fully-featured text video editing software, AceMovi provides users with the easiest process of making a video. You can import any format of clip by the tech of drag-&-drop and the formats supported include .mp4, .avi, .wmv, .mov, .mkv, .mpg, .4k video, .gif, .mp3g-2, .mpeg-1, etc.
Speaking of the Titler of AceMovi, 200+ free text templates, static, and dynamic text styles are available. This tool can change the text font into 100+ different styles like Arial and Bahnschrift. Besides, whether the text color, size, alpha, opacity, scale, position, or any other properties, all can be preset with AceMovi.
As one of the best text editors on video, AceMovi now released both the trial version and the full version. In the video editing workflow like adding text templates, chopping video clips, cropping video size, or making a video with SlowMo effect, etc., all are free to try. However, to become a VIP and enjoy the watermark-free service, you need to get a license.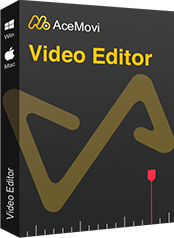 AceMovi Video Editor
Security Verified. 7,655,352 people have downloaded it.
Reasons to Try:

Hundreds of text templates
Add text anywhere on the screen: Top text, bottom text, middle text, etc.
No purchase-ins
Cheap VIP license ($19.95/M, $39.95/Y, $59.95/P)
Comes with Screen/Webcam Recorder
Various background music and sound effects
A user-friendly meme generator in video
Unlimited tracks
Downsides:

Stay tuned for the AI text-to-speech tech
Top 2. OpenShot Video Text Editor (Linux, Mac, & Windows)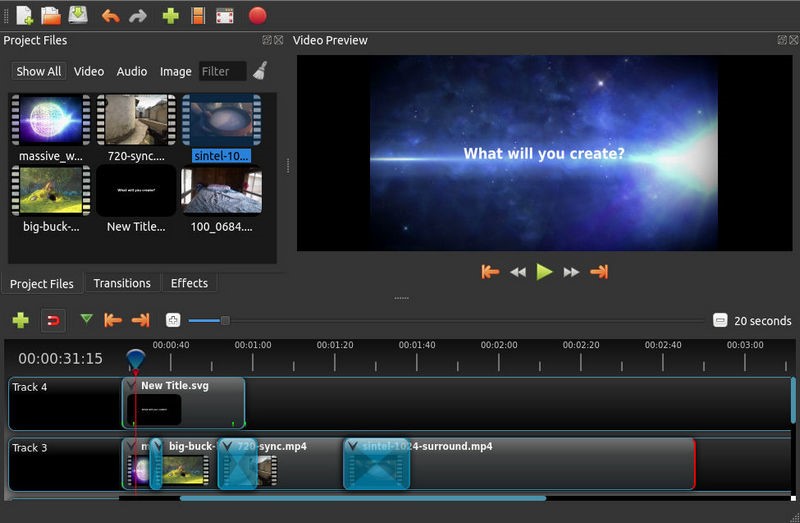 OpenShot is an open-source and watermark-free video editor with which you'll find the text editing work becomes easier and more convenient. To add text overlay with OpenShot, Use the menu Title (set in the main toolbar) to launch the built-in video Titler or use the shortcut Ctrl+T. You need to add the text in a new track with OpenShot.
Pros:

Supports 3D animated texts like flying text and lens flayers
Open-source & watermark-free
Infinite tracks
Clean UI
Many transitions & filters
Multi-lingual
Cons:

Short in editing features
Low performance in making high-quality videos
Top 3. AVS Text Video Maker (Windows, Mac)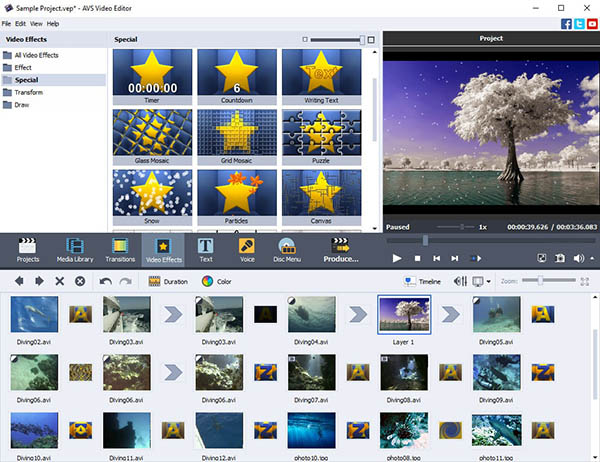 If you want to make a texting video with slideshows, AVS is one of the best options because this text video maker designs with a set of text genres including font, color, duration, opacity, size, and more.
When it comes to the text effects on AVS video editor, you're free to apply the Timer, Countdown, Warning Text, and many more funny text effects and features. To be detailed, if you'd like to make a video with the text-missing effect, you can achieve this by going to Menu > Edit > Special, and choosing your wanted text-missing style from the text plate.
Pros:

Simple to use
Loads of text effects
Efficient title editor
All popular video and audio formats
Color correct and audio adjust
Cons:

Lack of advanced tools like split-screen or Chroma Key
Not many online tutorials provided
Top 4. Blender Text Video Maker (Windows, Mac)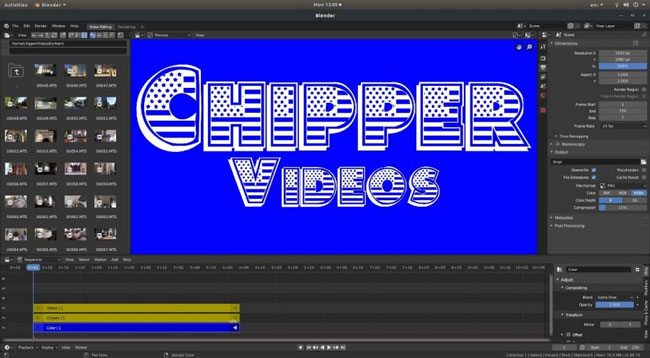 Is Blender text video editor free to use? In fact, Blender is an open-source 3D creation suite for all higher levels. It makes the entirety of the 3D pipeline available like 3D animations, 2D animations, modeling, simulations, rendering, sculpting, compositing, motion-tracking, rigging, as well as video-editing.
By default, Blender is a 360° video editor, so you may need to press Shift+A in the first viewport and go to Text. There are loads of text templates with ready-made moving texts, funny cartoon texts, and the 3D animated text is not an exception.
Pros:

Full of 3D text genres
More text presets
32 slots for video/images/audio/scenes/masks apply
Preview the text effect in real-time
Chroma Vectorscope
No-watermark
Cons:

Steep learning curve
Sometime buggy
Top 5. Shotcut Text Video Maker (FreeBSD, Linux, Mac, Windows)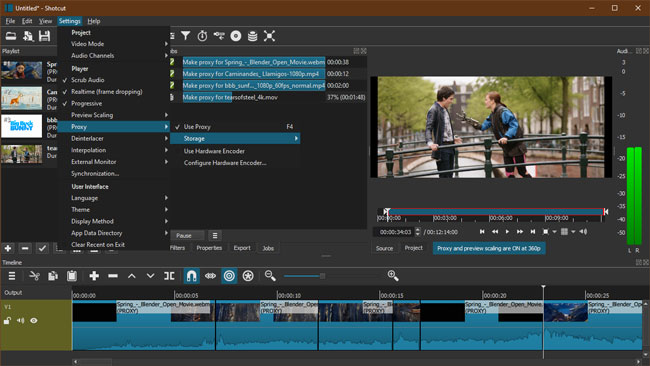 As a free, cross-platform, and open-source text video maker on nearly all computer devices, Shotcut is applied with an intuitive interface where you can go to the playlist with thumbnail view, history check, panel encode, etc.
You may wonder how to add text in ShotCut Video Editor. To do this, you need to find the taps Filters > Plus > Text. The timestamp will pop up later, you're allowed to make text presets as want like font, size, position, and color.
Pros:

No watermark exports
GPU for even 4K/8K videos
Slow-motion, color grading, motion crop, etc.
Split screen, Chroma Keying, PiP, Speed Ramp, etc.
Motion-tracking technology
Cons:

No stock music
Limited transitions
Top 6. VSDC Video Text Editor (Windows)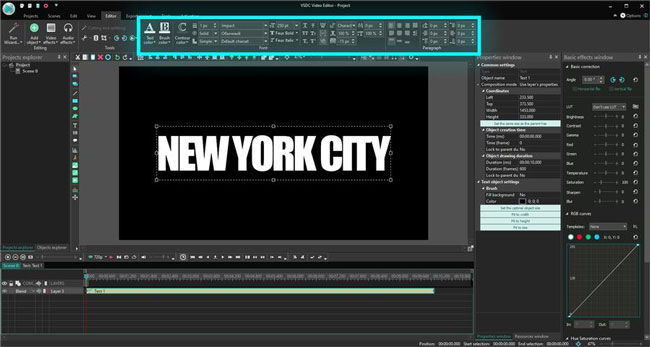 As a quite powerful and technical text video editing software, VSDC is accessible to make advanced and higher-level edits. This video editor is more fit for skilled video makers because you'll find a vast selection of presets and buttons. To be tailed, if you want to make a good texting video with VSDC, you need to make it clear about the settings of color, position, font, WordArt, effect, and so on.
Pros:

Bunches of video texts to choose from
3D video editing
Add animated chart
New project for video recording and slideshow making
AI masking
Watermark-free
Cons:

Steep learning curve
3 Best Online Video Text Editors for Beginners to Add Text to Video
Without any downloads of software and applications, online text editors become more and more popular among us content creators. However, you'd better prepare a high-quality internet environment in advance to avoid some unexpected problems during the editing. Keep reading!
Top 1. Kapwing Online Text Editor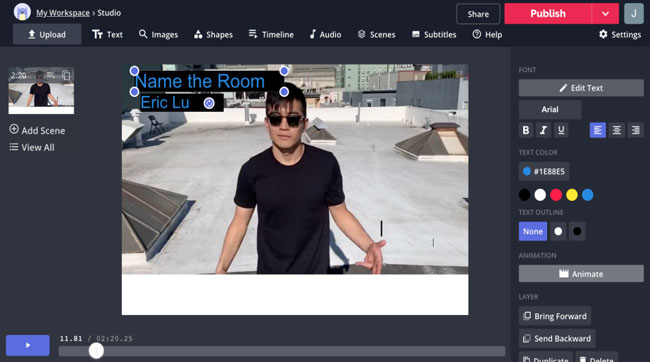 As one of the best editors to add text to video free online, Kapwing has attracted millions of Vlog, Short-Moments, and Film editors in the world. Kapwing supports the importing channel of URL and you can choose from hundreds of online text effects including moving texts, missing texts, WordArt texts.
However, some are only available for the premium account. And you can download your new-made video with this text editor at 480p max. As a result, if you want to export at high quality or animate that text, go to buy the premium version of Kapwing.
Pros:

A great many text video templates in online stock
Options to change the color, font, size, layer, etc.
URL to import and export so you can edit YouTube or other videos here directly
Easy-to-learn interface
Cons:

Free to use at 480p max
Purchase-ins may annoy you
Top 2. FlexClip Online Text Editor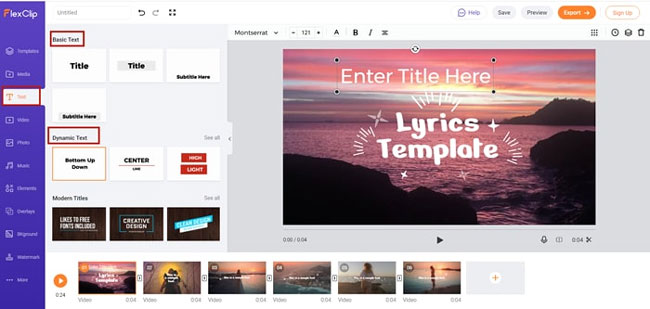 Want to add moving texts to video clips? Don't miss FlexClip online text editor. It's a free & easy-to-use online tool yet with 720p export max. Basic texts, dynamic texts, modern texts, and many more text types are provided by this editor online. Besides, you can make more edits like slideshow, Layering, PiP, Overlays, and Transitions.
Pros:

A set of moving texts to pick up
Online-based & free
Various music resources in stock
Quick update speed
Many video templates
Cons:

Free at 720p export max
Unstable internet going
Top 3. Typito Online Text Editor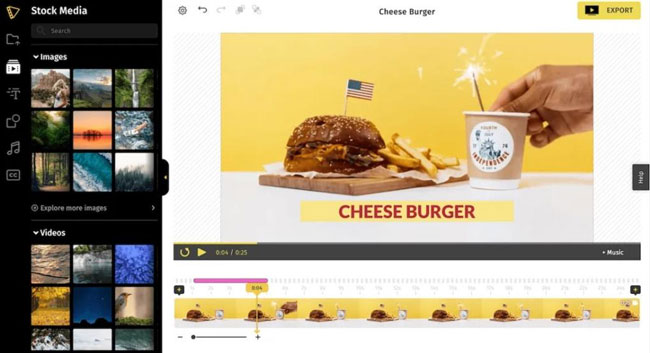 Through practical testing of online video editors, I found that Typito is more stable and easier to carry on. But you'll see a watermark when exporting your video clip. Speaking of the text templates inbuilt, you can add moving text to video with ease. To do this, you need to move the playhead under the timeline point and go to the Text panel to choose a text style. Then make some edits in the color, font, size, and opacity.
Pros:

500+ stunning free text templates
20+ formats and aspect ratios like 1:1 and 9:16
Easy drag-n-drop online editor
Brand Kit to help you choose brand colors, fonts, and styles
Instant caption
Cons:

No free version
Lags sometimes
3 Best Apps to Add Text to Video in Mobile 2022
Want to find the best text video editor app on your mobile phone? Just move on. Here you'll learn basic tutorials on adding text to video by some recommended apps as well.
Top 1. TikTok Text-to-Video Maker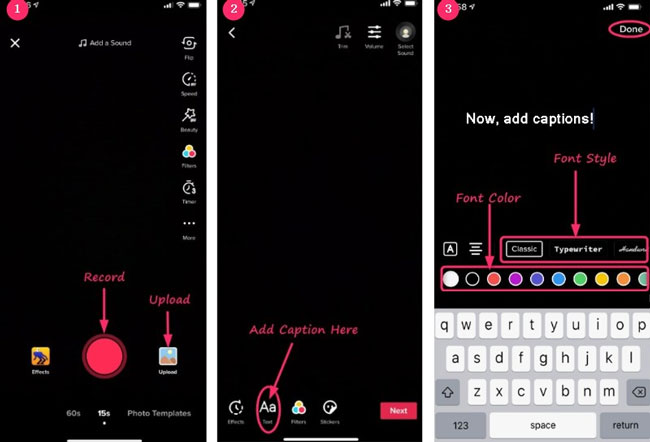 If you're a short video lover, you must be very familiar with TikTok. In fact, apart from surfing and sharing videos, you can also make edits with the TikTok app such as trimming, splitting, cropping, reversing, etc.
So how to make a TikTok video with pictures and text? First, you can record a video by the phone camera or upload wanted photos from local files. Next, go to the Aa icon to add text. Here you're free to use all of the font styles and colors. Lastly, reposition the text on the interface to match your video before uploading.
Pros:

Full of funny, interesting, and animated text styles
Clutter-free interface design to help you make edits easily
Share your uploading with friends
Popular music and audio effects to set as your video background
Cons:

When you share or download others' videos, you'll find a TikTok watermark
Top 2. InShot Text-to-Video Maker App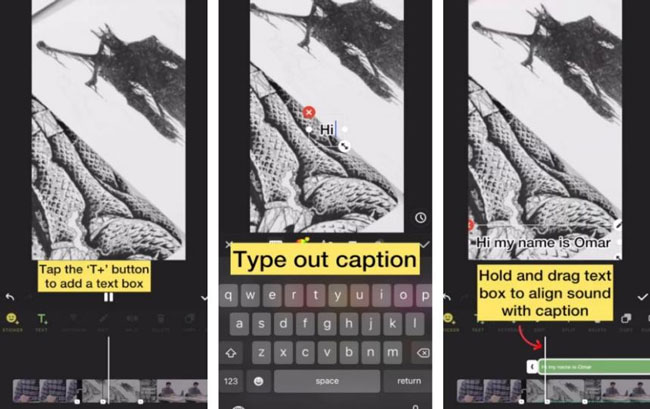 If you want to use a streamlined text video maker app, better consider the InShot Video Editor for both iOS and Android. After importing the designated clip to this editor, just tap the T+ to add a text box, here you can choose a text type free. Then fill in the box with your content. Lastly, you need to hold, drag, and drop the text box to align sound with captions. Once done, click the √ to upload or share your works.
Pros:

Streamlined text video editor app
Downloaded on both iPhone and Android devices
Unlimited new tracks to add
Customize the text/caption on the interface directly
A load of music resources
Cons:

Watermark left with when sharing or downloading
Top 3. VN Text-to-Video Maker App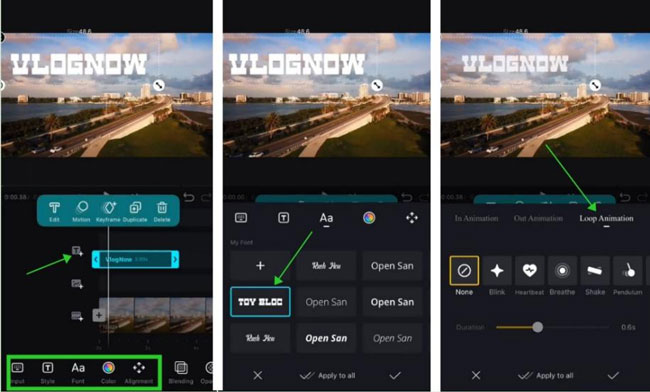 I just showed you the TikTok and InShot apps to add text in a video, but you'llfind both of the two apps come with their branding watermark. How to fix this up? Here is a solution if you want to edit video without any watermark - the VN video editor app. It's a streamlined tool with a clean interface yet not a video watching platform.
So how to add text in VN? All you need to do is click the T+ track and navigate to input content, choose the text style, change text font and color, as well as make alignments. Amazingly, you'll more text effects within this app like Blink and Breath.
Pros:

Watermark-free text video maker app
Full of text effects including moving texts
You can download text font online and then import it into this tool
Easy to begin with a new project
Cons:

Not a video watching platform
Common black screen
Final Verdict
Whether you want to edit a video with text effects or text templates, there must be a proper video text editor for you. For convenience, the online tools could be better, but if you are planning to edit batch videos and apply advanced text effects, I'm suggesting you do the workflow on your computer.