Animated text generation or kinetic typography is a letter beautification or enhancement process which produces moving text, with .jpg, .gif, .mp4, or other file-saving formats. To be detailed, text animations are intended to highlight the meaning of the text, whose elements move, expand, shrink, or change into a distinct morph. In the market text animation generator are widely spread including 2D text editors, 3D text makers, and text-logo creators. We're about to walk you through the 7 top-rated animated text generators with product details and characteristics. By the way, it is no need to worry about the file type, as multiple formats are supported by those tools to precisely meet your needs.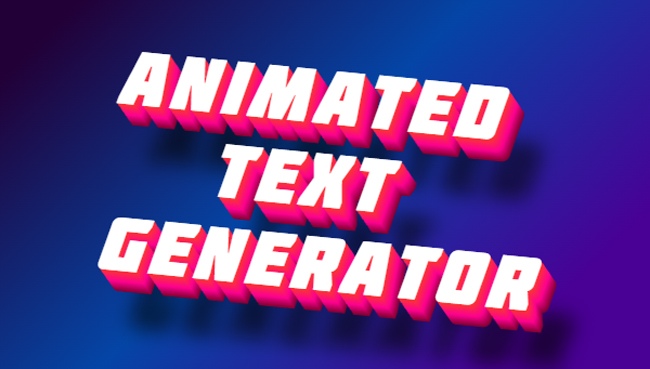 Top 6 Free Animated Text Generators Ranked Based on Qualities
Top 1. ENGFTO 3D/2D Animated Text Generator
Here is a captivating online website used to make animated text via a host of text templates and style options. As regards built-in function panels, users are empowered to choose Html5, 3D text, neon logo maker, neon text, GIF animated text, text moving background, text decay particles, falling letters, shadow text, etc. All of them are easy for users to cope with because the surface of this website is linear.
What makes users' work easy is the ready-to-apply text templates. In each workspace of this animated text generator, there is a library of text styles to select before making an animated title or logo. In the process you can customize the image's height and width, shadow width, font size, background color, and text color to control the effects. It comes with several output channels, including sharing on websites or saving in the formats of images or GIFs.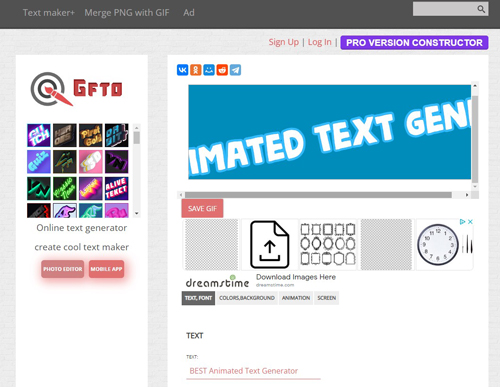 Pros:
Wonderful text templates
Detailed height, width, shadow, and background settings
Real-time renders and changes
Make neon logo easily
Share animated text on social media
Different projects that are multi-purpose
Cons:
Several output formats
It is not ad-free
Top 2. 3DTextMaker Pro 3D Text Generator
As the name of 3DTextMaker defines, it is a professional 3D text generator that is web-based and used for free. If there are needs to make 3D banners or Ecards for a birthday, this website is quite useful. Surprisingly, all of the new users can create their wanted text within 5 steps just on one page. What you need to do is select a font, pick up the background color and font color, set your dimensions, fine-tune other variables, and finally, enter text to finish the process.
It is not an ad-free 3D animated text generator but it is free for you to use and download the edited files. Speaking of the free items, free animated GIFs, free greeting cards, free backgrounds, and free screensavers are included. What's more, the font can be professionally manipulated by users who have access to meticulous variables such as serif, sans-serif, handwritten, outline, decorative, and crazy.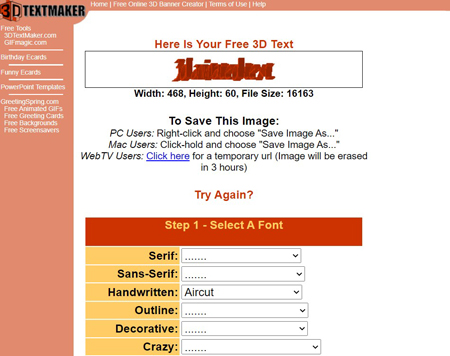 Pros:
Easy-to-grope animated text generation steps
Make 3D banners online
Excellent palette
Free for personal and commercial
Free greeting cards
Cons:
It needs to provide some text templates
This website is free largely because it has a lot of ads
Top 3. TEXTANIM Easy Animated Text Generator
Different from other animated text generators, TEXTANIMI is easier and more suitable for beginners who want to learn how to make animated text effects without complicated steps. It is fast to handle text font and size changes, and there is no animation delay. TextANIMI allows you to choose from hundreds of unique fonts and padding materials. Click the "Generate" icon to begin producing and download the file instantly.
By default, a background color has been added, but you can morph it into other styles with a couple of clicks. The genres of textures and fonts are updated frequently, so users are able to find many more selections for a period of time. On top of that, this text animation generator website is free for both individuals and companies to apply.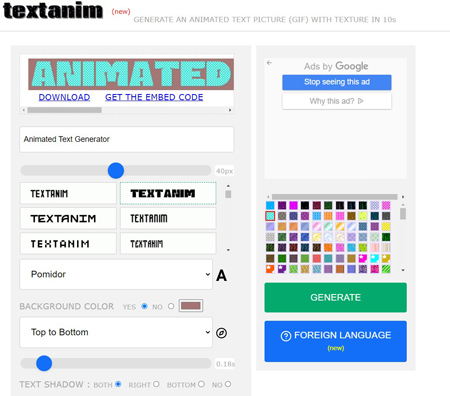 Pros:
Instantly update the fonts and textures
Amazing text padding options
Foreign languages provided
No delay of the animation
Easy-to-learn surface to take advantage of
Cons:
Few text templates
It is not made to create a 3D text
Top 4. LOADING.IO Animated Text Generator
If you need more resources for icons, spinners, or animated text, LOADIND.IO belongs to one of the best picks in the market because it is embedded with a series of text-style editing tools. On LOADING.IO's UI, you can find palette, text content dialogue, font size, moving speed, background, transparency, random color, and more variables. What makes it stand out is the demo effect sample which allows users to make 3D animated textual content. But only a few templates are free to use, yet most of them are paid.
Among these animated text makers, LOADING.IO is the one that supports more exporting formats such as GIF, SVG (static or animated), PNG (static, png sequence, APNG), or save as an asset. It is recommended to use the background effects of this website, for example you can turn the text background into living content. Also, there is a real-time performance monitor designed to change the text in seconds.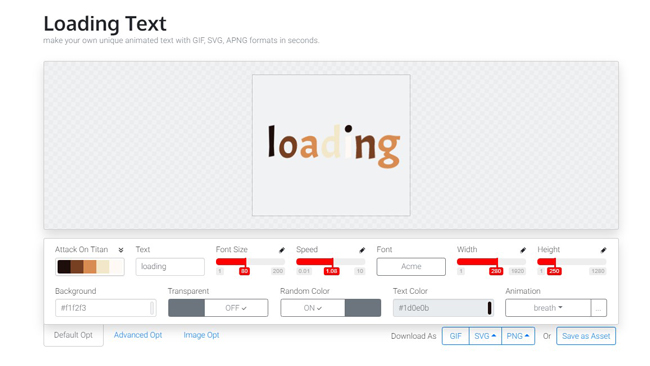 Pros:
Icon maker: Spinner Gallery, Icon Library, and Theme Icons
Multiple downloading fromats
No ads on the screen
Apply 3D text effects
Advanced text editing: Latency, Order, X Offset, etc.
Cons:
3D text templates are not free
Some of the animations are open for premium accounts
Top 5. COOLTEXT Text Animation Generator Website
COOLTEXT provides users with more options for text templates that have been bold, italicized, backgrounded, colored, or aligned. After you select the text style, all you need to do is fill in the logo text content, choose a font, set the size, and click "Create Logo" to hit the road. As the process is simple, newcomers are supposed to find this website is one of the easiest tools for generating animated text.
There are newly updated logo designs for users to choose from when they don't know which text genre looks better. You can even use the categories to find a proper one such as "Most Popular", "Animate", "Black", "Blue", "Girly", "Burning", and so forth. COOLTEXT also plays the role of a great text logo generator. Not only can users navigate hundreds of logo templates but you will find it quick to download your text.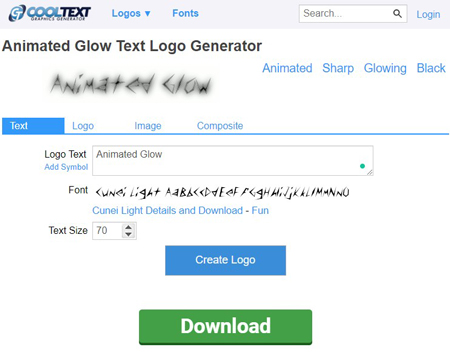 Pros:
A plethora of animated text templates
Choose from text type from categories
Simple workspace for making animated text
Powerful logo creator
Updated and recommended logo designs
Cons:
It is filled up with ads
This tool needs more precise text editing features
Top 6. Pookatoo Horror Animated Text Generator
As one of the biggest magical and animated text generator websites, Pookatoo has grabbed much attention from users because it is thematic for making content for Halloween, horror, gothic, and fantasy. Pookatoo's user interface is so flexible to use that user can change the text style by tapping on the desired demo, for example you can click on the "GHOULS AND GOBLINS" to apply the text effect in seconds.
When it is needed to select amazing text styles for horror projects, Pookatoo must belong to your targets. It allows you to set the text size from tiny to XXL via clicking buttons, use different animations, change the background color on the palette, or convert text style in response to editing the text.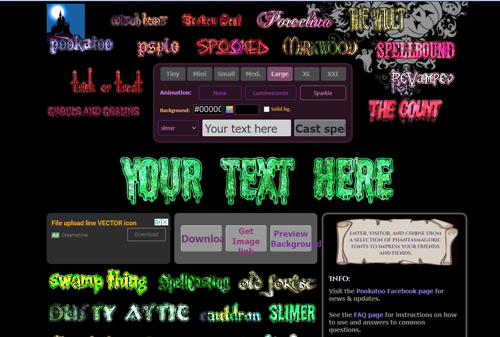 Pros:
Redesigned controls and effect demos
Tiny - XXL font size buttons
Share resources on the Facebook page or YouTube channel
A load of magical text templates
View the changes of the text losslessly
3D text maker tools
Cons:
It is not a logo maker
Few ads floating on the surface
Choose Your Proper Animated Text Generator Based on Needs
A lot of common parts you may find among the recommended text animated generators such as text templates, 3D text editing ability, supported exporting formats, free download service, and more. In fact, there are still some differences that are worthy of attention by users. So we made the table for you to compare them efficiently.
| | Animated Text Templates | Ad-Free | Logo Maker | Strong Precise Style Editing | Real-Time Changes | Multiple Formats Output |
| --- | --- | --- | --- | --- | --- | --- |
| ENGFTO | √ | × | √ (Neon Logo Maker) | √ | √ | √ |
| 3DTextMaker | √ | × | √ | √ | √ (Sample Font) | × |
| TEXTANIM | √ | × | × | × | √ | √ |
| LOADING.IO | √ | √ | × | √ | √ | × |
| COOLTEXT | √ | × | √ | × | √ | × |
| Pookatoo | √ | × | × | √ | √ | × |
Best Animated Text Generator for Video Editing: TunesKit AceMovi
Video Tutorial: How to Add Animated Text to Videos/Images/GIFs
In the process of video production, generating animated texts by a host of text templates, making text moving on the screen using effects, highlighting text background color font with the help of built-in presets, or customizing text font, color, alignment, opacity, shadow, or other parameters, you can trust and use AceMovi Video Editor which is a feature-rich video text editing software for personal or commercial. Besides that, the surface of AceMovi allows you to change the text position and size flexibly. Here to download AceMovi's demo version and enjoy built-in text animations for free.
AceMovi Text Editor
Royalty-free animated text templates
Edit text font, size, color, opacity, etc.
Static and dynamic text resources for you
Compatible with low-end computer systems
Record screen with audio by a webcam
Lots of exporting channels included
Bottom-Line
If you need to animate text in your logo or banner, it is better to choose a text generator with a neon logo maker function such as ENGFTO which is alive with diverse text-editing functions. Meanwhile, AceMovi is an all-in-one video editor and text generator, you can export your video with attention-grabbing text styles on video formats, GIFs, phone devices, or social media platforms, also, you can take a screencast to save the file on images.