Closed captions are lines of text seen on the screen when watching a video that you can turn on or off and are very flexible in video making. They literally improve accessibility without regard for language and disability barriers. Also, they are an important part that helps YouTube channel owners monetize their videos due to the increase in viewers they enable.
Like any other applications and software, there are many types of closed captioning programs in the market, each with unique features and capabilities. However, most of them are paid. Looking for free captioning software is like looking for a needle in a haystack, but here we are. Below are our 7 best closed captioning software to add captions & titles open easily and automatically.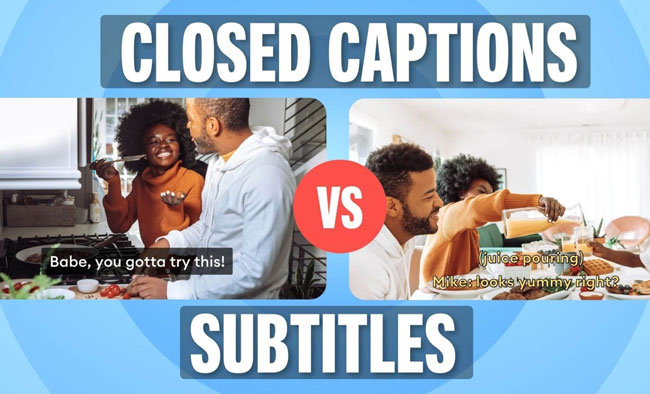 AceMovi Industry-Leading Video Caption Editor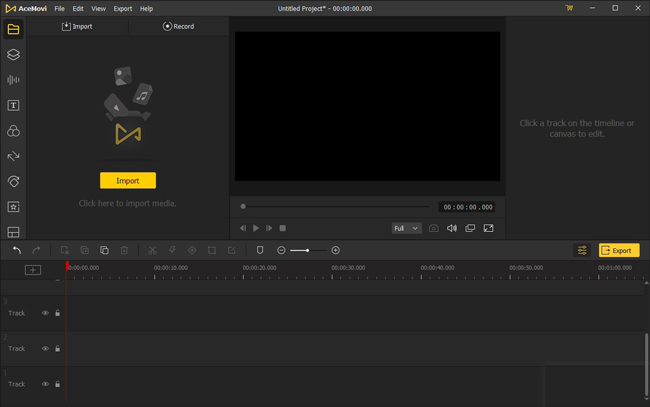 The more powerful and easy closed captioning software, the better experiences users enjoy. The best one to try out if you are limited by budget is TunesKit AceMovi. Using this all-in-one yet powerful video editor to add captions is smooth and convenient. With the 200+ built-in text templates and more precise parameters, you are in total control of the captions's duration, playing speed, size, color, and more.
You can also edit the video using other editing functions. Among the most popular tools are green screen, split-screen, slideshow maker, and color grading. AceMovi is the most recommended option due to its ease of operation, functionality, and user experience. Here to try AceMovi for free!
AceMovi Captioning Editor
200+ text templates
Endowed with lots of static and dynamic captions
Overlay text on clips with wanted size, color, etc.
MP4, MOV, M4V, AVI, DivX, and WMV supported
Compatible with outdated low-end PCs
Video templates for projects of festivals
Learn How to Add Subtitles to Video with AceMovi
Subtitle Edit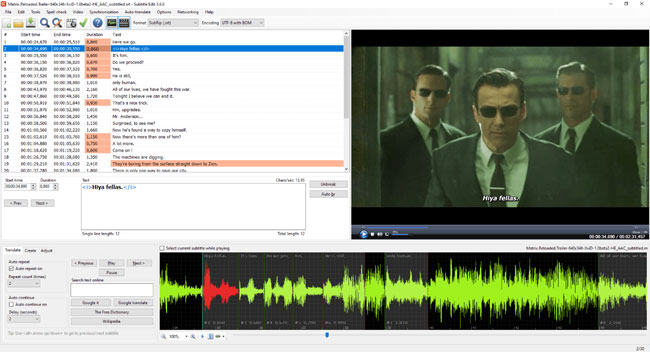 How do I generate closed captions? It is wise to try Subtitle Edit, which is a captioning software that allows you to generate and edit great captions. It is a highly flexible software suitable for first-time users via the beginner mode.
After learning the beginner mode, you can progress to the advanced interface. Although it is more sophisticated, it gives you much control over captioning, including speed, duration, font, size, etc. Therefore, it is one of the best software for closed captioning you can see. You can also edit the captions when you notice errors in spelling and grammar.
Pros:
It is highly flexible
Correct spelling and grammar
Offline access available
Import SRT subtitle files
Audio mixer and waveforms
Cons:
A little sophisticated
Not for Mac users
Zubtitle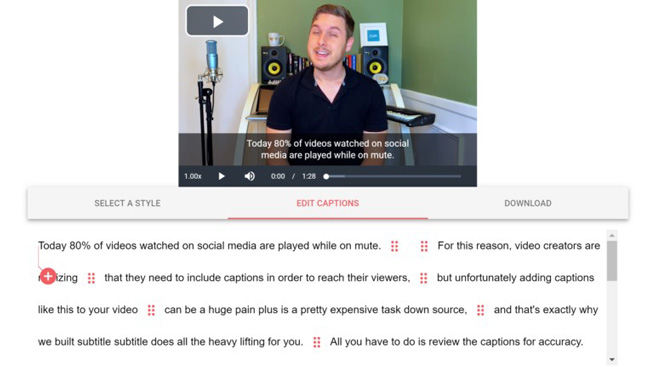 If you want to find automatic closed captioning software, you can try Zubtitle. It is a web-based software that allows you to upload a video while the platform automatically captions it. The software also transcribes the audio automatically into text with time stamps. Zubtitle allows you to pick the style and design of the caption if necessary. Also, you can edit the captions and preview it before sharing. The paid version offers much more, removing the restriction on one video.
Pros:
It has automatic captioning
You can pick the style and design of the captions
Highly flexible and user-friendly
Download the .txt and .srt transcription files
Grammar and vocabulary checking in real-time
Cons:
You can only work with one video
Amara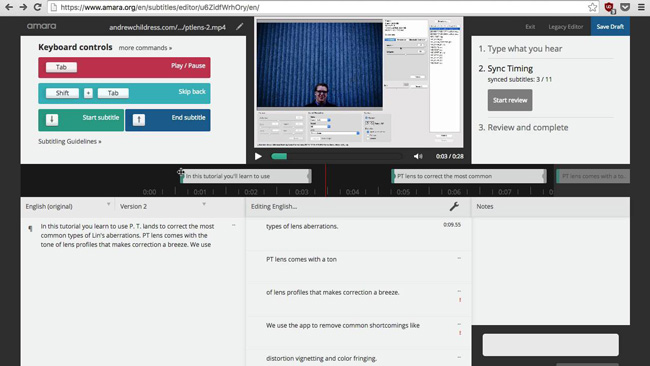 As one of the best closed captioning software for broadcast, Amara is another free captioning program developed by the Participatory Culture Foundation. It is web-based and allows you to create captions by themselves. The free version is a public workspace, with the paid version guaranteeing privacy. You can also pay professionals to help you caption the video. You can pay professionals to help and make flexibly captioning on your clips.
Pros:
Keyboard controls of chortcuts
Caption your videos quickly
Automatically detect language
Change captions' duration and speed
Fully online-based tools for beginners
Cons:
It is a public workspace with issues with security
MixCaptions
MixCaptions is the best free closed captioning software for iOS and Android users who want to transcribe their videos. The software generates captions over videos responsively. Therefore, there might be a little error due to speech recognition. The software also allows you to import an SRT file so that people with issues with captioning can still follow the video. The captions are located at the video's bottom, middle, or top part.
Pros:
Available on iOS and android
Allows you to import .srt files
Adjust the position of the captions
Automatic object detection
Cons:
Error with speech recognition
You can only use it for mobile phones
Quicc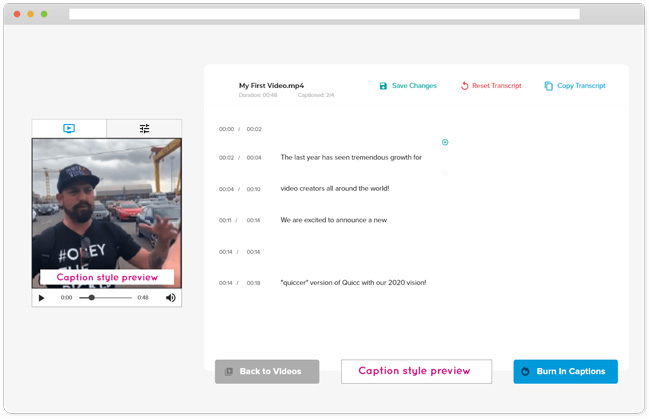 What is the best closed caption? Quick provides affordable captioning service making it one of the most popular free captioning software. It has a user-friendly interface that makes subtitling very easy. It is an online software where you upload the file to caption with the audio in WMV or MP4 format. Then wait for the processing to complete.
Quicc is highly popular due to its efficiency and ease of use. However, the free version is limited by videos of 5-minute. Therefore, it is a good option for people that want captioning for short videos on Instagram, Facebook, and Tiktok. The paid version allows you to caption in about 11 languages without a limit on video duration. Overall, Quicc is the ideal captioning software for beginners or people with restricted budgets.
Pros:
Export into different video output formats
Automatic transcriptions
Auto-generated SRT files
Instantaneously search for any word or moment in a massive video library
Burning in captions for easy viewing
Cons:
The free version has a lot of limitations
It is also buggy
Kapwing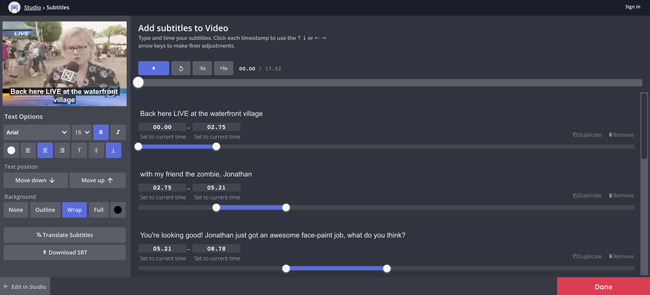 Kapwing is another web-based program that can act as a captioning software available. The free version allows you to generate captions for videos with a restriction of about 250MB with four minutes duration. Also, there are limitations on the video duration you can publish every month, and you can only store content for two days. The premium version costs about $17 and increases the file upload limit to 2GB. Kapwing has a user-friendly interface that puts it a better option among beginners.
Pros:
Quick import from local or by pasting URL
A vast library of video templates with texts, music, and filters
Export videos at 720p for free
A full set of video editing features
Easy-to-use layout design
Cons:
It has a restriction of about 250MB
You will later need to go to premium
You can't store content for more than two days
Lastly
Paid closed captioning software is the most common in the market today. For users looking for free ones, we introduced seven options to try out. Each free closed captioning software has its limitations since they are free. For a better experience, you might need to upgrade to their paid versions to get the best software for closed captioning.