When you search for some video editor labels like "Open-Source", "Cross-Platform", "High-Quality Playback", and "Completely Free", then VLC will very likely be one of the results. Most streaming protocols and multimedia files can be edited and played by this software. However, the interference issues of VLC including a dated interface, complex operation, limited output channel, as well as lack of music resources make VLC becomes less powerful than currently released video editing programs.
If you don't want to learn lengthy tutorials before using VLC to record and cut a video or dislike the interface style, the best VLC alternatives will lead you to a better user experience on video editing. By the way, in case you want to find good video players to replace VLC, those introduced tools also perform excellently in changing video playback speed and enhancing ambient color/sound.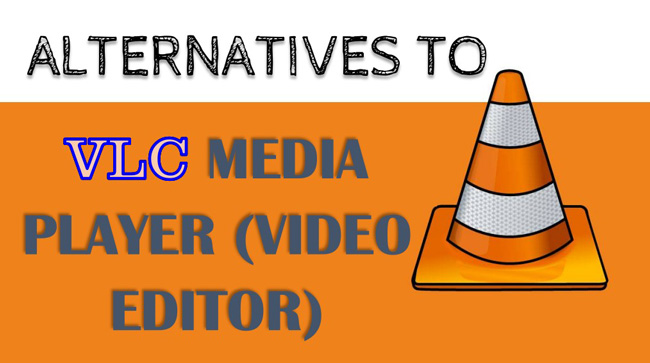 All-Round VLC Alternative on Windows and Mac - AceMovi Video Editor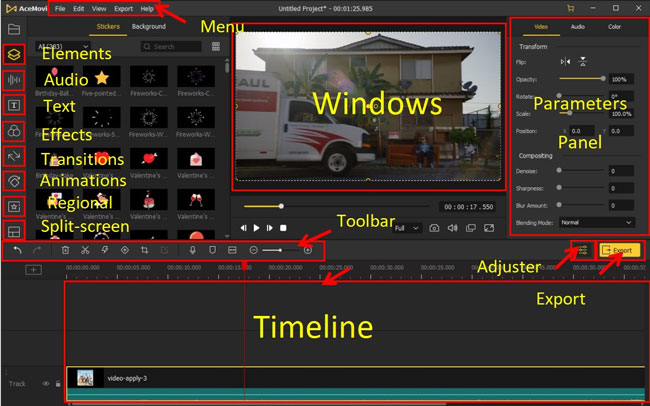 When it comes to making a video with simple-to-use recording, reversing, cutting, trimming, color grading, sound equalizing, format converting, narration dubbing, as well as high-quality outputting, AceMovi makes itself the best VLC alternative nowadays. Different from VLC which contains and displays those feature buttons randomly, AceMovi provides user-friendly panels and properties.
One of the best advantages of AceMovi is that you can operate it on a low-end PC and Mac. The specs of this software offer users efficient processing and SFX rendering. More importantly, users can import multiple texts, videos, songs, and images to the timeline for file combination, while VLC only allows one track for each project. Here are the basic features of AceMovi, and you can use it without any hassle.
AceMovi - VLC Alternative
Multiple tracks splitting and combining
Built-in tools are simple for veteran users alike
Record a new clip at any aspect ratio
High-quality video editing up to 2160p
Top-notch green screen and color grading
Plenty of video effects and sound effects
Download a video in all kinds of formats
● Basic Features to Edit a Clip [Cut, Split, Crop, Rotate, Speed, Reverse, etc.]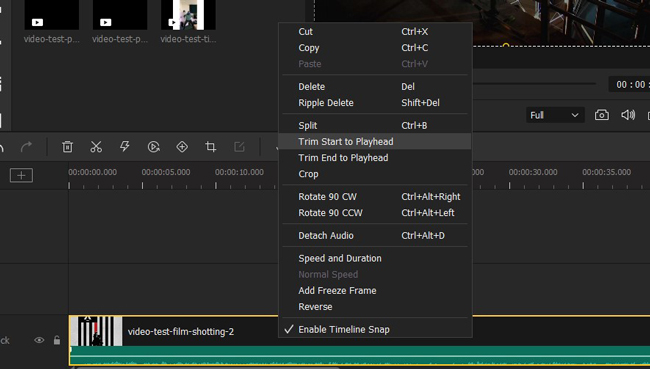 Before operating functions on AceMovi, you need to drop the files under the Media plate and add those thumbnails under the timeline. The basic feature buttons are set on the toolbar or inside the selections that you need to right-click the highlighted clip to choose from.
For example, if you think the video duration should be split into many parts, you need to right-click the clip and then select "Split" or press the hotkey "Ctrl + B". After that, you see clips under the timeline that can be edited separately or rearranged personally. Meanwhile, the "Crop" option resizes the aspect ratio of the video in a specific workspace. More useful shining points contain rotating, speeding, and reversing.
● Produce a Video with Elements [Music, Subtitles, Filters, Transitions, etc.]
Another reason why AceMovi is one of the best alternatives to VLC is the vast libraries of royalty-free music resources, filters, transitions, and subtitle templates. You can easily find those elements from the left-sidebar rather than click every drop-down panel from the menu just for adding one of them in VLC.
More specifically, the "Music" plate includes both background music and sound effects, meaning not only you are able to put the background music on the timeline but also add specific SFX to a point like "Bleep" and "Laugh" to enhance the ambient. The "Text" panel offers text templates as well as static and dynamic titles/captions. It is amazing to edit the styles of the text in color, font, size, and opacity.
● Advanced Features to Create Amazing Content [Split-Screen, Keyframe, Chroma Key, etc,]
What are the advanced features of VLC? You may find Anti-Flickering, Motion Blur, Spatial Blur, Clone, De-noiser, Anaglyph 3D, Mirror, and many more. Those pro features help you generate eye-popping results to attract millions of viewers. But those are not so popular for today's video content and movie making.
Oftentimes, editors prefer to apply green screen effects to change the background of a video. Surprisingly, AceMovi gives you an automatic chroma key tool to render the tolerance ad edginess. Apart from that, the high-level video creation functions contain a split-screen that helps you separate the screen into parts that are horizontal or vertical. Now, get this all-rounder alternative to VLC Media Player from here!
VLC Player Alternative for Ubuntu Linux Platform Recommendation - OpenShot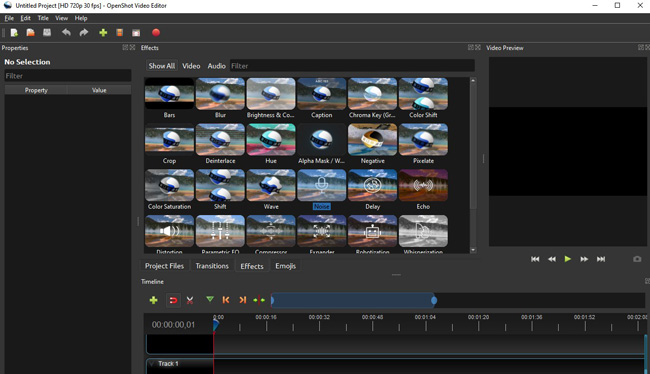 We know that VLC is also compatible with Ubuntu Linux, and if you want to find the best alternative of VLC that runs on the special platform, then OpenShot is one of the options recommended for you. OpenShot was released by Jonathan Thomas in 2008. On the websites of OpenShot, downloading this software on Linux for completely free is offered.
Stunning films, short video clips, and animations are supposed to be produced by OpenShot Video Editor. The interface is non-linear comes with limited tracks for videos and audios and is customizable in that users can change the personal settings to operation panels like canvas and timeline.
The VFX and SFX of OpenShot are different from other video editors. Most features are set inside the "Effects" plate. As regards the details, you can add bars, captions, and Alpha Mask to the screen. And the properties allow you to fine-tune the color and size of the template. Moreover, color grading effects like brightness, hue, negative, and color shift are provided under the same plate.
Pros:
Regular 3D titles and flat subtitles
Create a fade transition by overlapping video clips instantly
Easy-to-use trim, slice, and speed and have precisely created value controls
The user interface can be moved, customized, and moved around
Export videos on 720p, 1080p, or 2160p resolution with no brand watermarks
Cons:
There are no music resources and sound effects
Less-performed hardware acceleration
Alternative App to VLC Player for iOS and Android - VN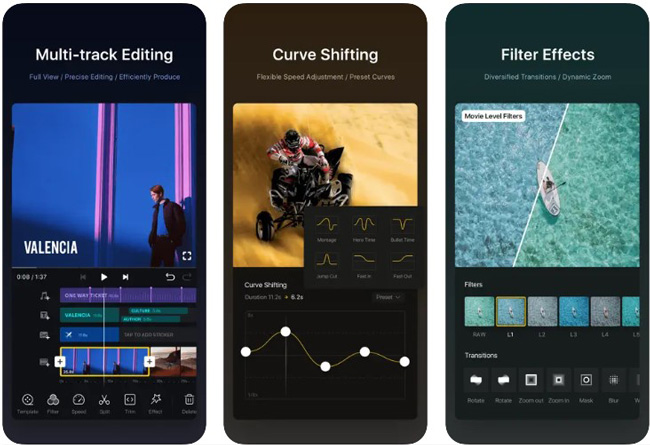 Want to find the best alternative of VLC Player for mobile phones? Although VLC has published the app versions on both Android and iPhone devices, the rates are low because the user experience is not so good. So we suggest you turn to VN whose profile style is intuitive and has ready-made projects for photo slideshow and video templates, satisfying both amateur and pro-level video makers.
Many want to know the differences between VN and CapCut. By comparison, VN offers all-sided video editing tools like recording, cutting, speed shifting, color grading, and direct sharing, while CapCut is alive with more creative video effect templates that have been widely used in TikTok and other social media.
The same as VLC and OpenShot, VN is watermark-free for all accounts, but still, if you want to apply some effects, specific premium plans are needed. More importantly, it is no need to learn the tutorials before any editing project. For instance, if you want to convert the video playback speed to 0.5x, just find "Speed" from the toolbar and select the speed value according to your needs.
Pros:
Video templates for birthdays, Vlogs, festivals, anniversaries, etc.
Various text templates and caption fonts
Stable video playing, editing, and rendering
The output is no watermark embedded within and up to 720p maximum
Edit a video like a pro yet no need to learn the tutorials
Cons:
The desktop version performs not so good
In-app purchases exist
VLC Media Player Alternatives Differences Compared in a Table
Let's make differences among those VLC alternative reddit from many aspects that were caught by editors from the video-making field. Choose your target helper and begin to create an engaging, high-quality video after checking this:
| | VLC Media Player | AceMovi Video Editor | OpenShot | VN |
| --- | --- | --- | --- | --- |
| UX | Complicated | Quite Easy | Quite Easy | Easy |
| Which OS Performs Better | Windows/Mac | Windows/Mac | Ubuntu Linux | iOS/Android |
| Low-End System Compatibility | √ | √ | √ | √ |
| Streamlined (Edit Batch Video Files) | × | √ | √ | √ |
| Music Library | × | √ | × | √ |
| VFX (Video Effects) | √ | √ | √ | √ |
| SFX (Sound Effects) | √ | √ | √ | √ |
| Premium Accounts Need | × | √ (For removing watermarks) | × | √ (For in-app purchases) |
| Video/Audio/Text Formats | Medium | Great | Not Bad | Bad |
| Basic Tools: Trim, Crop, Record, Merge, Convert, Compress, Split, Speed, Stabilize, Dub, etc. | Medium | Great | Medium | Great |
| Advanced: Green Screen, Keyframes, Split-Screen, Distortion, Reversing, Color Shift, Bit Rate Conversion, etc. | Not Bad | Great | Medium | Medium |
Wrap Up
When we've decided to test and figure out the best video-making alternatives to VLC for Windows, Mac, Linux, iOS, and Android, the platform-based method has been taken into consideration rather than using the "endless listing" mode. Honestly speaking, VLC is mixed with cons for video editing due to it is not being a professional video maker. Hope those alternative picks cover your needs. Also, a review of the best video players to replace VLC is around the corner!