Time-consuming multitasks are required to make good content for your social account - cropping, trimming, recording, converting, and exporting, none of the features are unimportant. Luckily, we found the OpenShot video editing software to download and use. Making itself powerful and progressive for compositing and footage production, the OpenShot project was released by Jonathan Thomas, with a brand-new user interface, unlimited tracks, watermark-free results as well as a friendly built-in toolset. Here the post is for those who want to know how to use OpenShot by revealing the complete OpenShot video editor review. This is the beginning!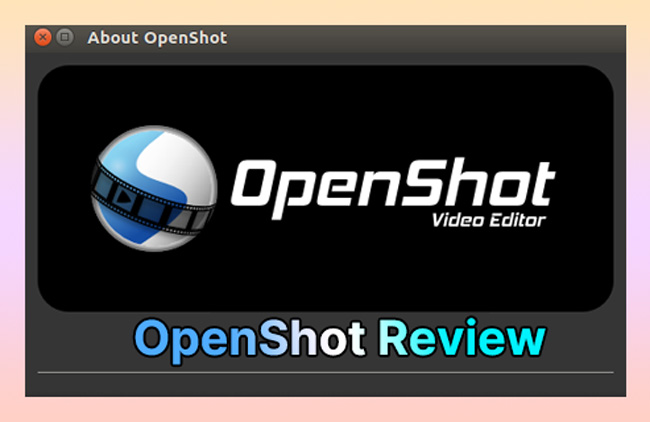 FAQs to OpenShot of 2022
Is OpenShot Video Editor Safe?
You can trust and use video editor OpenShot to upload MP4 and MP3 media and produce your content with ease. The privacy policy of OpenShot says that the information from visitors of the site won't be collected, except for donation-related messages, i.e., only in the condition of you submitting a donation will OpenShot use the information from you.
Is OpenShot a Good Video Editor?
OpenShot is an incredibly good, free, open-source, and award-winning video editor that can be downloaded on Windows, Mac, Linux, and Chrome OS. Even entry-level users can master the interface and timeline of OpenShot in seconds. OpenShot is designed for small edits, such as adding text, music, transitions, effects, and emojis. No plugins and in-app purchases.
Is OpenShot Video Editor Free?
OpenShot is 100% free of cost to use and download, with no expiry and limit to file size. Unlike DaVinci Resolve and Filmora, whose VFX and features are paid, so users need to unlock them by upgrading to premium versions. OpenShot and AceMovi are free and clean for all licenses.
Does OpenShot Video Editor Have a Watermark?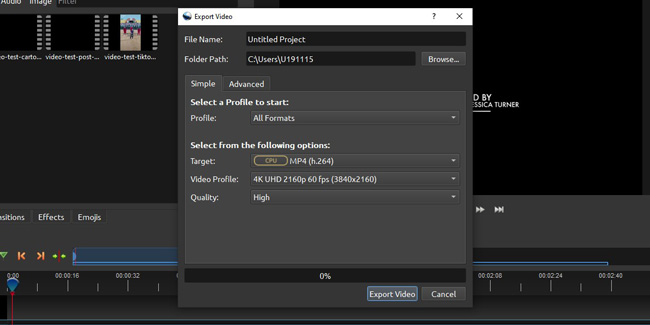 As said, OpenShot can be downloaded on low-end PCs without spending any money. No matter the format, quality, resolution(up to 4K UHD 2160p 60fps, 3840*2160), codec, and bitrate you want to export, OpenShot leaves no watermark and logo on your new videos.
OpenShot Reviews of System Requirements
Video editing quality and efficiency depend on large storage of memory, robust CPUs as well as fast disks. Users need to know what are the basic and minimum system requirements that OpenShot software needs in case the workflow goes to crashes and glitches. Here comes the details of the OpenShot video editing software review of specs:
System Requirements(Recommended)
OS
Linux, Windows 7/8/10, and Mac
Processor
Multi-core processor (64-bit)
RAM
4GB at least, and 16GB recommended
Hard disk space for installation
SSD with 500 MB
Optional
Solid-state drive (SSD), if applying disk-caching (and an additional 10GB of DDS)
OpenShot Video Editor Download for Free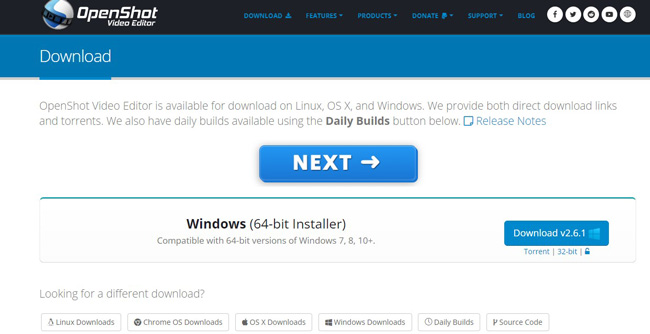 How to download OpenShot video edtior directly, you can just browse into OpenShot's official website where you won't be asked to log in and pay any money. Now, go to choose from Windows downloads, Linux downloads, Chrome OS downloads, OS X downloads, etc.
How to Add Music to OpenShot Video Editor
OpenShot has a drag-n-drop, non-linear, and trackless timeline. You need to make the background music imported by clicking on the "File" and "Import Files", or pressing "Ctrl + F". Then dropping the sound to a new track.
Sadly, OpenShot has no background music in stock, that is to say, users need to bring the audio themselves. Here you can try AceMovi Video Editor - an easy-to-use & feature-rich video-making toolkit that comes with a vast library of free thematic music, like Advertime, City Sunshine, Pickled Pink, Relaxing Ballas, and more. A stack of soundtracks of Body, Bleep, Explosion, Impact, and so on are provided on the music panel. You can even try the built-in video templates to make slideshows, vlogs, explainers, and ads with AceMovi.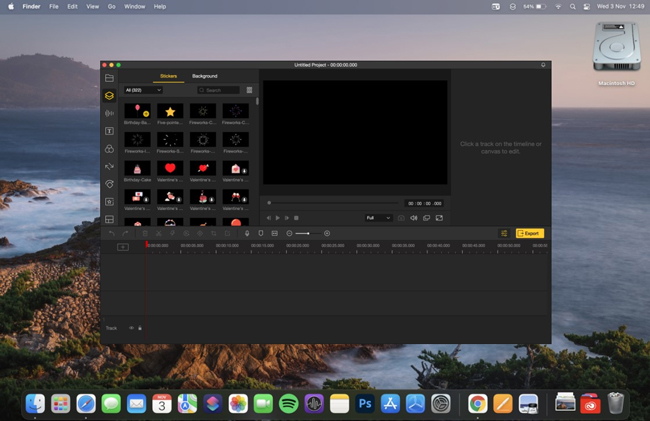 AceMovi Video Editor
Robust and optimized system for low-end PCs
200+ free music and sound effects to add
Brand-new, drag-n-drop and friendly timeline
Detach audio track from videos in a breeze
Free trial version for Windows and Mac
Export video on HD and 4K up to 60FPS
Video templates for multimedia purposes
How to Add Text on OpenShot Video Editor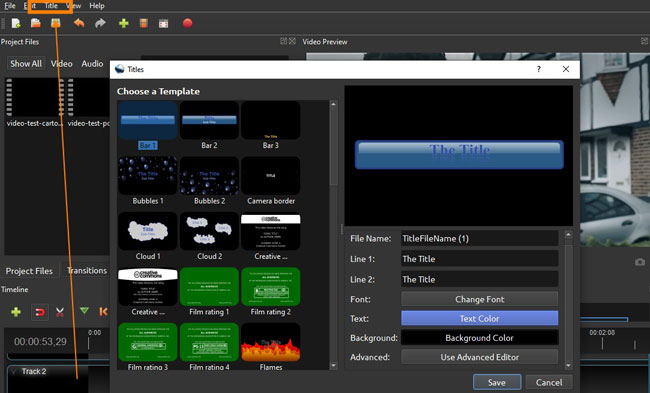 How to use OpenShot Video Editor's titler? Press "Ctrl + T" to add dynamic text on OpenShot, while press "Ctrl + B" to add animated texts to videos. Click to choose a template as you like, such as Bar and Bubble. Then go to change the file name, fill in content, and regulate font, color, background, and location. If you need to add cool elements to your clip, like 3D subtitles, click the animated texts. You are allowed to add a watermark of your wanted content as well.
How to Add Transitions in OpenShot Video Editor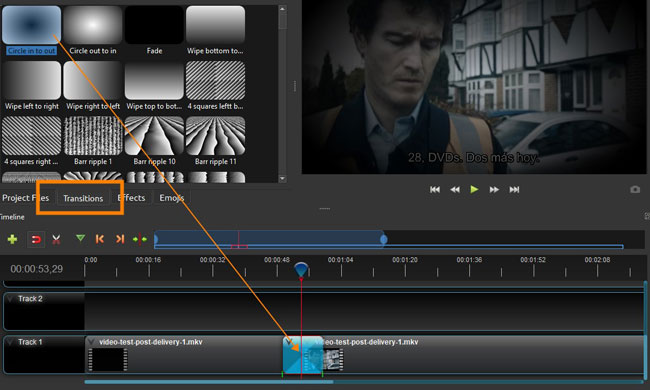 Here we are going to review OpenShot video editor from the aspect of transitions. There are a lot of built-in high-fidelity transitions in OpenShot, the Circle in to out, Circle out to in, Fade, Wipe, Barr ripple, and more are included. To apply them between clips, the first way is direct to drop the wanted mode under the connected points.
Now, you can right-click the transition to make precisions of brightness, contrast, duration, position, and more. You just need to fill in the value.

Another way is dropping a clip under other layers, then OpenShot will automatically generate a transition upon the timeline. This way is quicker and easier to manipulate, and you are allowed to set parameters based on your requirements.
How to Cut in OpenShot Video Editor

What set OpenShot different from other video editing tools is the Razor Tool. You can activate it from the toolbar, then freely cut or trim out the unwanted video or audio clips. Tap it again to cancel the mode.

The second and normal method to cut videos in this OpenShot review is to right-click your footage to choose the "Slice" where you have access to keep both sides, keep the right side, or keep the left side after cutting.
The Bottom Line
This thorough OpenShot video editor reviews cover all aspects of this tool from how to import files to the tutorials on adding transitions. There are more features worthy of trying, for example, the powerful curve-based keyframe animations, scaling, snapping, rotation, and sub-titles. One of the evident disadvantages of OpenShot is there's no music resource. You are advised to deploy AceMovi - an all-in-one video editing software that is perfect for first-time users.