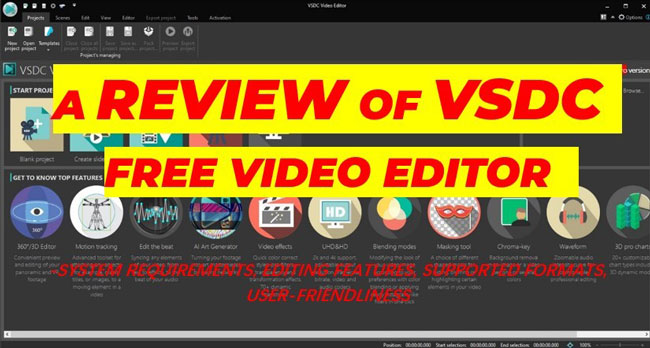 Trying to discover VSDC through and through? Haven't known whether VSDC is free to use and where to download it? Follow me! We're going to have a deep review of VSDC Free Video Editor, mainly from the points of system requirements, video projects, editing features, supported formats, and its alternatives.
VSDC, a very brilliant non-linear free video editor works on Windows, was designed by Multilab LLC. With the latest VSDC version, three main functional areas are provided for you – blank project, slideshow creation, video & screen capture. In other words, VSDC plays the roles of photo & video slideshow maker and screen recorder.
Some of the up-to-date features like 360°/3D Editor, Motion Tracking, Beat Syncing, Masking Tool, and AI Art Generator offered on VSDC have attracted many. Moreover, you'll feel an air of Microsoft Word style with VSDC – the toolbar has been divided into eight plates, while each of them contains precise parameter settings, and even their dropdown sub-categories are designed with more detailed options to choose from. But don't worry! Easy-peasy! To promote your video editing workflow, this article will make an integrated review of VSDC.
Ⅰ VSDC System Requirements
For video editors, ultimately, their compatibility decides whether we users can download them without a hitch and run all the incidental functions & sources smoothly. Also, the time we spend updating the new version will make a difference to the experience. In the following, we've listed the minimum requirements for downloading VSDC Free Video Editor on Windows.
Space for hard drive: 284 MB
Microsoft Windows: XP SP3 + (Vista / Win7 / Win8 / Win 10)
Processor for Intel & AMD: 1.5 GHz +, RAM 256 Mb +
Screen Solution: 1024 * 768 pixels, 16-bit color +
Latest Versions: 64-bit and 32-bit
Note: Sorry to say if you're Mac users, there're no compatible versions. But don't worry! We got some top VSDC alternatives for you!
How & Where to Download VSDC Video Editor for Free?
VSDC Free Video Editor can be accessed and downloaded from the official website.
Ⅱ Projects of VSDC Video Editor
Most of the time, we're entangled with video templates and working steps. For example, you may try to learn how to make a compelling slideshow with photos and how to record the screen on your PC. Seems trouble, isn't it?
But VSDC makes it easy! Three projects, so far, are provided at the first sight when you enter into VSDC: basic edit, slideshow create, video & screen record.
1. Blank Project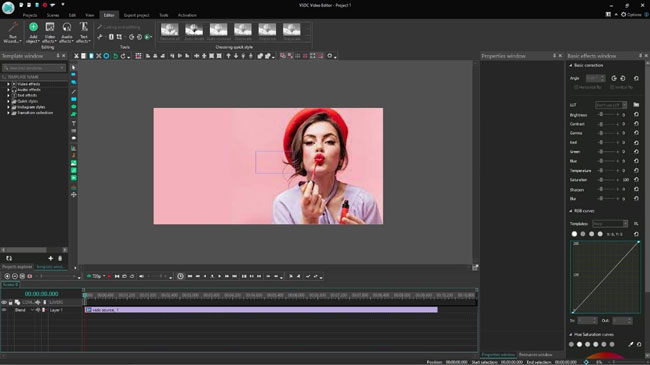 You are allowed to set parameters of the new project at the very beginning, such as title, author & publisher, background, framerate, device, resolution, and more. And what must be surprising is that VSDC offers plenty of ready-made & pop templates on the standalone store for users to preview and acquire.
Basic functions are located beside the canvas: copy & paste, sprite & duplicate adding, as well as size & position adjust, etc. And tons of video, audio, and text effects like Instagram's styles have been applied on the toolbar. Next on the basic effects window, you can see some icons to adjust LUT, brightness, contrast, and blur, etc.
2. Slideshow Creation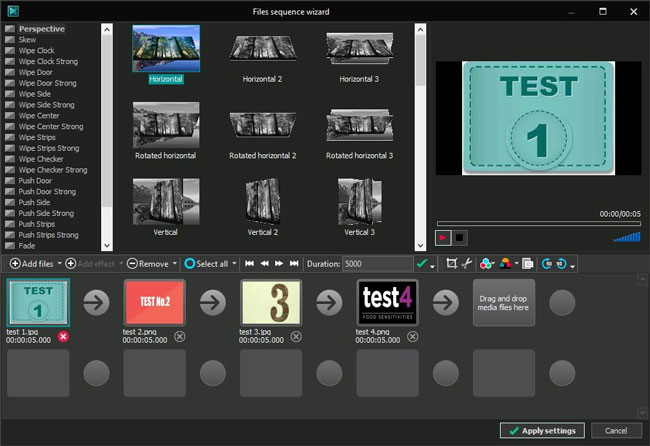 An abundance of genres of slideshow has been made, for instance, Horizontal, Vertical, and Box, etc., you just need to select one of them and view the effect in real-time on the windows. And it's easy to import files - drag-n-drop or via the ADD sign. Besides, functions like border crop, unwanted fragments removal, and automatic color match are also set here.
3. Screen Capture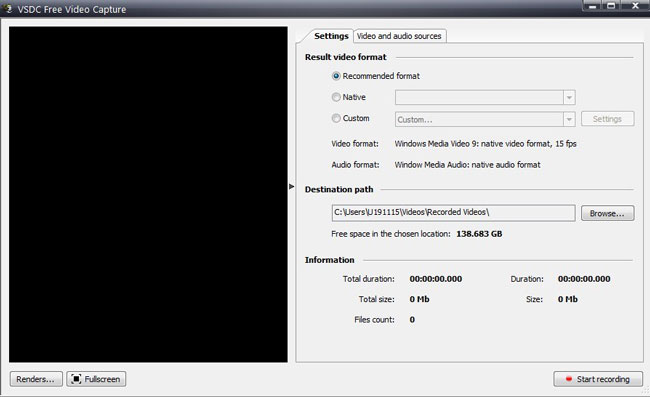 VSDC Free Video Editor, unexpectedly, plays the role of video & screen recorder. Users can choose to make a segmental or full video record before starting. Also, the Setting contains Recommended, Native, & Custom format, save-path, and other information. While the Video and Audio Source includes the options of devices, input level, and balance.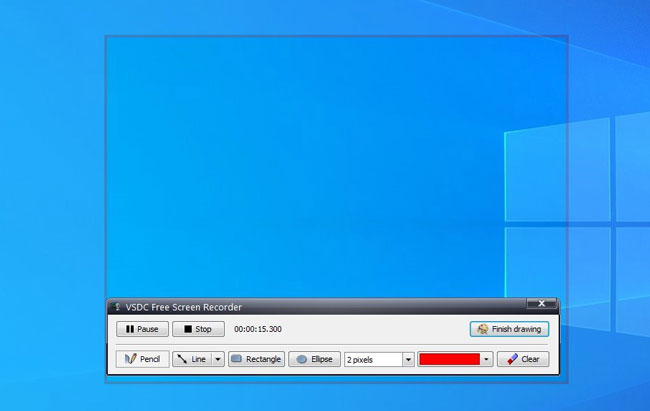 Except for recording video with a webcam, you can make a screen capture with "Shift + F5". VSDC allows users to add texts, shapes, colors by the Pencil, Line, Rectangle, and Ellipse.
Ⅲ Editing Features of VSDC
As we can see, the free version of VSDC Video Editor carries all-sided basic functions. But what about the latest and more high-end ones? Up-to-date features, honestly speaking, are the very essential reasons to explain why moviemakers prefer VSDC.
1. 360°/3D Editor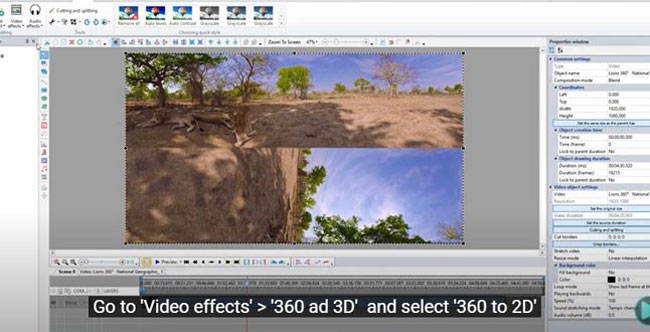 With multi-dimensional perspectives and angles, the 360°/3D Editor makes it possible to polish video vertically or horizontally. And we all believe that the more convenient preview of panoramic & VR slips applied, the more specific details could be caught and modified. Want to have a try? Do not be in a hurry! This is just the beginning!
2. Motion Tracking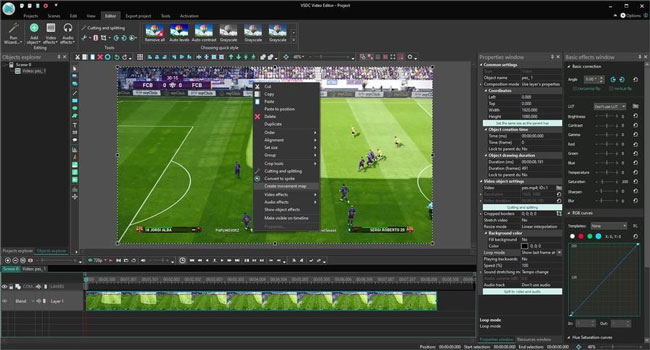 Have you thought of the scene that all the key motions in your video will be displayed one by one? It's real right now! To make more accurate keyframes, VSDC will grasp the actions sequentially within the timeline. Also, you can use Motion Tracking to attach objects like masks, images, or texts, to the moving footage.
3. Masking Tool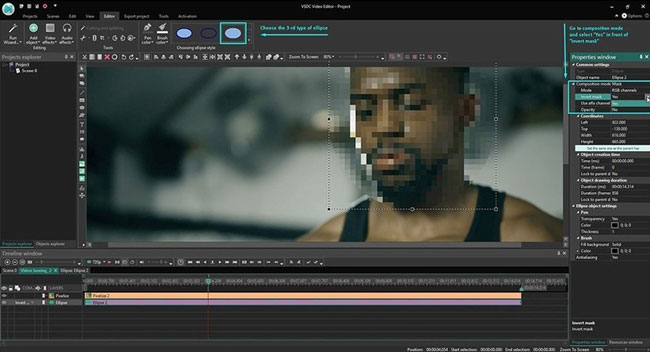 For video editors, elements removal like deleting watermarks is very common to see. VSDC, surely, is not the exception, but for better, VSDC allows us to blur & hide a person's face to cover his identity.
4. AI Art Generator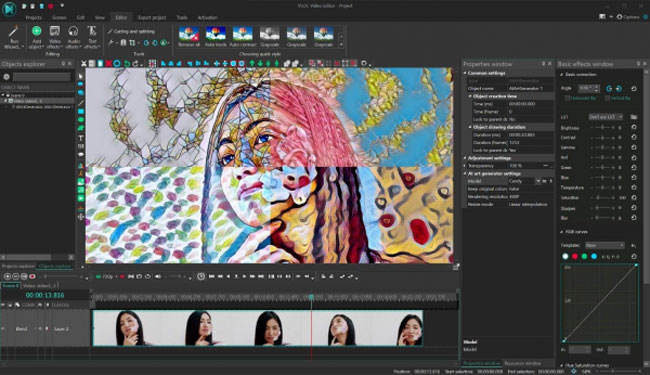 Masterpiece always needs great effort, but turning your clip into art masterpieces via neural network can be very easy. The AI function on VSDC - Art Generator, which aims at helping in enriching & balancing color.
5. 3D Pro Charts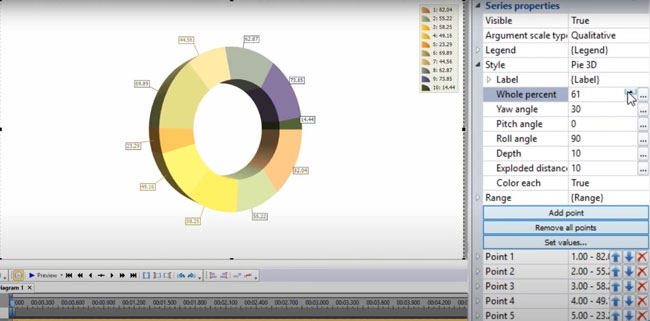 More than 20+ types of stretchable charts are set on VSDC with static & dynamic models, it was created to reinforce statistics presentation & organization. To organize the datum into logical & intuitive charts, just download the latest version.
Ⅳ Formats Supported by VSDC
VSDC Free Video Editor supports more than 50 kinds of video, audio, and image formats that are listed below:
Video Formats:
To Import: MP4, MOV, 3GP, QT, AVI, MKV, DVD/VOB, FLV, SWF, RM, RMVB, DVR-MS, WMV, ASF, VCD/SVCD, MPEG, MJPEG, XviD, AMV, MTV, DV, NUT, H.2.64/MPEG-4, HDVideo/ADCHD (TOD, MOD, MTS, M2TS, TS),
To Export: MP4, AVI, DVD, VCD/SVCD, MOV, 3GP, MKV, RMVB, AMV, WMV, MV4, RM, FLV, SWF, MTV
Audio Formats:
To Import: MP3, RAM, APE, WAV, MPA, AC3, CDA, WMA, AU, M4A, AAC, RA, CUE, OGG, VOC, FLAC, AIFF
To Export: MP3, AAC, WAV, OGG, AMR, M4A
Image Formats:
To Import: PNG, GIF, JPG, BMP, JPEG, PSD, CUR, ICO
To Export: PNG, JPEG, BMP, GIF
Note:VSDC is also a YouTube uploader & Dis burner, so it gives YouTube users & Disc lovers direct channels to share & make videos.
Ⅵ VSDC Alternatives
When it comes to user-friendliness, many may think that the interface of VSDC appears very complex even a little mess. We have to admit that it is right - VSDC is located as a professional video editor with diverse & precise settings, so you'd better try more or read its subscriptions in advance.
Also, some are wondering: is VSDC free to use? YES! Made with the idea of editing videos with ease & no payment & no watermark, VSDC Free Video Editor has shown its sincerity.
But the company has come up with some paid video tools – for example, VSDC Pro, by which you're allowed to use more advanced settings, such as hardware acceleration, audio waveform, and video stabilization. Unfortunately, we have to express an apology again for Mac users.
But considering all these matters into account, we are recommending the best alternative software– AceMovi Video Editor, an easy-to-grasp & wonderfully-performed free video editor for both Mac & PC.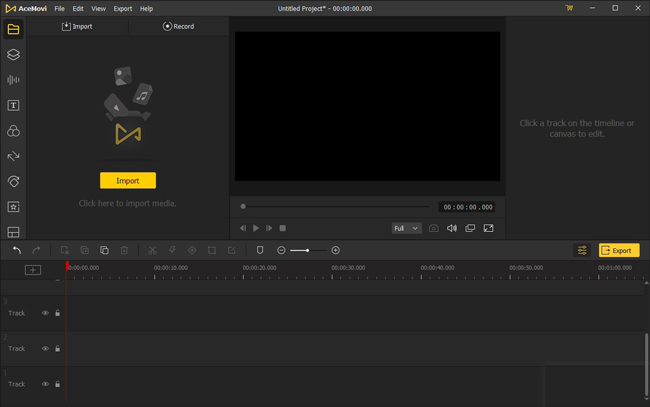 Provided that you need a video toolkit to trim, merge, rotate, polish, and share with social websites with a very easy learning curve & comprehensive tutorials, AceMovi will never let you down! For more details, check this please: how to take advantage of AceMovi video editor.