Whether you're an indie filmmaker or short video producer, you may run into problems when editing video because it's not just about adding or removing clips and images. In fact, the industry standard for video is the post-production of color grading, background music syncing, subtitling, cropping, trimming... To make these video editing workflows easier, you must not miss HitFilm Express 2017 - one of the best visual effects (VFX) video editors on the market.
And in this HitFilm Express review, you'll see some of the product's popular features, tutorials, and everything else that beginners need to know in advance. Here we start!
[Latest] Hitfilm Express 2017 Overview with Pros and Cons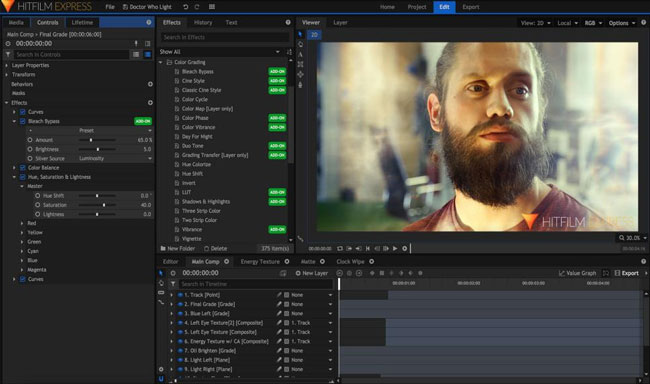 HitFilm Express is a paid video editing software with professional-grade VFX tools and everything you need to make awesome content, films, or gaming videos. It is perfect for pro video makers, film students, YouTubers, bloggers, and social marketers.
You can learn about the basics of video editing, green screen, compositing, and visual effects using detailed tutorials, which are all included in the software. And HitFilm Pro is used by some of the biggest names in filmmaking and YouTube, including Casey Neistat, RocketJump, Corridor Digital, and Freddie Wong.
Speaking of the pricing, all HitFilm Express products are paid. If you want to be the starter, the monthly plan of services of VFX, Color, and Basic-Edits is enough; Or the $19/Mo-Content Creator plan for YouTubers & filmmakers and $39/Mo-VFX Artist plan for creating movie-quality visual effects.
Pros:
Presetting for new projects
Double-canvas
3D/VR compositing
Powerful VFX
Support for cinematic 4K (3840 x 2160) and DCI 4K (4096 x2160)
16-Bit Color: LUT
Split-Screen Masking
Action Cam Crop
PiP (Picture-in-Picture)
Cons:
No free version
Not suitable for beginners
Low export performance
How to Begin with HitFilm Express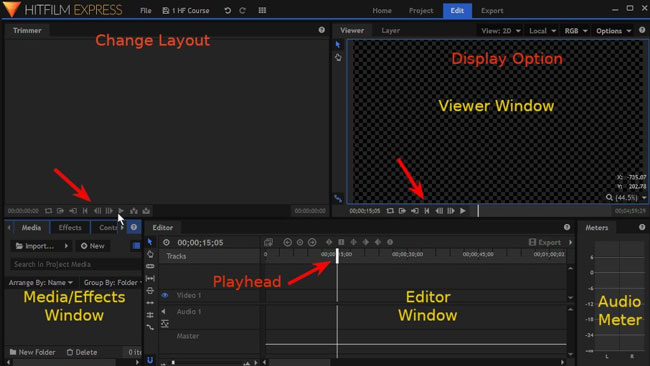 To begin, move your eyes to the Media area on the left bottom and then hit the Import button. And you can navigate to the wanted video in folders, you just select it and click Open when you find the clip. After that, you'll see the thumbnail appears under the Media area, you can drag it to the canvas directly. Then HitFilm Express will show your video in both of the windows, you can apply the effect in one window can compare changes and details in the left window.
Now, let's see the timeline place where Express set four tracks and those tracks are inherently unchangeable so you need to put the video clip under Video 1, add the sound in Audio 1, and so on. Then, you'll see the Audio Meter in the rightmost place, which will detect the sound waves in real-time to help you sync pace. Lastly, when you'd like to export your edited video, go to the Export area, then the settings of format, resolution, codec, and saving patch are available to change.
Tips: Want Easier Editing Experience? Better Try TunesKit AceMovi Video Editor
That's the basic Quick-Start of using HitFilm Express. Actually, you may need to learn more tutorials once using other features built-in this pro video editor like how to add subtitles via SRT file and how to switch into 3D editing workflow.
Voila! If you find it hard to use HitFilm Express, here I firmly advise you to use TunesKit AceMovi, a newly discovered video editor for quick & easy video edits.
AceMovi's has 9 item containers leftmost including funny stickers, special audio effects, animations, overlays, filters, transitions, mosaic effect, blur effect, etc. To import videos on this tool, you can drop the files under the timeline instead of clicking tabs. More shortcuts like Ctrl+B to split, Ctrl + Alt + Right to rotate, and Shift + Del to delete ripple will help you make videos effortlessly.
As for how to export and download videos, HD MP4, HD M4V, HD WMV, HD MOV, HD AVI, 4K Video, ASF, 3GP2, WebM, and more types all are available on AceMovi. Surprisingly, if you're a YouTuber or Facebooker, you can go to Export > Web > YouTube or Facebook to download the new video as the best format and quality for those social platforms.
By the way, unlike HitFilm Express, TunesKit AceMovi released versions for Macs and Windows 10, 11, here you can download for free!
HitFilm Express's Animation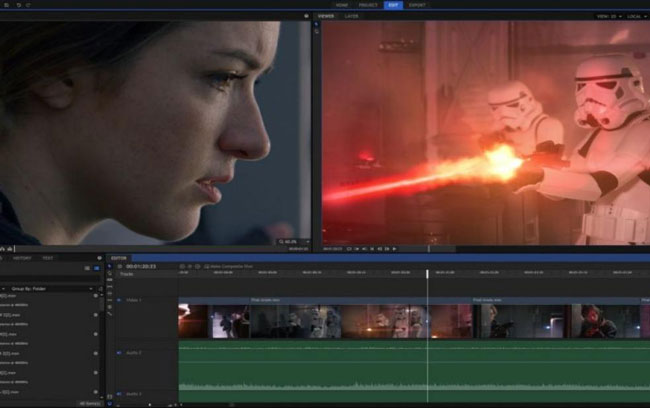 HitFilm Express has some very powerful animation features, including keyframing and motion-tracking. To access the animation features in HitFilm Express, you will need to be in the Edit > Effects workspace. Click on Workspace in the toolbar and select Edit.
You can add titles and text animations to your videos as well as you can customize them accordingly. Hitfilm express allows you to import 3D models and scenes from popular applications like Cinema 4D and Maya using the built-in Alembic support. Customize 3D models by adding materials and animations in HitFilm Pro.
HitFilm Express's Color Correction & Grading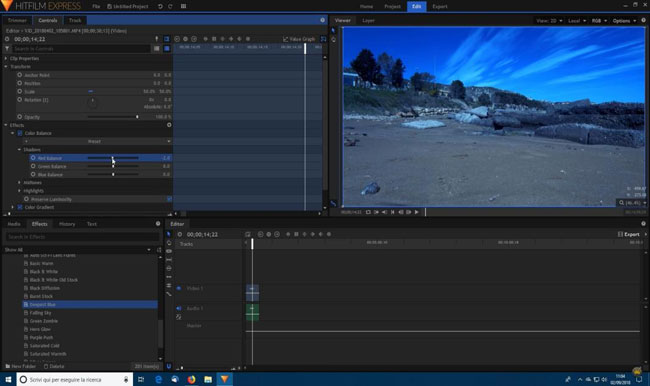 HitFilm Express comes with a set of useful color correction and grading tools. The core of the software is built on Color Foundry, an industry-leading color engine that has been used in blockbuster films such as Avatar, Alice In Wonderland, and The Avengers.
Hitfilm Express includes a comprehensive set of tools, including curves and wheel, color balance, luma mixer, luma key, and more. All of the color tools in Express can be animated over time to create powerful transitions and effects. You can easily correct the color of your clips to match throughout a sequence or use color grading tools to create a unique look.
The basic correction panel contains adjustments for exposure, contrast, saturation, brightness, and gamma. These settings can be adjusted using the sliders or by typing in specific values.
HitFilm Express's Keying & Extraction
The HitFilm Express Timeline supports multiple types of keyframes for each property that can be adjusted using linear and smooth keyframes. This is an awesome feature that was released on the HitFilm Express 2017.
To change the value of a parameter over time, click the stopwatch icon next to it. This will create a keyframe. From then on, the value of that parameter will remain the same until another keyframe is added. Click on any keyframe and adjust its value by moving or scaling it in the Edit window. You can add as many keyframes as you like in any parameter.
Hitfilm Express exports directly to YouTube, Facebook, and other popular platforms. Suppose you want to use HitFilm for a school project, export up to 1080p HD quality. When you're ready for 4K UHD or professional projects, upgrade to HitFilm Pro.
HitFilm Express's Specialized Effects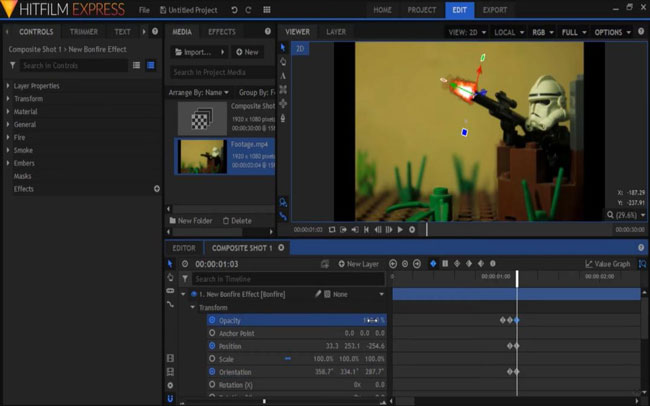 Hitfilm Express has an arsenal of effects optimized for turning your action scenes into something truly explosive. You can use 3D muzzle flashes, Sparks, Blood Mist, and much more to create realistic gunfights and combat sequences.
For instance, when you're using the 3D muzzle flashes, HitFilm 4 Express will allow you to reposition the flash mode to match the soldier mode on the canvas. To lengthen the width and height, you need to drag the element's edge. And lastly, go to the New Bonfire Effect > Transform to control the amount of opacity.
Besides, the 360° video tools in HitFilm Pro allow you to create and edit immersive effects for YouTube and Facebook. 360° videos can be exported directly from the editor for uploading to supported platforms.
Conclusion
From this HitFilm Express review, it is clear that you can try great VFX in video with this video editor. But you may need to learn some tutorials beforehand because it's a bit complicated. Also, if you're just planning to do some small edits like adding captions, replacing background music, applying filters, and making split-screen, AceMovi will be more easily.