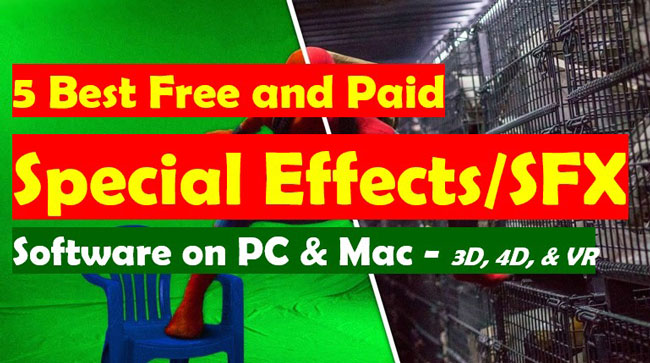 "Daddy, did you see the Spider-Man, he makes the shapeshift just in seconds, flying in the sky, and save so many people as it really happens. How amazing and I'm so interested in it. Can I be the Spider-Man?"
Must be one day when we're capable of flying over the sky but apparently not at the moment, but have you thought of those questions after enjoying a film? And is it possible for us to make a movie with special effects like that?
That's what we'll talk about in today's post. We're going to share with you some useful advice in making use of special effects and the five brilliant and best special effects software that work on both Windows and Mac systems. Ready? Let's go!
Ⅰ FAQs
1. What is the SFX?
Special effects, called SFX for short, are used by the film, television, and entertainment industries to achieve scenes that cannot be made by normal techniques. For instance, creating a 16th-century castle or sinking a 20th-century ocean liner might be very expensive, but we can simulate it with those high-tech special effects.
2. What are the Distinctions between SFX and VFX?
Visual effects, abbreviated as VFX, are the creation or processing of any screen image that does not exist in real life, which allows us filmmakers to make environments, objects, creatures, or humans ourselves.
SFX are made in real-time during video shooting, like pyrotechnics, fake rain, animatronics, or prosthetic makeup, etc., while all VFX are added after shooting in post-production.
Ⅱ The Best Special Effects Software for PC & Mac- AceMovi Video Editor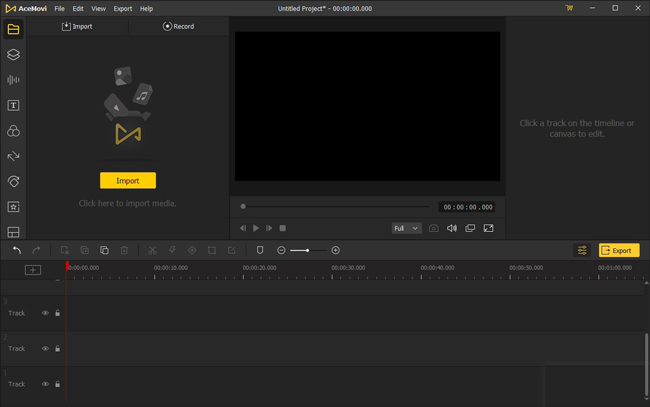 The latest version of AceMovi Video Editor provides special effects editing newcomer with an easy-to-navigate & well-orchestrated user interface so that you can find all the built-in functionalities on screen. See those icons in left item trays? It includes 70+ video filters & overlays, 50+ transitions, and 30+ animations & motions, etc., you can have access to all of the special effects for free with a few drag-n-drop clicks.
To have a closer look, AceMovi combines all the lines of video, soundtrack, images, special effects, and any other elements into the Track, in other words, there're no limitations in how many Tracks you can add, and where to put them.
More importantly, AceMovi created one of the most popular special effects – Regional, where some of the SFX like Mosaic, Magnify, ColorNot, Blur, Sharpen, Smooth, & Color are offered, and all of the special effects could be applied at the same time. Specifically, if you want to mosaic someone's face while magnifying another, just put both of the two video effects together in the timeline. Is it cool? Just try it!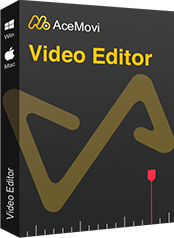 Key Features of AceMovi Video Editor
Security Verified. 5,481,347 people have downloaded it.
Pro:

Speical effects: easy-to-grasp steps & all-sided tutorials
UI: Clean interface & effortless process
Video genres: tons of filters, texts, music, & animations
Advanced features: Pip, spli-screen, and Regional, etc.
Good compatibility: downloaded on almost all the PC and Mac
Cons:

Trial version:Little watermark printed (but cost-efficient)
Ⅲ Top 4 Video Editing Software with Special Effects for Professionals
If AceMovi is deemed more likely as a special effects video editing toolkit for beginners, are there any moviemakers used for professionals that carry more advanced special effects? The answer is yes! In the following, five special effects providers will be reviewed with pros & cons.
1. Fusion Studio 17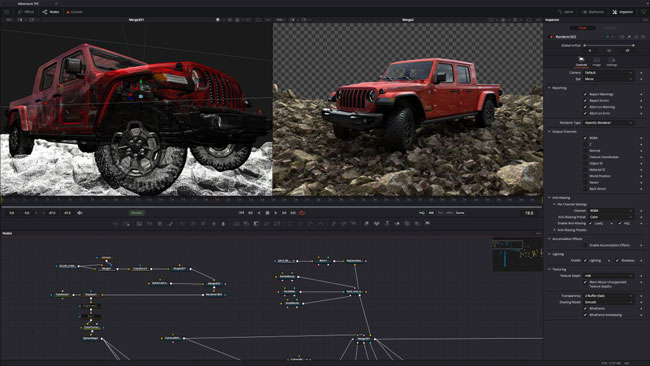 As one of the most advanced compositing, editing, and special effects software, Fusion Studio was created for thousands of genres of multi-dimensional video making. Fusion features a node-based UI so that sophisticated effects like the 3D construction models can be progressed effortlessly and conveniently.
Meanwhile, a massive set of professional special effects tools, incredible 3D & VR support, and GPU accelerations have been set inside Fusion. Next is the Nodes of Fusion, which consists of detailed icons that represent special effects, filters, graphics, images, and other video items.
Pro:

Special-Effects/SFX: 3D workplace for compositing, virtuality, and stereoscopic, etc.
Auto-retime animations: Edit, loop, mirror, & bounce animations automatically
Keyframes maker: Stretch & squish keyframes without any hassle
Vector Shaper: applying the motion graphics by Vector Shaping Maker
Cons:

Price: No trial version, $295 for 6-month
2. HitFilm Express
Running with professional-criterion special effects, HitFilm Express was taken as one of the biggest SFX toolkits on the market with intuitive UI & gentle learn curves. As you can see from the above picture, HitFilm highlights its playing canvas – you can edit two windows simultaneously, while a massive of special effects, lens flares, Lightswords, and other functions have been embedded in the menu located left.
What's more, Motion-tracking & Animation-creator has engaged in the HitFilm Express so that you can track those advanced motion graphics, and use visually-engaging animations by the integrated users' tutorials.
Pro:

Special-Effects/SFX: Lighting Effects, Color Correction & Grading, 3D Simulation, and more
4K Exports: The majority of current video formats included
Advanced tools: Motion tracking, Behavior Effect, and Unified 3D Space, etc.
Users' experiences: Overall basic & pro users' tutorials
Cons:

Price: No trial version, $39 per month
3. Fondry Nuke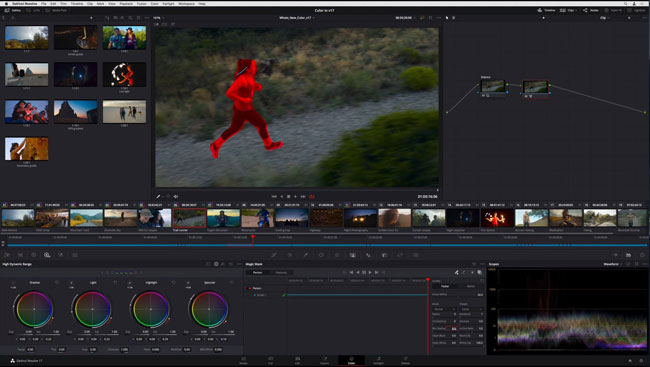 Nuke Studio and Hiero, two of the Nuke family's robust special effects tools, were designed in the Foundry's VFX Editing and Management. Foundry Nuke provides USD Support, Sync Review, License Roaming, and more. Furthermore, on the 12.2 version of Nuke, native support for Ultimate Strength Design (USD) was propped up, by using it the ultimate actions on your video with be strengthened and you can see how they're moving within seconds, it more likes a special effect that merges both the slow-motion & magnification.
Moreover, users can review and annotate video thumbnails collaboratively by the Sync Review and check out licenses from floating editors to use offline in one month.
Pro:

Special-Effects/SFX: Powerful Nuke Studio, Hiero, Python API, and more
Multi-Shot workflow: Playback, review, composite video clips with more ease
Dynamic timeline: customizable and it could be changed into an image page
Free trial: 30-day free for using the latest version
Cons:

Log-in is needed before downloading & average price up to $2000 per quarter
4. Adobe After Effects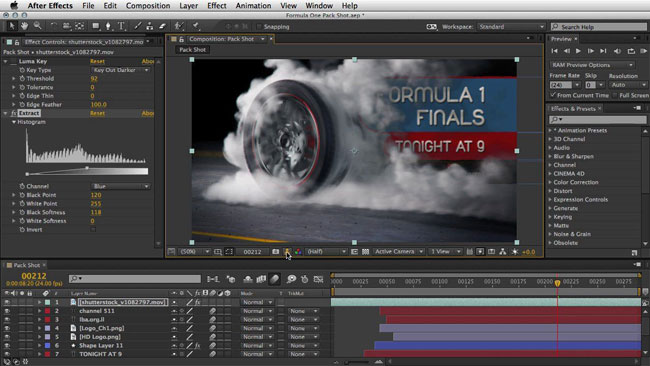 Proving more digital video effects, motion & 3D graphics, footage composition, and so forth, Adobe After Effect is usually used for video tracking, animation, and keying. When it comes to the texts' special effects, not only can we spin & twirl words, titles, and credits, you can make it animated in motion with keyframes or expressions as well.
Prefer 3D special effects? Adobe After Effect contains hundreds of 3D & VR videos from the corresponding dropdown like 3D Channel, Blur & Sharpen, CINEMA 4D, and Distortion.
Pro:

Special-Effects/SFX: Slews of built-in 3D and VR, even 4D thumbnails
Audio Histogram: Clear to see and easy to alter more precise parameters of the soundtrack
Step-by-step tutorials: one-stop video guides for every level of editing
Cons:

Only 7-day free to use
Ⅳ All in All
That's all we sharing today, but many special effects are waiting for our creation and discovery. When it comes to how to pick up a suitable video effects editor, I believe, there's must be one of the above five editing software that can catch your appetite. And we're highly recommending AceMovi as your starter, if you are new to the world of video editing. So download it and have a try now.