The golden age of the past has been wrecked and will never come back, but we folk still cherish the memory of the highlights of that time. In videos, the photographers tend to capture the scene with an old-fashioned cartridge to make the video takes on an air of the 80s, 50s, or even earlier. Nowadays, the retro filter/effect is one of the main and easiest technologies to make a video seems vintage.
If you are wondering which tool is the best one to pick up, just review this post herein you'll get the specs of the top 10 best vintage video editors, covering software for windows & mac, online tools, and apps. Here is the beginning!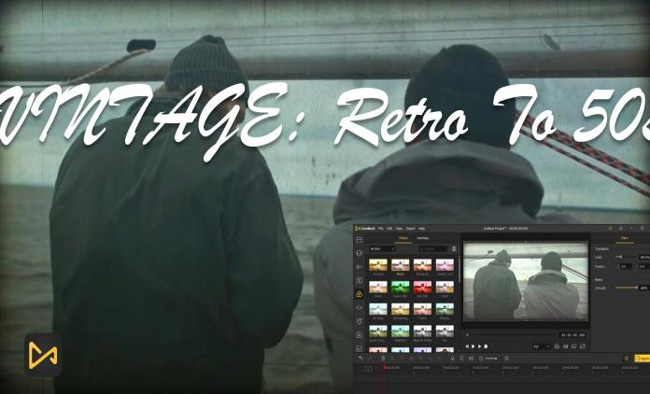 2022 - Top 4 Best Vintage Video Editors for PC (Retro Effects)
It's wisdom to start storytelling with PC video editing software for handling a pile of video clips, also, making vintage videos is not an exception. With a computer vintage video maker, you'll find it convenient to chop, split, cut, convert, crop, and much more with just a couple of clicks. Also, you won't be bothered by the issue of storage and rendering stability.
In the following, you can choose from the top 4 tools to apply retro filters to your videos, let's go!
Top 1. AceMovi: All-in-One Vintage Video Editor
AceMovi empowers you to select from 100+ different types of filters and overlays to make a perfect vintage video including the Retro, Ink, Black & White, Vignette, & Aibao. And this is why AceMovi ranks the top 1 for making footage look more vintage. Users can also turn to change the opacity and speed of the retro effects.
As for more creativity, AceMovi comes with a set of pragmatic tools, and some of them you may be interested in like the Video/Webcam Recorder, Chroma-Key(Green Screen), Video Reverser, Slow- & Fast-Motion Maker, Color Grader, and Sound Syncer. The AceMovi trial version supports all of the editing features for users.
There are many export options when you want to download with AceMovi vintage video editor. For example, you can convert or download the video at MP4, AVI, DivX, WMV, M4V, etc., as well as the best format for social media sites like YouTube and Facebook. No matter whether you're a Mac or a Windows user, clicking here to download AceMovi is the first step!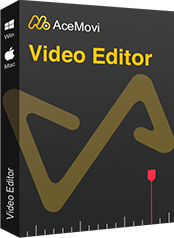 AceMovi Video Editor
Security Verified. 7,733,655 people have downloaded it.
Reasons to Try:

Awesome VHS glitches and scratches
Turn multiple videos/images into an old-fashioned style
Blur your video quickly
A toolkit of trimmer, cutter, recorder, converter, etc.
Clean interface and easy-to-learn
HD file export & social media export
Downsides:

Cannot work online
Top 2. VLC: Versatile Vintage Video Editor & Player
Being a brilliant & cross-platform HD and 4K video player, VLC is also a good helper in rendering your imports with retro filters and colors. It's not streamlined in that you cannot edit multiple files at the same time. VLC features plugins and active extensions like the Skins, Playlist parsers, Interfaces, etc.
The main tools of video effects can be navigated from Tools > Effects and Filters, and the shortcut is Ctrl+E. Audio effects compile Equalizer, Compressor, Spatializer, Stereo Widener, and Pitch Changer. The video effects that users always apply include brightness, contrast, sharpen, crop, overlays, anaglyph 3D, mirror, waves, etc.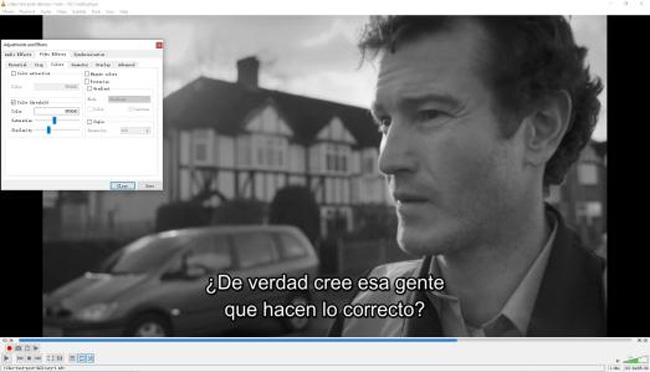 [Tutorials] How to make a vintage video with VLC Media Player? To begin with, drop your files under the interface, or follow the paths of Media > Open File to select the target from local.
Press Ctrl + E to launch the plate of Effects & Filters, which is one of the most important channels in editing video. Then go to the Video Effects > Colors where you can tick the color threshold to adjust the saturation and similarity or tick the sepia to adjust intensity.
Pros:

Retro effects: Color Threshold & Sepia Rendering
Complex settings and parameters of saturation, similarity, and intensity
HD, 4K, and 8K media player
A toolkit of video rotator, mirror, trimmer, converter, etc.
Open-source & watermark-free
Cons:

Cannot handle multiple files
Lacks elements, such as background music and filters
Top 3. Movavi: Smart Vintage Video Editor
Movavi brings users high-grade titles and fades, Hollywood-worthy effects, as well as a screen recorder. Someone dislikes Movavi for the expiration of 7-day and paid services now need you to pay at least $54.95 per year for the full version. However, Movavi is a suite vintage video editor for Windows and Mac and comes with a good-looking interface.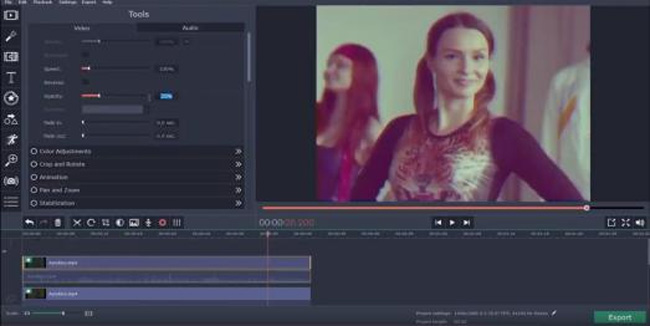 [Tutorials] How to get perfect retro video effects with Movavi? Click the Add Media Filters to import your files and put them under the timeline as a sequence. There are also some sample videos to add as the intro or outro parts.
Next, go to the Filters > Retro/Vignette. A tip to make the effects seems more vintage is adding more retro filters at the same time.
Pros:

Intuitive controls and tabs
Ready-made intros
A host of retro and vignette filters
Making a vertical video go to vintage for YouTube, Ins, and Facebook
Pros:

7-day for trial & paid built-in services
Top 4. VSDC: Advanced Vintage Video Editor
If you are a professional filmmaker, VSDC can be one of your best options to start the journey. Not only is VSDC watermark-free and comes with a full selection of projects like the Slideshow and the Recorder but also top features can be traced easily like the 3D Editor, Motion-Tracking, Beat Editor, AI Art Generator, as well as UHD & HD.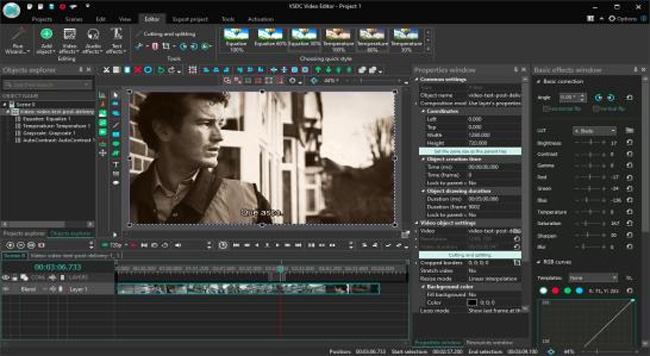 [Tutorials] How to create vintage videos on Windows with VSDC? Choose a blank project to start this trip, then drop your files under the timeline. You can preset the resolution, framerate, aspect ratio, and video/audio codec.
Two options for making your footage vintage, one is going to control the LUT like the brightness and contrast from the basic effects window on your right hand, and the other is tapping on the menu of Editor and directly applying one of the wanted retro filters to your video such as the Grayscale and Temperature.
Pros:

Accurate vintage color grading parameters
UHD & HD
Export in the best format for social media
More advanced effects abound
Ready-made retro effects to use
Cons:

Complicated for beginners
3 Best Vintage Video Online Free (Old-Fashioned Filters)
A lot of users prefer to make edits online for no downloads and store videos in the cloud. Is there any vintage video editor that was released online for free? Of course! But you need to pay attention to the internet quality as well as the storage limits before using an online old-fashioned filter maker.
Here I'll show you the specs of the top 3 online tools you may be interested in!
Top 1. VEED.IO: Stable & Fast Vintage Video Editor Online
VEED.IO is a linear video-making toolkit that you can opt for the wanted features from its interface at the very beginning, for example, the online Vintage Video Maker of VEED.IO is set inside the Home > Create.
However, unlike the FlexClip, VEED.IO is not a free tool whose trial version supports projects under 10 minutes and 250MB with the branding watermark. You need to upgrade your account providing that you want VIP services.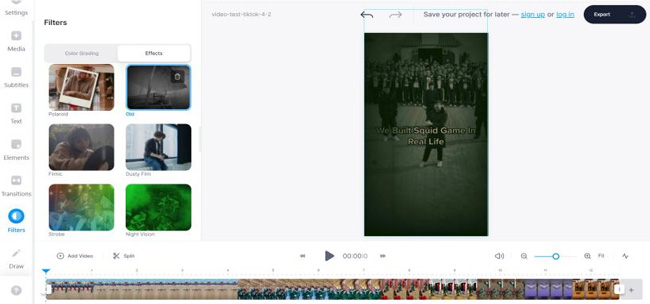 [Tutorials] How to make movies with an old-style cinematic filter online with VEED.IO? Click on the Choose Video to import your videos after getting into its official website. Tap on the Filters > Color Grading/Effects. You can simply find the Old filter from the plate and now click it to render your video directly.
Pros:

Vintage video editor online
Import video from YouTube via the video URL
Motion-tracking & keyframes
A vast library of video templates
Auto Subtitle, Manual Subtitle, and Subtitle Files(SRT/VTT)
Cons:

One track only
No free version
Top 2. FlexClip: Watermark-Free Online Vintage Video Editor
FlexClip is an online free vintage video editor that exports your video without watermark yet is limited to 720p. Different from VEED.IO, FlexClip supports the modes of timeline and studio so it's possible to edit multiple files under the timeline with this online tool. However, there are no retro filters in that you need to adjust colors by yourself to make the vintage video looks perfect.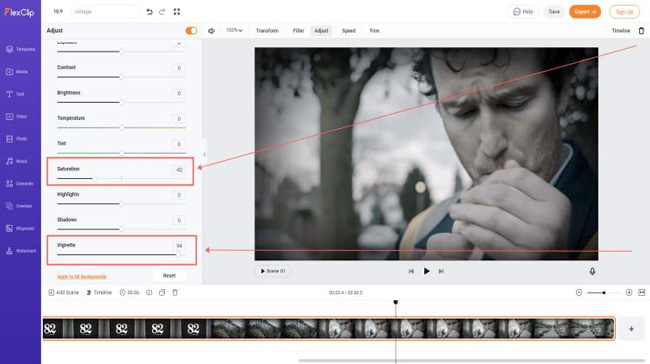 [Tutorial] How can I edit a video to make it looks vintage online free with FlexClip? Starting with a video template or directly importing your clips, then go to the toolbar that is set above the canvas and left-click on the Adjust. Now scroll down to adjust the intensity of color saturation or the degrees of the vignette.
Pros:

Vintage video editor online free
Buttons to adjust vintage effects
Hundreds of off-the-shelf templates
Export at 720p video for free
Lovely music in the online stock
Cons:

No retro filters and effects
Top 3. Pixiko: Powerful Online Free Vintage Video Editor
Want to edit multiple files online for free? There is no video template in Pixiko like VEED.IO and FlexClip. Pixiko is simpler and quicker in making a vintage video with built-in tools.
The interface of Pixiko is distinctively different from others - Adding videos, audio, images, and texts on the main menu, applying effects from the toolbar, and adjusting tracks on the timeline. Although it's free to download videos on Pixiko yet it's unwise because we practically found that you need to wait for a very long queue in export if you're a free user.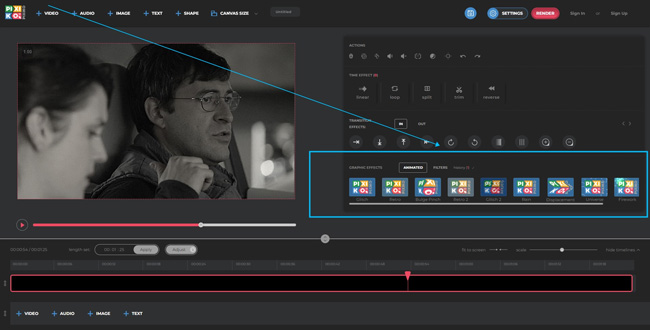 [Tutorial] How to make a video look like it's from the 50s with Pixiko online? Choose the +Video to import your wanted files. Afterward, click on the Animated and apply one of the retro effects such as the Retro and Retro 2. If you want to grade color, try to click on the Actions > Color.
Pros:

Built-in online retro effects
Able to program batch files online
Beautiful and sizeable user interface
Unlimited layers
Multiple canvas sizes
Cons:

In fact, you need to upgrade if you want to export video
3 Best Retro Video Effect Apps for iPhone & Android (Retro Filters)
What about shooting a video that comes with the retro filter? In fact, it's easy to directly make a vintage video with the camera roll on your phone, not to mention putting such a filter into a pre-made video.
Scroll down to see the top 3 retro video effect apps!
Top 1. Vintage Camera & Retro Filters: Brilliant Vintage Video Editor App
If you want to download a retro video effect app on iPhone or iPad, Vintage Camera & Retro Filters must surprise you. You can pick up vintage filters from the 60s, 70s, 80, and 90s for free. There are services of Vintage Photo, VHS & Glitch Effects, Retro Video, Film, etc., yet some of them need subscriptions like the Premium Vintage Photo Filter and the Film Frame.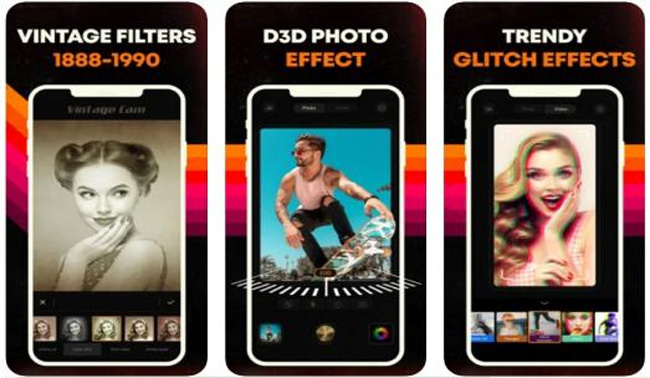 [Tutorials] How do you add a vintage filter to a video on mobile phones with the Vintage Camera & Retro Filters? First of all, upload the files from your device and then make adjustments like the resolution. Then go to the Vintage Filters to add your wanted feeling color. Once done, you can showcase the vintage video on YouTube, WhatsApp, TikTok, or Twitter.
Pros:

Full of retro VHS filters and effects
User-friendly interface
D3D photo effects & glitch effects
Share the video on social media platforms
Cons:

Some effects may go to stuck
3-day free trial only and after that, every filter is locked behind a paywall
Top 2. RAD VHS Camcorder: Portable Retro Filter App Video
What set RAD VHS Camcorder different from others? It is a vintage video recorder & recorder that can help you go back to the 80s and 90s suddenly. There are awesome glitches and scratches to leave your video with a VHS feel. More built-in features like Change The Date, Import from Camera Roll, Selfie Mode, and more are included.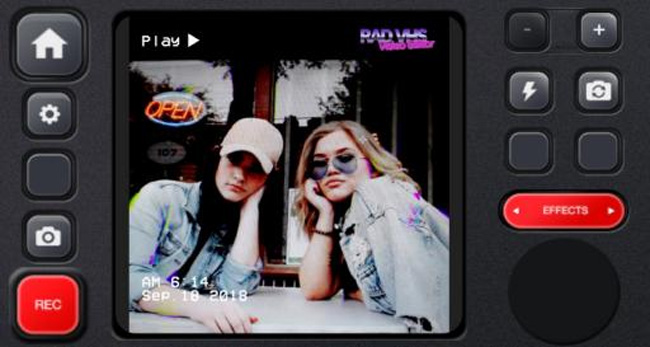 [Tutorial] How to take a blast to the 80s or 90s in a video with RAD VHS Camcorder? Above all, import your videos and photos to this app. And then click the Effects icon to apply your wanted retro effects. If you want to record a video with the camera roll, hit the REC icon.
Pros:

Shoot a video with retro effects
Back to the 80s or 90s naturally
Change the video speed and date
Add stickers and texts
Cons:

If the first video is being processed, you cannot shoot or edit the next one
Top 3. Vintage Filter - 1957 Art: Professional Retro Effect App
Vintage Filter - 1957 Art will attract you and let you fall in deeply. This is a vintage image maker app, which allows you to select from a host of retro filters on your Android devices. Some shortcuts are set like the double-tap to save & shape photos automatically and swipe to apply filters.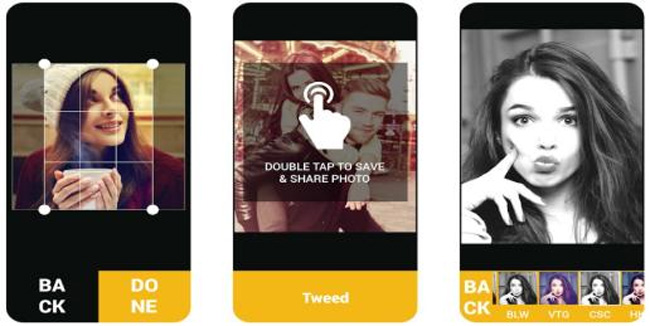 [Tutorial] One way of importing is by selecting the file from your album. Then you can choose to crop unwanted borders of your files. Now swipe to apply filters directly, such as the Herderite, Vintage, Old, Everest, etc. Lastly, double-click the screen to save the images.
Pros:

Retro filter app for images
Crop unwanted parts easily
Support a lot of files
Easier workflow
Final Verdict
There are more strategies to make a standard vintage video, for example, you can overlay a moving text to the video as an intro to introduce the story about the 80s, add an old-fashioned narratage(voice-over), or grade the video in color to create a vintage atmosphere. All in all, you need to get a smart vintage video maker and try to master it, so hoping this post can be of any help.