As a completely web-based video editor, VEED's goal is to help beginners and professionals perform instant video editing more easily. Believe it or not, the VEED video editor has attracted more than 35 million users worldwide so far. Why is this online tool so popular? It lies in that, unlike the streamlined editor, VEED users can navigate to all the features and effects just on the profile page.
More importantly, VEED Video Editor requires no installation and can be accessed from any device and anywhere. Still, many users are wondering how to use this video editor and ask whether VEED is "safe to use" or "free to use." If you also want to know these things, just read this article. Today, I'm going to show you the best VEED video editor reviews and tutorials. Here we go!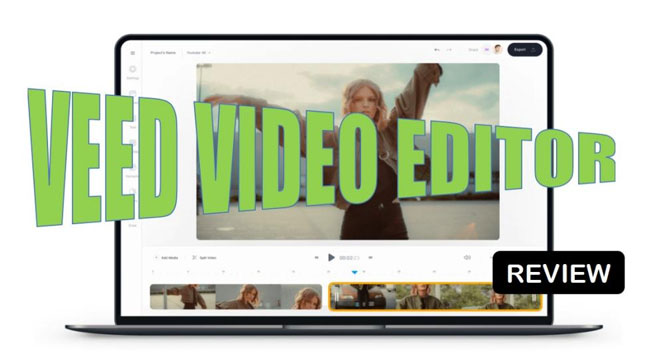 [2022] A Simple Review of VEED Online Video Editor with Pros & Cons
VEED video editor is a simple-to-use and effective video editing tool that allows anyone to make quick edits to video clips online. It is powerful in making & editing the projects of Sales Videos, Business Presentations, Review Videos, Daily Vlogs, Creativity Clips, Enhancements, and more.
Besides, as for how to import videos on this tool, users are empowered to start with a recording by the built-in Screen Recorder and Camera Recorder. For example, you can record the gameplay with Clipchamp and edit it directly. Also, Clipchamp is associated with OneDrive, Zoom, Box, and Google so you can upload videos via those channels.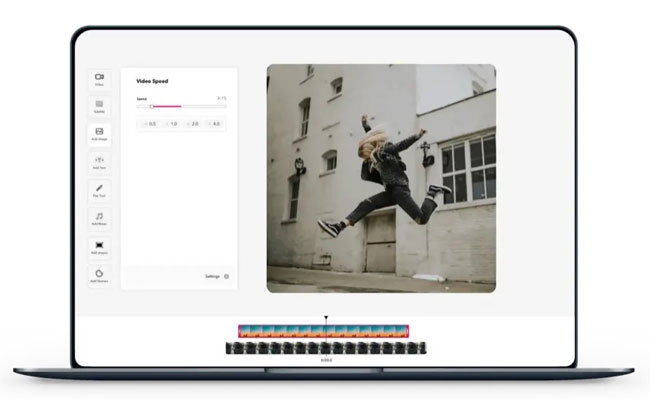 The best feature is that you do not have to be an expert to use the online editing tool. Instead, a stable internet connection and basic knowledge about video editing are sufficient to get started with video editing.
The graphical user interface is easy and packed with all the available features for editing a video. As for importing videos, you can upload them from cloud services such as Google Drive and Dropbox. You can further manage multiple projects and view the contents on a single page. Such a feature increases work efficiency and help focus on producing videos rather than content management.
Pros:
Nonlinear workflow design
Safe to use
Easy to make an intro, meme, trailer, lyric
Upload on Facebook, Ins, TikTok, Twitter, and YouTube bluntly
Remove background noise
A vast library of music and audio effects
Built-in camera recorder and screen recorder
Cons:
The free version: Watermark printed and a max of uploading the file at 10mins, 250MB, 720p
Unfit for multiple video editing (batch video editing)
You can only get month-plan
How to Begin with VEED Video Editor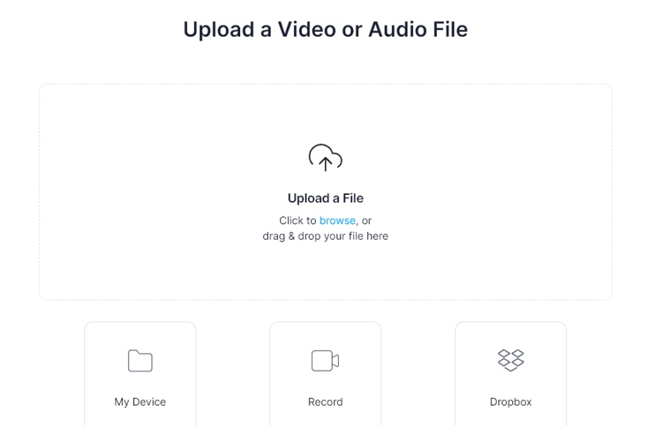 Setting up a VEED account is simple yet it's necessary. During the process, video editor VEED will ask the platforms for which you like to create videos and any previous experience. Upon completing the registration, you will see the option to create a new project. And you have the option to upload a file from the device or Dropbox and import a video from YouTube.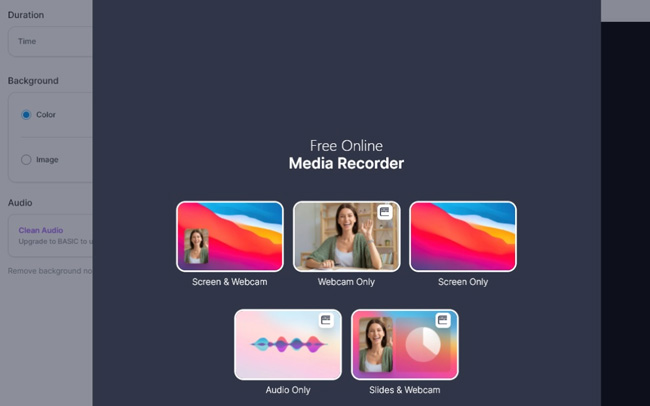 As you can see, you can also record your screen, for which you must grant permission for the tool to access your webcam and microphone.
After completing the process of uploading a video or recording your device's screen, it will take a few moments to process. Once completed, you'll see the editing screen. VEED video editor free is user-friendly, and you can access all the options quickly. For example, you can choose transformations, change the speed, set the audio volume, or around the corners. Additionally, you will find additional editing tools such as transitions, elements, filters, subtitles, and more to the left.
How to Add Subtitles to Video with VEED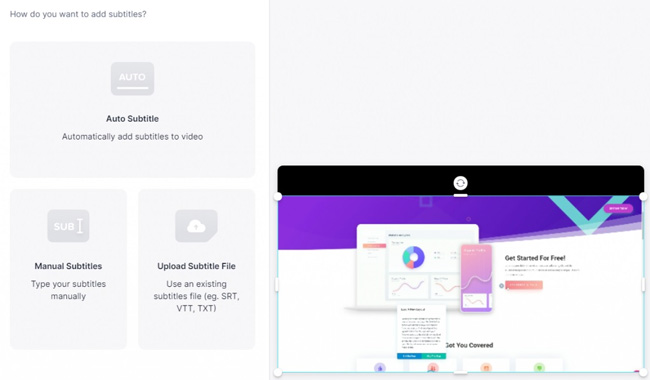 One of the primary selling points of the VEED online video editor is the ability to add subtitles. Three options for you:
(1) Auto Subtitle: To allow the platform to add subtitles automatically, in this process, VEED will detect the talking in the video and technologically get rid of background noise;
(2) Subtitle File: You can upload an SRT file on the VEED video editor online;
(3) Manual Subtitle: In this case, you need to choose the text genre and type one by one. The most important thing you need to care about is synchronism, if you think it's hard to match, try the Auto Subtitle feature.
How to Apply Filters to Video with VEED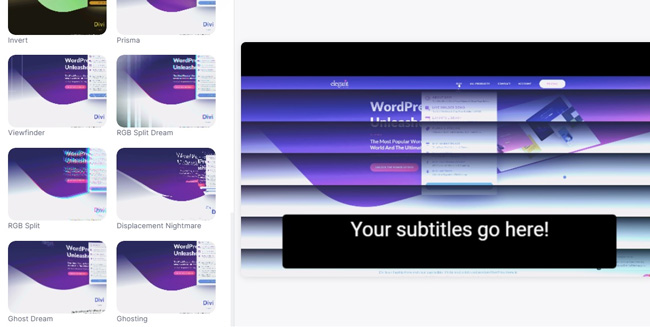 Another selling point for the VEED video editor is the filters and the ability to create videos for social media platforms. VEED provides an excellent selection of filters that you can use to enhance the wanted video to the desired output, including types like Invert, Prisma, Viewfinder, etc.
However, there is no customization option and some of the filters are only provided for paid users. Don't worry! If you want to try more filter genres or customize the filter to fit in your videos, better give a try of TunesKit AceMovi. This is an all-in-one & pragmatic video editor. Except for filters, you can freely use lots of video overlays with AceMovi. Here is the guide: How to Add Filter in Video.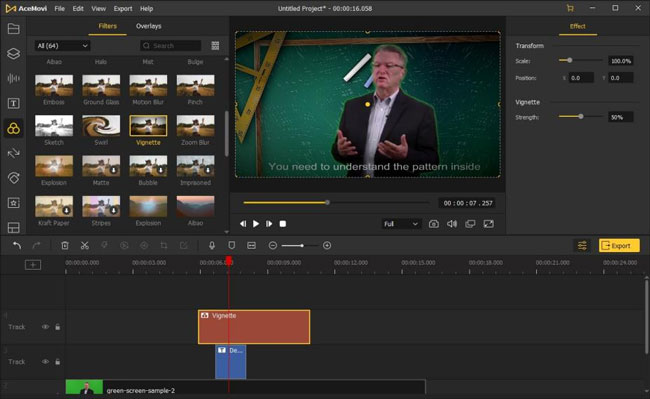 Different from VEED, TunesKit AceMovi is a PC and Mac video editor, which can be opted for in circumstances like:
(1)Editing multiple videos - Trim, cut, split, crop, convert, combine, compress, transcribe, reverse;
(2)Safer editing experience - AceMovi was designed with a robust system and incredibly reliable information protector, you can even use it offline;
(3)Advanced edits - Chroma Key, Split-Screen, PiP, Blur, Mosaic, Slow or Fast-motion, etc., are all available on this tool.
Click here to begin your journey!
How to Use Brand Imaging with VEED
The brand imaging option is available only for premium accounts. The brand kit allows you to include images, videos, audio files, color palettes, and font assets. Apart from this, you can further use emojis, text, and stickers.
Anytime you're planning to reedit the video, you can go to the profile and click the history of Brand Kit files.
How to Download/Export Video on VEED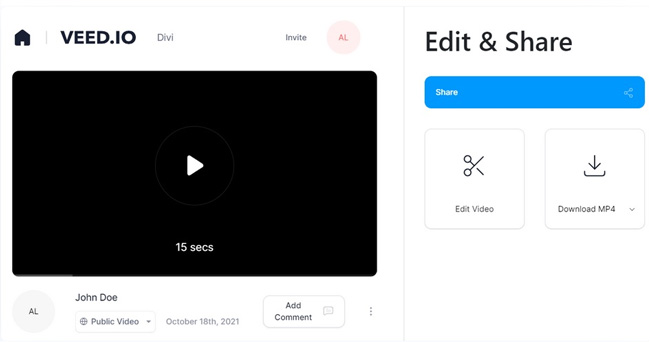 The online video editor VEED has an array of output options. After completing the edits, you can choose the selection and wait for the tool to render, which depends on the video's selected quality and length. After rendering is complete, you can access the player to review the edited video along with the options to download it or upload it on social webs like Facebook, Ins, TikTok, and Twitter.
Conclusion
VEED is a wonderful tool to edit videos on the go. However, there are limitations and it's not a free tool which leads to the result that you cannot use the full potential of this video editor to produce mesmerizing videos free.
If you'd like to add subtitles via importing SRT files or the Video-to-Text feature, VEED won't let you down. Also, speaking of the filters, transitions, overlays, text styles, and more video elements, I believe that you can give a try of TunesKit AceMovi.