Utilizing personalized videos to express your emotions or share your journey is on the rise these days. Suppose you're into marketing and want your personalized marketing video to stand out from the rest. In that case, you must get rid of every day's run of the mill and come out with something extraordinary to boost your sales or make a digital connection. That's where a video joiner comes in. You can join videos after trimming down the unnecessary parts, add annotations, record several parts to customize later, and give the final video an appealing look.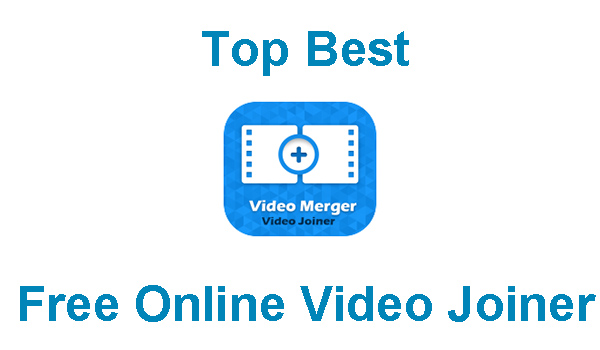 Choosing from several different applications can be tough. For that sole purpose, in this article, we have narrowed down a few of free online video joiner tools for you.
Top 7 best free video joiner online
1. Kizoa
Are you looking for ways to boost your brand's visibility and create a relevant, personalized video for your business? Kizoa is a perfect choice! It is among the best free online video joiner tools that have a user-friendly interface. Aside from the standard video editing capabilities such as video cutting, special effects, and transitions, it also allows users to overlay music and audio into video clips. As a result, you may mix your personalized and custom recorded video clips with these templates to make overall great content. It is also capable of creating slideshows and picture collages, among many other features.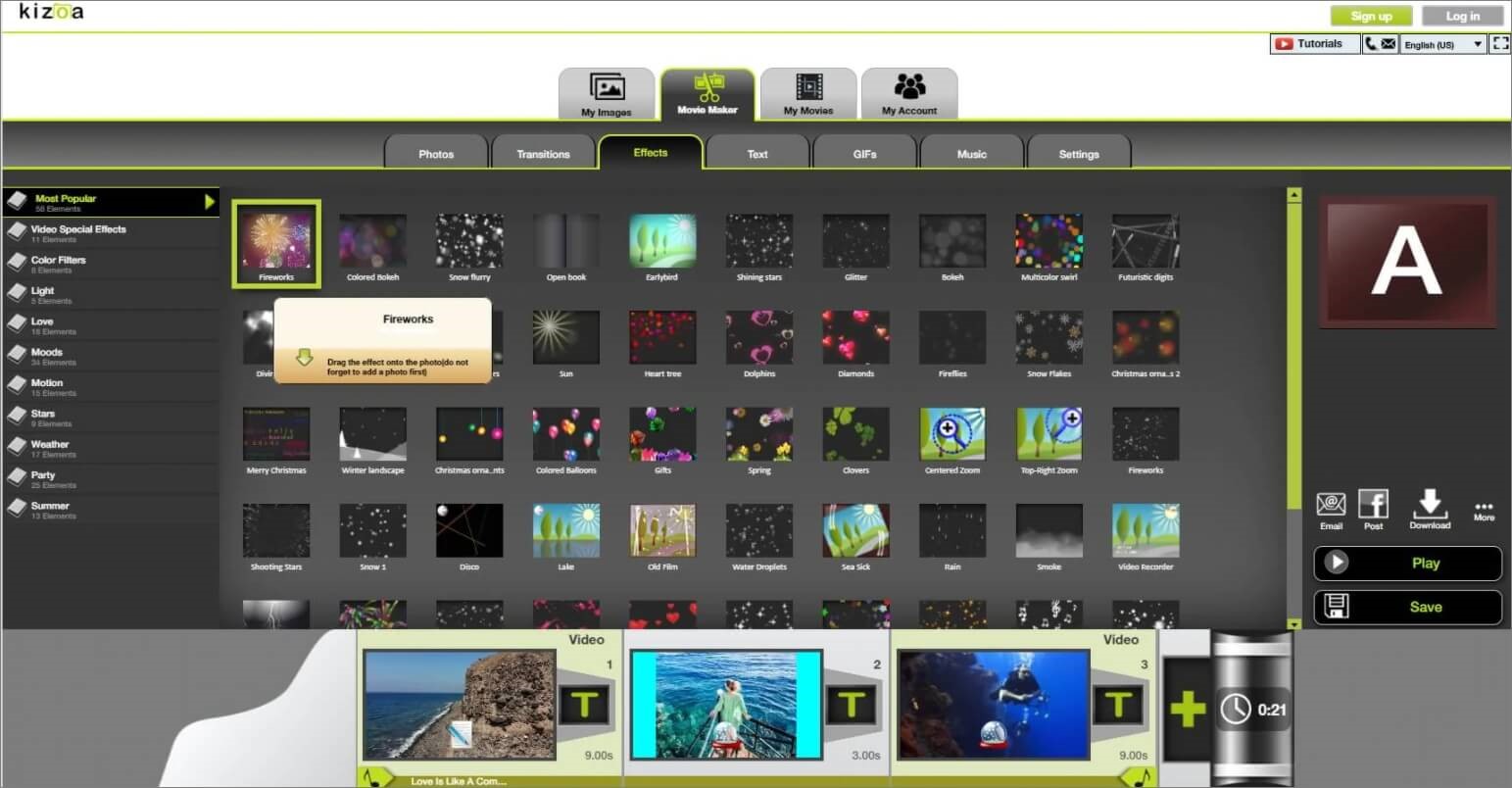 Pros:
Even the free version has no watermark in its final product
No limit set for editing the videos
It has a straightforward interface
It is a great editing tool for images as well
Cons:
It only supports one operating system
2. YouTube Editor
It is among a few of the best video joiner online that offer a free online video editing platform enabling its users to make appealing content by combining multiple footages and publishing it with a single click. All previous uploads made by the user are imported into the YouTube Video Editor. The user may use the tool to mix, cut, add music, and modify. Its effectiveness, however, is restricted to that.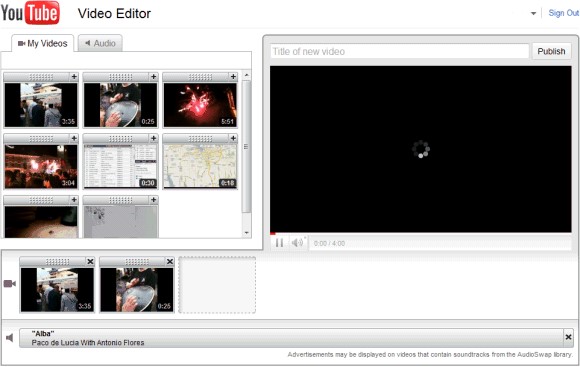 Pros:
It works smoothly in all of its versions, whether free or paid
It has a stable and straightforward interface
Several features for high-quality editing
Cons:
Restrictions while editing due to limited features
3. FileLab Video Editor
It's a flexible and all-in-one free online video joiner. It is helpful for individuals with little or no experience to connect or join the video files. In the timeline, you may edit, insert, mix, and rotate video clips and finally have a preview of them to add a final touch if needed. It also has a variety of special effects and transitions for all users. Moreover, the Filelab Video Editor supports multiple video formats, including AVI, DVD, MPEG, MP4, MOV, 3GP, and more.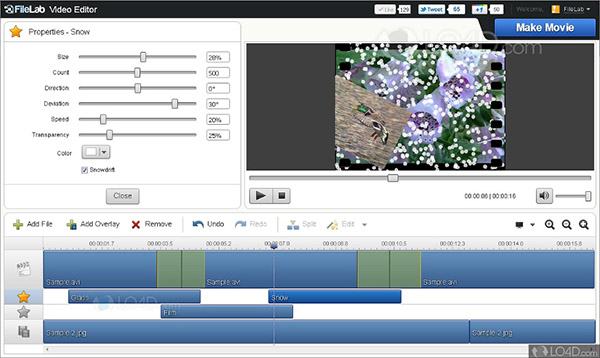 Pros:
Easy to use and friendly interface
A variety of different advanced features
Even the free version works smoothly in providing the result
The final product can be transformed into multiple formats
Cons:
It might not be available for download in some regions
4. PowToon
In case you're looking for a free online video joiner without downloading any program, PowToon is the choice! It is an excellent video splitting and joining tool equipped with the powerful editing features of all time. Not only is it simple to use, but it offers a user-friendly interface to showcase your message via videos or revamp a presentation. You can upload the original video clips and rearrange them by dragging them.
It not only allows you to make animated videos but also enables users to add themes, unique graphics, and voiceovers to your videos. Free users may get 100 MB of storage space, which is enough to create a five-minute movie from scratch.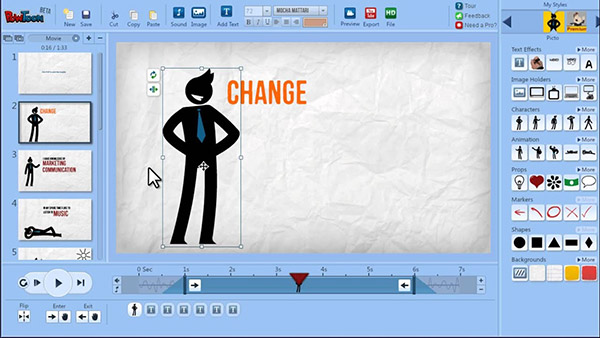 Pros:
Simple interface for beginners to get used to
It has several features to offer, even in the free version
The final product does not lose its quality even after editing
Cons:
Only 45 seconds of editing in free version
5. Pixorial
Pixorial is here with its premium and top-notch quality video editing tools! It has grown popular because of its simple and user-friendly interface. With its drag and drop feature, you can easily import videos to join accordingly. You can further edit, remix, create shows, and share videos in high resolution after joining them via Pixorial.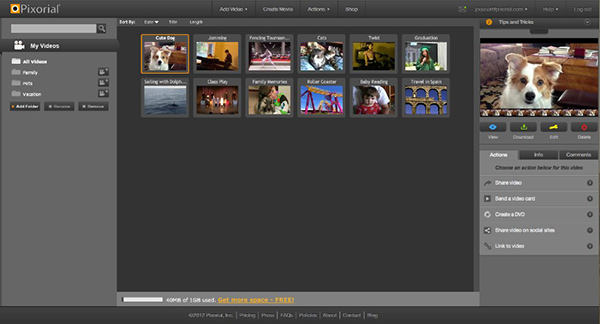 Pros:
Videos can be easily shared across different platforms
It has a user-friendly interface and layout, making it easy for beginners
It has several versions for other operating systems
Cons:
Its free version does not have many perks
6. BeeCut
One of the recommended free online video joiner, BeeCut serves the best for beginners. Not only is it a free and open-source media player, but it also functions as a video editor. It supports all kinds of video formats, making it easier for the user to edit, join and export the video files in high resolution. It performs an excellent job of combining audio and video files and saving them to a local folder. It also helps you to choose the format you like. What's more, you can join and export the video file without watermark and without compromising quality.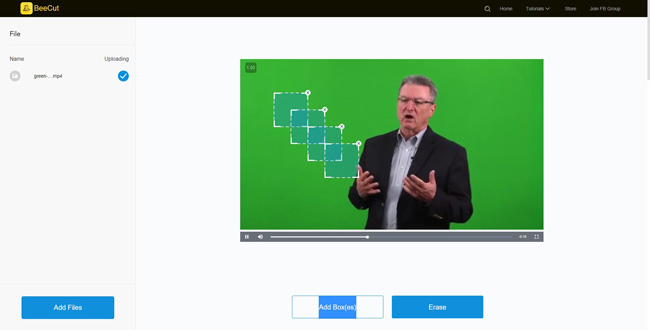 Pros:
No watermark in the final product
It has the feature to combine multiple videos at once
All types of video formats are supported in this application
It is compatible with almost every single modern browser out there
Cons:
Only up to five videos can be joined
7. WeVideo
A free video joiner online on the cloud enables users to edit videos from any web browser. Like the YouTube editing tool, the user must first submit the clips online before editing and creating a video. It is one of the simplest to use, with the assurance of providing the most significant user experience. The editing tools, including slow and rapid motion and joining videos files in high resolution, are its key features.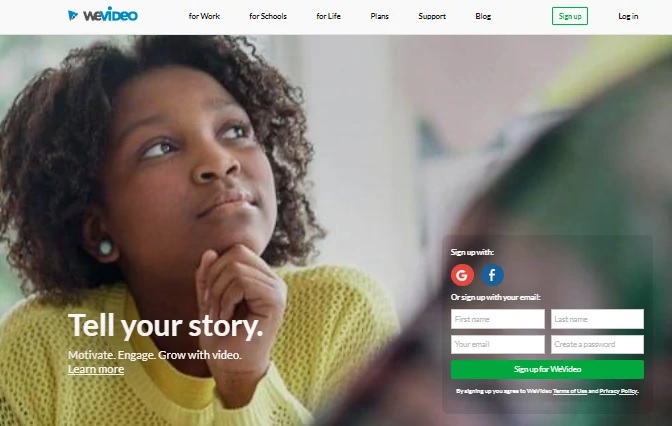 Pros:
Multiple users can collaborate in making a single video
Flexible interface to be used by several people at once
Cloud-based application for the advantage of sharing
It has a vast database to help you with your inquiries
Cons:
It is expensive as compared to other software
AceMovi Video Editor - best alternative to online video joiner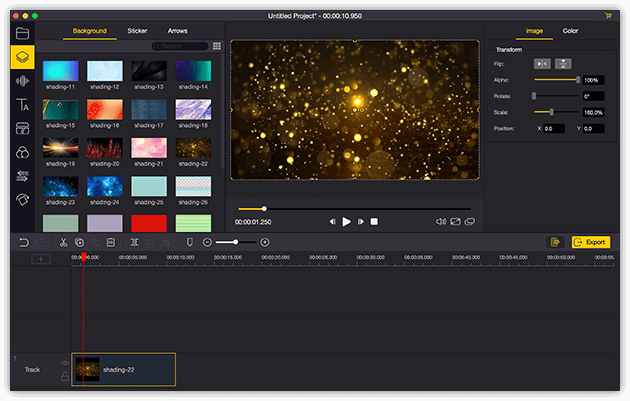 AceMovi Video Editor is undoubtedly one of the best alternatives to free online video joiners. One of the prominent features includes the easy sharing of video files on any social platform without compromising on quality and resolution. It makes it one of the best platforms to be used for professional video editing. It further helps one to boost the business sale by creating and designing exciting movie clips out of everyday recordings and photographs.
After the video clip is uploaded, you may choose the most refined combinations and add an elegant touch by applying suitable effects to these videos and photos. You may include music in the backgrounds of the film or add themes and effects to it. We have jotted down the steps to join videos on AceMovi Video Editor for your ease.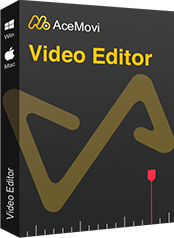 AceMovi Video Editor
Security Verified. 5,481,347 people have downloaded it.
Easy-to-use and concise interface
Record the screen and edit the video
You can cut, join, trim, and rotate the video as you like
A comprehensive video editor that can make advanced editing
Let's see the how to join video clips using AceMovi Video Editor
Step 1: Download AceMovi Video Editor
The initial step is to download the software on your desktop for further editing of the videos.
Step 2: Add the Videos
Next, drag the videos that you want to merge towards the timeline. Make sure not to leave any space between the videos you are adding.
Step 3: Export the Video
Now that you have added all the videos, click on the Export option to get the final product.
Conclusion
The article lists the top video joiner for different operating systems. It is critical to base your decision on the highlighted qualities for optimum results. When you intend to join several videos, you must also ensure that the video joiner is simple to use so you can quickly join several videos at once. You can use our guide to find the free video joiner online. Most of the listed software are desktop apps and offer professional video editing tools, while others have other distinctive features. So, go on and take your pick to start video joining like a pro.