The Windows OS that you are using will impact the performance of video editing software. The chances are high that you're using a 64-bit Windows OS if your computer is running the latest Windows version. But there are still many people prefer applying the old Windows 8 or 7 versions with 32-bit system.
By comparison, things will be different when your computer is operating on old versions. The biggest difference between a 32 bit and 64 bit OS system is the RAM utilization - The 32 bit system limits to 4GB use even if you have more RAMs installed. Therefore, it will affect the video maker's user experience and ability. If you haven't found the appropriate tool to run on your 32-bit device, today, you can choose the 9 best video editing software for 32 bit Windows from this post!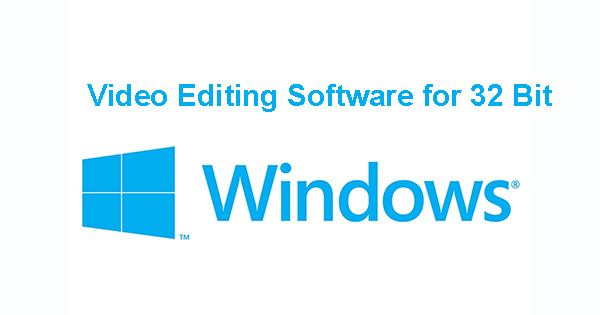 Top 1. TunesKit AceMovi
TunesKit AceMovi falls under the best video editing software for a 32 bit operating system category. The reason is because of the mechanism and algorithm that automatically detects the system's hardware and adapts it for better performance. TunesKit AceMovi is compatible with Windows XP - 11.
When you are trying to edit videos and add filters, transitions, and sub-titles, any editing tool harnesses the hardware to the maximum potential. However, with TunesKit AceMovi, you can forget about the hardware, as it adapts to your OS version and performs the actions accordingly without causing any lag.
When it comes to the common video editing features, users are empowered to use the Video Trimmer to cut out unwanted clips, crop the aspect ratio by the Video Resizer, and convert format or parameters with the Video Converter. More tools include Video Recorder, Stabilizer, Merger, and Keyframe Maker.
AceMovi 32-Bit Win Editor
Anybody can use it without prior experience
Creating videos takes only minutes
Plenty of filters, transitions, & color matching
Updates the stock media library
Flexible input & output formats
Low-end PCs can operate it well
Non-linear interface for batch files
Top 2. Any Video Converter
The first one on the list is the Any Video Converter. The video editing software for Windows 32 bit contains powerful features and a simple interface for beginners. It is the right tool if you need a simple helper for video editing and running a computer on Windows 32 bit operating system. The built-in preview makes it easy to notice the changes to the video before saving the file.
One of the points that make Any Video Converter stand out is that the timeline supports multiple files. You can use merge or combine many files at once, or change the volume channel directly. More than that, converting videos, burning DVDs, and playing media in real-time is at your disposal.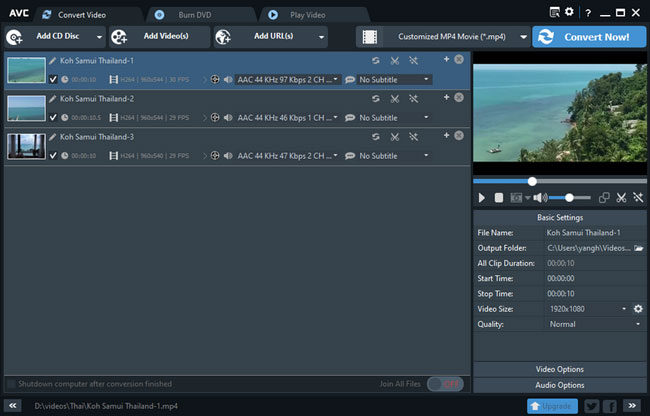 Pros:
Quick rendering
Excellent effects and filters
Supports all video formats
Simple interface for batch files
Add URL for video importing
Cons:
Comes bundled with additional software
It needs to upgrade pro effects, like reversion and DVD burning
Top 3. VSDC
VSDC video editing software for Windows 7 32 bit free download is a powerful tool. With its meticulous interface, versatility, and editing tools, the video editor has garnered a lot of attention within a short period. Users are allowed to merge, split, trim, crop, add music, and do much more. it's easy to use the timeline to adjust, add and merge two or more files, and make the necessary edits to create the video.
However, beginners may find the user guides hard to perform on VSDC because of the intricate interface and accurate setting buttons. Do not worry about this. VSDC gives you ready-made projects for slideshow making, common editing, screen recording, and file importing. For instance, you need to set the speed number, you should balance the saturation first.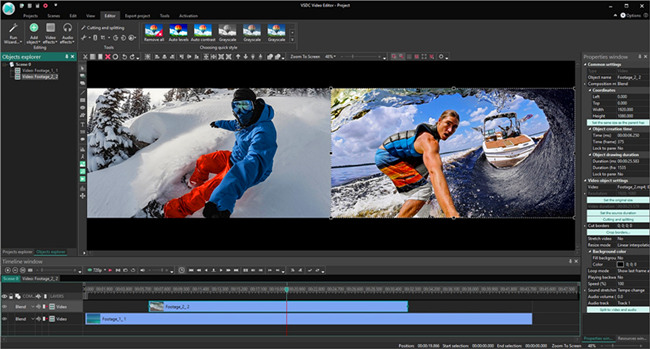 Pros:
360-degree VR video editing and preview
Screen recording
Subpixel accuracy
Well-designed slideshow templates
Watermark-free quality for all licenses
Cons:
Preview is jumpy
The hardware acceleration is paid
Complicated users guide
Top 4. Shotcut
Shotcut is one of the recommended best free video editing software for Windows 32-bit that features robust mechanism and editing features. In addition, the visually appealing interface makes it simple to edit videos and offers help for each section. Therefore, even a beginner can perform edits with ease.
Most features are accessible from the interface and the built-in preview window further eases the editing process. You can utilize the help section for detailed specific procedures. And when you want to save the result on 1080p or higher resolution, you need to click "Export" from the menu, and then set the parameters.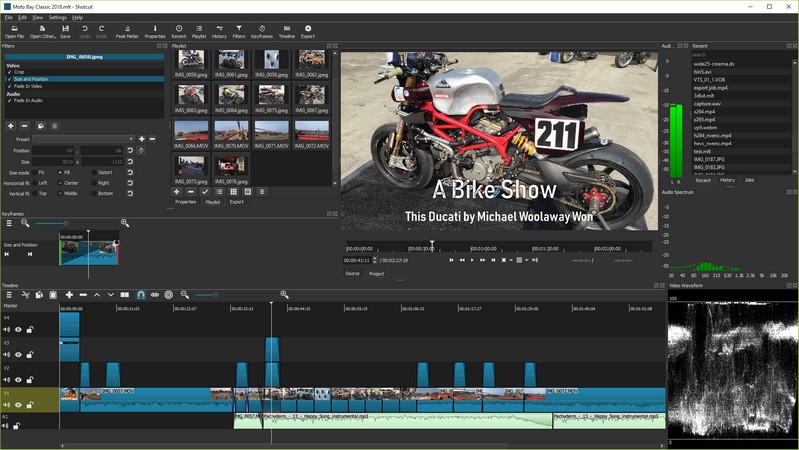 Pros:
Flexible output formats
Chroma keying and filters
Wide video format support
Intuitive interface
Support resolutions up o 4K
Cons:
Fewer transitions
Limited file types for music
Top 5. Lightworks
Lightworks is offering free download video editing software for Windows 7 32 bit. The features present in it make the creation of a video incredibly simple. With its user-friendly interface, choosing an editing tool direct, which makes the entire process less challenging. And you'll see the two panels for professional VFX or audio editing. Inside the "Audio" panel, users are supposed to mix multiple colors.
The software also provides the chance to make changes to the output resolution, making it ideal to select the required output based on the need. However, only with the paid version can users choose multiple files and resolutions to set in the final step. Other features built-in are free for all licenses right now, such as filters, keyframes, and transitions.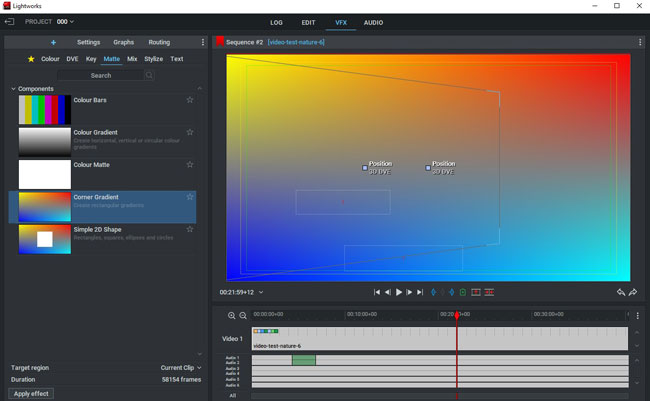 Pros:
Overwrite and insert edits
Drag and drop feature
Royalty-free music stock
A plethora of SFX, like blurring and 3D view
720p quality for free
Cons:
Limited in-app assistance
Only exporting video on MP4 is allowed with the free version
Top 6. AVS Video Editor
Because of the great flexibility and convenience, AVS Video Editor stands as the best video editing software for 32 bit Windows. Whether the video is from a phone or portable camera, the editing tools provide an opportunity to enhance and bring out the best results with ease.
You will notice the changes made to the video in the preview screen, which helps you understand the output of the video in real-time. This 32-bit video editor saves the file in your desired output with meticulous wanted format and audio settings.
Besides that, there are templates for users who want to make a photo slideshow with fantastic music clips. All you need to do is select the pictures and add them to the boxes.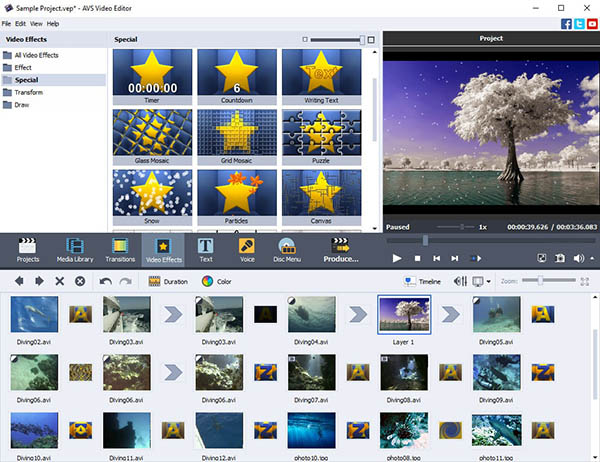 Pros:
Lightweight, simple-to-master
Classic video transitions
Fast rendering
Record a new voice-over
A livrary of special effects to enhance your videos
Cons:
Lacks advanced editing tools
No online tutorials
If you subscriped this software and then lost the registered computer, you will find the old subscription cannot be used any more
Top 7. Movavi Video Editor
Do you want to find a video maker for your 32-bit or 64-bit computers that comprises a huge selection of filters? Movavi is a good pick for Windows 32 or 64 bit. It is worth it if you are looking for a VFX video editor. It has all the tools that you would need to enhance a video like slow-motion creator, subtitle editor, and split-screen booster.
Likewise, you can choose ready-made templates suitable for posting on video content sites. The timeline contains unlimited tracks for texts, photos, videos, and sound files. And you can edit critical frames with the help of the motion tracking tech. On top of that, there is a 7-day free trial for you that provides almost all video output formats.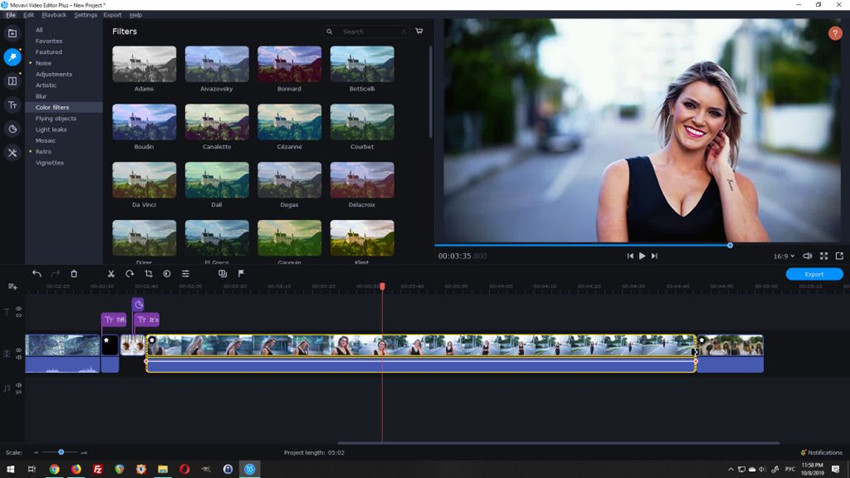 Pros:
Suitable for both beginners and professionals
It functions on Windows 7 and above
Premium features like Flying Objects and Mosaic
Built-in training to help you master it quickly
Reverse the whole part or just a portion of your media with one click
Cons:
Slow rendering
Limited control over a few effects
Only 7 days free for each computer
Top 8. ApowerEdit
ApowerEdit video editing software for Windows 7 32 bit download is available from the official website. It's accessible to perform every edit to improve a video and use all the features, such as crop, trim, flip, and more. In addition, you can further choose media from the stock library as per the requirement.
This program comes with a very clean workflow style, you can choose to overlay subtitles, add color filters, and put a transition between two clips under the timeline on one page. When it comes to exporting your videos from this 32-bit video editing software, all you need to do is click the "Export" button from the menu first, then set the format and resolution as want.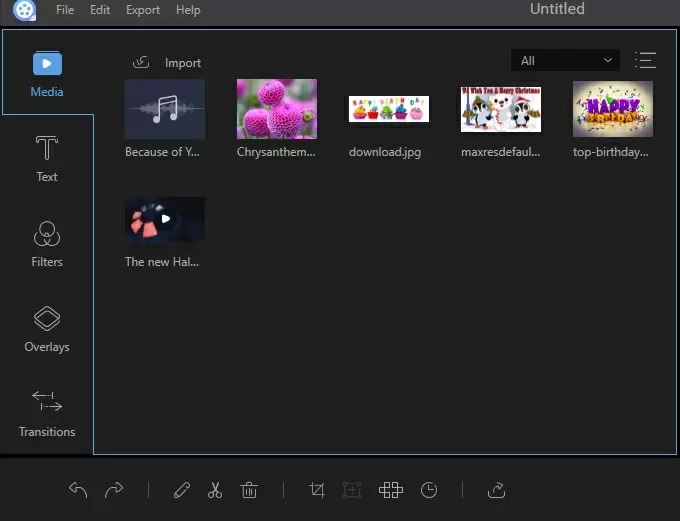 Pros:
Clear interface
A solide selection of features like trimmer, cropper, merger, etc.
It has transitions, filters, texts, and effects
Flexible output formats
Redo and undo buttons
Cons:
No chroma-keying (cannot make a video with green screen)
Watermarks
Unfit for pro video editors
Top 9. Handbrake
As one of the popular open-source tools, Handbrake video editing software for Windows XP 32 bit has straightforward features that help you create amazing videos. You can quickly load a video and choose any of the presets from the side panel for a quick edit. The timeline enables you to add filters, subtitles, and new background music.
What makes Handbrake different from other video editors is the user interface. There is no animation for users to preview, however, users have channels to play the video with the performance monitor. When it comes to exporting videos, you can even download files for Android tablets.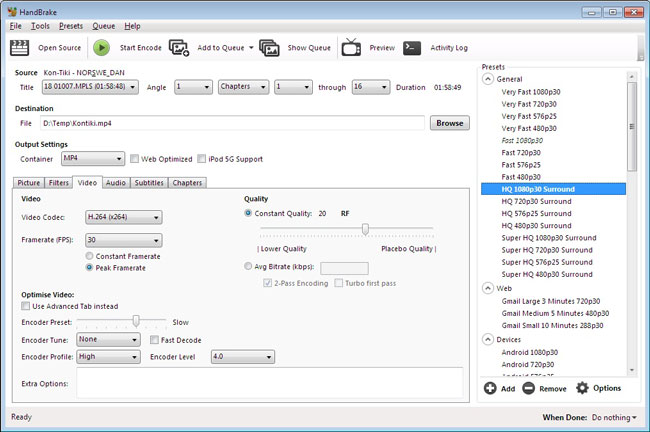 Pros:
Supports all formats
Helps rip DVDs
Batch processing
User-oriented subtitle editor
Formats for mobile phones
Cons:
Outdated appearance
No animations
Compare the 9 Best Video Editing Software for 32-Bit Windows in a Table
You may want to know which video editing software for 32-bit Windows is the best that you can use. Keep reading this table, and you can compare them in different aspects, like precise operating systems, features, user experience, pricing, interface, and audio editing methods.
| | OS | Pricing | User Experience | Subtitle Editors | Interface | Audio Editing |
| --- | --- | --- | --- | --- | --- | --- |
| TunesKit AceMovi | Windows XP - 11 | Easy | $19.95/m, $49.95/y, $69.95/p | Yes | Non-Linear | Powerful |
| Any Video Converter | Windows 7 - 10 | Medium | $39.95/p | No | Linear | Basic |
| VSDC | Windows XP - 11 | Hard | $19.99/p | Yes | Non-Linear | Pro |
| Shotcut | Windows 7 - 10 | Medium | Free | Yes | Non-Linear | Basic |
| Lightworks | Windows 8, 8.1, 10 | Medium | Create-$9.99/m, Pro-$23.99/m | Yes | Non-Linear | Powerful |
| AVS | Windows XP - 11 | Medium | $69/y, $199/p | Yes | Non-Linear | Basic |
| Movavi | Windows 7, 8, 10 | Medium | $54.95/y, $74.95/p | Yes | Non-Linear | Powerful |
| ApowerEdit | Windows 7, 8, 10 | Easy | $29.95/m | Yes | Linear | Basic |
| Handbrake | Windows XP - 10 | Easy | Free | Yes | Linear | Basic |
Conclusion
When searching for free video editing software for 32-bit Windows, consider that it is reliable, effective, and safe. From the best of the tools discussed here, we recommend you try a tool that is multifunctional because it is possible for you to make further editing like trimming, cropping, recording, or compressing.