The need for a free split screen video editor has become crucial in today's content world. It helps everyone create compelling and engaging videos, whether it is for professional or personal use. Nonetheless, professionals often use premium tools to produce interesting content.
When it comes to enthusiasts who cannot afford the premium software, the free tools come in handy. However, a point to note is that not all freeware can produce compelling videos.
As a beginner, if you are looking for a tool that always comes in handy and does not pinch your pocket, continue reading as we have listed 10 best free split screen video editor for Windows 10 in 2021.
The programs discussed here are free and have both advantages and disadvantages. Follow the list to choose the one that is right for your requirement.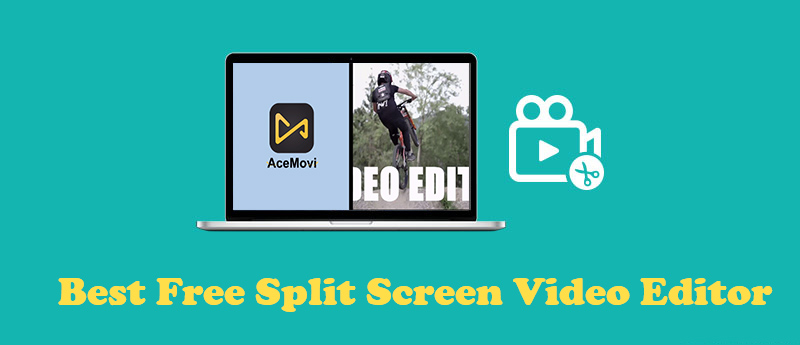 1. Recommended Free Split Screen Video Editor: TunesKit AceMovi
TunesKit AceMovi Video Editor gives you the power to unleash your imagination. The free split screen video editor consists of features that help you enhance and create compelling videos for your audience. In addition, the tool is a bundle of features that most professionals would want in their program. For instance, you can use crop, split, merge, rotate, adjust video speed, and more.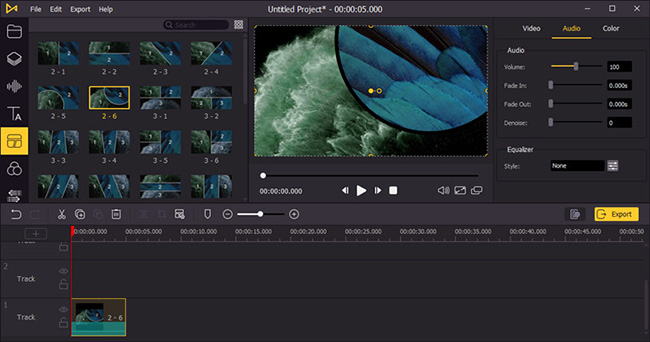 Pros:
Support various advanced features like split screen, transitions, PIP, filters, and keyframing, etc.
Integrated with screen recorder and slideshow maker.
Support any format and device when exporting the video.
Multi-platform support including latest Windows 10 and macOS 11.
Real-time preview and you can see any changes when editing.
Cons:
The trial version is totally free with all features, but it will export video with a watermark.
See More: How to Make a Split-screen Video Using AceMovi?
2. VSDC
VSDC is a totally free split screen video editor Windows 10. It is obtainable for free and with all the features available without any limitation. It will help you edit multiple videos on a single screen and enhance further using the editing tools such as crop, trim, adding subtitles, audio editing, filters, transitions, and more.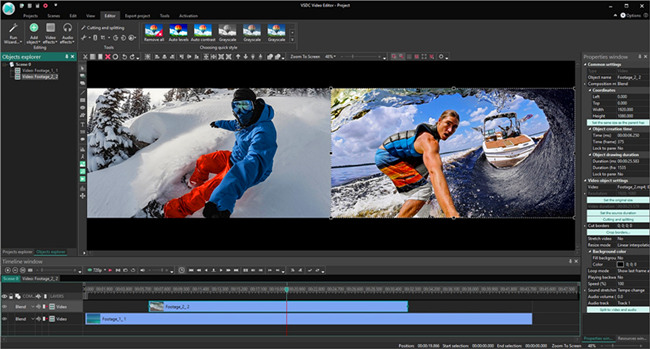 Pros:
Available for free
Allows you to add multiple videos on a single screen
It has both basic and advanced editing tools
Cons:
No split-screen templates
It can be not very easy for beginners
3. Lightworks
Lightworks is a professional free video editor with split screen feature. It is your ideal choice to make split-screen videos, for it functions across all operating systems. Additionally, as it supports multiple file formats, importing video files and adding them on a single screen makes editing simple. It even has built-in presets that you can use for quick editing requirements.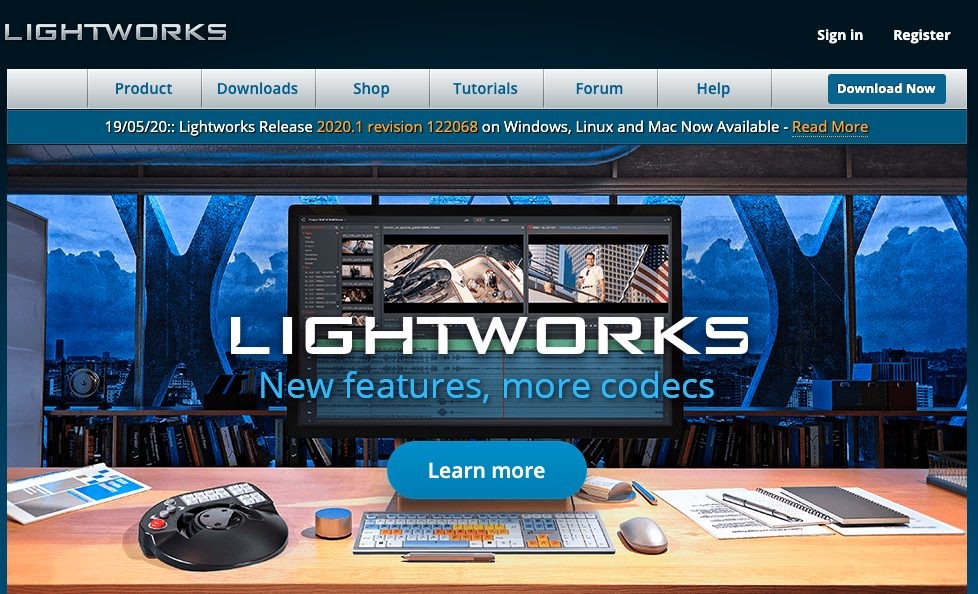 Pros:
Powerful editing tools
Free to use
Allows you to add four videos on a screen
Cons:
Limited present templates
4. Shotcut
Shotcut is a free split screen video editor supporting multiple platforms. It is open-source software, which makes it entirely free to use by anyone running on any OS. The tool supports hundreds of codecs, video, and audio formats. In addition, it has all the native editing, multi-format timeline, and other features embedded.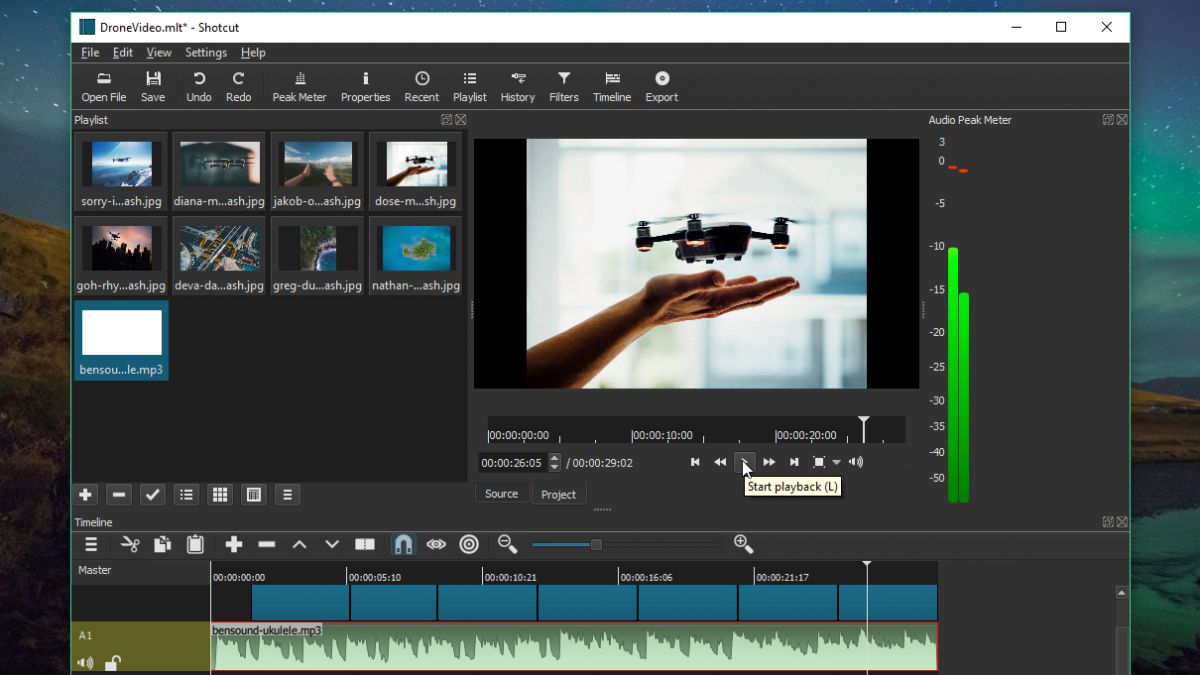 Pros:
Supports several video formats, including MLT and XML
3-way color correction
Powerful editing tools
Cons:
It does not support 3D and 360-VR
5. DaVinci Resolve
DaVinci Resolve split screen video editor is a free video editor in its category, offering a plethora of options to edit a video. The tool is a single solution offering color correction, video editing, visual effects, audio post-production, and motion graphics without charging a dime. In addition, the interface is modern, which makes the creation of a split-screen video quick.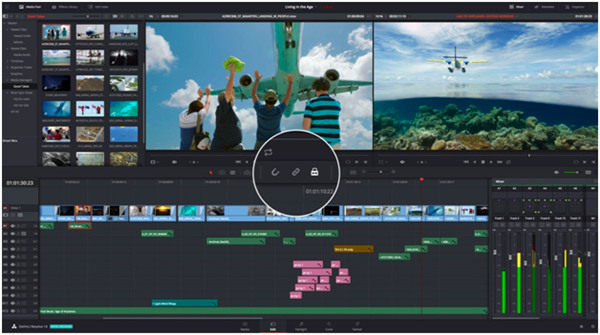 Pros:
Motion graphics, visual effects, and audio post-production
Mask tracking and color correction
Intuitive interface with a guide
Cons:
Processing consuming a lot of power
6. Openshot
Openshot is another free split screen video editor for Windows, macOS and Linux. It's free open-source video editing software. With it, you can easily make a split screen video, trim down your video, using powerful animations and keyframes, etc. Besides, it also offers amazing video effects.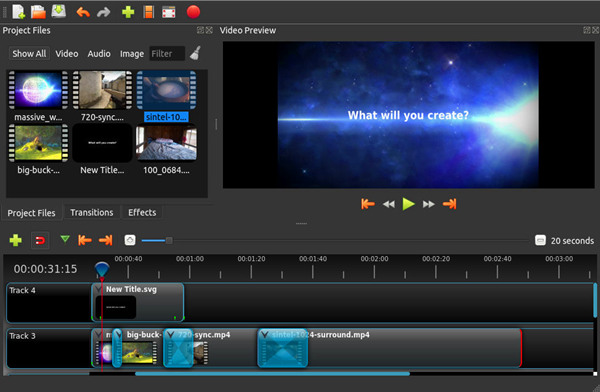 Pros:
Massive collection of effects and filters
Unlimited layers
Advanced timeline
Cons:
Video tutorial is missing
7. Wondershare Filmora Video Editor
Obtaining a split screen video editor free is difficult at times. However, Wondershare Filmora Video Editor offers a free version to the users to ensure that they can carry on with video editing without any hiccups. With the help of the split-screen editor, you can add six clips on a single screen.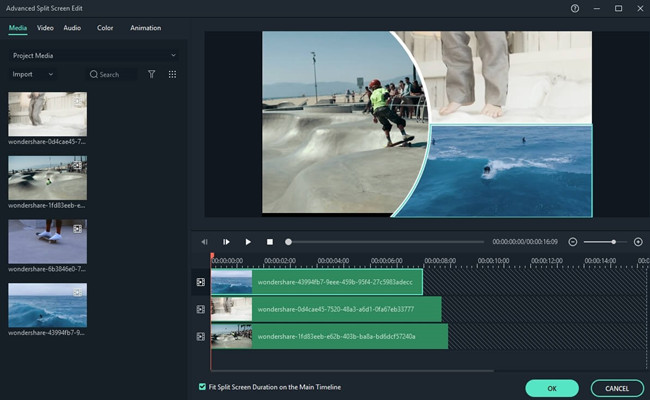 Pros:
Lightweight for multiple screens
It allows up to six clips on a single screen
30 split-screen presets
4K editing support
Cons:
Opens new windows while creating split-screen video
The free version has no time limit but will add a watermark on it.
8. VideoStudio
Creating split-screen videos is no longer a tedious task. VideoStudio is a split screen video editor free tool offering everything you need to create an engaging split-screen video. It has all the properties you need to complete split-screen editing along with the opportunity to share the videos online, edit and convert 360 videos.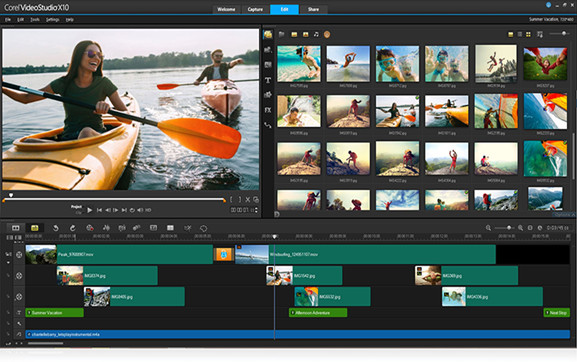 Pros:
Massive collection of effects and filters
Simple interface and easy to use
Shares videos online
Edits and converts 360-degree videos
Cons:
Zoom feature is missing
The free version only works for 30 days. After that, you must pay for it.
9. Adobe Premiere Pro
Adobe Premiere Pro free video editor with split screen feature is available in the trial version provided by Adobe. The software allows you to edit any video format. Additionally, it operates seamlessly with all other Adobe applications making it easy to create projects. Furthermore, it adds new features for better performance and optimized workflow that helps create videos for social media.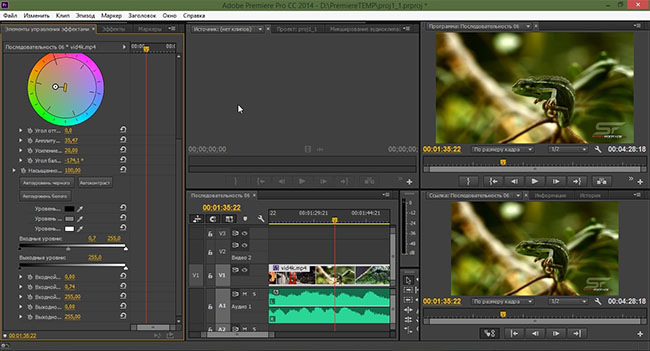 Pros:
An efficient video editing tool
Unlimited number of videos for split-screen
Frequent updates
Optimized workflow
Cons:
It only provides a 7-day free trial. And the full version is expensive for beginners
10. Movavi Video Editor Plus
Movavi Video Editor Plus is popular among beginners, as it provides all the features required to create a split-screen video. It is unique because of the support for multiple video formats and effects. With over 400 built-in effects, you can create a split-screen video with ease. In addition, you can further remove the camera shake and add commentary to existing videos.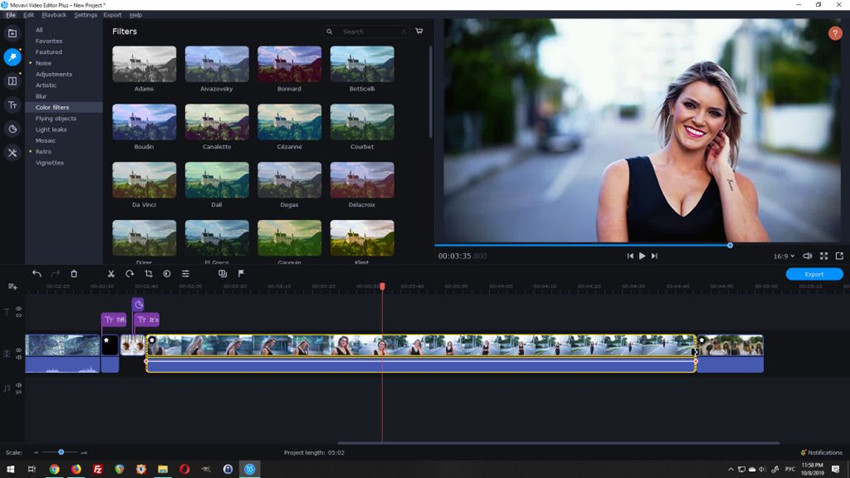 Pros:
Simple to edit videos with split screen tool
Merge, reverse, flip video, and crop
Cons:
The free version has several restrictions including a 7-day trial period, a watermark on output videos, save only half the audio length.
Cannot handle heavy files
Slow rendering speed
Conclusion & Suggestion
The listed tools are the best free split screen video editors for Windows 10. Choosing a free split-screen editor will depend on your requirements, such as the number of videos that you post, the effects that you need, the features, and more. As every video editing tool has its advantages and disadvantages, consider opting for the one that fulfills your split-screen video editing need. For example, consider TunesKit AceMovi, for it is efficient, affordable, and reliable. Besides, it also most common editing features in a simple and friendly interface.