Q: "Hi guys, can someone suggest me a good split-screen video editing program? I want to do a split screen in a video? Thanks in advance!" - Nichol from Quora
When you first come to the video editing field, you may come across the split screen effect. So, what is the split screen? How to create perfect split screen videos? Which is the best tool to make a video split-screen? All answers are in this article! Here I'll show you the easiest tutorials on how to make a split screen video, as well as the best split-screen video editor to make your workflow easier and quicker. Let's go!
What is Split Screen?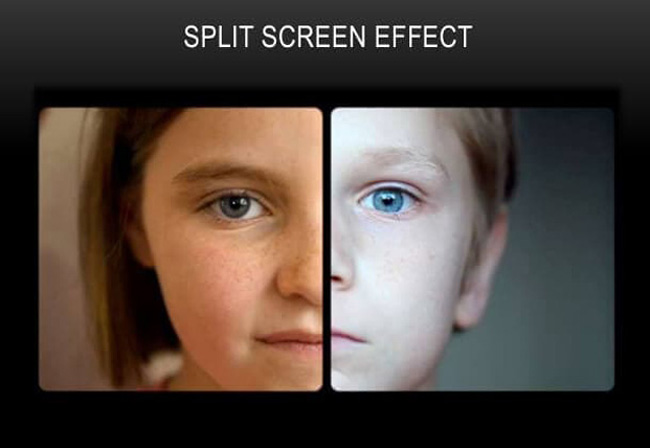 Split screen is a technique that allows two or more videos played simultaneously in one screen side by side or up-and-down. With this features, you can simply put multiple videos into one screen or organized these clips musically and structurally. By doing so, you can easily showcase how one thing relates to another like two people making a call to each other, show cause and effect explicitly, or make your video more visually fascinating.
How to Make a Split Screen video on Android & iPhone - KineMaster
If you want to make a split screen video on iPhone or Android devices, KineMaster Video Editor can be your best assistant. KineMaster is an open-source & free video editing app that is available on Google Play and Apple Store. This tool comes with all the small video edits like splitting, cutting, trimming, cropping, slow-motion, etc. Most importantly, the split-screen feature is not an exception.
When it comes to making a split-screen video with KineMaster, you'll see some classic modes like side-by-side and up-&-down. In the process, you can add transitions and filters to your video to make it flexible and smooth. As for sharing videos, KineMaster can upload the video on social platforms like YouTube and TikTok directly. So if you'd like to make a split-screen video for YouTube, TikTok, Facebook, or other popular websites on phone, don't miss this tool. Now, let's get started!
Import Wanted Clips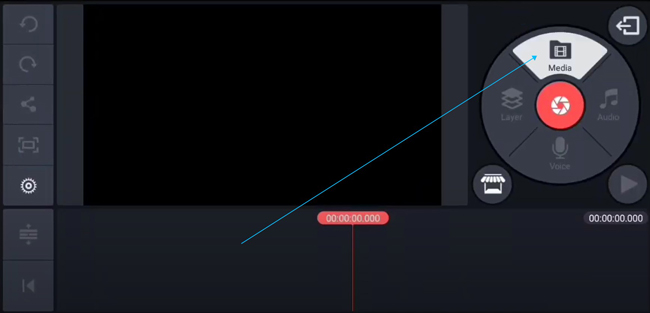 You can choose the project mode and resolution on the user interface. Then click on the Media to import the first video clip. The formats supported by this tool inlcude MP4, MAV, MOV, WMV, AVI, ect.
Begin to Make Split Screen Video on Your Phone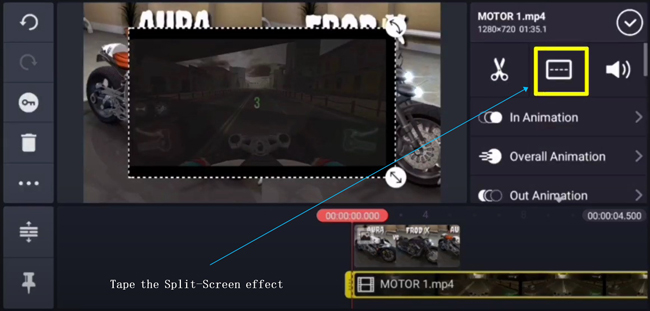 In this step, you need to press the "····" icon to open the split-screen mode tray.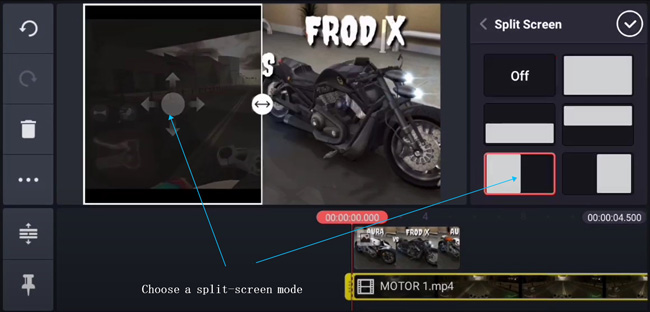 Here you need to choose a genre from the Split-Screen plate. All the modes are free to try, just make a tap. Then you're empowered to customize the split left screen on the window in real-time. You can resize by dragging the edge or repositioning it by holding-&-dropping.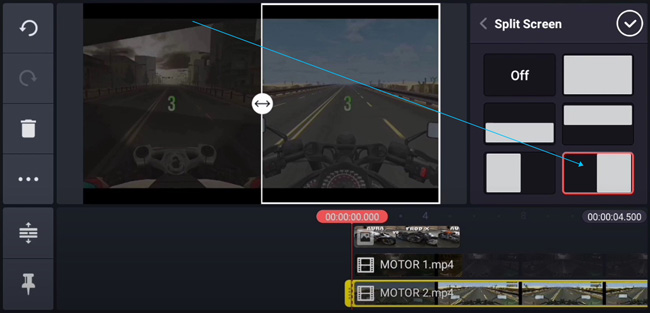 Very good! You just done half of this work. Now, it's time to import the second clip. You need to import the second clip by clicking the Media > Layer > Split-Screen Effect, and then choose the right mode. Finally, you'll find the windows was split into 2 parts and both of them are playing at the same time.
Export the Screen Split Video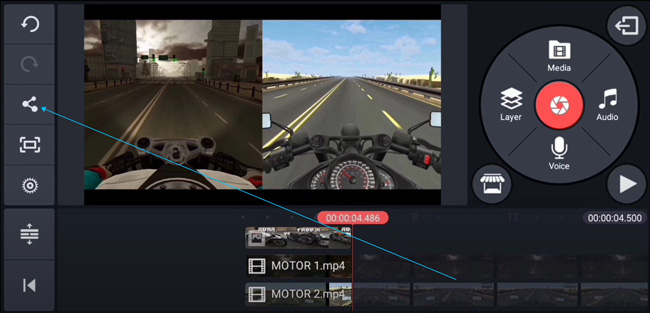 Congratulations! Now, sharing this new video on your social platforms or just save it in the local folder, that depends.
How to Make a Split Screen Video on Windows and Mac - TunesKit AceMovi Split-Screen Video Editor☜
With KineMaster, you'll find it impossible to put 3 or more videos into one screen and the split-screen modes are few. In fact, that's very common for a video editing app. So, if you'd like to make a split-screen video with more types easier, why not try software on your desktop?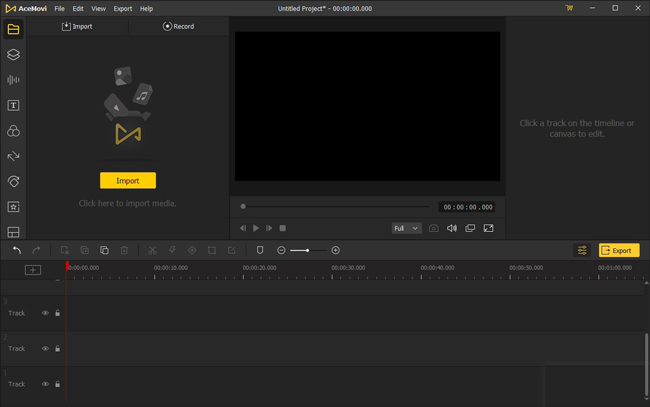 TunesKit AceMovi Video Editor is an easy-to-use video editing program with powerful features. Its split screen effect is well developed with lots of styles like Side-by-Side, Up-and-Down, Circular Segmentation, Three-Screen, Four-Screen, etc. You can download this software for free just by clicking the buttons below.
With AceMovi, you can divide the screen into two parts or even six parts at most, and each is designed with different layouts to meet your needs. In addition, the operation process is quite simple. Just import the footage to the program, choose a split screen preset you want, and add a video to split screen.
Besides split-screen effects, TunesKit AceMovi also provides many other advanced tools such as apply text to video, add background music, filters, transitions, animations, etc. The program can export polished video to a variety of output formats like MP4, MOV, WMV, M4V, AVI, etc., portable devices like iPhone, iPad, Galaxy, game console, smart TV, etc. or even social networks like YouTube, Facebook, etc.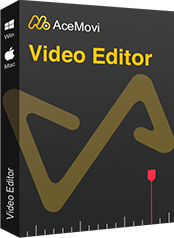 TunesKit AceMovi Video Editor
Security Verified. 7,399,307 people have downloaded it.
30+ creative split-screen modes available
A set of presets for making split screen clips
Very simple learning curve
Easy to rotate any type of video
Provide filters, transitions, text, music effects, etc.
Export edited videos at 60fps
Responsive color grading and sound syncing speed
Cheaply get the subscription, even just $59.95/perpetual
Video Tutorial: How to Make a Split Screen Video with AceMovi
Add the Target Video Files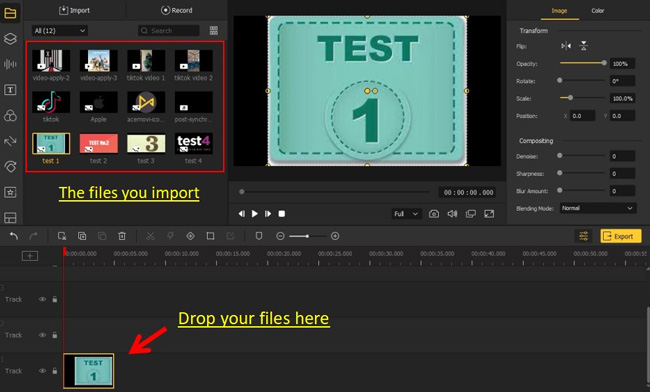 Open TunesKit AceMovi program after you completed the installation and downlaoding. Click on the Import button on the upper-left section to add the video clips that you want to use for split-screen video. Or you can import video via drag-n-drop.
Choose a Split Screen Mode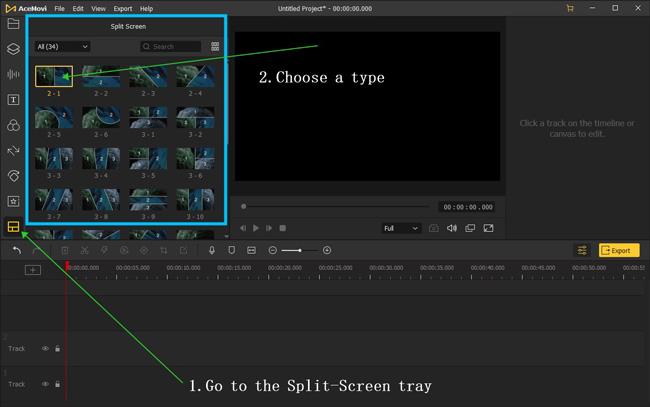 Next click on the Split Screen option

on the left sidebar and choose a split screen mode you like. Drag and drop it to the Timeline and adjust its duration based on if needs.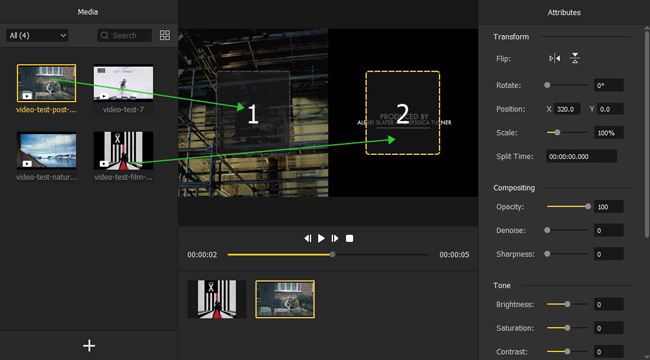 You'll see a pop-up window, where you can then drag your target video clips to the corresponding section. You can click the Play button to preview it in real-time, or do some basic editing such as flip, rotate, change the position, opacity, brightness, saturation, contrast, etc. to make it better. After that, just click the OK button to save the changes you've made.
Save/Export the New Split-Screen Video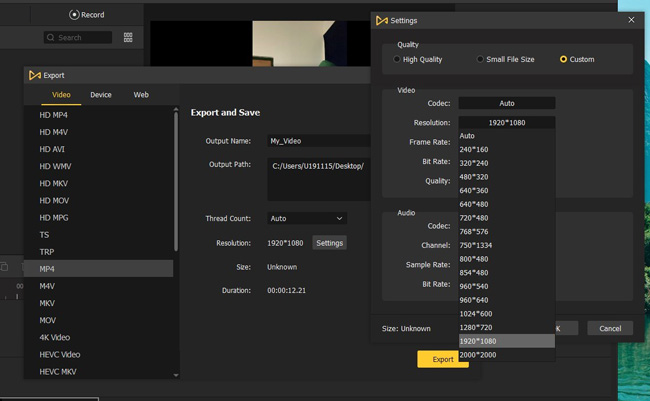 Voila! You just made it! Once everything is edited well, you can now save the split-screen video to your local computer by clicking the Export button on the right side. You're also allowed to change the output format, output name, and path as you want. Don't forget to share your wonderful split screen video to YouTube, Vimeo, or other social platforms with friends. If you'd like to export the split screen on YouTube, you can do this by going to Web > YouTube.
How to Make a Split-Screen Video Online - Fastreel
Want to make a video split-screen just online? You can try out one of the easiest online video editors, called Fastreel. This is a nonlinear & easy-to-use online video editing toolkit and the biggest selling point is the templates provided. Namely, you're allowed to begin with a ready-made template like Intro, Outro, Online Ad, Book Trailer, Birthday Celebration, and Graduation Slideshow. All of these templates are decorated with fit texts, music, filter, transition, etc.
As we said, Fastreel is not a streamlined video editor like AceMovi. As a result, for making a split screen video with this tool, you need to get into the specialized page of split-screen editing. You ALSO need to choose the split-screen mode and resolution in advance. Want to get the details, keep reading!
Go to Fastreel Online Split-Screen Video Editor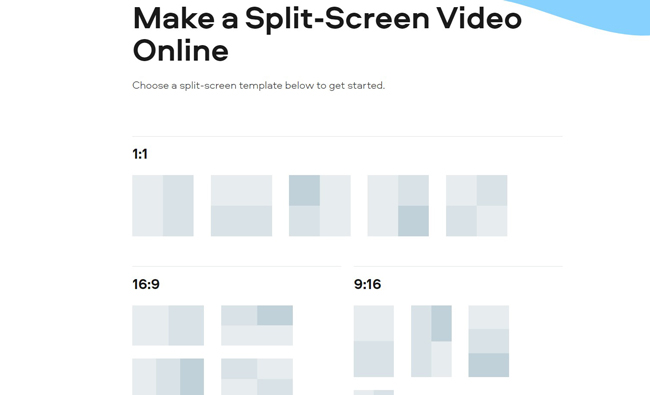 Click here to visit Fastreel Online Split Screen Video Editor. Here you need to choose the split-screen style in different aspect ratio panels.
Commence Making Split-Screen Video Online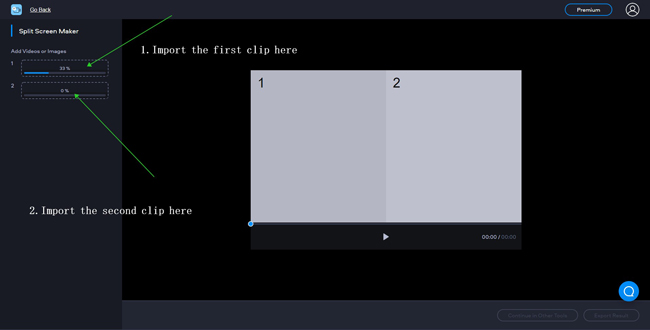 For example, if you're planning to make a YouTube split screen video, go to the 16:9 option. On the window that pops up later, you're allowed to import any aspect ratio of videos clips one by one. The speed depends on your internet quality.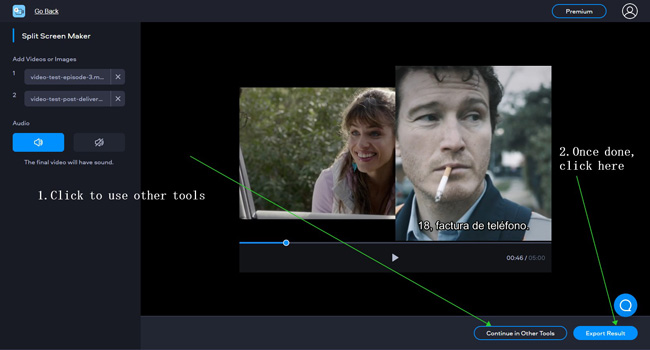 Well done! Now click the Export option to download your new video. Besides, although Fastreel is a nonlinear video editor online, you can continue to try other tools like video Trimmer, Copper, Cutter, SloMo Masker, etc.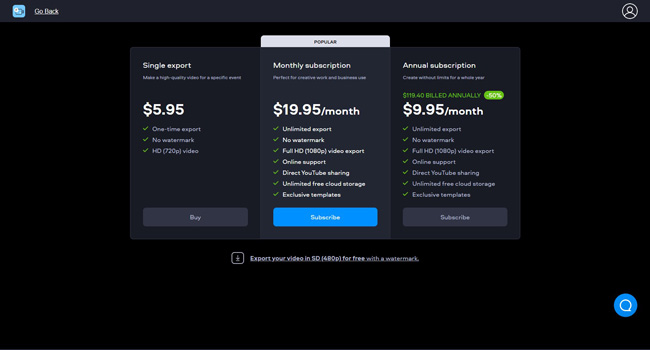 However, you can only export the video at 480p for free with this tool and there will be a branding watermark left with. To get more services, you need to buy the subcription.
9 Alternative Split-Screen Video Editors: More Choices Here!
Now that you know the importance of split-screen video editing and how helpful it can be in explaining the story. Most importantly, you've learned the ways to make a split screen video on phones, PCs, and online. In this part, we will be introducing other split-screen video editors available on the market that you can use to add the split-screen effect to your videos.
1. iMovie Split Screen Video Editor (Macs & iOS)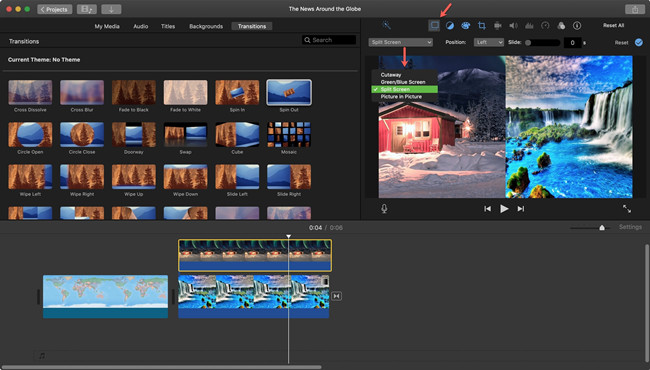 The first video editor in our rundown is called iMovie which allows you to add the split-screen video effect on your videos to provide a more immersive experience. iMovie is a free video editor that is available on both Mac OS and IOS devices. It allows you to perform basic video editing tasks like adding effects, trim, crop, cut, etc. It has a very simple interface, which makes it very easy for the user to interact with and make some astonishing results
Pros:
Absolutely free to use
For both Macbooks and iPhone
Simple editing process
Lots of video elements like transitions
Supports 4K video editing
No watermark when export
Cons:
No version for Windows & Android
Lacks advanced features like VFX
2. Filmora Split Screen Video Editor (Macs & Windows)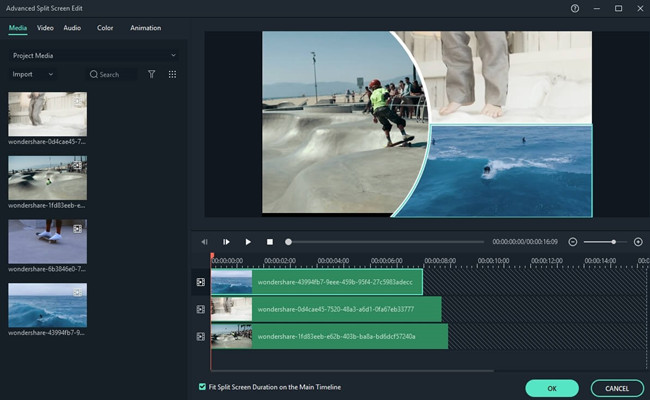 Quite possibly, the most powerful applications that are on the list and after editing applications like Adobe Premiere Pro and Final Cut Pro X, Wondershare Filmora, is likewise a split-screen video editor. The product is accessible for Windows and Mac PCs and offers brief specialized help to its buyers. Even though Filmora Pro stuffed with further developed features, is likewise accessible, on the majority of the occasions, Filmora fills the need quite well.
Pros:
Comes with latest projects like AI Mask
No expiry for users from Macs and Windows
Able to edit and export 60fps videos
Formats like AVI, MOV, MP4, MKV, and more are included
Cons:
Export with a watermark
No editions for iPhone and Android
3. VSDC Split Screen Video Editor (Windows)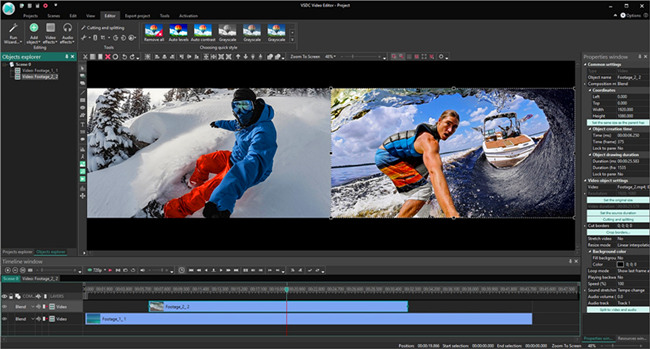 Another free and efficient video editor on our list is VSDC. It is a professional-level editing tool that can easily create some good-looking edits. It can easily do the split-screen effect with multiple videos. It also has built-in split-screen effects.
Pros:
Powerful in editing 3D video and 3D chart
Pro color grading features
Lots of presets for each tool
Cheap to buy the VIP service
Cons:
For Windows only
Complicated to use
4. ShotCut Split Screen Video Editor (Windows)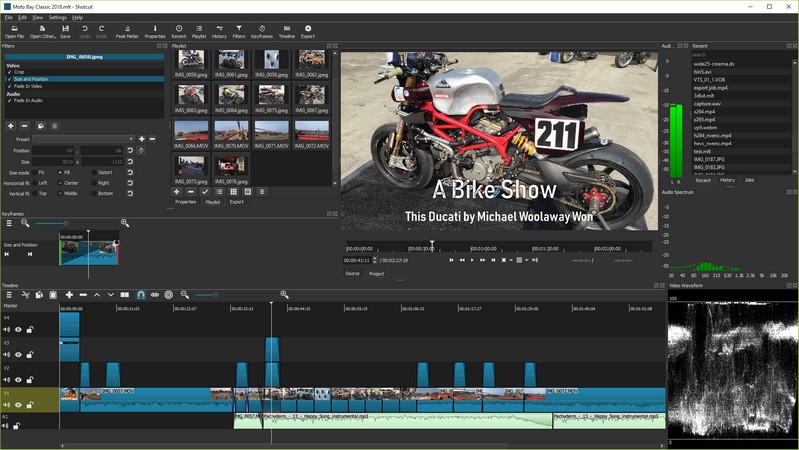 Shotcut is free, open-source software that allows even the beginner to make some amazing edits. It supports split-screen features means it can create some amazing results. It is available in both x64 and x84 variants for different architectures on both Windows and Mac.
Pros:
Has built-in presets for split-screen
More split-screen modes to choose from
Watermark-free
Sound wave features to help you balance the audio
Cons:
A bit complicated
Unstable sometimes
5. Lightworks Split Screen Video Editor (Macs & Windows)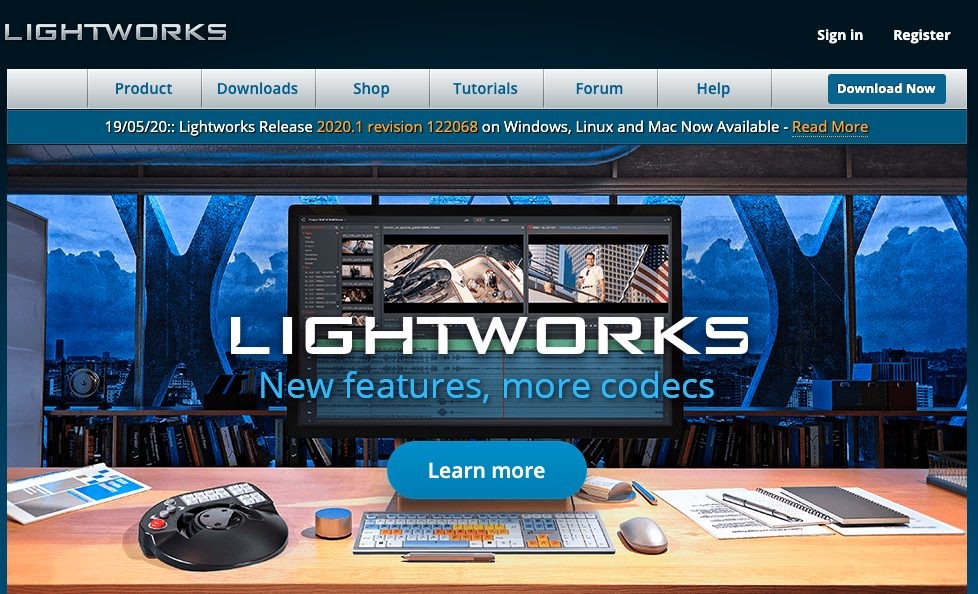 The next video editor on our list is Lightworks, which is a professional editor. This editor has helped prepare movies like L.A. Confidential, The Wolf of Wall Street, Bruce Almighty, etc., which means that it is a full-fledged video editor that can create some splendid results. You can easily make the split-screen effect with some basic knowledge.
Pros:
Specialized video editing workflow
Pro VFX and SFX
A vast library of music and sound effects
Export at even 4K quality
Cons:
Doesn't have multiple split-screen styles
Need high-quality OS
6. Adobe Premiere Pro Split Screen Video Editor (Macs & Windows)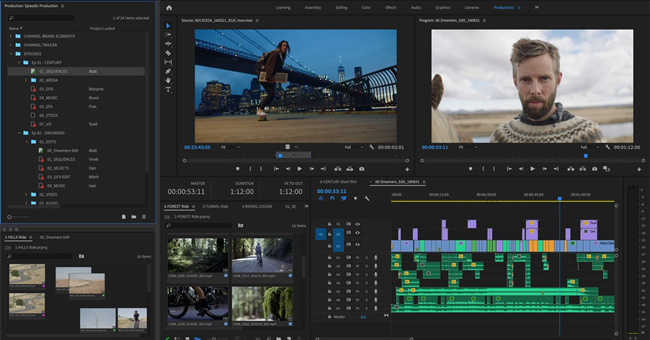 Adobe Premiere Pro is no doubt the most famous video editing tool on our list and easily creates some amazing results. If you have some basic video editing knowledge, you can make split-screen edits to your videos effortlessly. Speaking of Premiere Pro's pricing policy, if you'd like to pay for it monthly, $20.99 with a year commitment is needed. You can also opt for the $31.49/M plan or the $239.88/Y plan.
Pros:
Specialized video editing windows
Advanced VFX and SFX
Double canvas desgin
8K video editing is supported
Cons:
Hard user learning curve
You need a super good computer to edit 8K videos
7. Corel VideoStudio Split Screen Video Editor (Macs & Windows)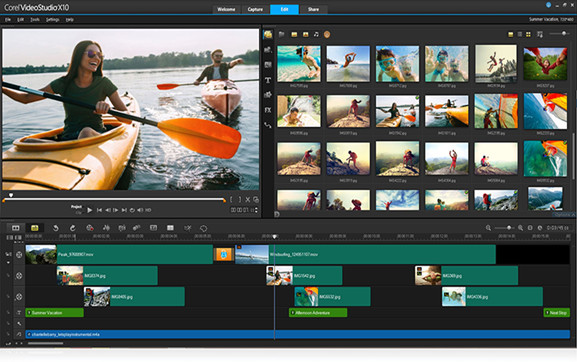 The next video editing tool is an award-winning video editing tool that allows you to create some great professional-looking edits. It is an easy-to-access interface and can create split screen video effects effortlessly.
Pros:
Video splipping, sliding, and stretching are included
Good color wheels and LUTS
Multi-cam editing
Motion tracking featrues to help you make keyframes
Cons:
Need more memory space
Not cheap
8. VideoPad Split Screen Video Editor (Macs & Windows)
As we are approaching the end of our list, the next video editor on our list is VideoPad Video Editor by NCH. It has native support of multiple presets and formats. It can create some excellent results effortlessly and supports multiple videos in split-screen edits.
Pros:
Native support to the latest formats
Can edit 360-degree video
Watermark-free editing result
Simple interface
Cons:
Out of date
Rendering speed is slow
9. Cyberlink PowerDirector Split Screen Video Editor (Macs & Windows)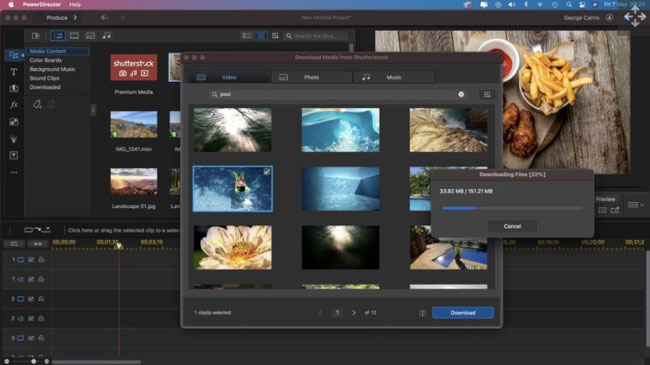 The last software on our list is Cyberlink PowerDirector, which is a high-performance editing tool that you can use to make basic and advanced edits to your videos. It has is a very powerful animator. It can also perform video editing actions such as trim, cut, crop, split-screen, color grade, etc. If you'd like to make a split screen video with PowerDirector, better learn some tutorials in advance.
Pros:
Able to edit and make animations in your video
Many projects to begin with
Almost all video and audio formats are embedded with
Share with soical platforms
Cons:
Many Ads to aks you to upgrade
Weak color matching
The Bottom Line
The split-screen feature is really a great way to make your video more interesting and eye-catching. The methods to make a split screen video are quite simple as long as you got good video editing software like KineMaster, TunesKit AceMovi, and Fastreel. Of course, other split-screen video editors are also listed here for your reference. After reading the article, I'm sure you have understood the split screen editing and can't wait to do it. Just make more try!