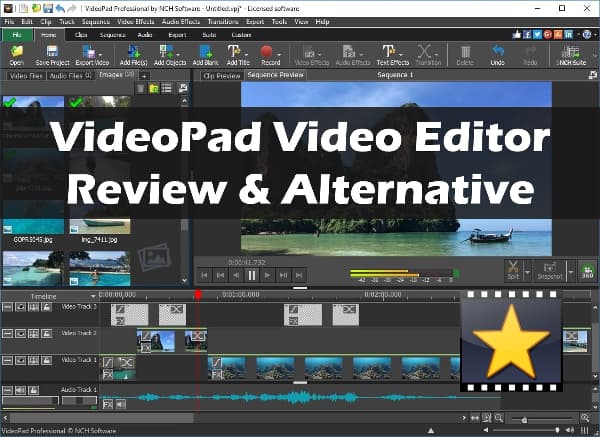 VideoPad Video Editor, the NCH Software, is a simple video editing tool that you may use for free as long as you're not using it for commercial reasons. However, the software is appropriate for that price. It contains many of the same features as the other video editors.
VideoPad Video Editor editing software is a fantastic free alternative for individuals looking for something simple to use and low on processing requirements. It works on iPad and can even edit 360-degree footage, contributing to its inclusion in our list of the best video editing software.
VideoPad Video Editor supports various video imports and exports and is available for both Mac and Windows PCs. Here, we are going to have a detailed VideoPad Video Editor review!
Part 1. Review of VideoPad Video Editor
VideoPad is a video editing software that allows users to make 3D films by adding visual effects and transitions. Businesses may use the platform to import music tracks, add subtitles, and alter video speed to generate GIF videos. Video stabilization is a feature of the system that allows operators to decrease camera shake. Managers may save images to their PSP or iPhone, post them on YouTube, and export videos in HD, 2K, or 4K formats.
Is VideoPad Video Editor free? Is the VideoPad Video Editor safe? Read on the VideoPad Video Editor review to know more about it!
1. Pricing
There are two versions of the VideoPad Video Editor: Home Edition and Master's Edition.
The Home Edition costs about $60 and includes everything you need to complete most tasks. However, the constraint of two audio tracks will hinder your progress on more intricate projects. Plus, the Home Edition isn't compatible with third-party plugins, so you're stuck with what VideoPad Video Editor editing software has to offer.
When you upgrade to the Master's Edition, you get limitless tracks and the ability to use plugins. It may seem like a lot of money to spend for that additional feature, but if you decide that VideoPad is the tool for you and want to create complicated video projects, the extra money is well worth it.
You may subscribe to the Master's Edition for $5.50 each month if you don't want to spend $99 upfront but still want the complete VideoPad experience. This equates to only $66 per year. You'll also get updates as they're available, which means you won't have to wait (or pay) for the next version upgrade. It's also a wonderful choice if you require it for a brief period.
Is the VideoPad Video Editor free? Yes, you may also use a free version of VideoPad that is fully functioning. Because it's officially a trial version, VideoPad urges you to buy a license anytime you attempt to export. Nonetheless, VideoPad Video Editor editing software is available for free for personal and non-commercial usage.
2. System Requirements
The minimum system requirements to run VideoPad are.
Memory: 4 GB
Graphics Card: NVIDIA GeForce 510
File Size: 100 MB
CPU: Intel Pentium 4 2.00GHz
System: Windows 10, XP, Vista, 7, 8, and 8.1
3. User Interface
Is VideoPad Video Editor safe? Well, aspiring filmmakers of all levels may rapidly get comfortable with VideoPad's conventions because of its straightforward, well-organized interface. Opening and shutting windows, putting clips together, and adding transitions, text, and narration to create an engaging visual presentation takes little time at all. You may tell your tale by constructing clips in the timeline or storyboard mode by simply dragging and dropping video, audio, and still picture elements into the files window.
The app's way of sorting video footage and still photographs into bins - ensuring that their location on the timeline isn't confusing - helps speed up the production, particularly for newbies.
The program is menu-driven and supports drag-and-drop, so several methods are used to do a single task. All features may be accessed from inside the program frame, or you can use the dockable panels on VideoPad to get a better look at the job at hand. It would be ideal if you could rearrange your workstation permanently.
4. Workflow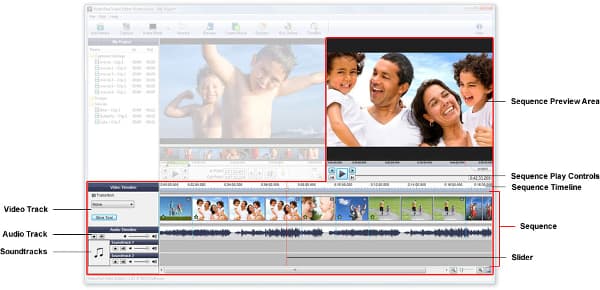 You may be shocked when you first launch the VideoPad program. It features a user interface that looks like Microsoft Office programs, and it appears pixelated and low-res on a 4K screen.
The interface's familiarity may work in the VideoPad advantage. It's pleasant and unintimidating, and unlike some other apps, it clearly defines its tools and functions. There's also the option of capturing your screen or using a camera, making software lesson films a breeze.
VideoPad could appeal to individuals creating movies with iPhones, extreme sports fans, and VR trailblazers, thanks to its HEVC and 360-degree video support. VideoPad requires little resources on contemporary computers, requiring just a 1.5GHz CPU and 4GB of RAM (at least for the present version), and should be excellent for operating on laptops and Windows tablets in the field. It doesn't need one of the greatest home computers to work, which is a significant benefit.
Unfortunately, VideoPad does not have proper audio editing. Suppose you wish to go beyond fading, mixing, and adjusting a video clip's audio level. In that case, you'll need an external mixer or editor, such as MixPad or WavePad, from the same creator. PhotoPad is also available for still photographs. However, we didn't include it in our list of photo editing tools.
The free edition of the software does not allow you to export the video as an MP4 file, which is the most common video format on the Internet. It's a built-in restriction meant to encourage you to upgrade, but it's still frustrating. However, it does not insist on placing a watermark on your film when it exports it, which is a plus.
5. Features

It offers you the following features.
Audio Capture
Brand Overlay
3D Video Editing
Drag & Drop
Social Sharing
Media Library
Speed Adjustment
Templates
Supports HD Resolution
Text Overlay
Video Editing, Capture, Creation
Part 2. TunesKit AceMovi - Best Alternative to VideoPad Video Editor
TunesKit AceMovi Video Editor has a simple interface with a lot of features, such as basic editing like recording, cutting, rotating, and so on, as well as advanced features like cool filters, animations, transitions, background music, text, and so on, to make your editing experience better and easier.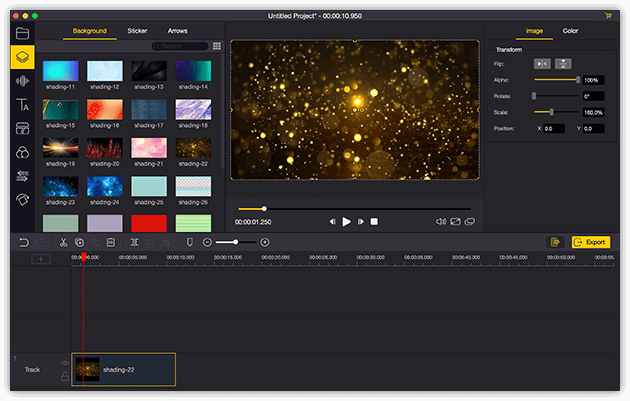 Pros:
Easy to use with a range of effects
Supports various video formats
It runs on any computer
Includes a library of stock audio and footage
Cons:
The monthly pricing plan is a bit unreasonable
Part 3. Conclusion
VideoPad Video Editor is a simple video editor that's ideal for novices and people who don't require a complex professional program to make home movies or lesson videos for social media. But TunesKit AceMovi Video Editor is among the finest free video editing software since it has more functions and is more expandable.