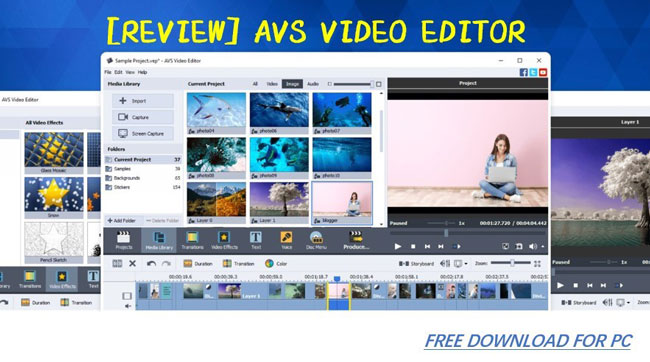 AVS Video Editor, a Windows software released as a part of the AVS4YOU suite by Online Media Technologies Ltd., has gone through 18 years until now. Many may ask these questions: how to make good use of AVS Video Editor? Is AVS free & no-watermark-output to download on both Windows and Mac? Or who can be the best alternative to AVS?
If you're also concerning that matters, I have to say, you've come to the right place! In today's review, we'll dive into the description and more details of AVS – mainly lies in UI orchestration, features applied, formats & system propped, as well as product related questions & its alternative.
Ⅰ UI of AVS Video Editor
You'll find it very easy to begin moviemaking with AVS Video Editor, in that there're no cumbersome dropdowns to try-in and try-out, and meanwhile, every icon above has been explained with words. Now, let's have a closer look!
1. Canvas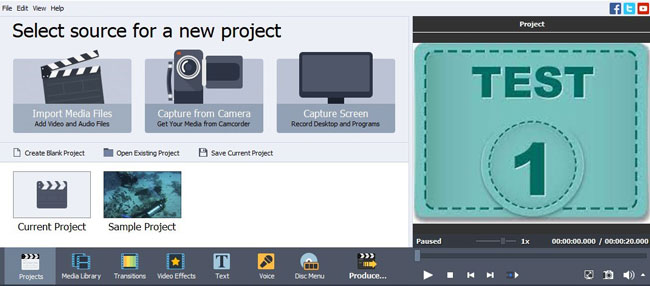 AVS briefly divides the canvas into two areas – Function & Preview. Within the Function area, except for projects & effects, you're also accessible to import & save, split & freeze, as well as timeline & storyboard by visiting the File, Edit, View, and Help.
Next, move to the preview window, which provides you with video effects in real-time, along with some basic options, like play & pause & stop, snapshot, and volume.
2. Toolbar & Timeline

AVS has listed all of the categories intuitively - Projects, Media Library, Transitions, and Video Effects, etc. Specifically speaking, you can choose more than 200 video elements from Backgrounds, Patterns, and Stickers. And around 600 types of transitions could be tried, for instance, Burning Fade & Fire, Flash Light & Dark, and Twirl Reverse & Drain, etc.
To better the editing experience on the Timeline, just adjust it by zooming in & out, or you can press "F9" to fit it in automatically. Besides, VSA also allows you to balance volume for video overlay & audio mix by clicking the Sound icon.
3. Storyboard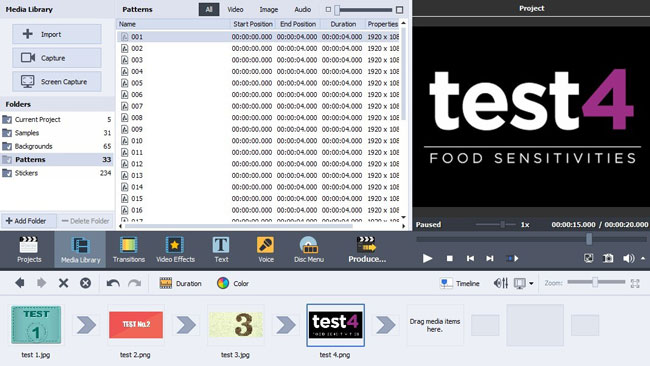 Have you noticed the Storyboard on the toolbar or the View Menu? Do not underestimate it! Storyboard, a tool showing sequential video elements, makes it very convenient to create a slideshow with photos and clips – firstly to import files, then adjust video duration, color, or add effects as you want.
Ⅱ Technical Specifications & Output Channels of AVS
1. Technical Specifications
AVS Video Editor was designed for Windows only, sorry for MacOS / Linux Users. (For Mac Video Editor, see the AVS alternatives PLEASE!)
System Works: Windows 10, 8.1, 8, 7, XP, 2003, Vista, with RAM 2GB+
CD & DVD Recorder: for importing from CD & DVD, or built-in DVD creation
Media Player: 11+ for WMV video playback
Note: The current version 9.5.1.383 needs around 170 MB
How & where to download AVS video editor: to simply visit the official website.
2. Output Channels
Four channels to export video with AVS – File, Disc, Device, and Web. (For more formats supported, see the best alternatives to AVS PLEASE!)
File: AVI, DVD, MOV, MP4, TS, GIF, MPEG, WMV, MKV, M2TS
Disc: DVD, DivX/XviD DVD, BD, CD
Device: iPad, iPhone, Sony PSP, and plenty of android devices, smartphones
Web: YouTube, Facebook, Dropbox, or Flash and WebM
Note: You can set advanced configurations when exporting, such as video & audio codec, frame size & rate, sample rate, or bitrate, etc.
Ⅲ Striking Functions Applied on AVS Video Editor
1. Project Provider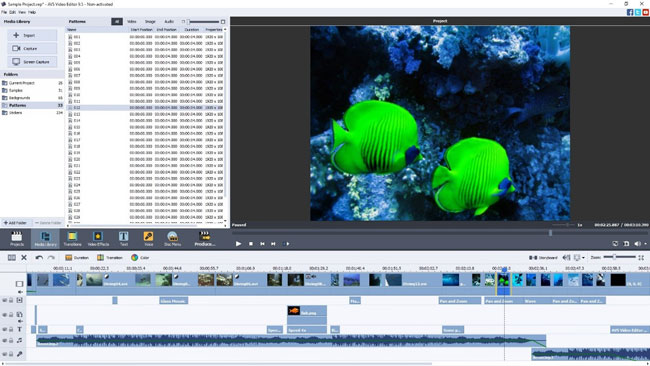 Except for blank or record projects, AVS Video Editor offers various ready-made & popular projects with affiliated, images, effects, texts, audio, & voice. In other words, you're allowed to use video templates with balanced elements from the resource library.
2. Video Stabilizer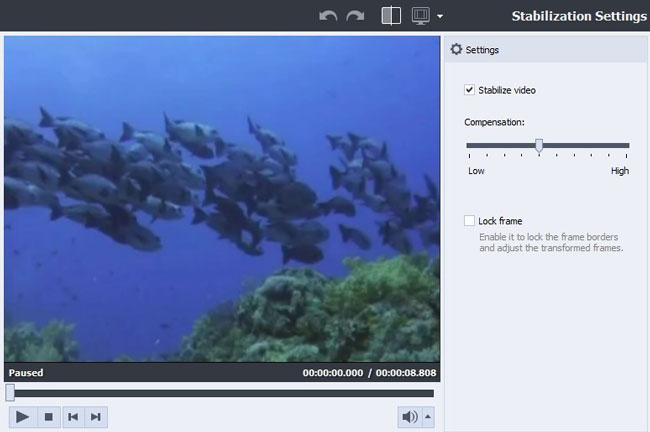 Want to make the visual effects seems smoother and softer? Or don' know how to do when the unstable frames get stuck? That's solved! With the Stabilization Settings on AVS, the compensation could be controlled lower or higher to fit in all the video effects. Also, by tapping on the Lock Frame, you can fix the frame borders to make a better adjustment.
3. Disc Maker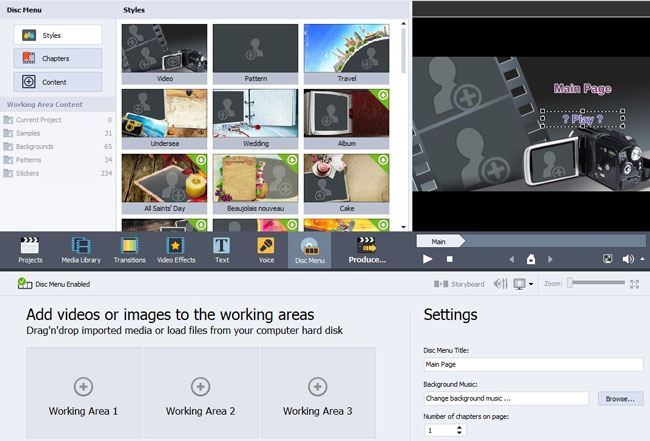 AVS contains the direct way to burn video into Disc models, you just need to choose one of the ready-made styles, like Wedding, Undersea, Album, or Flowers, then drag-n-dop video formats into the Working Area and set the chapter numbers.
Ⅳ AVS FAQs & Alternative
1. Does AVS Video Editor have a watermark printed? And is it free?
Yes, the AVS demo version is free to download with all the basic & advanced features on Windows. But sadly, it will be printed with a watermark in the trial release. To remove the watermark, you have to pay $39.00 for the one-year plan or &59.00 for permanent.
2. Is AVS safe & stable to use?
Yes, AVS is operated with a powerful backup system, so it's safe to download and launch on your PC. But it may get crash constantly, especially when you're using advanced tools or applying many elements.
3. Is AVS works for Mac?
No, so sorry to answer you that there's no trace to show AVS company will publish any products that match macOS.
4. Who can be the best AVS Alternative?
Considering that AVS Video Editor will get into errors and it cannot be downloaded on Mac. AceMovi , the one-stop video editing toolkit designed with clutter-free UI and libraries of features & effects, must be the most bang for your buck. Why not take a look at it and give it a try?
5. Is AceMovi Video Editor free to use? How to download AceMovi?
AceMovi Video Editor includes free trial and paid version. And both of them can used to edit video with all the built-in features, just watermark gap. Here are its UI & offical website to download.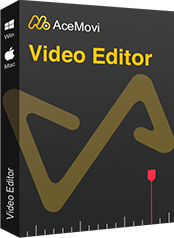 TunesKit AceMovi Video Editor
Security Verified. 5,481,347 people have downloaded it.
Easily add text or image watermark to video on PC or Mac
Provide both basic and advanced editing features to enhance video
Multiple filters, transitions, text, sound effects, music, etc.
A variety of output options to choose from, like format, device, social platform
User-friendly UI and easy to operate