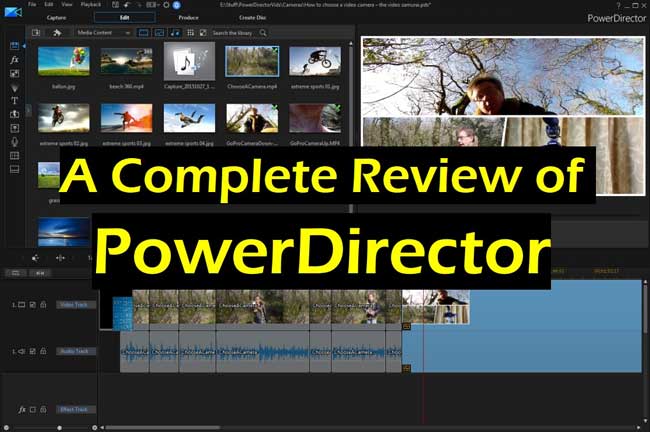 An engaging video cannot be made without the help of video editing tools because shooting a video and then editing it are two different things altogether. In this video-sharing era, you'll find popular tools' like Final Cut Pro and Premiere that have been used widely by many content creators. But, if you're looking for a tool that helps newcomers understand and learn the art of video editing, Cyberlink PowerDirector is right there up with the top contenders. And in this article, you'll learn how to use PowerDirector and what role it has on offer in the video-editing field.
Part 1. Review of Cyberlink PowerDirector - How to Use It to Edit Videos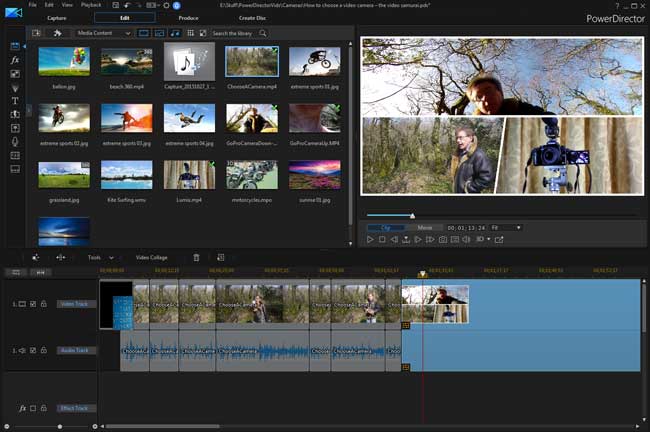 Cyberlink PowerDirector is a Windows-based editing tool that offers more precise & reliable options than its competitors and allows you to enjoy complete control over video editing. The best thing about the PowerDirector video editing tool is its features that will enable you to learn the art of inappropriate editing manner. Now, let's get started to talk about how to use PowerDirector and explore its editing features.
Tip 1. How to Import Videos on PowerDirector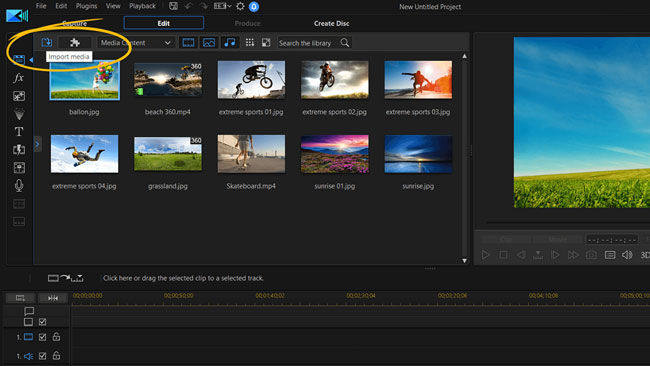 Every video editor kick starts your editing procedure by importing your media file. The process to import videos in PowerDirector is pretty straightforward.
For this purpose, you'll only need to hit the Import Media tab (shaped like a jigsaw) in front of the media library, or you can just drop your video files under the timeline. After this process, you'll be able to upload the video file you'd want to make changes into.
Tip 2. How to Combine Videos by PowerDirector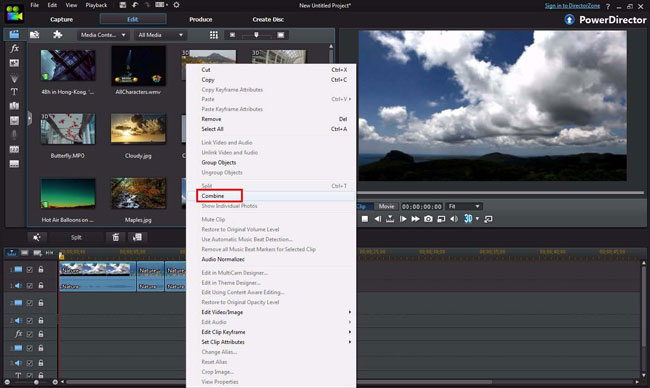 If you want to work on multiple projects, you can merge them into a single file. For this, you'll need to put your second video to the editor's timeline where the first video is already placed. All you need to do is move the cursor to the particular point of the timeline where you'd want.
Later, you need to hit Insert Project after entering the File option. Now you'll see a new window appearing that will help you find the video you're looking to import. After locating your project, you'll need to hit the OK button after clicking on it.
Tip 3. How to Split Videos by PowerDirector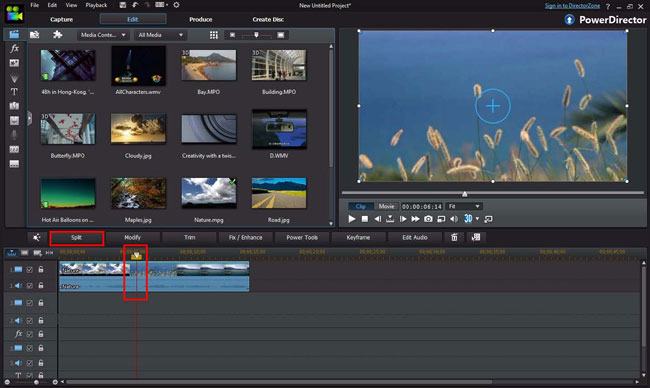 To split videos by PowerDirector, you need to hold-&-drop the red controlling line under the splitting point and then right-click that wanted video track to choose the Split option. Otherwise, you can hit the shortcut Ctrl + T to achieve this effect.
Tip 4. How to Trim Videos by PowerDirector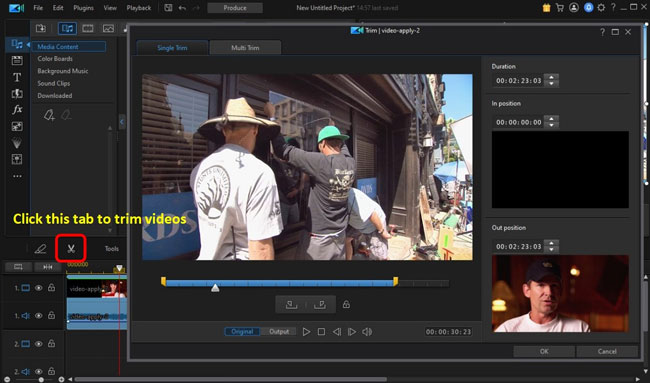 Cyberlink PowerDirector also allows you to trim your videos with minimal effort. You need to select the video clip and hit the Single Trim tab from the toolbar to serve your purpose.
Later, you'll only need to push the slider to the point you'd want to cut the video clip from, and then you can get it done by hitting the OK button. If you're going to perform Multi trim, you'll need to select the Multi Trim tab and complete the previous operation again.
Tip 5. How to Edit the Images & Soundtracks in Videos by PowerDirector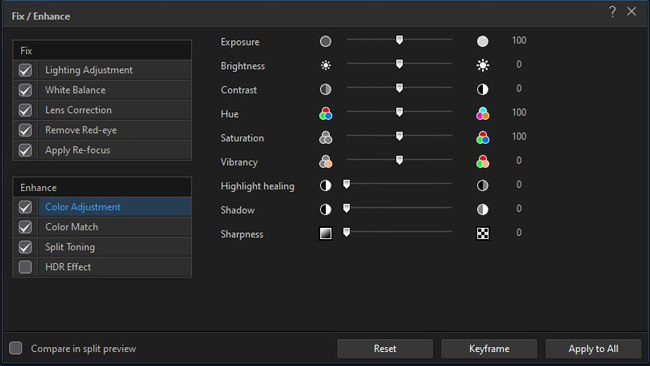 Sometimes, you'll want to change your pictures' balance, contrast, or saturation degrees, etc. Luckily, the PhotoNow feature of PowerDirector allows you to adjust the photos. You need to select the image and hit the Edit Image tab to put the things in order.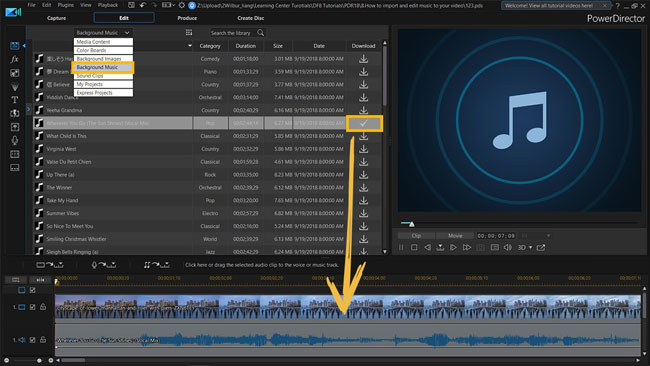 Moreover, you can explore audio features using the PowerDirector video editing tool. PowerDirector comes with the Wave Editor option to adjust your soundtracks. You can select audio and then hit the Edit Audio option to adjust your audio file.
Tip 6. How to Apply Video Effects by PowerDirector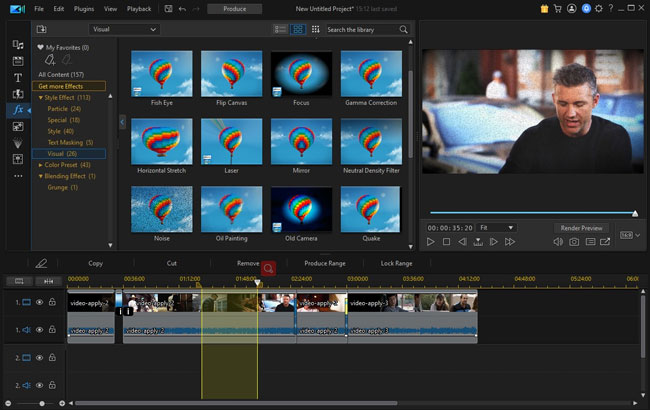 You can make your video more relevant and breathtaking by adding appropriate video effects. Using the PowerDirector tool, you can explore many magnificent video effects options.
You'll only need to hit the Effect Room icon (located on your left hand) to serve your purpose. From there, you can apply Slow and Fast video motion, filters, and many more effective options. In addition, you can add transitions, picture-in-picture effects to your video. Furthermore, PowerDirector also allows you to create beautiful slideshow videos in a manner of minutes.
Tip 7. How to Save & Back Up Your Project by PowerDirector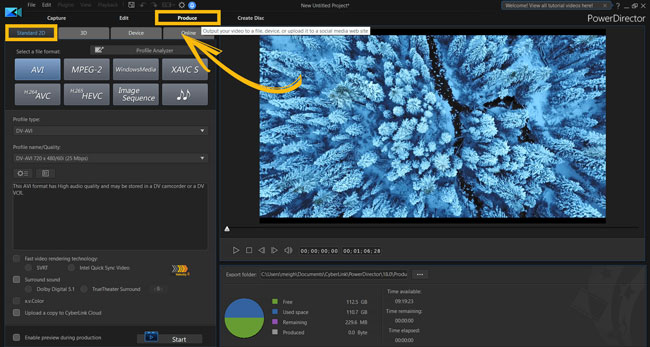 PowerDirector offers multiple sorts of video files like AVI, MPEG-2, Windows Media, AVC, MP4, etc., even you can export the video into the 3D video formats. And you're permitted to export into AutoFit formats of some devices and online websites as well.
By the way, PowerDirector allows users to back up the edited video files, which means you can back up your video clip somewhere in the editing tool without exporting it. For this, you can hit Pack Project Material after selecting the Export button.
Part 2. Best Alternative to PowerDirector - AceMovi Video Editor [For Both Mac & Windows Users]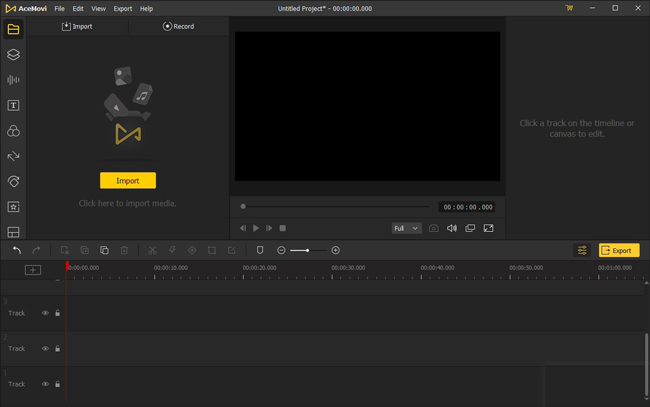 Since PowerDirector is a bit complicated to use and offers fewer animated texts features & transition effects, you may try to look for an alternative tool for it. And based on professional performance, we think that you can try TunesKit AceMovi Video Editor - apart from offering unbelievably brilliant features, this editor blesses its users with a pretty straightforward user interface as well as a plethora of dynamic texts & transitions.
More importantly, AceMovi Video Editor provides its users with a free version, meaning that you don't need to worry about the quality of this tool. Instead, you can test its quality using its free version, and then you can plan to acquire its pro version. Here is the access to install AceMovi no matter you're Mac or Windows user.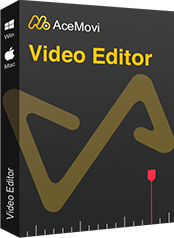 TunesKit AceMovi Video Editor
Security Verified. 5,481,347 people have downloaded it.
Using the TunesKit AceMovi editing tool, you can rotate, crop, trim, split, convert, adjust your video in any manner you want
If you want to add audio effects to your video, AceMovi video editor allows exploring sensational audio features
It supports multiple video file formats, including MOV, FLV, MP4, MPEG, and many more
After editing your video, you can export it to social media platforms like Facebook, Instagram, YouTube, DailyMotion, Vimeo, etc
AceMovi Video Editor allows you to apply terrific filters, unique themes, and eye-catching stickers to your video
You can also explore fascinating text options and add stunning titles to your video
AceMovi editing has also got unbelievable transitions and picture-in-picture effects up in the sleeves
Part 3. Differences between AceMovi Video Editor and Cyberlink PowerDirector
In the following, we made a comparison chart to help you decide on which video editor is better to use. And relatively large differences lie in the OS, Free Version, Full Version, and Advanced Functions.
| | AceMovi Video Editor | CyberLink PowerDirector |
| --- | --- | --- |
| Interface / Learning Curve | Easy-to-use | A bit complicated |
| OS | Mac OSX 10.8+ / Windows XP, Vista, 7, 8, 8.1, 10, 11 (32-bit & 64-bit) | Mac OSX 10.14+ / Windows 11, 10, 8/8.1, 7 (64 bit OS only) |
| Screen Resolution | 86.0MB / Version: 4.6.0 | 671.94MB/ Version: 20.1.2424.0 |
| Free Version | No times & days limits; Watermark Added | 30-day free before Software locked; Watermark Added |
| Full Version | $19.95/Month, $39.95/Year, $59.95/Perpetual | $19.99/Month, $69.99/Year |
| Video Elements like Stickers, Filters, etc. | √ | √ |
| Video, Audio, & Image Formats | √ | √ |
| Basic Functions | √ | √ |
| Advanced Functions | Pip, Slow-Motion, Split-Screen, Blur, Mosaic, Magnify, Slideshow, Sound Equalizer, Animations & Motions, Recorder, Color, and ColorNot ... | Video Templates, 3D Effects, Auto Chapter Settings, Subtitle Room, Style Effects, Plug-ins (like Ad, Multi-cam, & Theme Designer) ... |
Part 4. Conclusion
If you don't know how to use PowerDirector director, read all the steps we've mentioned to explore the features of this tool. Based on the statistics, we reckon that AceMovi Video Editor is a more versatile and better option for you, and you can see that AceMovi has the perpetual licenses whose price is even lower than the year plan of PowerDirector.