In most cases, only can non-linear (a.k.a streamlined) video editing tools generate picture-in-picture or window-on-window videos because they provide users with a multi-track timeline so you are accessible to add more than one clip under the canvas. If you want to make such an effect in your video for making call-to-action marketing video content, or produce real-time duet and reaction videos for social media reels, don't be hesitated to read this post herein you'll figure out how to overlay videos on one screen with four robust video-making software and app. Let's go for it now!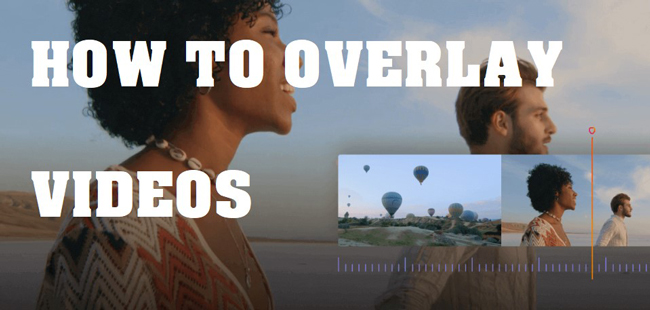 How to Overlay a Video on anoher Video with AceMovi for Computers
As an one-size-fits-all video overlay software, TuesKit AceMovi is embedded with a linear interface that can add as many video and image files as you want. You can download it on Windows 10, 11, and Mac. More importantly, this software provides users with trial versions or free at present.
AceMovi contains a handful of video effects: Split-screen, picture-in-picture, blurring, mosaic, mirror, green screen (chroma keying), fast-motion, slow-motion, and play reversion. All of the features are at your disposal with a few clicks on the buttons.
AceMovi Video Overlay Tool
Unrestricted tracks for media
Reposition video on the canvas easily
It's applicable for low-end systems
Attention-grabbing filters and transitions
Many cool video effects to enjoy
Download files to mobile phones
Resolution options include 1080p and 4K
How to Do Video Overlays with AceMovi
Dwonload and start AceMovi software. Add your videos to the timeline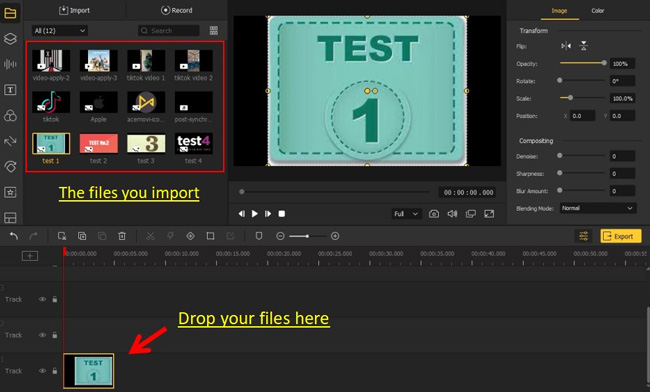 AceMovi's interface is customized and easy-to-use, which provides you with the drag-n-drop feature so you can drop your files to the Media place directly.
Note: The video on track one will surface below the video on track two.
Add the first video to track 1, then add another to track 2
You need to choose the video from the Media panel and add the videos to the track area. With that said, the video on track 2 will be overlaid on track 1.
After adding them to the timeline, you can change the video position by the performance monitor.
(Optional) Adjust the properties of the edited video per your needs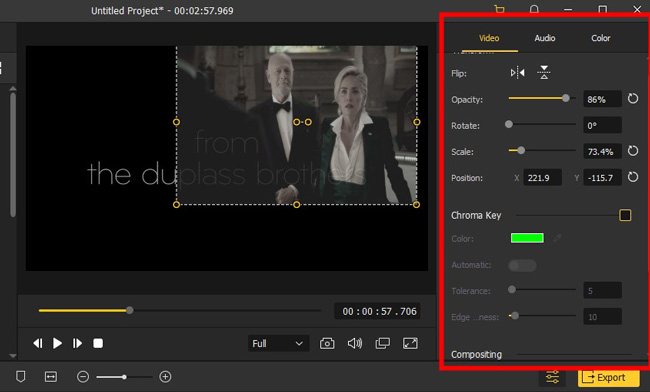 It's allowed to rotate, scale, and flip the video with AceMovi. All you need to do is find the "Properties" button in your right-hand place, then click the function button as wanted. On top of that, you can set the parameters of audio and background color as well.
Determine the save path and file name. Download your video from AceMovi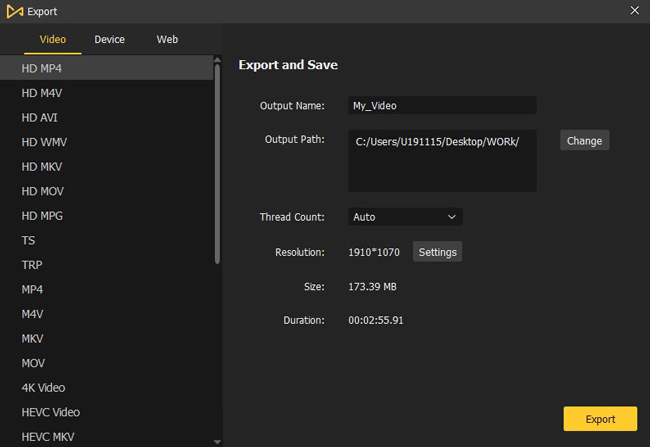 In the final step, users are able to choose the output video format with their desired resolution and file bit rate. There are channels to download the video for mobile devices and websites, including iPhone, iPad, Android, YouTube, and Facebook. You just learned how to use AceMovi, try it here!
How to Overlay Videos on iPhone & Android
If you have a mobile phone and want to know which app is qualified to overlay a video on a picture or a video, you can use the VN app. And we'll be sharing you with the tutorials of VN to do video overlay. Moreover, this app is an all-in-one video editing tool that provides you with a file trimmer, cutter, speeder, curve editor, and many more functions. Just keep reading.
Open VN on your movile phone. Then click the "New Project" to start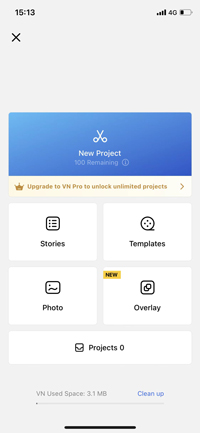 You can download KineMaster for free on both iOS and Android. Then, you should click the "+" from the interface and choose the video file.
Click the "+" icon from the timeline to add another video to overlay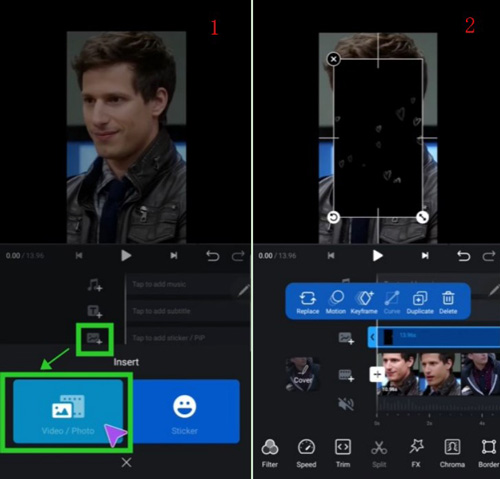 Under the timeline, you need to tap on the "Video +" icon. Then VN will guide you to overlay a video or a photo. After that, you can change the location of the video on the screen or rotate it by touching and sliding the video edges.
Adjust the resolution, fps, and average bit rate. Then download your files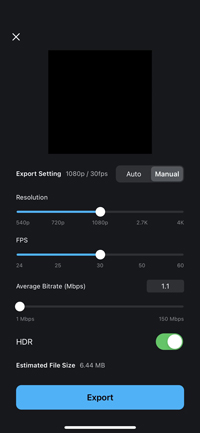 You can click the "Auto" and "Manul" for downloading videos. To be specific, if you click the Auto, the VN app will help you export the file at the best quality. If you want to change other parameters of your file, try the "Manual" panel where you're able to convert resolution and HDR.
How to Overlay a Video on a Video in iMovie
iMovie is a watermark-free and powerful video editing software for Mac and iPhone. If you want to try overlay music on a video or overlay video on another video, iMovie is a good option. On top of that, you don't need to download this app on your iPhone because it's preinstalled on your device. You can choose any media to upload to the nonlinear layout.
Launch iMovie on your mobile phones, choose your files to import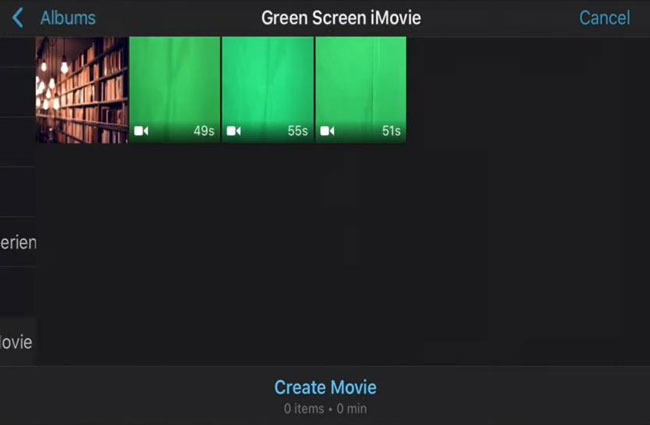 You can create a new project by dragging-n-dropping. iMovie allows you to add multiple tracks of audio and video to the interface.
Remove background noise from video with "Clean-Audio" feature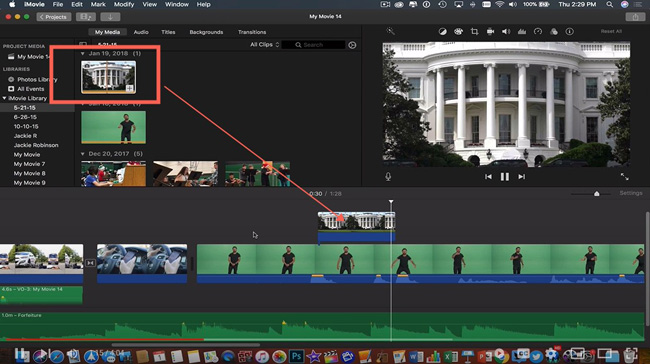 After dropping the files under the timeline, you need to add the second image to a new track. If you want to make the video fade, just drag the angles of the video. Likewise, users are empowered to overlay images under a video.
Edit the color, frames, volume, position, and duration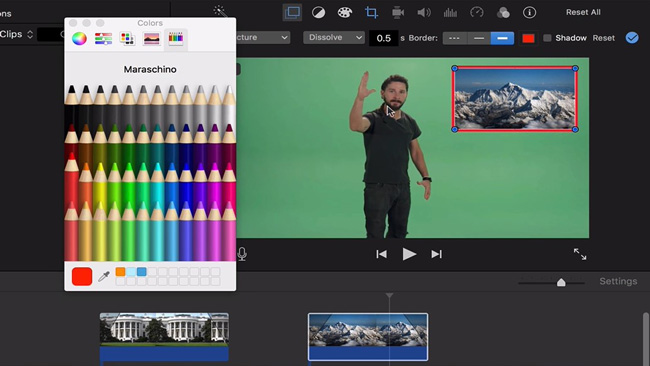 You can add a color box to the imported video based on your requirements. Moreover, there are buttons to edit the volume and color of the clips in real-time.
Share your videos to social media or download it to your device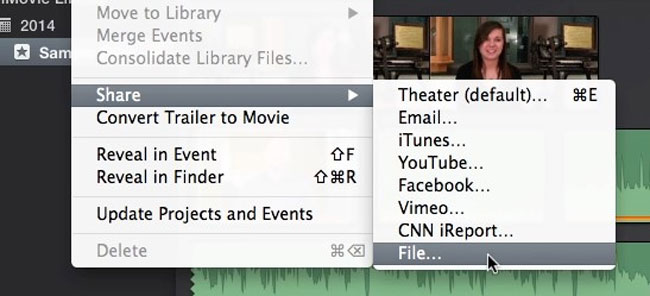 That's all the tutorials on using iMovie to export your videos from iMovie. You need to click the menu > "Share" > "File" to download the edited video from it. On the final editing canvas, you can convert video resolution, playing codec, and file size.
How to Overlay Two Videos in Premiere Pro
Premiere Pro is one of the most popular video creation software released by Adobe Co., which offers users professional color grading, green screen, sequential editing, 360-degree preview, as well as sound equalization.
If you want to use advanced features, you'd better get the full version of Premiere Pro. However, you can overlay a picture on a video with it for free. Here we go!
Import video files to Adobe Premire Pro on your desktop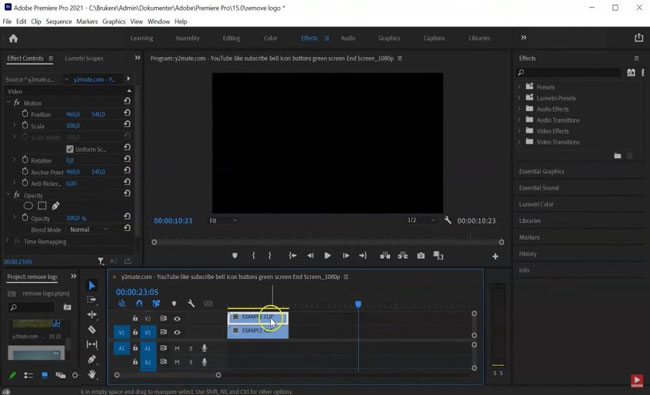 Follow the "File" > "Import" channel to import files to Premiere Pro. You can add many popular file formats to this software without delay. If you're to edit multiple files, click to add more tracks.
Overlay a video on other image or video at your wanted place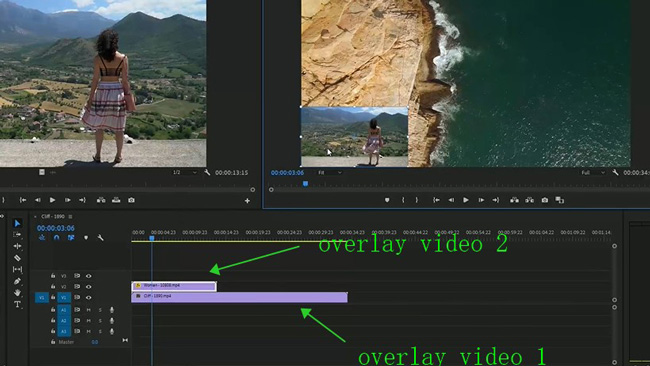 Put the two videos under different tracks, and then you can change the duration and location of them. For instance, you can click, hold, and drop the edges of the track to resize the duration of the clips.
Apply effects and change the related position/anchor point/opacity of the video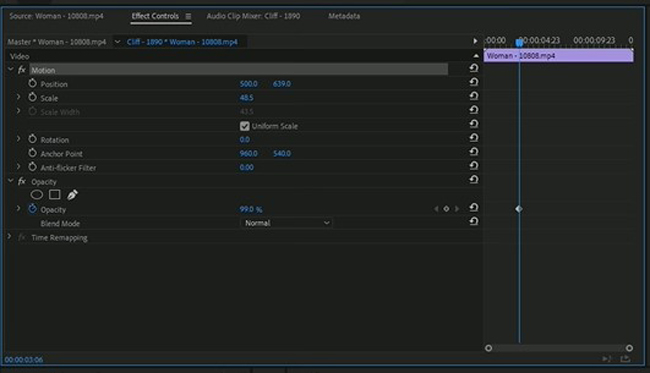 On the top left place, Premiere Pro enables you to apply motion effects to your file. With meticulous settings, you can fine-tune the degrees, opacity, position, rotation, and blend mode of the video.
Set the final output parameters and resolution before downloading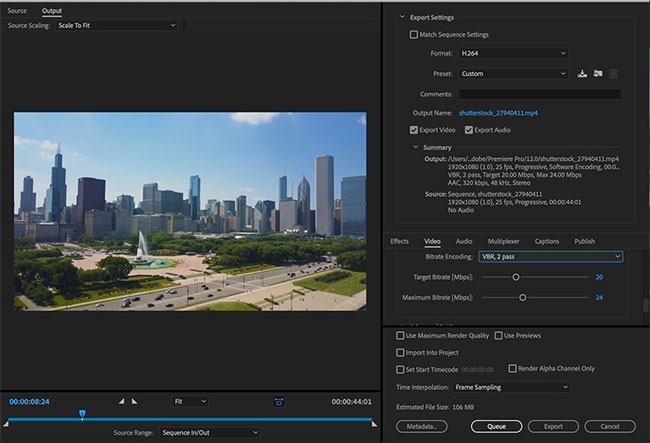 When it comes to exporting files from Premiere Pro, you need to click the "File" and "Export" icons from the menu. You have channels to increase the audio quality and change the output format.
Conclusion
If you haven't decided which software or app to pick up, you can try them at the first hand. By comparison, AceMovi and VN are pretty easy for beginners, meanwhile, both of them provide users with one-stop features; iMovie is pre-installed on your devices, and; the Premiere Pro is a tool for professional video editing and color gradings.