The popularity of video sharing is on the vigorous increase and as one of the filmmakers, you may feel that finding the time to sit down with your PC, go through all of your materials, and then create an eye-catching movie might be a bit difficult. Fortunately, there are numerous low-cost & quite easy-to-use video editing tools available to help you make professional-looking films, and VN Video Editor - a smartphone app with over 50M downloads, is particularly one of them. And today's post is dedicated to provide an all-sided review of VN Video Editor for you. Now, let's get started!
A Complete Review of VN Video Editor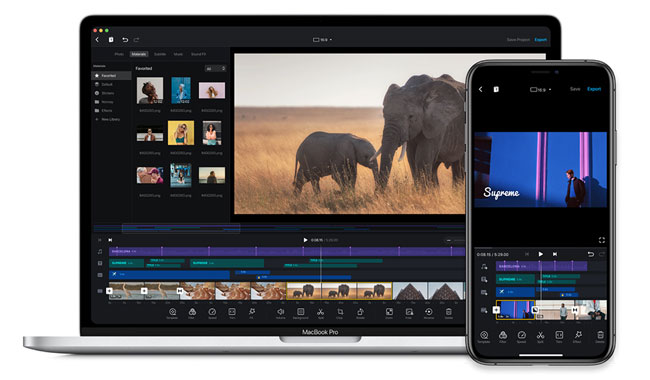 VN Video Editor, also known as "VN Video Editor Maker VlogNow," is a multimedia application that allows you to edit video footage on both IOS and Android smartphones, tablets, or even laptops/desktops (but you need to download an emulator). And the program is completely free to use, without watermarks or other restrictions like use times and duration.
Most importantly, VN is highly effective in editing various tasks for many professional video content requirements and is wonderful for novices, much like iMovie, but it also goes a step farther and includes more advanced editing options. The UI has several sophisticated features, such as straightforward color correction, integrated filters, and quick editing tools.
Also, you will appreciate how the back button is immediately available and not buried as a shortcut since there are plenty of miss-clicks here and there. The editing functions themselves are basic but not robust. The transitions are also superior to those seen in many free applications but fall short of those in larger NLE platforms.
Basic Specs
First thing first, we're going to show you some of the VN Video Editor's basic specifications, special effects, Story Mode, & cons.
Basic Specifications:
(V0.9.1) Size: 187.1 MB
Compatibility: macOS 10.15 or higher; Android 5.0 or higher
Language includes English, Hindi, Indonesian, Japanese, Korean, Russian, Simplified Chinese, & Traditional Chinese
Price: Free
Watermark: No
Special Effects:
Shifting curves
9 different transition modes built-in
50+ movie-sensitive filters available
Zoom & reverse functions
19+ different animation genres
PiP to make duet/react videos
Supports at 4K & 60 frames per second
VN Story Mode:
Effects on texts & subtitles
Layering design editing style
Multiple formats are supported
The material duration can be changed
Spectacular filter & animation effects
Interaction with speech recording that is more human
Mode of full-screen preview
Cons:
You may encounter bugs like lagging clips & losing soundtrack (or audio)
Editing Interface
The most salient design of VN Video Editor, unlike other video editors such as Inshot or TikTok, is the streamlined editing interface - you can see four tracks are inherently set, they are Music, Text, Stickers, and Video. Going on you'll find tabs like Templates, Filters, Speed, Split, Trim, Effect, and More. Why it is good to use? Just because users can import the files or apply the effects at one specific area instead of opening endless windows or function tabs.
Filters, Transitions, & Animations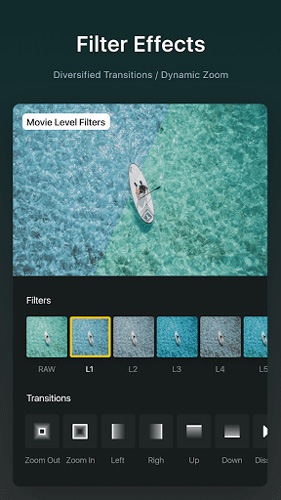 VN has more than fifty movie-sensitive filters and each filter design with special background rendering, fill-in lighting effect, scene atmosphere, and color matching. For example, in this L1 (Movie Level Filter), you can see the differences lie in the changes of deeper color and lighting waves.
Below the filter plate, you can insert many diversified transitions such as Zoom Out, Zoom In, Left, Right, and More.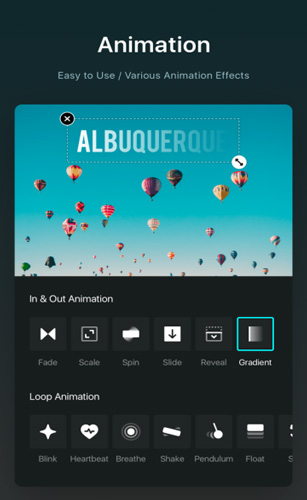 9+ different animation genres are built-in the Animation Plate like the Fade, Scale, Spin, Reveal, and Gradient. Let me give you an example, when you apply the Gradient in VN, you'll find that the video elements will be titled into some degrees like 30 or 40, which gives the audiences a feeling of "Faraway-to-Near", viz., if you're a landscape photographer or filmmakers, this could a very good animation effect to use.
Below, more funny loop animations like Blink, Heartbeat, Breathe, Shake, Float, and more are waiting for you to discover, believe me, that they're very suitable for short videos.
Curve Shifting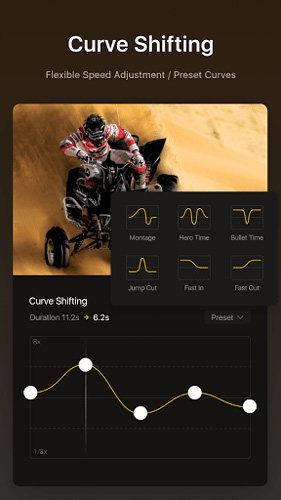 Curve Shifting Effect, we can call it an excellent speed maker, can be used to balance some parts of the motion play speed rather than altering the whole speed like slow-motion or fast-motion. And by analyzing the speed curve, you can apply the best speed balance plans with VN Video Editor like Montage, Hero Time, Bullet Time, Jump Cut, Fast in, and Fast Out.
Quick-Start to Use VN for Beginners
Again, including crucial frames and visual components in a free smartphone video editing program is a pleasant surprise. In reality, once you understand how the functions operate, employing these components isn't difficult.
For someone starting up the software for the first time, you will be delighted with how easy features like dealing with green screen video and chroma keying are. If you're a YouTuber wanting to shoot a lot of video material quickly, this software can help you out. Generally speaking, VN Video Editor doesn't have standard pictures and visuals for social symbols. Also, the keyframing is useful but not as seamless as using Premiere or After Effects to add them.
How to Download VN Video Editor for Desktop Use
Until now, VN Video Editor can be only downloaded on iOS or Android systems so that you need to install an emulator (here we suggest Bluestacks or LDPlayer) to run VN on Windows or Mac. You got a 2-step method to achieve this.
Download & Launch Bluestacks/LDPlayer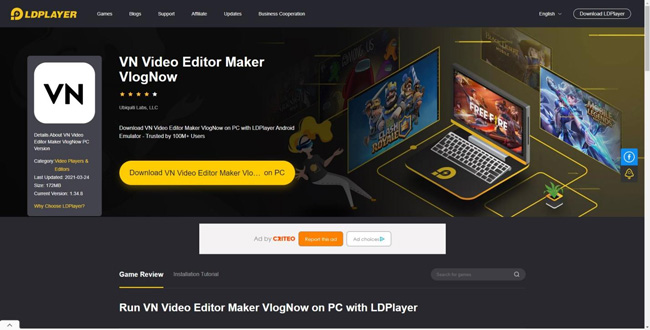 You can click here to download Bluestacks, if doesn't works, you can try LDPlayer. And then install one of them on your desktop.
Install VN Video Editor from Google Play or Apple Store
Next step is getting into the Google Browser by the emulator you downloaded before to input VN Video Editor and then it can works well. Remember that whenever you'd like to edit videos with VN on PC or Mac, just operates the emulator first and then run VN.
Best VN's Alternative Operating for Most Windows & Mac - AceMovi Video Editor [Hottest!]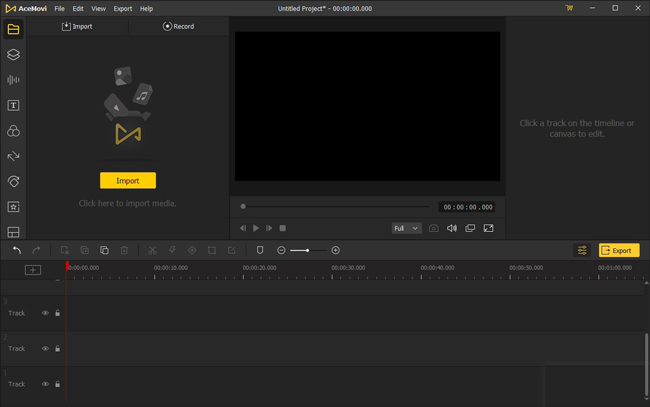 If you deem that it's troublesome to download an emulator, another option is to get a very good-to-use video editor that used specially for Mac and Windows - AceMovi Video Editor. By contrast, you won't encounter any matter of crash or bug with AceMovi after you got this software, and even you don't need to prepare a very good internet environment because AceMovi can be used offline.
In addition, the workflow of creating a high-quality video and exporting at the specific resolutions by AceMovi is very easy to accomplish. To use AceMovi, firstly, you can directly drop your video/audio/image filers under the Track and manage their queue later; Secondly, unfold the 9 item containers set on your left hand to add video elements (all of them are loyalty-free); Then, you can click the tabs from toolbar such as trim, crop, or speed; and finally, click that yellow Export button to download this fantastic on your desktop.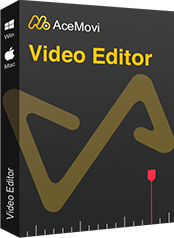 TunesKit AceMovi Video Editor
Security Verified. 5,481,347 people have downloaded it.
The interface is very intuitive
Major audio and video formats are supported
Both Windows and Mac versions are available
Free version available (while the full version is dirt cheap to purchase)
Preview videos while you are making changes to them
Most video formats are supported, including MKV, MPG, MOV, MP4, and M4V
You can perform dragging, exporting, adding music, transitions, other effects, screen recording, and importing media
The Bottom Line
VN Video Editor is a simple yet powerful desktop editor appropriate for beginners and professionals, this post is dedicated to providing you with the full review of how to master it. Alike, you can also download an emulator to run VN on your desktop, but you should prepare to endure the problems of bugs and internet stuck. In this case, we recommend AceMovi Video Editor for you, which can be used offline losslessly and safely at any time.