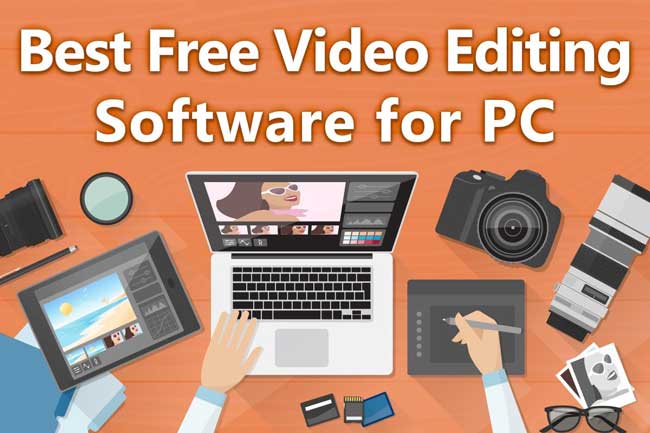 Video editing has been becoming more and more popular and usual. In the current digital era of Internet you can see the visual outcomes everywhere, some of the videos are used to share the moment with friends & family, while some are played before millions of audiences.
It naturally comes up with the matters of which one is the best video editor for PC with no watermark , or for us video editing beginners & pros what matters very much in terms of the most felicitous video editor.
We got the answer for you! The five best free video editors for PC in 2022 are listed below for you, along with their pros and cons respectively.
The Best Video Editor for PC - AceMovi Video Editor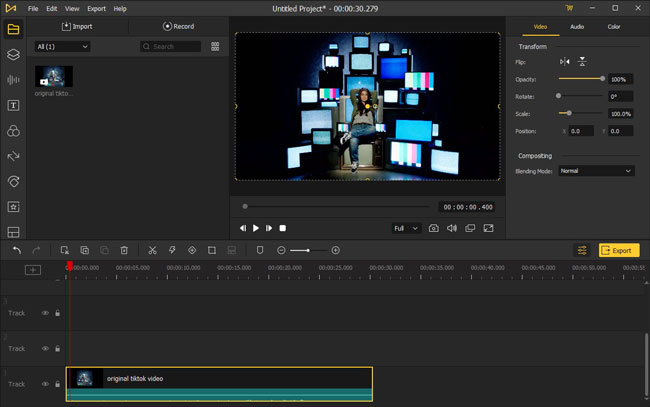 Pros:
User-friendly & clutter-free interface
Hundreds of video formats & devices included
All-sided guides for beginners & easier learning curve
Built-in & manifold video effects: compelling filters, images, and stickers, etc.
Compatibility: 512 MB (256MB on a Mac), All Wins, Mac 10.8+, 1 GHz
As a multi-functional & easy-to-grasp video editor, AceMovi Video Editor has performed excellently in the overall video editing experiences for users, they may beginners or professionals.
AceMovi is composed of a clean interface, various filters, pro video effects, etc. And you can get access to the majority of video formats and devices, along with the ways to post on social media. Moreover, all the video effects will be played on the right-upper place in real-time. By the way, to enjoy the high-quality video and one-stop editing guide, though the trial version will be printed with a watermark, you can erase them with a little payment.
Click to Download AceMovi Video Editor
Top 5 Best Free Video Editing Software
Top 1. VSDC Video Editor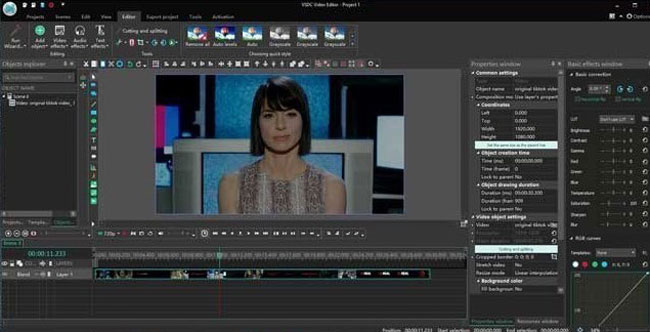 Reasons to Get: :
Video edited without watermark
Various & pointed projects
Tons of high-end video editing features
A plethora of effects, transitions, animations
Downsides:
Deeper learning curve & fairly complex interface
Lagging and crashing occur sometimes
Compatibility: 128 RAM & 20MB ROM, Windows 10 or 7
VSDC, a very comprehensive video editor, designing for making videos as more detailed as possible where all sorts of commonly-seen video editing projects, slideshow creations, and video & screen capture are available.
On VSDC, in addition to some of the simple functions to take up video editing, more advanced features for editing videos you can find: the 3D Editor, which allows the VR footage, panoramic editing, or multi-dimensional preview; Motion tracking – a toolset for attaching any key elements to your movie; and with Modes Blender, you can modify the appearance of video image based on your preferences with color blending and apply ready-made YouTube-like filters in one tap.
Top 2. Lightworks Video Editor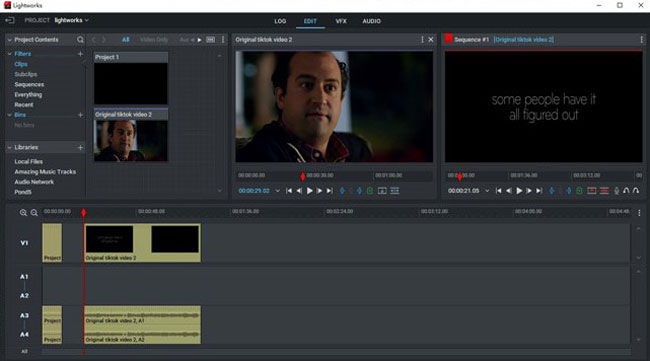 Reasons to Get: :
Good tutorials for beginners' workflow
Well-arranged & clutter-free interface
Direct export channels to YouTube or Vimeo
Specialized and powerful Color & Audio Correction panel
Downsides:
Video quality limitation in export: 720p
Sign up in advance & short time gratis: 7 days to expiry
Compatibility: 3GB RAM & 200MB MB, 1920 * 1080 resolution, Windows, macOS, Linux
Lightworks is a non-linear editing software with a straightforward layout, which caters to beginners who will be guided before getting started in 10 steps. What must be amazed for you is that you can search everything in the video effects line to download and license award-winning & royalty-free soundtracks for YouTube, podcasts, etc.
With the VFX panel, the shadows, mid-tones, or highlights in color could be adjusted smoothly, at the same time, you can alter the keyframe graphs for video effects applied at its current position. Furthermore, Lightworks focus on the set of level & routing in audio, for example, the EQ presets, which includes 50Hz & 60Hz mains hum removal, the treble boost, and loudness curve, and so forth.
Top 3. VideoPad Video Editor
Reasons to Get: :
Free to operate on your video editing
Very convenient to download & get into work
Templates for intros, outros, as well as themed projects
Share straightly to YouTube, Vimeo, and Google Drive, or burn to DVD
Downsides:
Crashes and errors happen sometimes
Fewer advanced features & slow in uploading the edited video
Compatibility: 4GB RAM & 100MB ROM, Windows XP+ & Mac OS X 10.6+
Designed to be intuitive, VideoPad is a fully featured video editor with the most convenient download channel to push your video editing job up. You can select a bunch of video clip transitions and effects in the aspect of 3D.
VideoPad operates with pure digital audio tools, among them are import & mix music tracks, record your narrations with one button and make good use of the sound effects from the free Sound Effect Library. Moreover, you can optimize the video by fine-tuning color or other visual effects.
Top 4. Shotcut Video Editor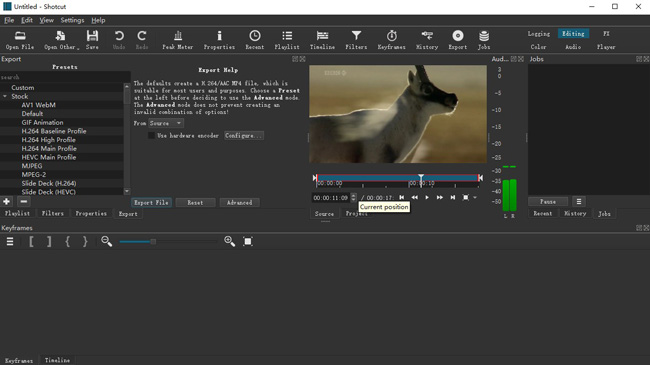 Reasons to Get:
Gratis for all versions
Hundreds of options for formats transport
Templates for intros, outros, as well as themed projects
Downsides:
Lack professional features
More complex to add video effects
Compatibility: 4GB RAM, 64-bit Windows 7+ & Mac OS X 10.8+
Deemed as a cross-platform & open-source video editor, Shotcut aims at providing free and wonderful video editing service for beginners and professionals.
With Shotcut, you have the chance to use the multiple dockable & undockable panels, such as detailed media properties, current files with searching, playlist in thumbnail view, and more. Meanwhile, Shotcut supports hundreds of video formats and ways to transport your device.
Top 5. Icecream Video Editor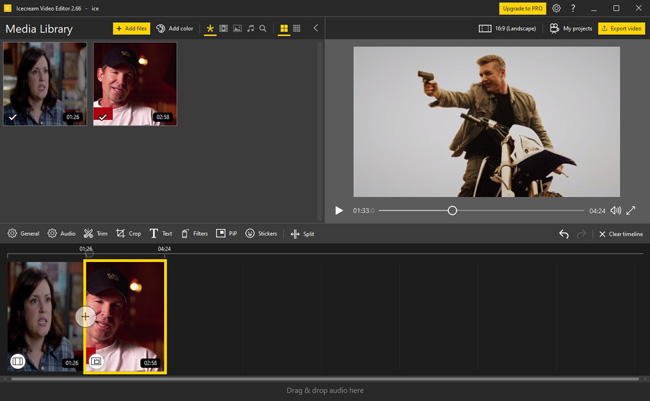 Reasons to Get:
Convenient for downloading
More video resolutions to choose
Well-managed interface & friendly for beginners
Not high system requirement: works on most of the Wins
Downsides:
Fewer pro features to choose
Three supported video formats only
Compatibility: 1GB RAM, Windows, Windows 7+
Icecream, a very simple and eye-catching video editor, especially is suitable for newcomers, and just 1GB RAM is needed to make it functional on your PC.
Icecream performs well in its parameter setting, for example, you'll see seven different resolutions on it. Also, its toolkit in the middle contains most of the usual video editing functions, like Audio, Trim, Crop, Text, Filters, Pip, and Stickers, in other words, there's no need to check every icon just for finding the right one.
To Sum Up
The six free video editors mentioned above carry powerful and wonderful features to enhance your travel of editing videos on PC, like adding different filters, texts, or effects, etc.
Some of the distinctions among them, however, appear crystal clear in front of us. Speciafically, AceMovi ranks first lies in its overall service offered for new users or professionals, while many think highly of VSDC for the reason of the high-end functions, and Shotcut was created with the idea of intuition, and so forth. Still, we recommend you trying the demo version before making the final decision.