Having an excellent intro video for your videos can help you achieve consistency and branding of your videos and channel. These short clips enable you to attract and boost viewers as well as give your videos a professional look. Thus, spending some time making the intro videos is essential.
However, the question is how to do that? The answer is simple, use intro makers. These tools enable the users to design great intro videos. But most of the intro video makers have one of the most annoying things, and that is a watermark. So, what should you do? No worries there are many free video intro maker no watermark facilities available.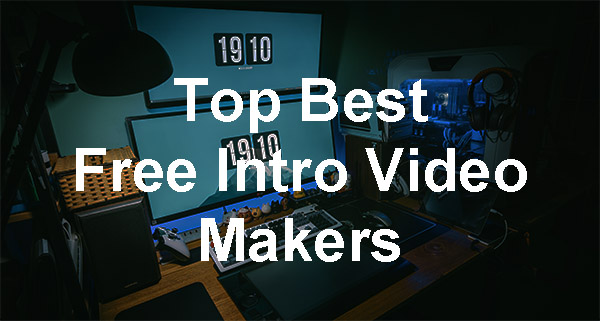 Here in this article, we will introduce the top 7 best intro video makers free no watermark tools. The intro makers mentioned provide users the best toolkits and interface to make great short or intro videos easily.
Recommend seven free video intro makers with no watermark
Intro videos are extremely popular on video streaming channels, and if you are hoping to make a mark, it is worth creating polished videos. Here we introduce the top seven video intro maker free no watermark to help accomplish your task easily.
1. Canva
If you are a beginner looking to create intro videos, then Canva is the best tool you can use. It allows the users to create intro videos in just a few minutes with animated graphics and a variety of audio. Moreover, you do not need to download this free video intro maker, just edit the selected intro template online.
Canva is compatible with Android and iOS which means you can make intro videos from anywhere hassle-free.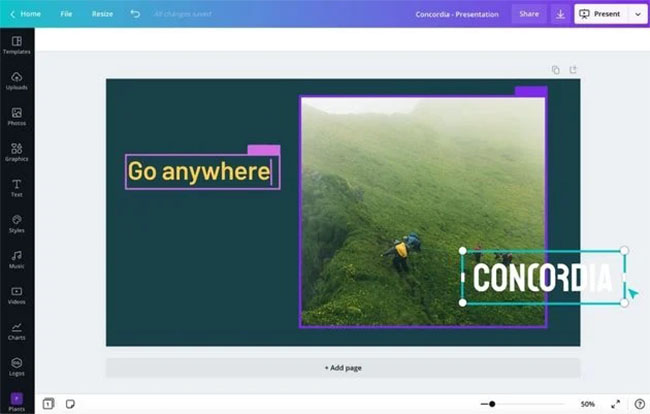 Pros:
Easy to use
Has numerous templates
Built-in gallery with graphics and audios
Cons:
Limited picture selection
2. Light MV
Light MV is a video intro maker with no watermark free tool. It has various templates to create intro videos and long videos. LightMV has an intuitive interface allowing you to create great videos in a few minutes.
Light MV is compatible with Android, iOS, Mac, and Windows.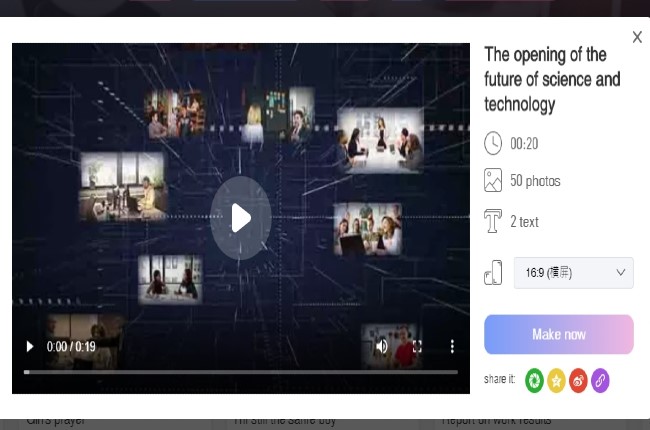 Pros:
Consists of unique templates
No download or installation required
Compatible with all devices
Share videos and photos with one click
3. Lumen5
Lumen 5 is a free video intro maker no watermark tool powered by artificial intelligence (AI). It is the fastest intro video tool allowing you to create engaging intro videos for advertisements and social media.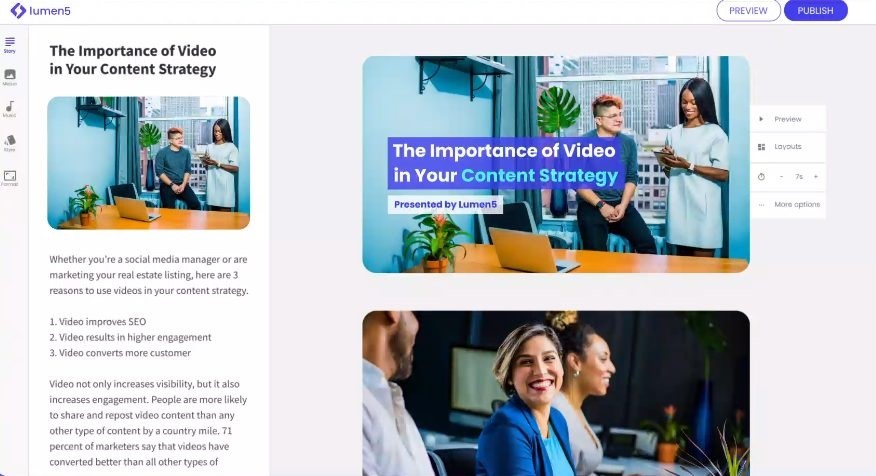 Pros:
Create videos by converting text to video
Various media files
Cons:
Free version has limited features
4. Placeit
Searching for a convenient option that can help you make intro videos? Go for Placeit. It is a video intro maker no watermark free tool with various templates to create and brand your intro videos. With the tool, you can easily share created videos to your social networks.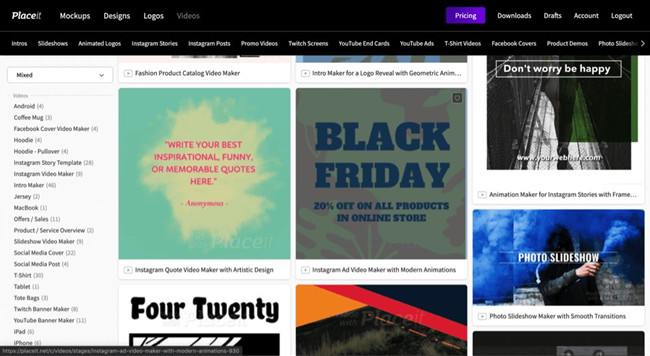 Pros:
Easy video creation
Endless possibilities for creativity
Intuitive interface
Cons:
Non-subscription costs for download is high
5. InVideo
If you are searching for a free custom video intro makers no watermark, then InVideo is your go-to tool. It enables you to create a variety of professional intro videos to enhance your brand. You can also create presentations and slideshows easily using the templates.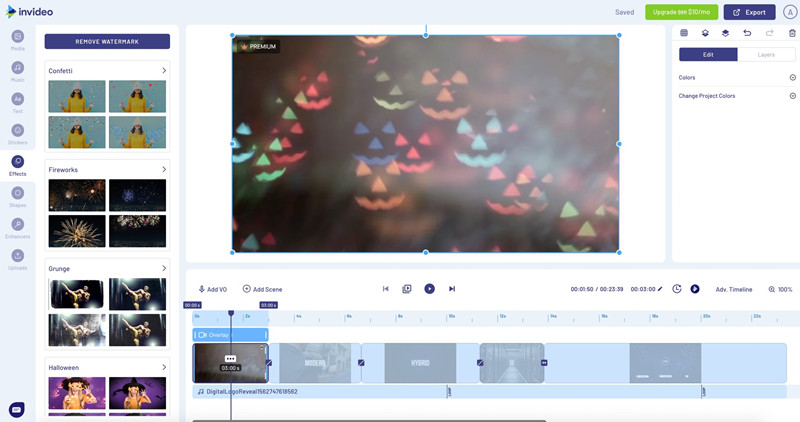 Pros:
Easy-to-use
In-built video library
Variety of templates
Customizable features
Cons:
The tool lags making it difficult to operate
6. Biteable
Biteable is a video intro makers no watermark tool enabling you to create high-quality videos. The interface is intuitive to help beginners easily use it. There is also a huge selection of templates to create videos and share.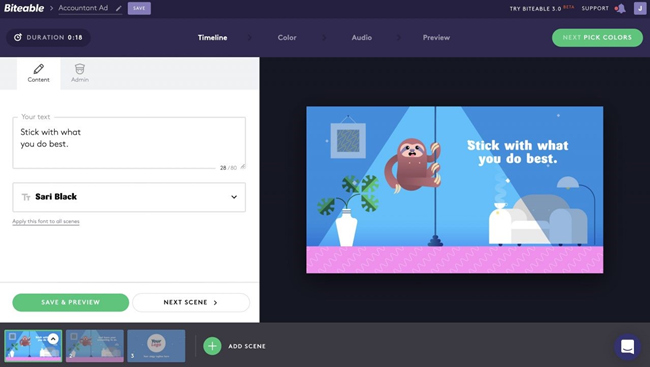 Pros:
Intuitive interface
Rich audio library
Cons:
Free version has a watermark
7. Flixpress
Flixpress is an intro video maker free no watermark tool with a lot of features to create videos. The user interface is easy to use and has many ready-made templates. The templates are customizable with color and audio choices.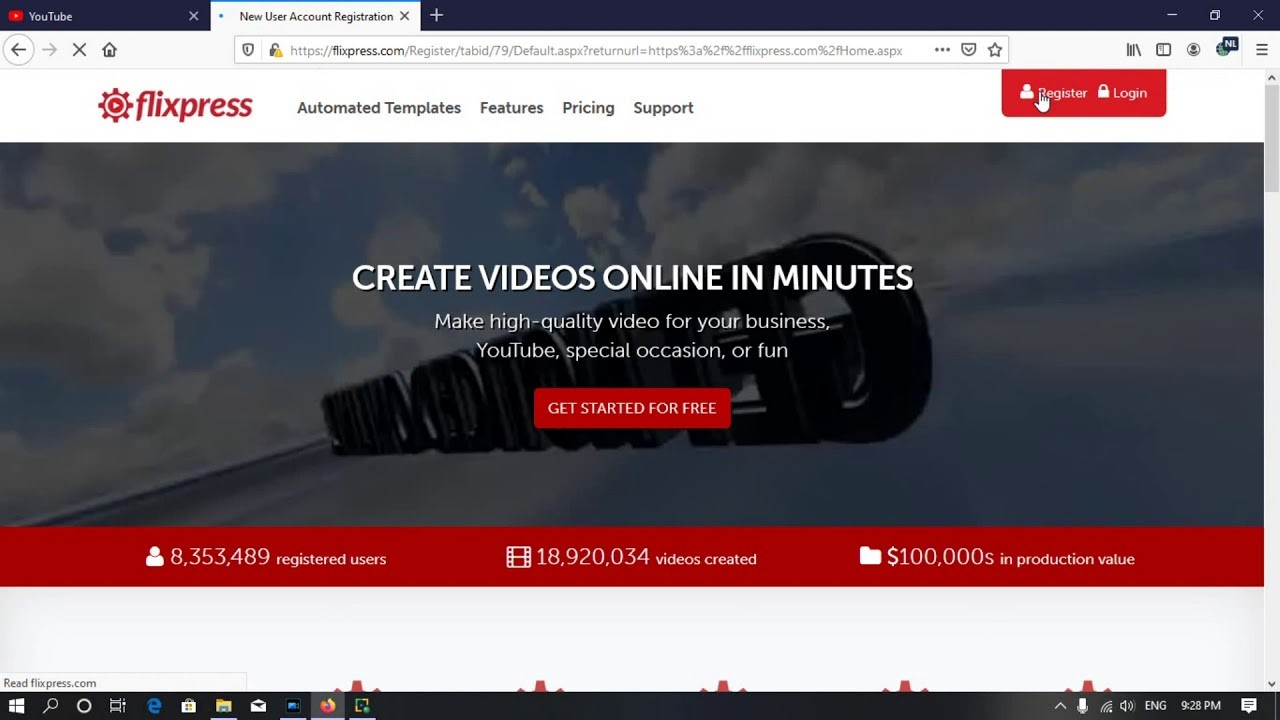 Pros:
Make videos by adding images and text
Huge variety of templates
Customization options
Cons:
All features not available in free version
AceMovi Video Editor - best alternative to video intro makers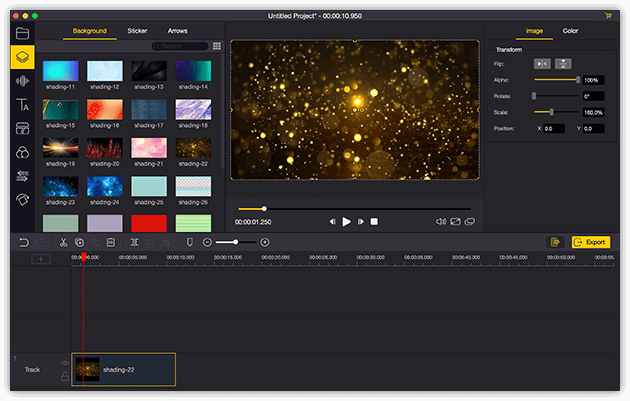 When it comes to making intro videos, there is various top-notch software available to do so. However, the best among the lot is AceMovi Video Editor. The intro video maker is easy to use and helps you quickly make awesome short videos. It comes with a user-friendly interface with all the main features right on the screen. You can easily navigate through all the buttons like elements, sound, filter, text, and more.
Moreover, AceMovi Video Editor comes with an abundance of editing features such as split, rotate, crop, adjust speed, zoom, and color adjustment. It also has cool features like background music, animated text, animations, and split-screen options.
With AceMovi Video Editor, you can do more than just making intro videos. You can record the computer screen to make great product demos or tutorials and create a photo or video slideshow with music. Once you have created the intro video(s), you can save them in MP4, M4V, MOV, MPG, MP3, WAV, etc. formats and share them on any platform you like. AceMovi Video Editor is compatible with Windows, Mac, iPhone, PSP, Xbox, and many more devices. However, there is a downside to this intro video maker, it has a watermark in the free trial.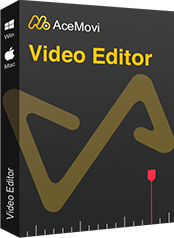 AceMovi Video Editor
Security Verified. 5,481,347 people have downloaded it.
Easy-to-use and concise interface
Record the screen and edit the video
You can cut, join, trim, and rotate the video as you like
A comprehensive video editor that can make advanced editing
Pros:
Simple and easy to use interface
An abundance of video editing features
Supports MP4, M4V, MOV, MPG, MP3, WAV, and many more formats
Free trial
Cons:
The free trial has a watermark
Conclusion
The top free custom video intro maker no watermark programs help you achieve the best style for your intro videos. Besides, being free, they come with in-built templates that enable you to make attractive intro videos. However, if you are not satisfied with the free video intro maker no watermark tools, then use AceMovi Video Editor. The tool allows you to design the best intro video as it has a detailed set of features. It also has a unique collection of animations and effects making it an expressive choice for people to create professional-looking videos for their video streaming platforms.