These days, fighting highlights and teams' documentaries have contributed a lot to the virus of digital games. To create a good gaming intro video for Epic, PUBG, Blizzard, or any other industry-leading developers, it is necessary to mix multiple tracks, overlay texts, and apply effects that appeal to the audiences and catch their eyes.
Since you know the value and potential of gaming intros, you may need a qualified video intro-making tool for its initial development. Here, we will focus on showing you the best gaming intro makers available for both players who are active on social media and on-branding advertisers.
FAQs about the Gaming Intro
1. What Is the Gaming Intro?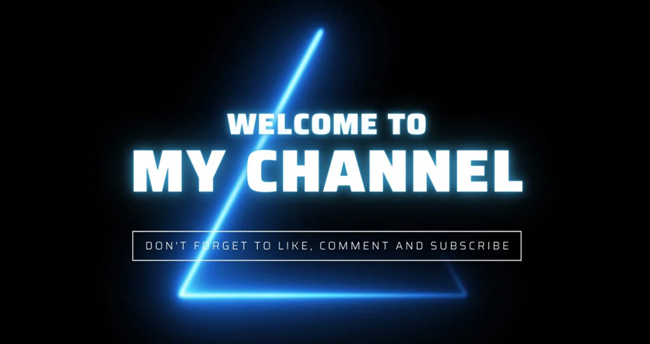 With breathtaking highlights and technological narrators, a gaming intro tells audiences what the game would be like, and more importantly, attract them to follow your gaming account and join in the game. You can deem it as a way to showcase your role as a professional game player.
2. How Long Is a YouTube Gaming Intro?
Gaming intro aims to hook your audiences and followers in a few seconds, so you'd better make an intro video for YouTube that is limited to 15 seconds.
3. Which Intro Maker Is the Best?
Based on testing, AceMovi is the best software to make gaming intro for the all-in-one quality and friendly experience for beginners, while Panzoid is the best web-based 3D gaming intro generator. Both of them offer off-the-shelf templates with which you can custom background, music, colors, and texts.
Popular Ideas for Good Gaming Intros
Method 1. Begin with a template. You can find plenty of designed video templates from an intro video editor. A template also makes your workflow easy and quick.
Method 2. Overlay texts. If you want to customize an intro video, overlaying text is a good idea. You can write down your gaming information to catch your audiences.
Method 3. Showcase highlights. Exciting gaming clips are always enjoyable and charming. You can combine multiple highlight recordings into one and add some transitions to make them smooth.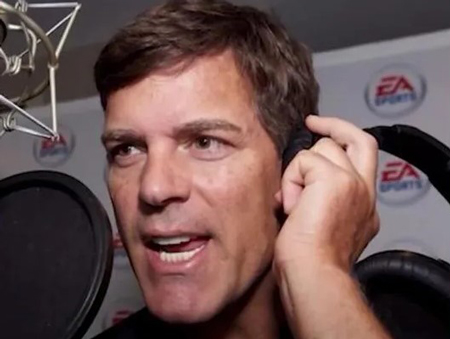 Method 4. Add a voice-over. If you have a nice voice or good skills to write down something valuable. You can easily get more fans by adding a voice-over to the intro video.
Method 5. Try amazing VFX. Slow-motion, fast-motion, green screen (chroma-keying), blurring, and many more video effects are popular among filmmakers. Those effects can make your intro video stand out from others.
You can also choose to watch those uploaded good gaming intros from communities before hitting the road. Right now, if you want to create your own gaming intros, just go head to review those recommendations!
AceMovi - The Best Gaming Intro Maker for Windows & Mac [Templates Provided]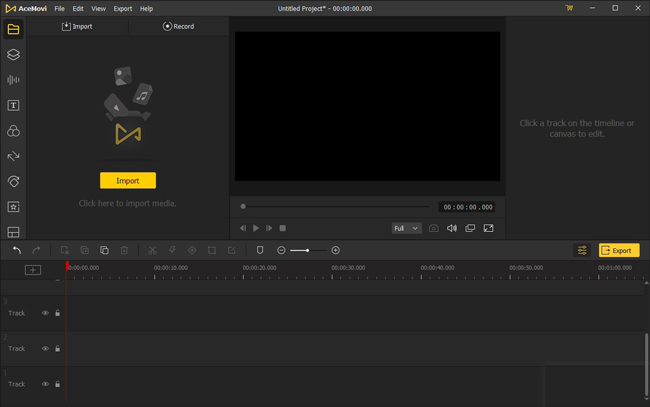 Most gaming players need a video editor with an easy-to-use interface and small editing features. And TunesKit AceMovi is undoubtedly the best software for making gaming intro videos. It provides moving text templates that you can customize fonts and sizes, or insert your voiceover during post-production. Funny stickers, favorite fighting background music, and more are at your disposal.
Whether you are a Windows or a Mac user, you can easily make a gaming intro for free using AceMovi. There is no need to get worried about importing and exporting files as it supports almost all popular formats, including MP4, MPG, WebM, WMV, GIF, FLV, DivX, etc. Now, we're going to learn the tutorials.
AceMovi Gaming Intro Maker
Customized text templates
Easy-to-use timeline
High-definition quality
Trial version is free
Download at best formats for social media
Record gaming clips
How to Make a Gaming Channel Intro with AceMovi
Get AceMovi by downloading and installing. Operate it from your desktop
Go to the official webpage of TunesKit AceMovi and download the appropriate, latest version. You can find the Windows and Mac versions to suit your needs optimally. Download the app and install it as per your system OS requirement. Then, launch it by double-tapping the tool icon.
Import your media files. Choose an intro text template from the Text panel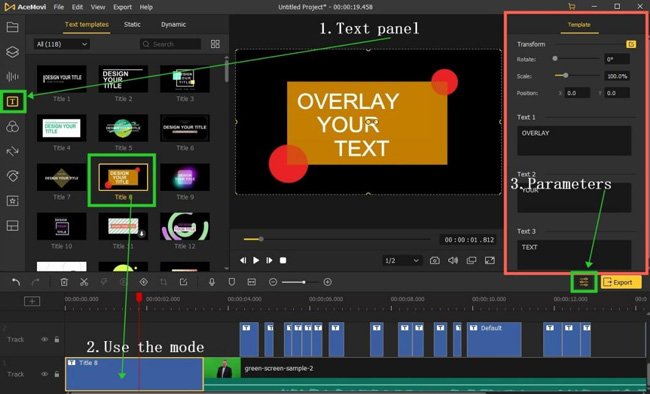 There is a library of text templates set inside the Text panel. You need to choose a wanted one and drop it to the timeline. Then you can fill in content and change text size, font, color, opacity, and more parameters from "Properties" > "Template".
(Optional) Edit video by cutting, splitting, trimming, merging, or else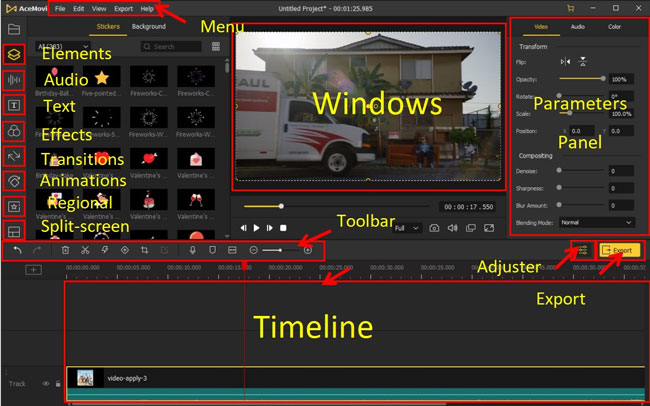 Now, if you want to trim out unneeded clips, you can click the "Trim" button from the toolbar. More functions like Cropper, Voice-over, Keyframe, and Reverse are at your disposal as well. On top of that, you can add background music, transitions, filters, and regional effects from the left side toolbar.
Export your intro video at social media format or download it to folder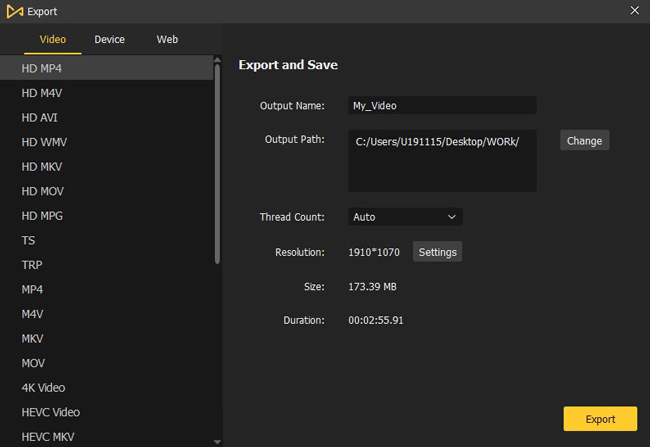 Once everything is done, click the "Export" icon to choose the output settings and format as wanted. If you want to make a gaming intro for YouTube, just tap on "Export" > "Web" > "Facebook". Finally, you'll find the files in the save path.
7 Alternative Gaming Intro Maker Tools
AceMovi is powerful in creating intro videos with texts, voice-over, and VFX. Nevertheless, it's incompatible with online and mobile phones. Also, the 3D video editing feature needs further updating. As a result, we'll share with you more alternatives for making intros for gaming. Keep going!
1. Panzoid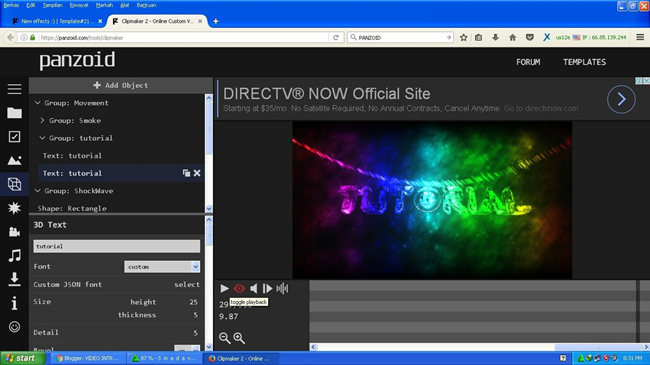 What is the best 3D gaming intro maker? You can try Panzoid. It is an online gaming intro maker free no watermark. Panzoid comes with a clean and intuitive user interface, making it an ideal intro video creator.
With Panzoid, you can make premium-quality gaming video introductions in just a few minutes. You need to enter into the Panzoid website first, then find the "Clipmaker" or "Clipmaker 3". There are hundreds of templates for your intro video making. You can change the background shapes, color, music, and effects.
Pros:
Free templates for 3D gaming intro projects
Shake speed adjustment
Simple-to-learn layout
Export video without watermark
Up to 4K resolution & 60fps
Cons:
A lot of advertisements
It's not fit for batch file editing, like media combination
2. VideoCreek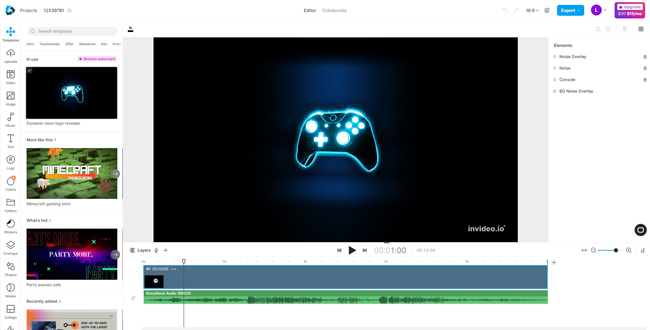 Video Creek is a one-stop gaming intro editor that enables you to customize your gaming intro without hiccups. It makes it stand out from other gaming intro makers free with no watermark. It offers you various tools, including multiple templates, sound, and music effects, preview the content, video editing features, and much more.
The interface of this software is very plain, and even beginners can apply the ready-made templates and achieve amazing Gaming Intro videos. Simply sign up for free, and then choose the theme, add the necessary changes, apply them, and it is done. Besides that, you can export the video on HD resolution for free.
Pros:
Add your brand logo
On-brand design
Unlimited tracks
Add new voiceovers
Royalty-free music
Cons:
1080p output quality is not provided by the trial version
3. Animaker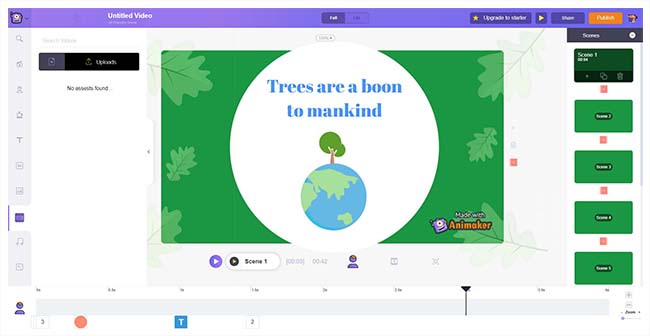 Animaker is an online free gaming intro maker used by millions of people and around 1,000 brands across the globe. It contains the largest animation library and allows users to make vertically optimized videos for their mobile audience.
The easy-to-use interface makes it a great intro movie maker. It has features like transition effects, a pro-level camera, and a wide range of sound effects and background tracks. You can even directly record or import your own soundtrack or voiceovers. The free version of this software allows unlimited short videos that you can upload on platforms like YouTube in SD quality. However, you can only export five videos in a month.
Pros:
World's biggest video asset library
Professionally created templates
Excellent features include camera effects and multi audio tracks
Add the best vibe to your video via the screen effects
Cons:
5 mins length for each project with watermark
4. Canva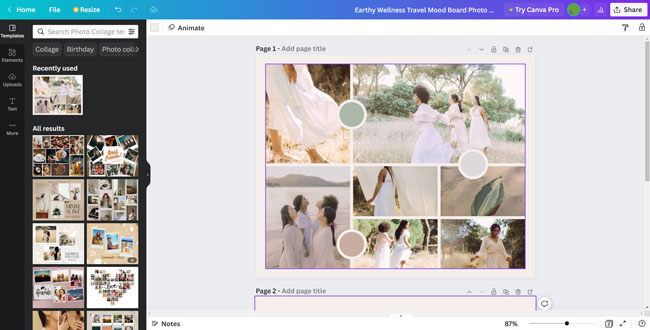 Here comes another amazing cringe gaming intro maker for all users. Yes, it is true. Canva is an impressive platform for various crafty methods, including developing free Gaming inro for a user like you.
It has an interactive workflow that allows you access tools to make your Gaming intro with just drag, drop, and a few clicks, even if you don't have any experience in video editing. You can apply various designs, templates, colors, text, names, variations, and more to your intro video after selecting the desired gaming style. People with comprehensive design needs can go also go for its premium features.
Pros:
YouTube gaming intro maker
Add lines, shapes, graphics, and more elements
Connect to social account
Record screen online
MP4 high-quality output for free
Cons:
It's unable to custom size and dimension on the free version
5. Wideo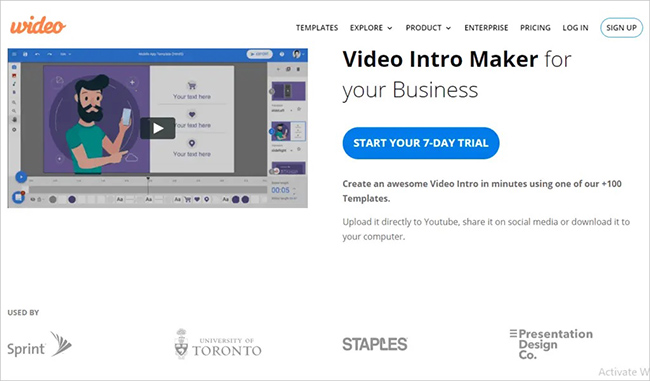 Do you need an Epic gaming intro maker? Wideo is an ideal tool for you. It is an amazing intro maker with some handy tools to create an animated video for gaming in no time.
What makes Wideo different is that you can easily save your favorite scenes like logo animations and reuse them in all your videos. It contains around 100 templates and many fonts that you can use to customize depending on your brand colors. A free 7-day trial is available for all the paid plans, so you can create a gaming intro video without any trouble.
Pros:
Video templates for gaming intro
Edit clip frame by frame
Animated characters
Add texts and voice-overs
Share to Facebook and YouTube
Cons:
Registration needed
7-day trial
One track for video editing
6. Offeo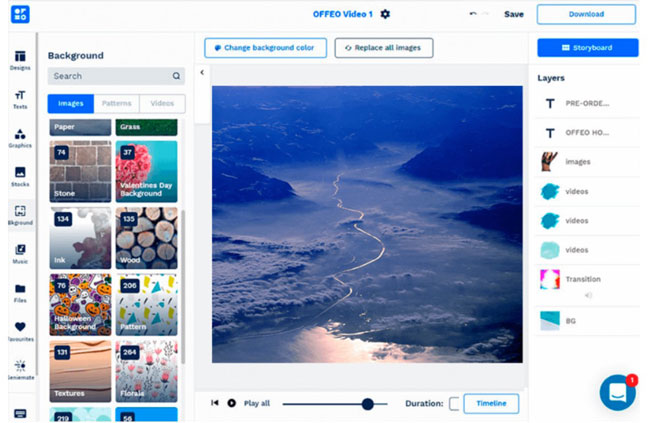 Looking for a gaming intro maker free with no watermark? If yes, you can consider Offeo. It is an online intro maker that allows you to share your intro to various social media platforms.
It will be more beneficial for your efforts to own a valuable user base. Using this software, you can provide your intro video with a customized and professional look with the help of the drag and drop feature.
Furthermore, it provides various templates to modify the gaming intro according to your needs. You will also get the option to add more animations and change fonts in the footage. Soon, they will achieve the form that results in a successful marketing campaign.
Pros:
Lots of curated video templates
On-brand design
Stock photos and clips
Any aspect ratio for social media
Custom brand fonts
Cons:
Many built-in premium services
7. MakeWebVideo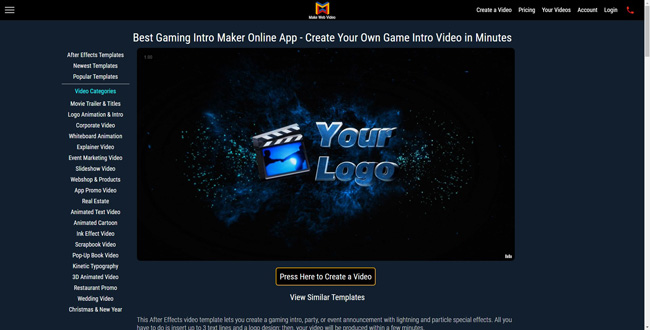 MakeWebVideo is known for its unique abilities in the online editing world, making it an excellent gaming intro maker. It lets users generate quick clips and edit video backgrounds that too free of cost.
Being an online video editor, users can easily switch to this platform anywhere and anytime. Furthermore, you have the channels to use the advanced 3D animation tool to make a gaming intro video from scratch. However, it contains multiple ads that can easily annoy you.
Pros:
Thematic gaming intro templates
Movie trailer and titlers
Play video on HD quality
Online tutorials provided
Free stock footage
Cons:
It's a linear online video maker, so you'd better not choose it for batch editing
Watermarks put under your outputs
Wrap Up
Making an interesting gaming intro video is a little tricky as you need to discover an ideal game editor and some editing skills. The above-listed gaming intro makers have distinctive features. So, you must pick the one that perfectly meets your requirements. Try any of these to create an amazing video gaming intro. By the way, you can begin with a template for convenience.