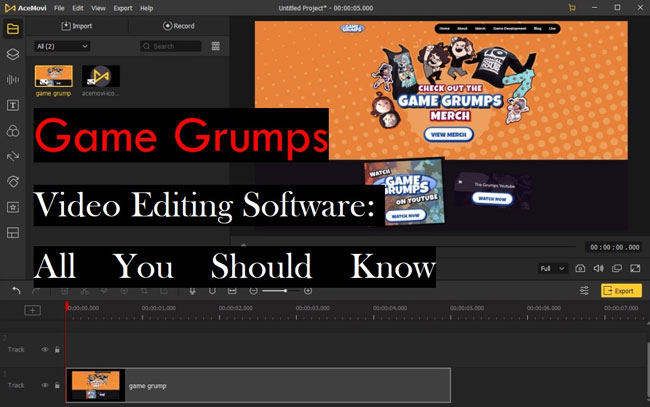 If you're a content creator on YouTube, you'd have heard about the GameGrumps YouTube channel. GameGrumps belongs to a sort of Let's Play Website Series, firstly hosted by Dan Avidan and Arin Habson. Normally based on the form of playing video games while adding comic commentary, GameGrumps videos are very popular, top-notch, worth admirable, and most importantly, filled up with laughter.
When it comes to how they made such GameGrumps videos, most people want to know which video tool they use and what's the thought process as well as some basic ethics. If you're interested in GameGrumps videos as well, just join us today, herein you'll learn about related issues concerning GameGrumps along with the best GameGrumps video editing software operating for both Mac & Win 10.
Part 1: What is GameGrumps?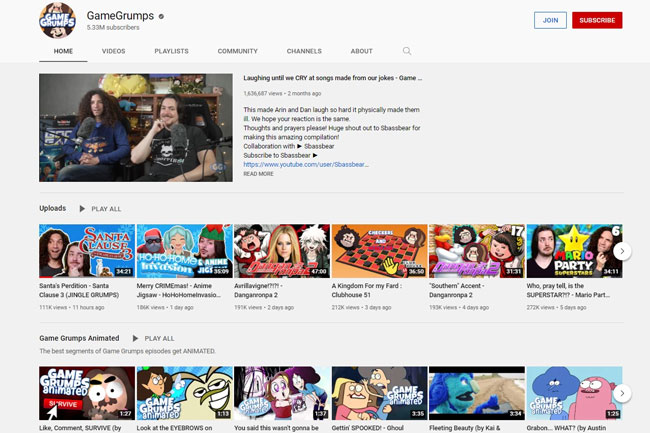 GameGrumps is one of the fantastic YouTube channels that combines brilliant animations and effects to make their videos attractive and watchable for audiences. Up to now, GameGrumps has more than 5 million subscribers and made hundreds of videos includes types like GameGrumps Animated, Starter Pack, Reaction Compilations, and Guest Grumps, etc.
We can see that on YouTube, GameGrumps has seen a massive success due to its attractive and breathtaking videos. They are very good at using active interaction, pertinent cover & background, stylish animations, synchronous voice-over, and funny music tracks, and more. Moreover, a GameGrumps video should not only contain creative ideas and patterns but should make audiences engaged and entertaining.
After looking at their videos, I think that you'd have surely thought about creating the best content for YouTube. It is why we're going to tell the best video-making & editing software for GameGrumps.
Part 2: Best GameGrumps Video Editing Software - AceMovi Video Editor [For Mac & Win 10 Users]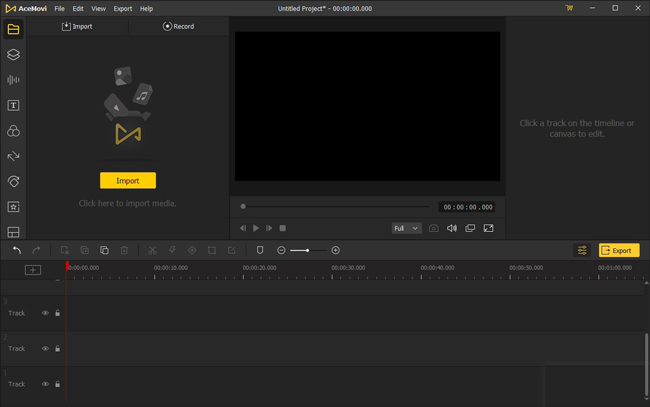 As the best all-in-one toolkit for both individual and collaborative video making, AceMovi Video Editor features a plethora of built-in game video effects like filters, texts, subtitles, stickers, animations, and transitions. At the first sight, you'll find that AceMovi is very easy-to-use because of its neat and kempt interface style as well as the stable operating system.
With AceMovi Video Editor, you can try the most basic & advanced video editing features in a few steps for GameGumps like cropping, cutting, merging, speeding, screen splitting, motion slowing and file compressing, etc. And before editing GameGrumps videos, you need to install AceMovi firstly.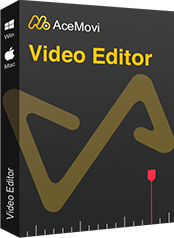 Key Features of AceMovi Video Editor
Security Verified. 5,481,347 people have downloaded it.
Pros:

AceMovi makes the best possible effort for editing your videos. For instance, you won't face quality loss of your video using this editor
It allows you to use fast-motion to the video. In addition, you can also slow down your videos with minimal
Users get some mind-blowing transitions to pick from by acquiring the services of AceMovi
AceMovi allows you to preview your video before downloading it
You can explore text options using AceMovi and can add titles to your videos with ease
AceMovi also enables you to detach audio from your video. After detaching audio, you can edit it in any manner you want
Cons:

AceMovi lacks some of the advanced features like 3D & VR footage editing
Now, let's see how to edit GameGrumps videos by AceMovi.
Import GameGrumps Files (Video, Audio, & Image)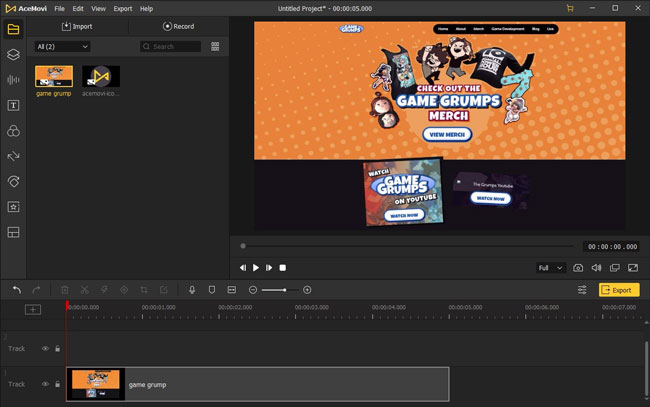 Three ways for you to import GameGrumps files: (a) Drop the videos under one of the file tracks; (b) Click File > Import Media > Add To Timeline; and (c) Open up Import and then click the + sign. As we said before, AceMovi supports hundreds of game video formats, so you don't need to convert it beforehand, and even you can convert other videos by AceMovi.
Begin to Edit the GameGrumps Videos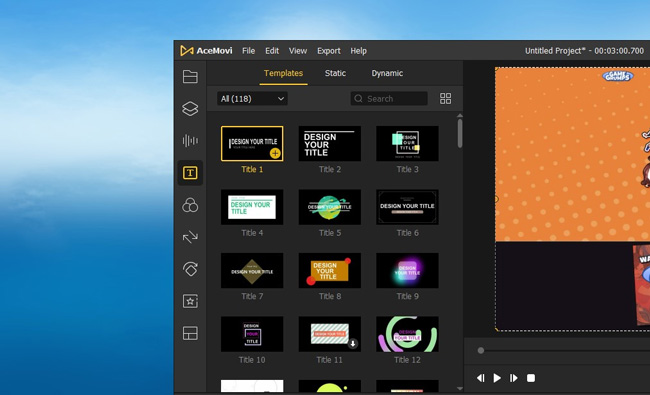 To add stickers, texts, filters, background color, and music to the GameGrumps video, you need to open up the item containers firstly, then drag the wanted element into the track. Note: You can put the element under anywhere but you should make them synchronous.
Note: AceMovi's trial version provides you with all the resources for free, and there's no size limits in the videos you import and export as well as the times you use this GameGrumps video editing software, and with the full version ($19.95 only), you can remove the watermark without any trace.
To apply animations, transitions, and motions effects, you need to drop the wanted one onto the video clip, then you can check if it is okay for this GameGrumps video in real-time.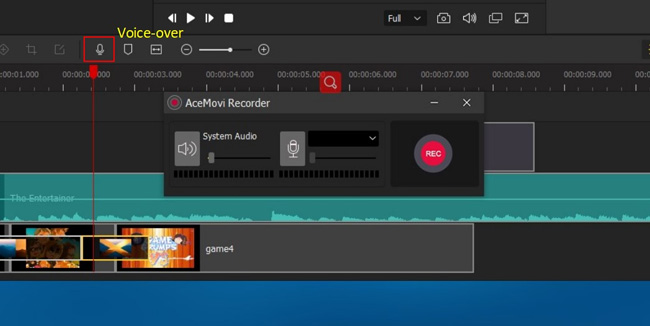 If you want to make a voice-over for this GameGrumps video, you can click that Record a Voice-over button. Then, the AceMovi Recorder will turn up, which allows you to record the system audio and personal voice, even you can record both of them at the same time.
Export & Download the New-made GameGrumps Video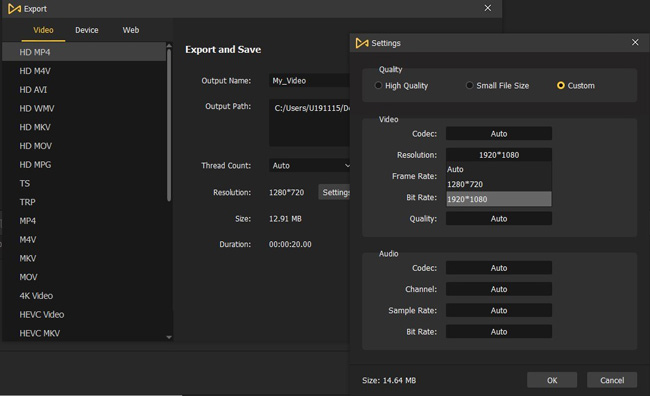 What's the best size and resolution of GameGrumps video for YouTube Studio? That's MP4, with the 16:9 aspect ratio and 1920*1080 dimensions. Here you'd better choose HD MP4 and open up Settings > Custom > Resolution > 1920*1080.
Part 3: Another Video Editing Software Used for GameGrumps - Adobe Premiere CS6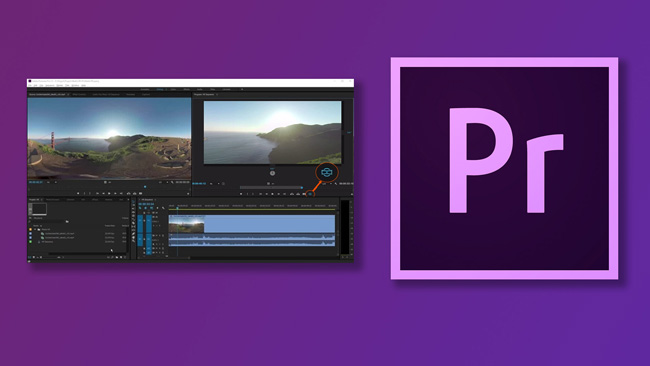 Another video editing software the Game Grumps use is Adobe Premiere CS6. It is prolific software with many crazy features to play with. Unlike many advanced video editors, Adobe Premiere CS6 doesn't offer a difficult user interface so that you can learn about this software pretty easily.
Surprisingly, this GameGrumps video editing software offers overall step-by-step tutorials to provide you with the basic information of how this tool works and how it creates gigantic game videos for many YouTubers. In addition, Adobe Premiere CS6 also offers excellent graphic options with exquisite style and design features. But Adobe Premiere CS6 is not compatible with Windows.
Pros:

Using Adobe Premiere CS6, you'll enjoy the presence of marvelous video and audio editing options for GameGrumps videos
It is compatible with all operating systems like macOS and Windows OS, but now for Windows 10
Apart from liner video editing, Adobe Premiere CS6 is pretty effective at doing non-linear game video editing
It supports multiple videos and audio formats, including HDV, HD, and Flash Video
Adobe Premiere CS6 also allows you to edit your content in real-time, making your task a lot easier than you think
Cons:

One of the major downsides of Adobe Premiere CS6 is that you got to maintain a powerful system to edit videos in this heavy tool
You'll get a free version for only 30 days. After 30 days, you'll have to acquire its premium version to get on with the things
Part 4: Conclusion
If the Game Grumps' content on YouTube inspires you, you'd need to see what they're doing to make things happen for them. In this article, we've mentioned two of the best Game Grumps video editing software and gave you some details of how to edit GameGrumps videos with AceMovi. You can also use Adobe Premiere CS6 to generate engaging content. However, it is a bit expensive and can be at times unbearable for your computer system.