Lightworks has made a difference in the filmmaking of Pulp Fiction, Jerry Maguire, and more. Lightworks is downloaded for Windows, Mac, and Linux, which is a 4-panel video editing software and takes advantage of an aspiring set of tools to help you tell stories and master digital videos. You find it's a non-linear & powerful video editor to use with ease. It is not completely free, however. For example, you need to upgrade to the Pro license to export video in more media and social formats in HD quality.
Besides, Lightworks require users to log in every 7 days to ensure that they are using their own account for the sake of safety. Want to know more about Lightswork video editor? Here the LWKS review comes up!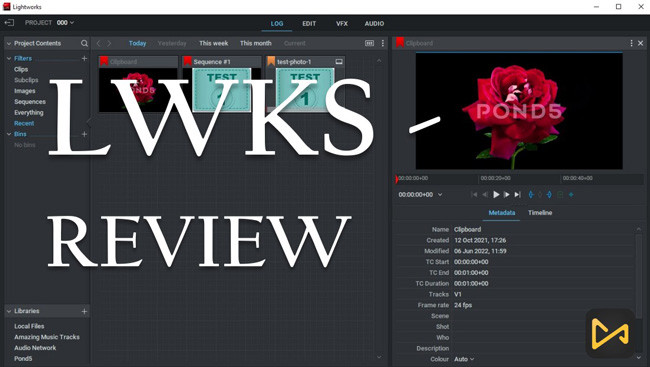 Lightworks Video Editor Compatibility
Below is the full scale of the system requirements of the Lightworks video editor. You may be interested in some of the items mentioned here, like the recommended OS, resolution, and Misc.
Lightworks System Requirements
Details
OS

Windows 7, 8/8.1, 10;

macOS X 10.11+ (El Capitan);

Linux Supported RPM Distros: Fedora 30+; Linux Debian: Ubuntu/Lubuntu/Xubuntu 18.04+, Mint 17+

CPU
Intel i7 chipset+, fast AMD chipset
RAM
3GB at least
GPU
PCI Express graphics card (NVIDIA or AMD) with 1GB+ and support for DirectX 9 at least
Misc
Separate media and system drives
HDD Space
300MB for downloading and installation
Lightworks Video Editor Download & Pricing
How to Download Lightworks
Lightwork' free version can be downloaded anytime from its official website, you need to log in to get your account first. For the safety of your personal information, downloading Lightworks crack is not advised.
Is Lightworks without Watermark
Lightworks will leave a watermark on your videos if you want to export the videos in 1080p, 4K, and more resolutions. So you are empowered to download MP4 videos at 480p and 720p.
How Much Does Lightworks Costs
Lightworks released the LWKS Create and the LWKS Pro. The two versions can be bought monthly, yearly, and perpetual. You can follow the Create subscription by spending $9.99, $99.99, or $154.99; or choose the Pro for $23.99, $239.99, or $389.99.
With full licenses, you can export files at HD H.264 in more formats and social media. Video templates, advanced titling, motion graphics, BRaw media clip, project decoding, and Apple ProRes decoding are at your disposal on the Create license. While more video and audio editing features like Enhance, Stabilize, and HQ constant H.264 export are offered on the Pro license.
AceMovi HD & 4K Video Editor with Major Video/Audio Formats - The Best Lightworks Alternative Download for Mac and Windows
Well, now that Lightworks has so many limits in the free trial version. It asks you to register weekly and restricts H.364/MP4 exporting resolution and formats. More features like HD timeline rendering and proxy files are unavailable as well. Using AceMovi to edit videos and upload your masterpiece on YouTube and Facebook will be easier and more convenient.
Trimming out unwanted clips, rotating footage, cropping edges, reversing a piece of the period, making a screen/webcam recording, and much more edits are provided on the free trial version of AceMovi at present. Great for YouTubers and Facebookers. You can download your videos and audio in the best formats for YouTube and Facebook.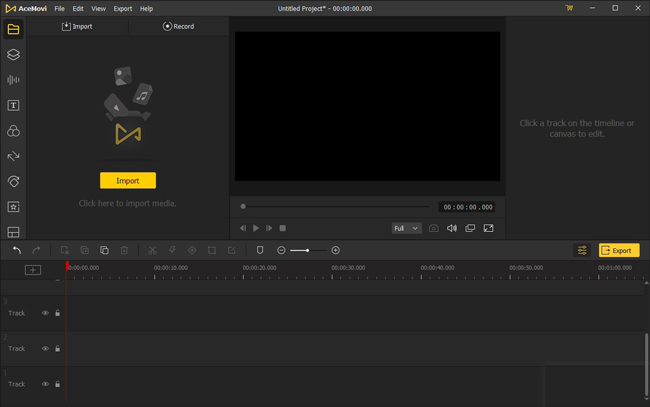 OS: Windows XP, Vista, 7, 8, 8.1, 10, 11 (32-bit & 64-bit); OS X 10.8, 10.9, 10.10, 10.11, macOS 10.12 Sierra, 10.13 High Sierra, 10.14 Mojave, 10.15 Catalina, 11 Big Sur, 12 Monterey
Processor: 1G Hz+
RAM: 256M+
Monitor: 1024*768
Lightworks Video and Audio Editing Tutorials
Here is the answer to the question of how to use Lightworks video editor to begin a new project, including file importing, music adding, video trimming, and speed alteration. You can also choose to do more common editing after learning those tutorials.
Open a New Project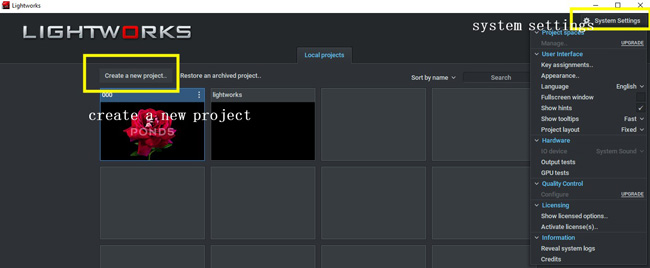 On the default interface of the video editor Lightworks, you need to log in to get the authority of using this tool, which has no expiry date. Then click the icon to create a new project or restore an archived project. All your archived videos will become thumbnails that appear on the LOG plate. Just double left-click them to hit your road.
You find some system settings from the right above icon where you are offered to pre-set user interface, hardware, licensing, and more.
Import Your Clips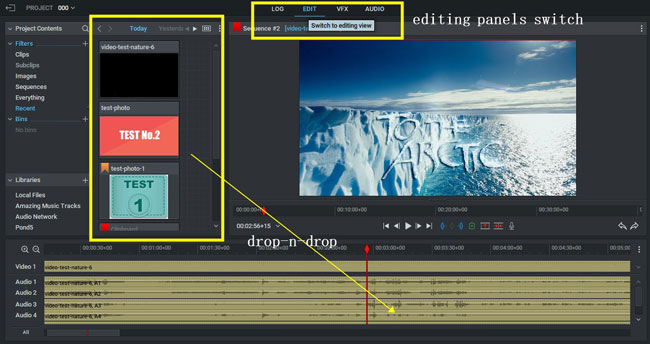 Now drag-n-drop your files under the interface. Then put them into the timeline. You need to go to the EDIT plate to do video editing. Likewise, you can switch to other plates from here.
Add Music Track from Stock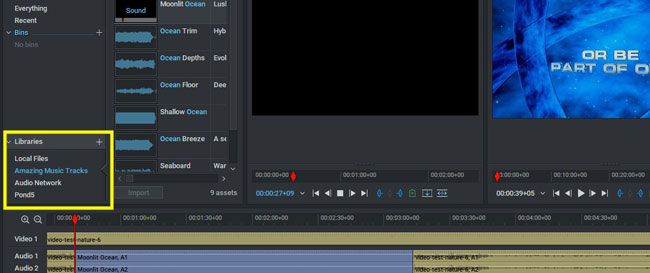 We can say that Lightworks free video editor is used for professionals and beginners. Lightworks comes with the Amazing Music Tracks and the Audio Networks. Both of them provide you with royalty-free music for YouTube videos, podcasts, corporate videos, promos, and more. Besides, the Amazing Music Tracks cart automatically populates the imported clips that you use in the current sequence. You can purchase HD media when exporting.
Trim Out Unwanted Parts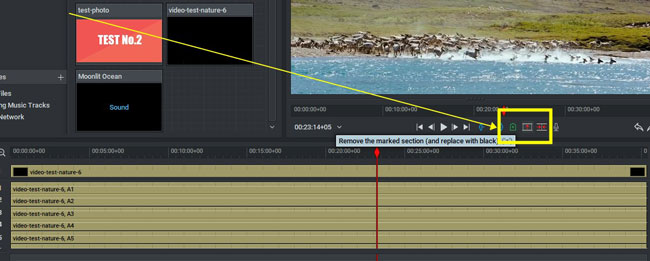 The first method to trim a video is to put the playhead under the point and click the Trimming icon(Shortcut: Z). If you want to make advanced edits. You need to right-click the timeline and go to the Trim > Split, Slide, Trim in, & Trim out. You can choose to remove the marked section and replace it with black bars or delete the gap.
Change Video Speed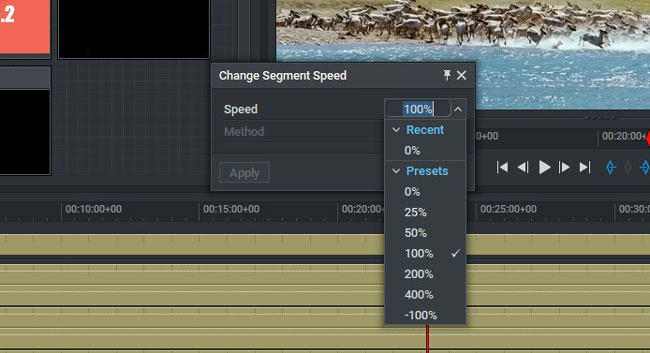 Lightworks video editor for PC also allows users to change segment speed. You need to click go to the Speed channel after right-clicking the timeline. Then fill in the blank box with your wanted speed value, which can be set from -100% to 400%. The Method option permits you to set the designated period whose speed will be changed.
Lightworks Ultimate VFX Editing Guides
Want to know how to overlay texts and apply advanced effects like blurring and mosaic in Lightworks free video editor? You may go to the VFX plate to discover more interesting and cool effects and features of Lightworks. Keep reading!
Overlay/Add a Text to Videos
You need to switch to the VFX > Text. There are text components and lower thirds in Lightworks video editor, such as the Scrawl, Roll, Titles, 2Tone Centre Box, and 50% Centre Box, etc. You can move the position on the canvas to make your own customization. Next up, double left-click to get into the page of adjusting the size, opacity, color, position, and spacing.
Blur Clips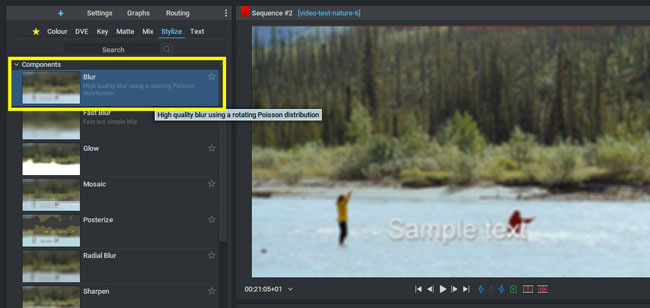 Opening up the Stylize folder, you will find the effects to blur, glow, mosaic, posterize, sharpen, and obscure. Lightworks allows you to slide the Radius to control the blurring degrees in real-time. If you want to remove it, tap on the point which is set on the right above.
Green Screen (Chroma Keying)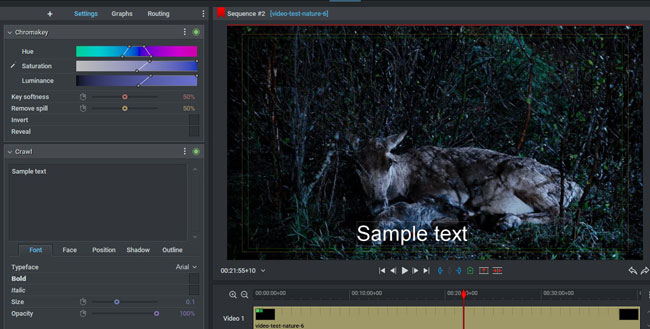 Lightworks bring you advanced and intelligent chroma keying tech. You need to put your background video and the video that you want to make a green screen into the timeline. Then adjust the hue, saturation, and luminance. Not only can you control the key softness, but it is also easy to remove the spill.
3D DVE/Flip/Split-Screen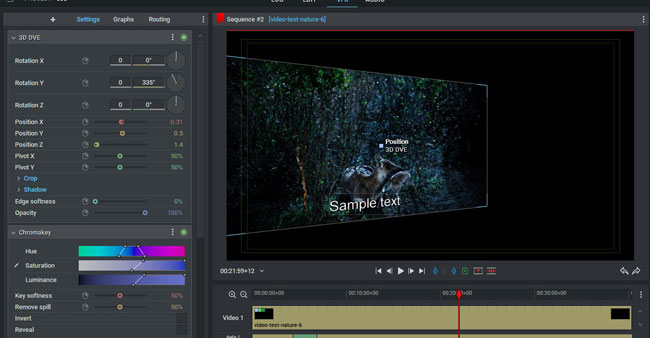 If you want to rotate, flip, flop, or split-screen your videos in Lightworks, you may navigate to the DVE plate from the VFX plate as well. For example, you click the 3D DVE to make your videos become 3D vision. Then go to the parameters to change position, pivot, and more crops and shadows.
Conclusion
Lightworks is a brilliant software in the video-making and -editing field. The 4 panels of Lightworks provide different features and effects. So, it's advanced to get familiar with those panels first if you are a novice. Also, the alternative AceMovi will help you export video in more formats with any aspect ratio and resolution except for the basic video editing tutorials given on the website. Which one is better? It depends on your needs!