Accepting up to 120fps at a massive 32K resolution pixels, and accelerating H.264 & H.265 hardware encoding and decoding, Blackmagic Design published the latest version 17 of DaVinci Resolve on February 25, 2021, which comes with 100+ new video editing features like 3D Video Mode as well as 200+ improvements. Compared with Apple Final Cut Pro and Adobe Premiere Pro, there's no export branding watermark(text or logo) as well as expiration burden when doing all content creation workflow with DaVinci Resolve.
Some avid users may come into the thought that Resolve 17 is so new that hard to master and learn. It is cake! In this post, you see a crystal clear & full DaVinci Resolve 17 review including OS, price, elements, basic editing functions, advanced editing functions, stabilization, and alternatives. It all starts here!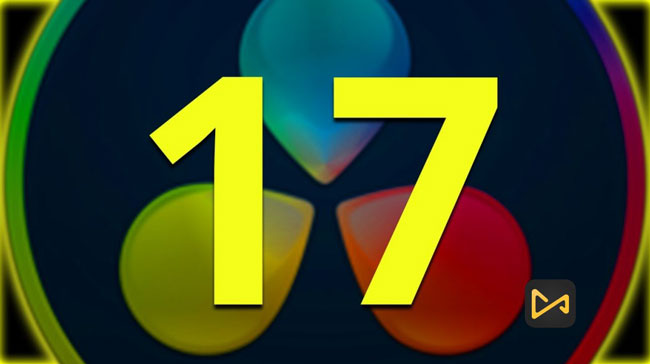 DaVinci Resolve 17 System Requirements (OS)
DaVinci Resolve 17 has versions for Windows, Mac, and Linux, it is common to know that this program requires high-end operating systems to run your VR videos with 32K resolutions and some of the advanced video editing effects like color grading and lens correction. This table makes it easy for you to check DaVinci Resolve 17 specs.
| | | | |
| --- | --- | --- | --- |
| DaVinci Resolve 17 | Mac | Windows | Linux |
| OS | macOS 10.4.6 or later | Windows 10, 11 | CentOS 7.3 |
| Memory (Using Fusion) | 16GB (32GB) | 16GB (32GB) | 32GB |
| VRAM | 2GB | 2GB | 2GB |
| GPU | Metal and OpenCL 1.2 | OpenCL 1.2 and CUDA 11 | OpenCL 1.2 and CUDA 11 |
| Blackmagic Design Desktop Video | 10.4.1 and later | 10.4.1 and later | 10.4.1 and later |
| NIVIDIA Driver Version | / | 450.82 minimum | 450.51.06 minimum |
| Video Quality Supported | 8K maximum | 8K maximum | 8K maximum |
FAQs: More about DaVinci Resolve 17 & How to Download
Is DaVinci Resolve 17 Completely Free?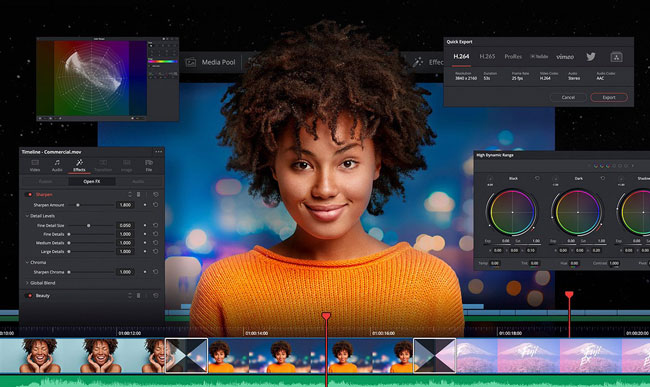 DaVinci Resolve 17 is not a completely free video editing software, yet you can create your own free account on the Blackmagic Design website without export limits and duration limits. Most of the common video edits of DaVinci Resolve 17 such as the Video Trimmer, Edge Cropper, Format Converter, Chroma Key, Transitions, Texts, Effects, and more are at your disposal on the free version. Surely, you can turn to higher-quality performance, smarter media, HDR Color Grading & Scopes, Noise Removal, Motion Blur, Improved Resolve FX & Fairlight FX Plugins, Neural Engine AI, Stereoscopic 3D Tools, and many more on the premium version.
Is DaVinci Resolve 17 Better than Final Cut Pro?
That depends. When it comes to the operating system, Final Cut Pro is Mac-optimized so you would better choose it if you are going to edit videos and share storytelling on social media like YouTube and Facebook. While DaVinci Resolve 17 is compatible with Windows, Mac, as well as Linux. Speaking of the expiration matter, Final Cut Pro comes with a 90-day trial version and definitely you need to buy it after the validation, while DaVinci Resolve 17 has no such limits. For techs, compared with Resolve 17, Final Cut Pro is more fit for lower rendering and less exporting duration.
What's New in DaVinci Resolve 17?
◾ Blackmagic RAW SDK 2.2 updates
◾ Advanced color warper to solve the addressed instability problems
◾ Improved HDR highlight for Resolve Wide Gamut
◾ Fairlight timeline solved a naming glitch
◾ Audio effects solved a reloading glitch
◾ Overall performance and OS stabilization improved
◾ CLF LUTs solved an issue with importing
◾ Tonal Zone and Flexible Wheels and Improved Color Grading Tools
Where to Download DaVinci Resolve 17 for Free?
DaVinci Resolve 17 and its beta versions can be downloaded for free any anytime. You can visit DaVinci Resolve's official webiste to download DaVinci Resolve 17 (or Studio 17), or DaVinci Resolve 18 Beta (or Studio 18 Beta).
What is the Price of DaVinci Resolve 17
As said, you need to buy the premium features of DaVinci Resolve like improved HDR Color Grading & Scopes, Improved Resolve FX & Fairlight FX Plugins, Noise Removal, Neural Engine AI, Motion Blur, and many more. Right now, you can only get into Da Vinci 17 for a one-time purchase of $295.
Comparatively, one of the best alternatives called TunesKit AceMovi provides $29.95/Month, 39.95/Year, and 79.95/Perpetual; Final Cut Pro is available for the one-time purchase of $299.99; and Premiere Pro offers $29.99/Month for individuals and $35.99/Month per account for teams.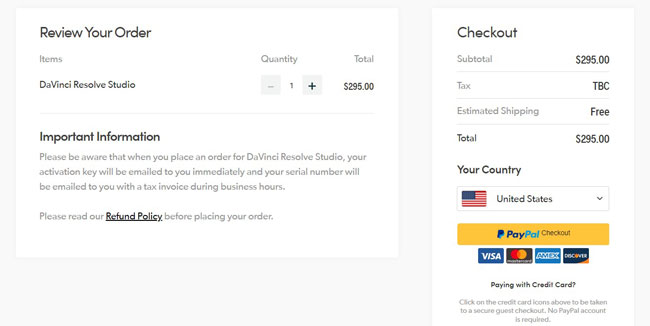 Begin with DaVinci Resolve 17 Streamlined User Interface (Best Alternative Easy Video Editor Called TunesKit AceMovi Introduced)
DaVinci Resolve 17 has a 4-panel video editing interface, with the menu and media on the top left, preview windows on the top middle, inspector (editing tools) on the top right, and timeline across the left bottom part. Precisely, the timeline has been divided into playhead stray and track stray, you can choose to lock the playhaed and switch into the audio-only mode with the former start, while the latter stary displays all materials you have imported.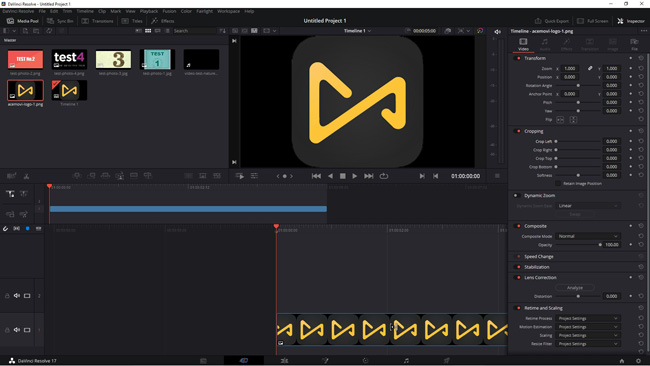 When it comes to the menu (toolbar), importing & exporting, shortcuts, cut, trim, clip management, keyframes, playback, fusion, color, and Fairlight are at your disposal. DaVinci Resolve allows you to play rendering in real-time as well as change aspect ratios to 1:1, 4:5, 9:16, 1.91:1, 16:9, and many more from the preview canvas.
Think DaVinci Resolve 17 Complicated to Use? Why Not Try AceMovi as the Best Alternative for Your Masterpiece Creation
Since beginners find DaVinci Resolve 17 has a hard learning curve and an uneasy interface, through texting, I found TunesKit AceMovi Video Editor can be the best alternative to it. TunesKit AceMovi is a streamlined software as well, yet comes with a clutter-free interface and easy-to-use buttons, for example, trimming, cropping, reversing, splitting, cutting, recording, rotating, mirroring, and converting can be easily found on the bare-bones window.
More significantly, when it comes to the pricing, AceMovi provides you with three licenses and they are cost-efficient. You can freely use all advanced effects like color grading, chroma-keying, keyframes, video-to-MP4 converter, 4K video download, and more on the trial version of this tool. You can directly download AceMovi below.
Pros:
Clean intergace
A wealth of video and audio formats
200+ brilliant templates
Make video slideshow with photos
4K video editing
Color Grading
Chroma Key
Export video with wanted resolution and aspect ratios
Cons:
Cannot run on Linux
8K video editing needs to be updated
DaVinci Resolve 17 Elements: High-Fidelity Transitions/Fusion Titles/Smart Effects/...
DaVinci Resolve compiles a plethora of high-fidelity transitions which can be found through Menu > Transitions > Video/Audio. There are many types of video transitions like Dissolve, Iris, Motion, Shape, Wipe, Fusion Transitions, Resolve FX Color, as well as Resolve FX Stylize, while audio transitions include Cross Fade only. For instance, to apply the transition Additive Dissolve to the two clips, you can directly drop it under the gap in the timeline.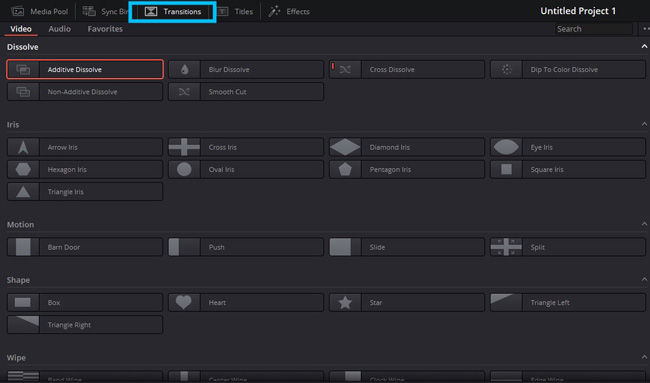 If you want to try fusion titles like Background Reveal, Background Reveal Lower Third, Call Out, or Clean and Simple, DaVinci Resolve won't let you disappointed. By texting, after dropping the text genre under a new track, the text will be displayed on the canvas. Then you can open up the Inspector to adjust font, color, size, tracking, line spacing, alignment, anchor, position, rotation angle, etc. It is also available to customize the text on canvas.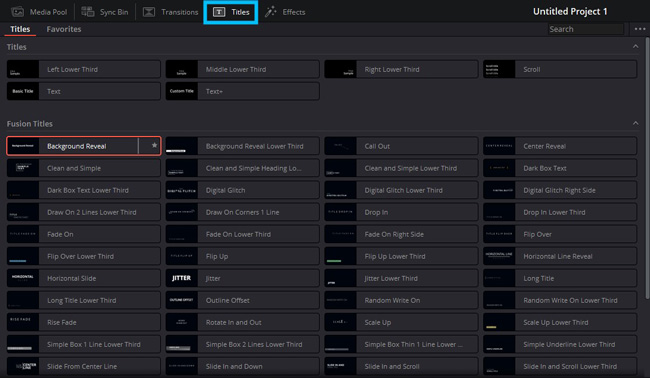 DaVinci Resolve 17 features a slew of effects for video, audio, as well as generator. You find it impossible to try out major effects like Fusion Effects and Resolve FX Blur on the trial version, however. That said, you need to buy the DaVinci Resolve Studio.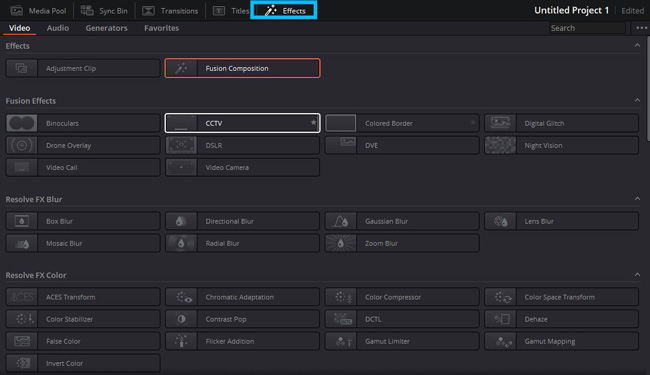 DaVinci Resolve 17 Basic Functions: Transform/Crop/Zoom/...
How to edit 360-degree video in DaVinci Resolve? One of the features that will be of great help is the Transform where you can set the rotation angle, video pitch, yaw, as well as flip the video horizontally or vertically. Click the rightmost icon if you find the effect inappropriate or want to reset it.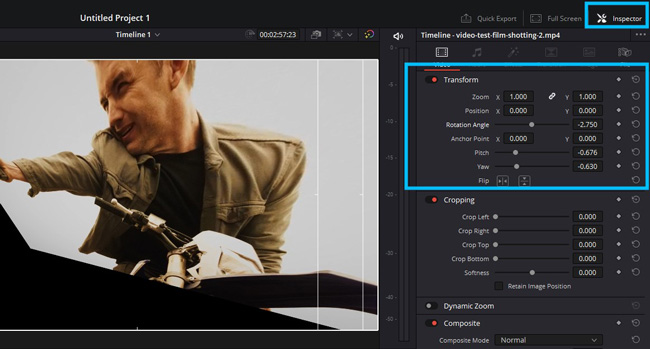 If you want to crop out unwanted video clips with DaVinci Resolve, you need to go to Inspector > Video > Cropping, which empowers you to crop the left side, the right side, the top side, as well as the bottom side. Softness can be adjusted as well. Cropping video is essential for making the video look modern and cinematic feeling, to be detailed, you can set crop the video into 1.85:1 or 2.39:1.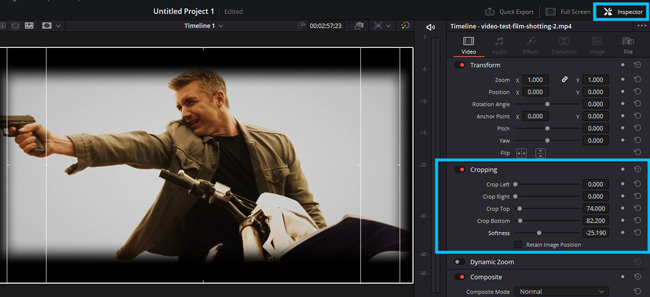 To deploy the video zooming effect in DaVinci Resolve 17, you need to turn on Dynamic Zoom and the modes include Linear, Ease in, Ease out, as well as Ease in and Ease out. The Swap icon switches from different modes of zooming video.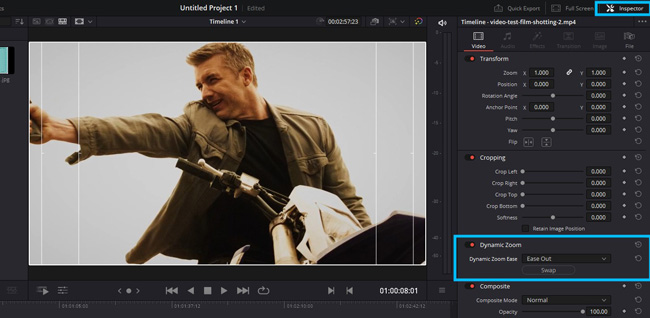 DaVinci Resolve 17 Advanced Functions: Fusion/HDR Color Grading/Audio Improvement/...
Suffice to say that DaVinci is a fusion of Video Background, FastNoise, Text+, Paint, Color Corrector, Color Curves, Hue Curves, Brightness/Contrast, Blur, Merge, Channel Booleans, Shapes, pRender, and Image Plan 3D. You can switch to the Fusion mode by clicking the fourth icon on the bottom line. It is powerful and easy to set a series of nodes with colors and shapes like rectangles and ellipses. Moreover, spline, keyframes, metadata, and more tools are at your disposal in the Fusion mode of Resolve 17.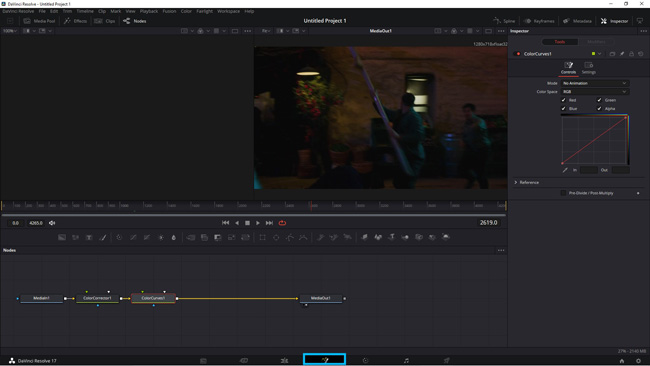 Many active users prefer to edit videos with HDR Color Grading in DaVinci Resolve to enhance the color effect in their videos. The change of Lift, Gamma, Gain, and Offset can be manipulated in the Color Wheel stray and you can make it by holding and sliding. Also, you can apply blur effect with it, the Box Blur, Directional Blur, Gaussian Blur, and Lens Blur are available here.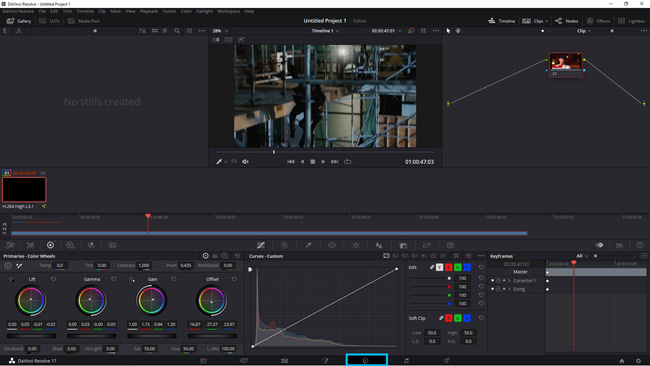 DaVinci Resolve 17 also brings a sound library yet you need to download it extra. Many audio Fairlight FX like Chorus and Delay are provided here. You can use the built-in ADR Audio Recorder to add a voice-over as well. Resolve can make the imported audio and video sync to a high level without losing quality.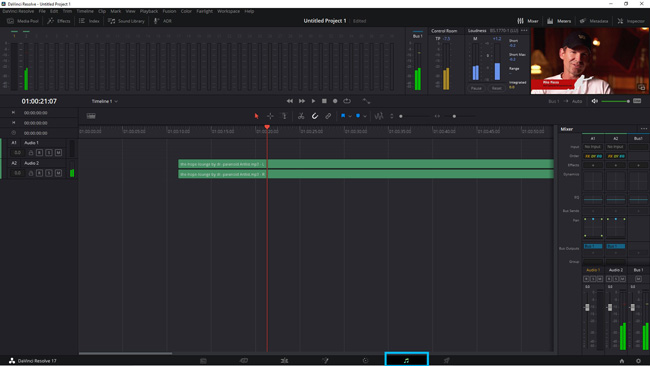 How to Save Edited Video in DaVinci Resolve 17
There is a Quick-Export icon on the top right to save your edited video in DaVinci Resolve 17. You need to turn to the Deliver window if you want to make customized exports. You can save the video in the best format for YouTube, Vimeo, Twitter, Dropbox, and more. Compared with AceMovi, DaVinci Resolve provides fewer video formats like QuickTime, MP4, AVI, MIF, and TIFF. Resolutions and framerates can be adjusted based on your requirements. Once finished, click the Add to Render Queue to download your videos.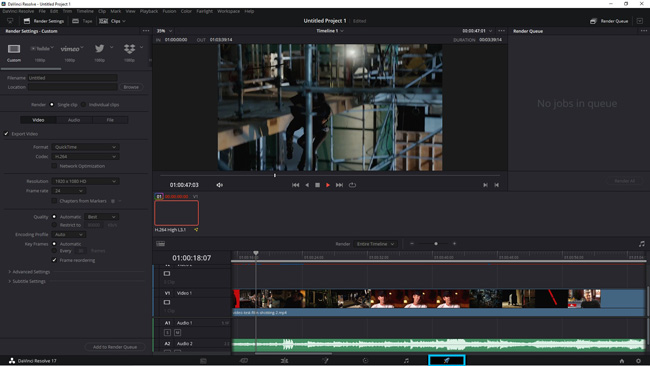 Lastly
Blackmagic Design released many versions of DaVinci Resolve yet there are little difference in small edits, still, it is advised to keep updating when you are planning to use advanced effects like color correction and fusion creation. As said, for more video formats and more licenses, TunesKit AceMovi and Premiere Pro will be better.