More and more video formats used in different types of devices are emerging in an endless stream, such as MP4, M4V, MOV, DVD, Web, MPEG, etc. in the video conversion and editing market. Among these video formats, MP4 is the most commonly-used one to be converted in-between. That's because MP4 (also called MPEG-4 video format) is a highly compressed and versatile video file that is able to store texts, images, and audio.
So if you also have the need to convert your video to MP4 format, you can simply refer to today's article – we'll acquaint you with the four best ways on how to convert any video into MP4 format in simpler and quicker steps.
Convert Video to MP4 by TunesKit Video Converter [2 Steps Only]
Want to try the specialized video-to-mp4 converter? TunesKit has released a very professional & easy-to-use Video Converter on both Mac and Windows, which comprises more than 250 kinds of video formats as well as a plethora of exporting audios, devices, and social websites. And you're also empowered to convert video to mp4 at 60X lightning speed with high quality.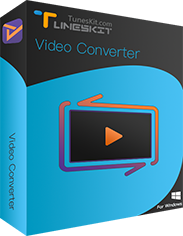 TunesKit Video Converter
Security Verified. 5,000,000+ people have downloaded it.
Convert 250+ popular video & audio formats
Supports both personal & commercial DVDs
User-friendly and very clean user interface
Convert videos with higher quality at 60X speed
Convert video to MP4 by 2 steps only
Load Videos by Dragging-n-Dropping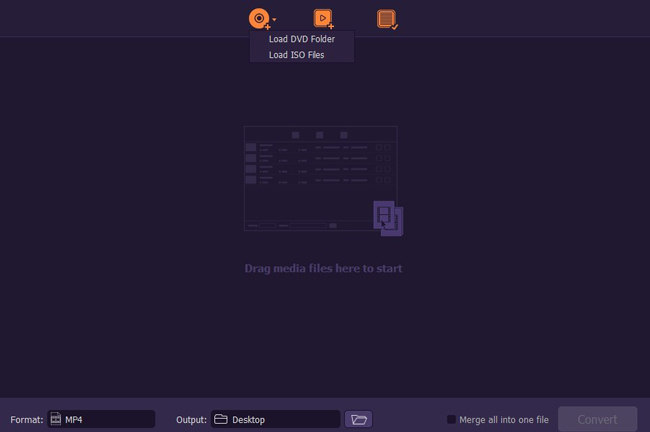 With AceMovi Video Converter, you can also export videos from DVD Folder and IOS Files.
Convert the Wanted Videos to MP4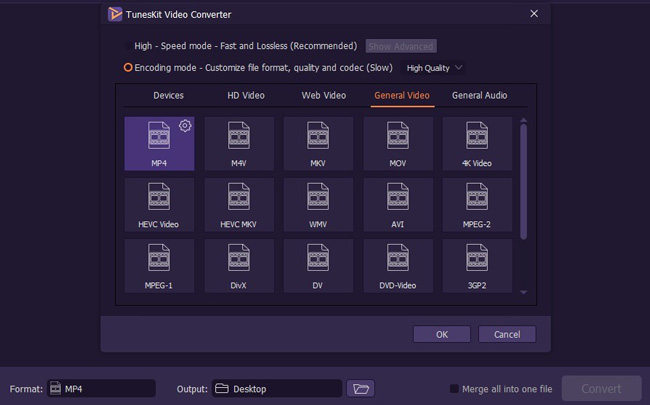 You can find the main features just within one screen, and to convert video into MP4 here all you should do is click the signs Format > General Video > MP4 > OK > Convert. And see that gear-liked icon just beside MP4? By this icon, you're available to change the MP4 video parameters (codec, resolution, frame rate, and bit rate) and audio (codec, channel, sample rate, and bit rate).
Convert Video to MP4 by AceMovi Video Editor on Mac & Windows
Next, let's see how to convert your wanted video formats to MP4 video with the best video editor that works both on Mac and Windows, meanwhile, you can use this video editor to edit after converting as well - AceMovi Video Editor,which is very excellent & viable in making the video-to-mp4 conversion, by which you're not only able to import and export hundreds of video formats by drag-n-drop but you can customize the parameters of the output MP4 videos. Now, let's commence conversing your videos into the MP4 file on AceMovi.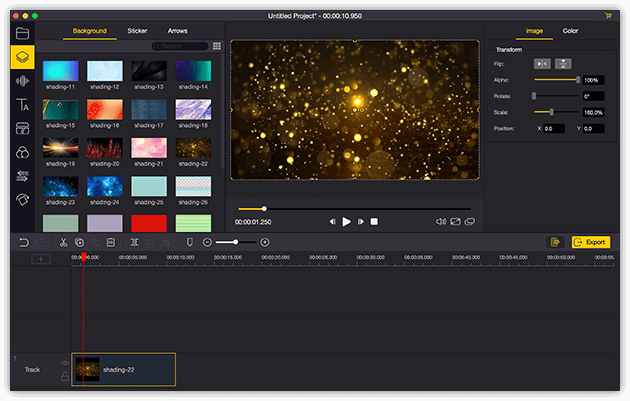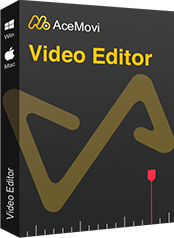 TunesKit AceMovi Video Editor
Security Verified. 5,481,347 people have downloaded it.
Extended range of features that make your video better
Multiple filters, transitions, text, sound effects, music
User-friendly and concise interface
Hundreds of formats for converting to MP4 format
Convert video to MP4 by 2 steps only
Import Your Desired Videos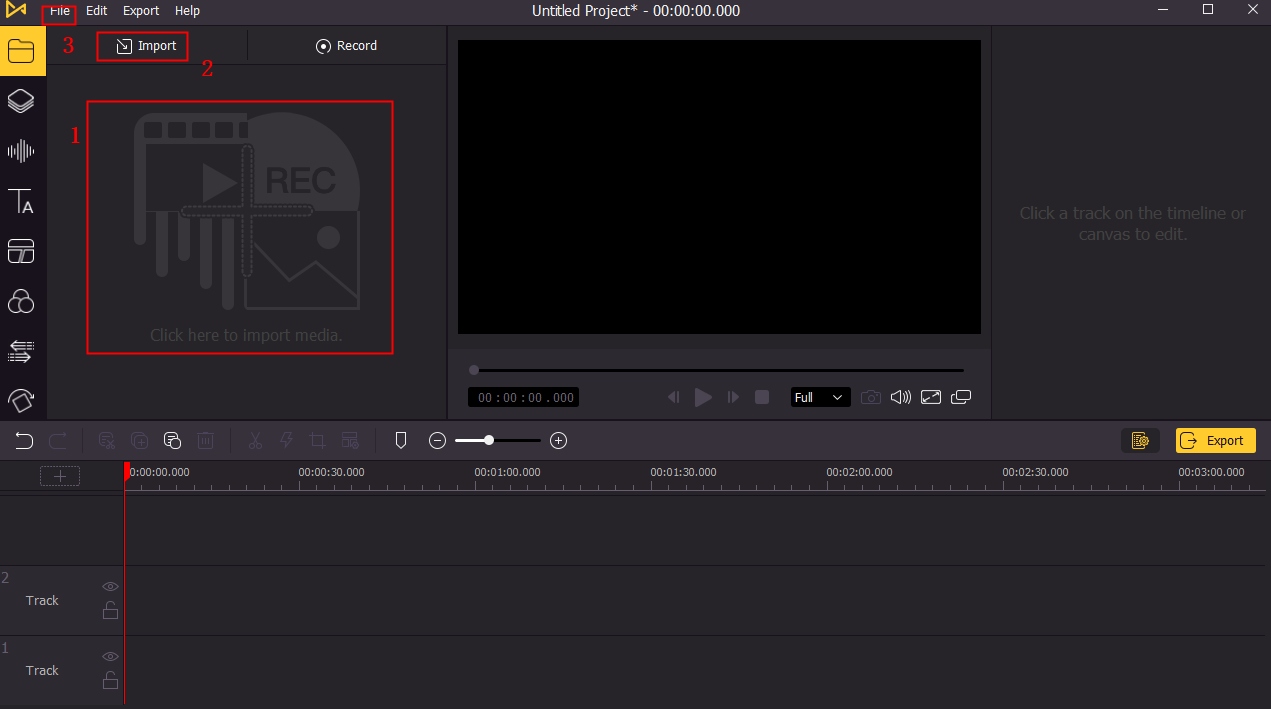 With the latest Windows & Mac version of AceMovi, you can import the preferred videos in any format, resolution, or ratio with ease and among the three importing methods the drag-&-drop from the desktop is suggested by us. (Tips: other two ways are click tabs of Import and "+" or right-click to opt to Add to Timeline.)
Convert into MP4 Format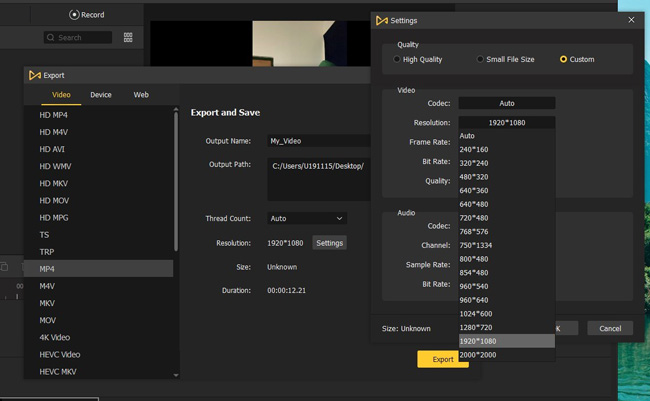 Click the Import icon to choose MP4 or the HD MP4 in response to your preferences, then you can set resolutions within Custom from 240*160 to 2000*2000 or adjust other relevant audio & video parameters like Codec (MPEG-4, H264), Frame Rate (12fps to 60), Bit Rate (2000kbps to 30000), and more.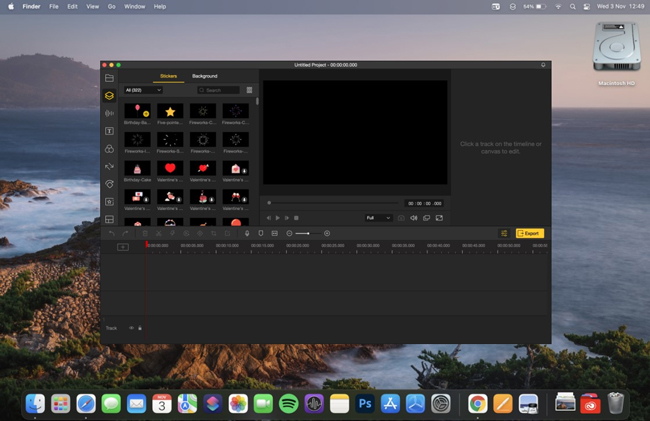 AceMovi is also deemed as the best YouTube video-to-mp4 converter, that is to say, you can import or export any YouTube videos with AceMovi to convert into MP4 straightly.
See the above picture (captured on the Mac version)? You can find copious video decorating elements from the Media, Texts, Music, Transitions, Animations, & more advanced features on the left item pallets. At the same time, through AceMovi, you're accessible to edit, merge, split, trim, speed & slow up, record your converted MP4 videos.
Convert Video to MP4 with CloudConvert Online [No Watermark]
Want to convert video to MP4 just on the browser-based program? The CloudConvert deserved a try. CloudConvert supports 200+ video formats with high-quality conversion and is major in the API documentation (gets the customize integrations with your app).
Get CloudConvert Online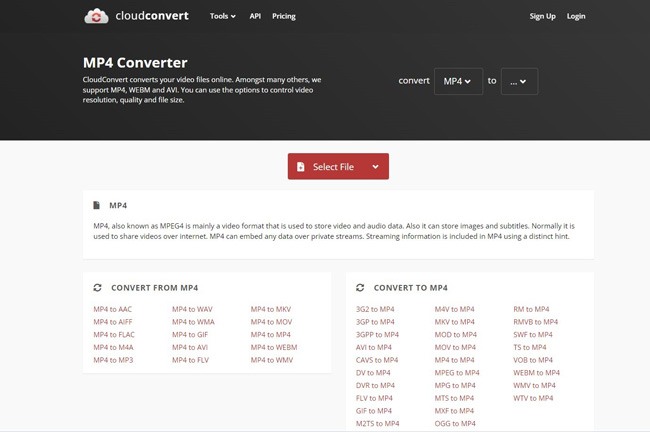 Click here to get into the online pages of CloudConvert. You can select files from the portfolio, Google Drive, Dropbox, OneDrive, or by copy-n-paste the URL.
Initiate Converting into MP4 Video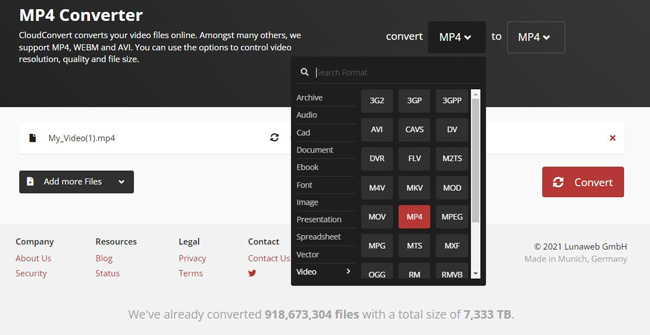 Some of the fast-passing video-to-mp4 channels are provided on the default page like 3G2 to MP4, AVI to MP4, FLV to MP4, & MPEG to MP4, and so forth. Also, you can search for the video formats in the box from categories. If all are set, press the Convert and then download it. Note: CloudConvert provides 25 conversions per day, for more, you can pay for packages or subscriptions.
Convert Video to MP4 by VLC Media Player [Free & No Watermark]
VLC Media Player makes itself shining over others in the open-source features and free-to-use service, if you're preferring a free MP4 converter to convert videos to MP4, VLC is worthy of a try. Come here to see the details.
Go to Media > Convert/Save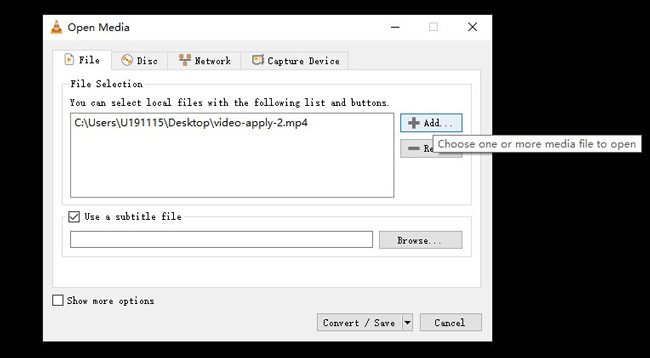 Firstly, launch VLC on your PC. You should then open up the menu Media to choose the Convert/Save….
Begin the Video-to-MP4 Conversion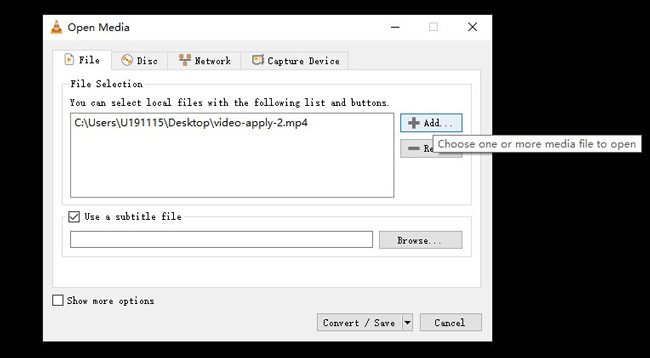 Now, click the "+ADD" to select one or more media files, and here you can use a subtitle file as well. Next, press the Convert/Save.
Convert Video to MP4 & Save It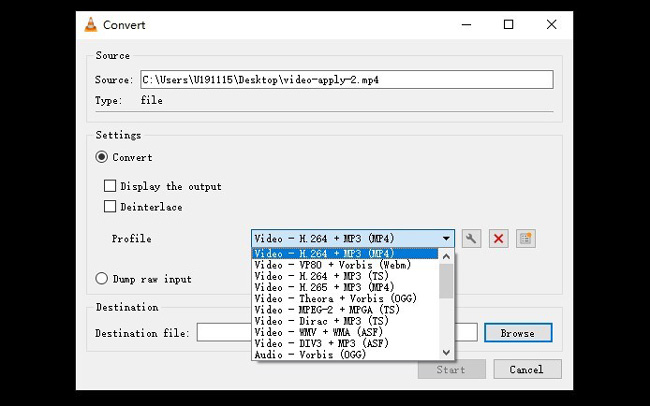 Choose the Video – H.264 + MP3 (MP4) and set the destination by browsing into files. Lastly, tap on the Start.
FAQs to the Conversion of Video-to-MP4
What is MP4 Video File?
MP4 is a multimedia files container and it's hard to find a device that cannot support MP4. Technically, MP4 comprises compressed video, image, audio, text, and more genres of data for playing the video smoothly and fluently. However, MP4 is only a wrapper in the video, not the video itself.
What's the Difference between MP4 and MOV Format?
Shortly speaking, MP4 is an internationally applied video format, while MOV is a proprietary Apple video format for QuickTime. Besides, MP4 tends to be more compressed and smaller in size and resolution, by comparison, MOV video gets higher-quality and larger size.
How Can I Convert MOV Files to MP4 Fast and Easy?
Both TunesKit Video Converter and AceMovi Video Editor are capable to convert MOV to MP4 formats at a high-quality (HD) in only 2 steps like what we mentioned above.
How Can I Convert Larger Video Format to MP4 Video?
Unlike the CloudConvert that converts video files up to 1GB size for free, TunesKit Video Converter, AceMovi Video Editor, as well as VLC Media Player, allow you to upload videos that are over 5 GB, but you should bear in mind that larger files need more time to convert.
How Can I Find a Safe and Classic MP4 Video Converter?
Maybe the ClouldConvert could not be so satisfied if you're demanding privacy, but Tueskit Video Converter and AceMovi can be trusted, by the way, you can convert, edit, and save your MP4 videos without any internet required after downloading.
In a Word
We're appreciated sharing with you the four ways of converting video to MP4 above, by conclusion, we highly recommend TunesKit Video Converter because it's specialized in converting videos with very high processing speed and you can import hundreds of video formats. And AceMovi Video Editor are more likely to choose if you want more MP4 video editing features after the video-to-MP4 conversion, such as video editing, merging, trimming, & recording, i.e., you're accessible to add texts, music, color, animations, transitions, or mosaic & blur effects, etc.
And the online video-to-mp4 converter CloudConvert has conversion limits that you should keep in mind, while the popular VLC media player can be picked up yet you should be very familiar with it because it's a bit complicated.