The raw video you shoot with your smartphone or video camera is often not stored in the WebM file format when you save them. However, some screen and webcam recorders capture footage in this format. And if you wish to edit WebM videos, you will need a functional WebM editor with a series of trimming, recording, speeding, and converting tools.
Having said that, finding a reliable video editing tool that works with the WebM file can be challenging because this format is not as common as MP4. However, if you want an excellent video editor for WebM files, we've got you covered. In this article, you'll discover the qualified picks and everything you should know about WebM files. Let's get going!
WebM File Editing Frequently Asked Questions
Q1: What is a WebM file?
The WebM video file format provides a license-free alternative to the HTML5 video and audio components. WebM video files are identified by their extension. Most web browsers, including Firefox, Opera, and Chrome, support this video format. Moreover, this format is a compressed video stored at a high quality.
Q2: Why do people use WebM?
It's a flexible web format for amateur movies, real-time broadcasts, and other video content. WebM is also freely accessible since it is developed as an open-source project. You may find videos of varying quality (low to high) stored in this format on HTML5 video streaming sites like YouTube.
Q3: Is WebM same as MP4?
No WebM files are not same as the MP4 file. There are some differences between both formats. WebM files have compressed sizes as compared to MP4 files. The video codecs used by these two formats constitute the primary distinction between them. While MP4 is based on the H. 264 codec, WebM employs VP8 or VP9.
| | WebM | MP4 |
| --- | --- | --- |
| Quality | Good | Better than WebM |
| Video Streaming | Applied by most streaming tools | Allows video streaming on the internet |
| Open-Source | Completely free and open-source | Not open-source |
| Compression Quality | Improved playback performance with compressed small size | Better compression yet less than WebM |
| Device-Friendly | Unable to be used on mobile phones | Supports almost all devices |
6 Best WebM Video Editor Options to Edit WebM Files
Top 1. AceMovi Video Editor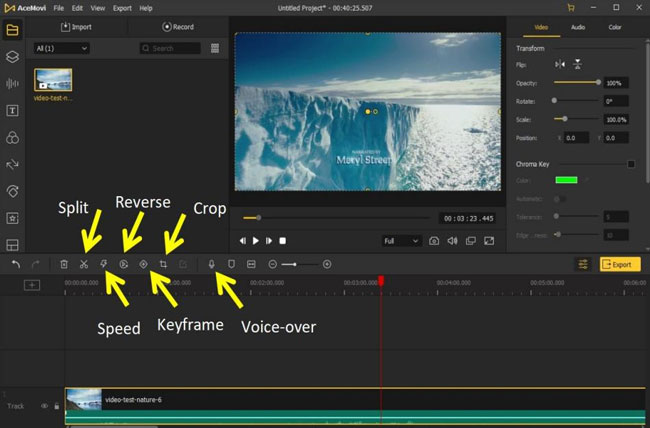 TunesKit AceMovi is the top easy video editor for WebM files. It's a one-stop destination for editing videos with plenty of cool effects and transitions. Split screen, filters, a music library, and fade in and out are some of the advanced capabilities available in AceMovi WebM editor, with a host of video and audio formats available.
You may get going immediately by the user-friendly interface, use split-screen or picture-in-picture mode, and save the project in any of your preferred video formats (including DivX, MP4, WebM, etc.). It has many fundamental editing tools like crop, split, rotate, modify speed, etc., so anybody can quickly and effortlessly become a competent editor.
Moreover, a screen recorder that captures video and audio from your computer is included. The app allows you to import an existing movie for editing. You can produce anything, whether a how-to video, an instructional film, or anything else.
AceMovi WebM Editor
It allows you to edit and enhance WebM videos
Record your screen using inside screen recorder
With vast library of editing tools to customize video
Modify the speed of your video at 0.25x, 0.5x, or 2x
No file size and downloading times limit on the trial
Beginners can quickly learn how to use this tool
Top 2. VSDC Free Video Editor
Windows users may use VSDC Video Editor, a non-linear video editor, to edit WebM files. It works with common video formats like MP4, AVI, MKV, WebM, and others. You can do anything from simple editing to format conversion with this program. Any video can be edited in VSDC; to edit a WebM video, import it, put it to the timeline, and cut out the parts you don't want to keep.
Video editing tasks like trimming, cropping, and masking can be completed quickly and with little effort using VSDC's user-friendly interface. Additionally, you may use the Video Stabilization feature to transform shaky video into steady images.
It has an in-built video and audio converter that allows you to switch between various file types easily. Moreover, a DVD creation and burning system that requires no other tools to operate is included in this tool.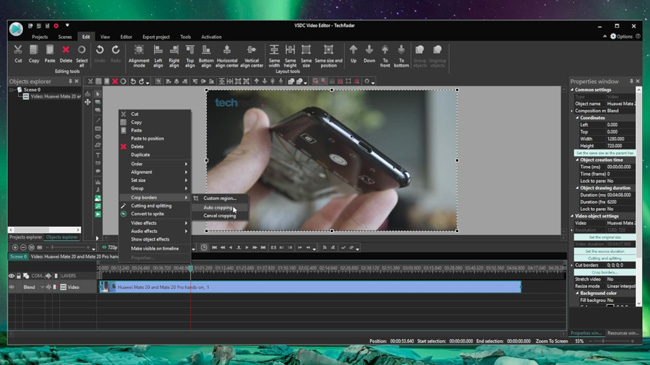 Pros:
Provide slideshow templates
3D elements, liek VR preview and 3D charts
A host of eye-grabbing WebM editing effects
No watermark
Share your video on social media
Cons:
Not easy to use
Windows support only
Top 3. Filmora
Filmora is not only one of the most widely used media players compatible with several platforms, but it also comes with a collection of tools that may be used for WebM video creation. Filmora can convert WebM video files and edit them after converting them. You can access various filters, effects, and color correction options when using this video creator. You may use these features to enhance the quality of your WebM films.
In addition, Filmora allows you to trim or crop any video you open with it, which enables you to eliminate the portions of WebM films you do not want to share with the audience. Despite this, the process of editing a video using it may be too difficult for PC and Mac users who are not familiar with many technological aspects.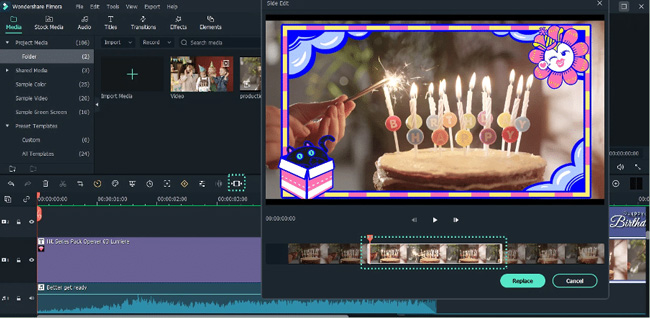 Pros:
Streamlined user interface
A vast of sound effects and music
Convert WebM file to other fomrats
High-quality output
No expiry
Cons:
Watermarkings
A lot of in-app purchases
Top 4. OpenShot
OpenShot, a well-known open-source video editor, provides a comprehensive suite of features for modifying your videos. OpenShot is highly recommended for any video content maker looking to edit WebM movies due to its extensive format support and a wide suite of video editing capabilities. WebM files and films of various formats can be edited in several ways using this tool.
OpenShot has a title editor, a vast library of visual effects, animation, and keyframe choices in addition to the standard video editing features such as resizing, cutting, and trimming. It also has an infinite number of tracks, so users may stack as many elements as they want. In addition to Windows and MacOS, OpenShot also works extremely fine with Linux.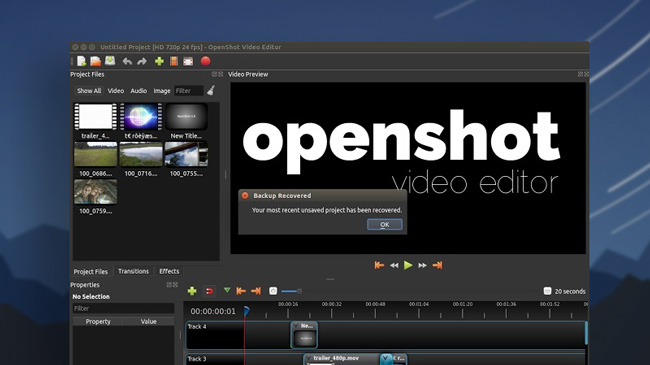 Pros:
4K resolution support
Easy for entry-level users
Video effects abound
Multiple tracks to add
Responsive export speed
Cons:
It does provide music resources
Professionals may not like it
Top 5. ClipChamp
Clipchamp is a powerful online WebM editor trusted by major companies like Google, Microsoft, Dell, Deloetti, and many more. This tool makes capturing, editing and compressing webcam footage simple. More than 7 million people have signed up to use this online video editor, which says much about its quality.
Video editing is time-consuming, but you can save time and energy by selecting from various customizable video templates designed for usage on various social networks.
Clipchamp provides access to extensive stock audio and video collections that may be used to produce original music or as a supplement to your WebM video productions. This online video editor has a free edition that limits your output quality to 480p and prohibits you from using the stock material.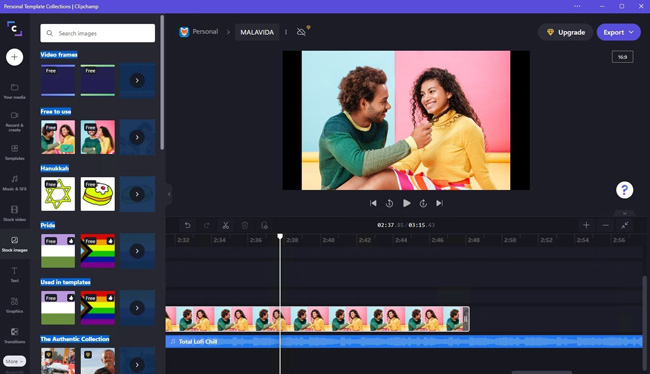 Pros:
Web-based user interface
480p is watermark free
Auto-save video in the cloud
Nonlinear timeline
Real-time screen recording
Cons:
High-quality WebM editing is paid
Based too much on the internet quality
Top 6. Magisto
Social media enthusiasts will find Magisto to be the ideal WebM video editor online. It fully integrates with social media giants like Facebook and Instagram and provides hundreds of editable video promotion themes. Magisto is worth a try if you want to edit a WebM video and upload the finished result to social media.
In addition, it has a robust AI that can automatically apply a wide range of effects to your WebM videos. Its royalty-free collection gives you access to many stock images and video clips you may use in your productions. It has powerful editing capabilities allow you to change elements like fonts, colors, and more.
In addition, many editable templates are available so that you may make a video for promotional or other purposes. The membership plan you have will determine the maximum length of videos you can make using Magisto.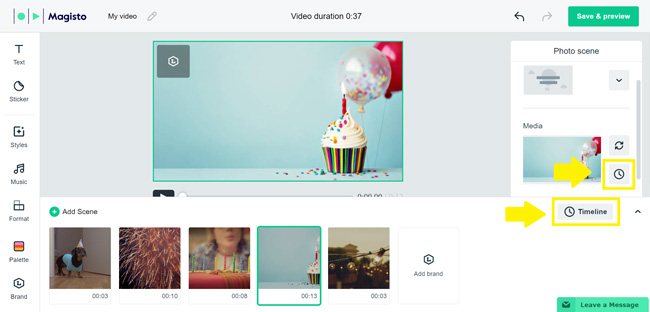 Pros:
Easy-to-use operation layout
Export on GIF or MP4
Save videos automatically
Create a slideshow with music
Libraries of shapes
Cons:
Buy the premium version to get more services
The timeline is linear
Summary
People use WebM file formats to store their videos in compressed size. However, the problem arises when they need to edit those video files since not every video editor supports WebM videos. However, we hope you've found the best WebM editor after reading this article. And those options are designed to help you easily grasp basic WebM editing skills like cropping, trimming, and converting.