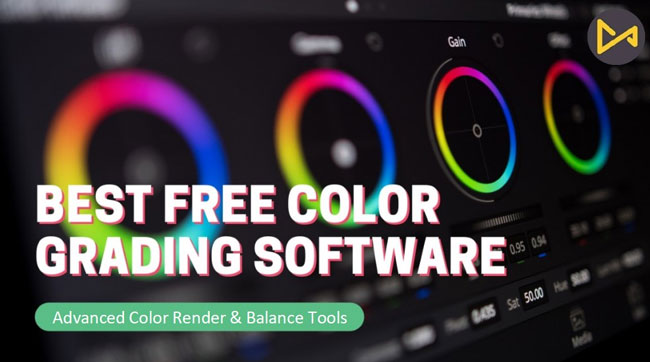 No matter you are a professional photographer, a short vlog editor, or a film cutter, you'd know the importance of color grading - not only can the color grading enhance the quality of videos and frames, but it will improve the color rendering and balancing by layering a sense of color depth.
In this case, an advanced color-grading product is highly needed. If you're searching for the best color grading video editor, you can see in today's content wherein we'll give you a list of 8 best free color grading software along with some practical tutorials about how to use them to grade the color for video making.
Part 1. Top 8 Best Free Color Grading Software for Win 10 & Mac
Top 1. AceMovi Video Editor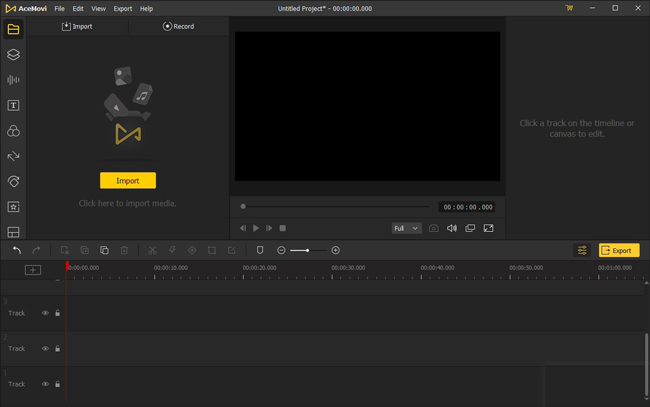 Embedded with a series of professional color grading features and a clutter-free user interface, AceMovi Video Editor has built a platform that no other programs can create within a fleeting period. Specifically, AceMovi allows you to both color tone adjuster and color balance maker including brightness, hue, contrast, saturation, cyan-red, yellow-blue, etc.
AceMovi also features other tools to grade the color like filters, overlays, or some sticker templates. And there won't be any worry about whether you should convert videos when using AceMovi because it supports plenty of video, audio, and image file formats like MOV, MP4, AVI, WMV, MPEG-1/2, MKV, MPG, etc. Here's a basic user guide of grading color with AceMovi, now, let's get started!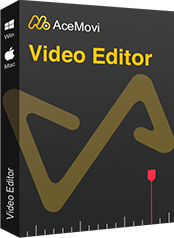 Key Features of AceMovi Video Editor
Security Verified. 5,481,347 people have downloaded it.
Pros:

Professional color grading plate
User-friendly taskbar and layout
More tools to grade color - filters, overlays, text templates
Video trim, chop, mix, convert, rotate, etc. easily
Save the file in multiple formats, any device, and share the video anywhere
You can use it without tries limit and files uploading limit
[Advanced] Slow-motion, PiP, Split-Screen, Blurring, Voice-over, etc.
Cons:

You cannot post on some of the social websites directly like Facebook and Ins
Guide to Use AceMovi to Grade the Color of Videos
Pre-requisite: Before following the steps, make sure that you've downloaded and installed the trial version of the software. By the way, your video will printed with a watermark, but it's dirt cheap to get the license (&19.95 for monthly use and &69.95 for lifetime plan).
Import Files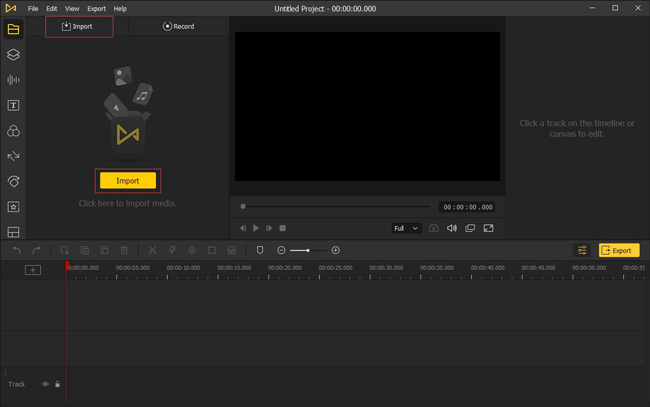 Press the Import button from the interface to upload the video files. Also, you can click the File from the menu bar and then select the Import Media option.
Grade Color by Designated Plate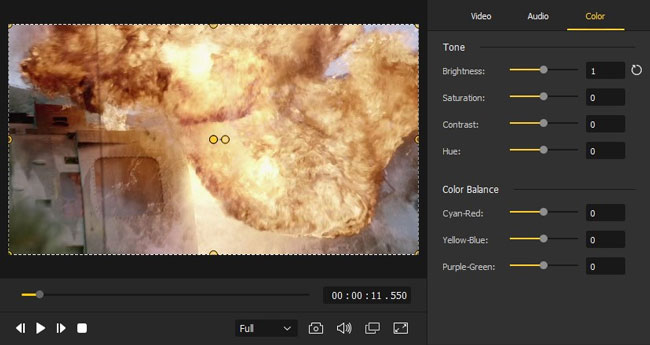 Drag the video file to the timeline. And then you will notice three tabs on the left side: Video, Audio, and Color. Here you can choose the color tab to change the degree of bright, hue, and contrast in the video.
Enhance Color by Video Element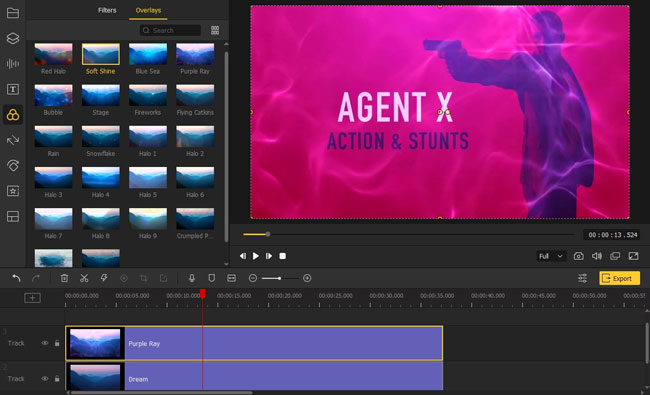 There is another way to grade the color rendering effect in your videos, for example, with Acemovi, you can apply a brighter filter when the video is a little dark or use some VFX by adding overlays when you want to make the videos appears cooler.
Save the Color-Graded Video File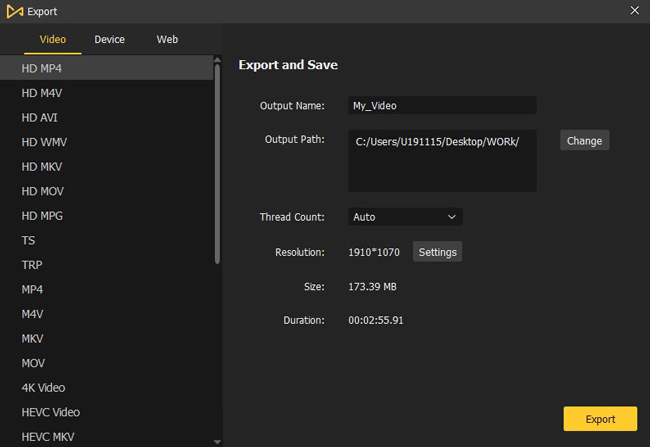 AceMovi allows you to save the file in different formats like the above picture shows and you can convert videos into HD directly.
In the export window, you can choose the resolution by clicking into Settings > Custom > Video > Resolution. Likewise, you can name the file and change the output path as well.
Top 2. Lightworks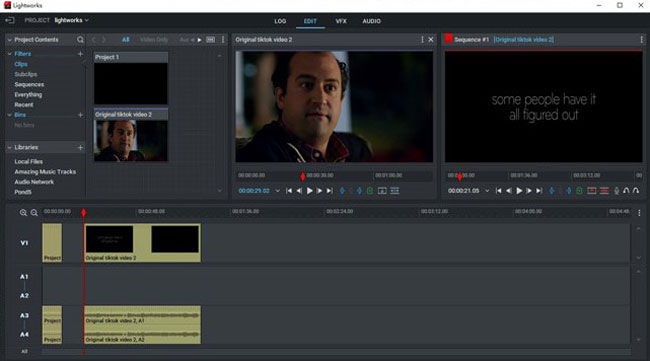 Lightworks is one of the best free color grading software for video editing and runs on Windows, Mac, & Linux. The interface is straightforward and portrays the options for a quick pick-up. In addition, the detailed video tutorials make it more accessible for a beginner. Likewise, it has a suite of stock music and video clips.
Pros:
Most keyboard shortcuts
Professional VFX & Audio area
Advanced color grading tool
Easy to share the videos on social media
Independent stock for video & music templates
Double canvas to compare the visual effects in real-time
Cons:
No video stabilization feature
3D video editing not supported
Top 3. VideoPad
VideoPad is another excellent color grading toolkit for editors who create high-quality videos without paying anything. It comes with a simple-to-use layout, sound effects, 3D editing, color grading, overlays, etc. The features are enough to make a decent video output by using those built-in available features. You can also export videos to online platforms or cloud services.
Pros:
Good for professionals
360-degree footage editing
Motion-track to help you set keyframing
Different genres of texts and subtitles
Specialized color grading panel
Cons:
A bit complicated for beginners
It does not support video animation
Top 4. HitFilm Express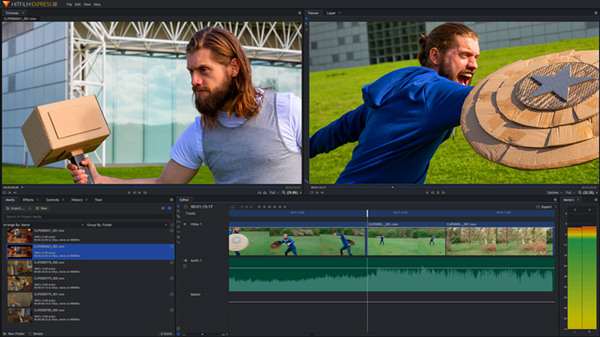 HitFilm Express is a fully-featured color grading software and runs on both Mac and Windows. It is appropriate for starters who do not possess video editing experience. Besides, HitFlim provides good features for editing and grading color genres. In addition, it comes with lots of animations, filters, transitions, etc.
Pros:
Playback function
More color effects to apply
Most video formats to import and export
Ability to edit during export
Double windows for video
Cons:
Low downloading speed
Popular add-ons service require purchase
Top 5. DaVinci Resolve
DaVinci Resolve is an advanced video editor for color grading and combines color correction, VFX panel, audio post-production, and 8K editing, etc. Therefore, professionals prefer to use this DaVinci for editing commercials and televisions shows. In addition, it supports both offline and online editing, and the playback engine saves time when trimming and editing. However, a few of the features look expensive to first-time users.
Pros:
Professional color grading tools
Specialized palette to grade video color
You can export at HD, 4K, & 8K
Customize keyboard mapping
Automatically video sync
Cons:
You'd better prepare better OS
Difficult tutorials to add VFX
Top 6. DaVinci Resolve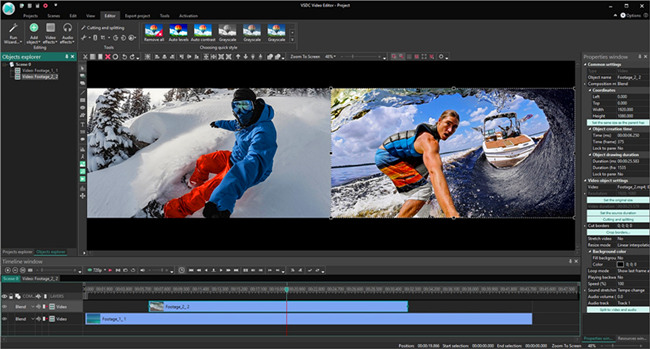 VSDC Video Editor is a powerful and one of the best free color grading software yet only for Windows users. It is available in both freemium and paid versions. On the one hand, the free version is decent enough to carry out the color grading editing by the built-in color rendering feature. On the other hand, the subscribed version has advanced features, such as 3D editing, stabilization tool, post-production effects, etc.
Pros:
4K & 8K export support
Non-linear editing to better your experience
Powerful video trimming, rotating, & combing function
Ready-made color grading templates
Share to Facebook, Vimeo, Instagram, etc.
Cons:
Not user-friendly for newcomers in video making
Windows version only
Top 7. OpenShot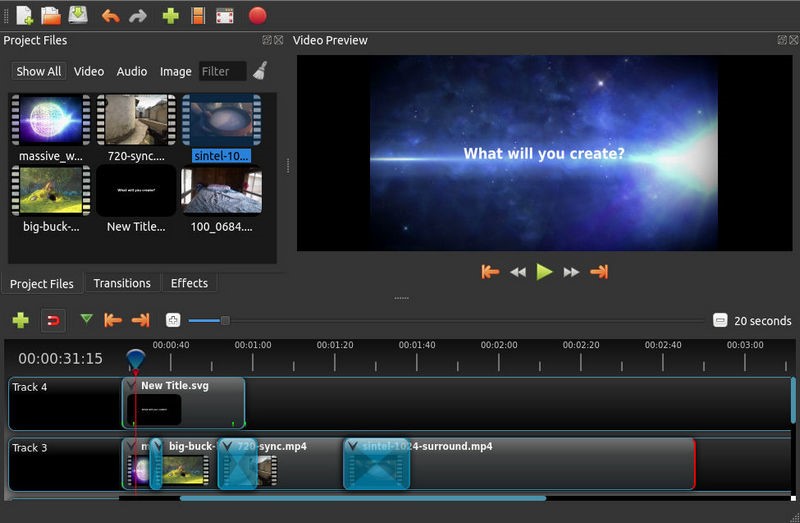 OpenShot is a very easy-to-use free color grading software that works on Windows, Mac, & Linux. The interface is simple and gives quick access to the editing tools. The program is ideal for beginners who seek a simple tool to change the color. And OpenShot performs clip resizing, snapping, trimming, rotation, frame stepping, audio editing, and real-time preview.
Pros:
Simple editing process for color grading
Endless tracks to apply
Transitions, color grading, audio editing, and more
Exports in 4K UHD at 60fps
You can grade color in real-time
Cons:
Slow video rendering speed
No control over effects after adding to clips
Top 8. OpenShot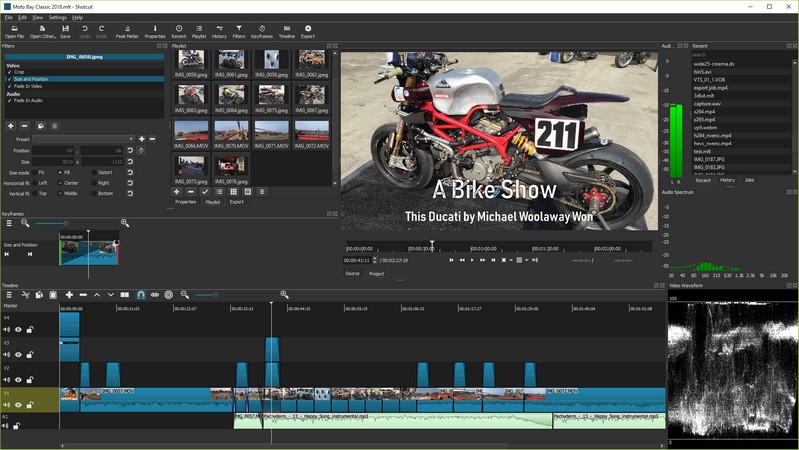 Shotcut is an open-source and cross-platform color grading platform. Shotcut supports a wide selection of import/export formats and provides succinct video tutorials. A few may find the interface timid because Shotcut was initially designed for Linux. However, it comes with many editing features, including color correction, audio templates, video effects, and editing histogram, etc.
Pros:
Edits and renders high-quality videos
Advanced editing features for color grading
Histogram for music rendering
Open-source and cross-platform service
Cons:
Crashes at times with no reason
A little mass interface
Part 2. Pros & Cons of Each Color Grading Software by Chart
Now, let's have a brief analysis of the 8 best free color grading software by a chart from the perpectives of UI, color rendering speed, tone, balance, palette, and price.
| | Interface | Color Render Speed | Color Tone | Color Balance | Color Palette | Price |
| --- | --- | --- | --- | --- | --- | --- |
| AceMovi | Intuitive | Fast | √ | √ | √ | Free; $69.95/Perpetual |
| Lightworks | Intuitive | Fast | √ | √ | √ | Free; $154.99/Perpetual |
| VideoPad | Interactive | Medium | √ | × | × | Master Edition - $79.99; Home Edition - $49.99 |
| HitFilm Express | Complex | Medium | √ | √ | × | Free; Purchase ad-ons |
| DaVinci Resolve | Complex | Fast | √ | √ | √ | $295/Perpetual |
| VSDC | Complex | Fast | √ | √ | √ | Free; $19.99 for Pro Edition |
| OpenShot | Intuitive | Slow | √ | × | × | Free |
| Shotcut | Intuitive | Slow | √ | √ | × | Free |
Conclusion
Now that we have presented you with the 8 best free color grading tools, you can begin by evaluating those editors to learn how they gel to your requirements. TunesKit AceMovi is the most recommended color grading software. But each software has pros and cons, you can weigh them based on your business and the type of videos you edit. It is completely up to you.