Whenever a video is shot, the background may not be precisely the desired one. Hence, in most cases, the background does not fit with the theme of the video whether in color or in a scene. So the only option left is to change the video background with proper video transitions.
Today, a few tools are available using which the background of a piece of footage can be altered. However, there would be a few limitations and restrictions. In this post, you will learn about the 7 best video background changers that you can use to change the background of a video related to a specific assignment. So, let us dive into this post!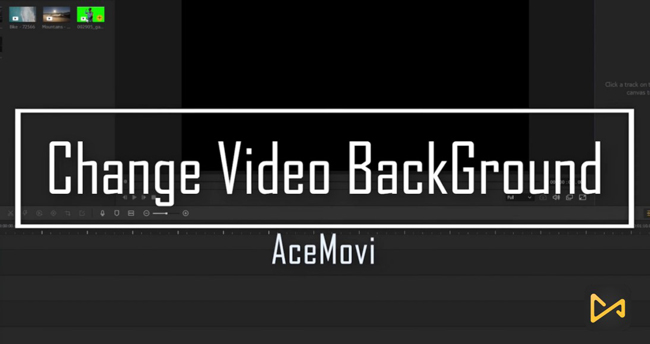 4 Tips to Change Video Background
1. Relevance Should be Placed at the Top
The background should be correlated to the foreground content and scenic styles. You need to make the background matches characters and objects to be displayed in imported clips. Many of today's recommended tools offer a searching box for you to type in your target video background.
2. Never Distract Audience's Attention
Don't distract your audience's attention all the time when displaying a video. Previewing the edited clips is so important for content creators that you should not apply unnecessary background elements like texts and shapes. Trying out different types of background for a video is advised as said.
3. Flow Helps a Lot
Flow effect has been taken into every video maker's consideration, and some tools like AceMovi and iMovie come with an inspiring selection of video transitions like Slide, Wipe, Push, and Split.
4. Don't Think Color is Just a Snap
Brightness, saturation, contrast, and hue are some of the most essential parts pf color correction and enhancement. Especially for changing the background of a video, using a color palette makes it easier and more cinematic. Color Balance also plays a key role whose Cyan-Red, Yellow-Blue, and Purple-Green are the top 3 rendering aspects.
Top 7 Best Free Video Background Changer (Ultimate Guides)
Top 1. AceMovi - All-in-One Video Background Changer
AceMovi is a wonderful tool for content creators and filmmakers. The video results are fantastic, and the clips can easily be edited with the help of Green Screen(Chroma-key) Video Editor, Trimmer, Converter, Recorder, Splitter, Slideshow Maker, etc. For example, any video that has been recorded with a green background can be edited using AceMovi.
How to change video background with AceMovi? Users need to go to the media section and upload the background of choice. After that, users have to upload the video from the layer section and enable the chroma option. In the final step, the slider needs to be adjusted along with the clip to ensure that everything fits well with the background like the tolerance and edginess.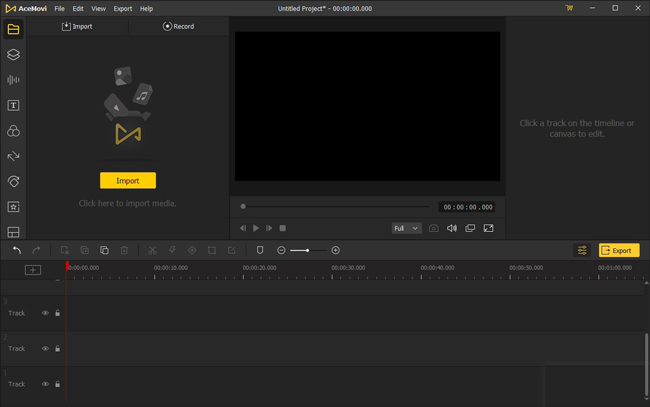 OS: Windows XP, Vista, 7, 8, 8.1, 10, 11 (32-bit & 64-bit); OS X 10.8, 10.9, 10.10, 10.11, macOS 10.12 Sierra, 10.13 High Sierra, 10.14 Mojave, 10.15 Catalina, 11 Big Sur, 12 Monterey
Trial Version: Free of use with watermarks
Full Version: $15.95/Month; $49.95/Year; 69.95/Pepetual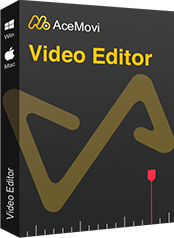 TunesKit AceMovi Video Editor
Security Verified. 12,031,701 people have downloaded it.
Reasons to Choose:

Clutter-free workflow window
Engaging stickers
A vast set of advanced tools like split-screen and duet
Many music resources to choose
Download AceMovi' trial version for free on your PC
Cheap price to enjoy VIP service
Edit HD and 4K video without losing quality
Downsides:

Watermarkings
Need more buttons to edit audios
Learn How to Change Video Background with Green Screen
Top 2. iMovie - High-Definition Video Background Changer
Once you want to change the background on an iPhone video, iMovie is a great tool with professional-grade video demonstrations as well as enhanced color grading tech. In addition, it is useful for those who deal with online lessons and presentation recordings. iMovie released versions on both mobile and PC, using this application, it is possible to record the screen, add video footage, and import PowerPoint presentations.
In addition, it is easy to edit the videos without the need for any video editing experience. There is a section called dimensions. All you need to do is select the area dimension and color that you want to be displayed on the video background. You can also add a text background using the text editor tool. The presentation and recording facilitate projecting a recording in a particular presentation.
Moreover, it is possible to edit the screencasts and video backgrounds. Also, it is easy to share creativity on social media like YouTube and Facebook. Now just try to change video background without green screen on iMovie.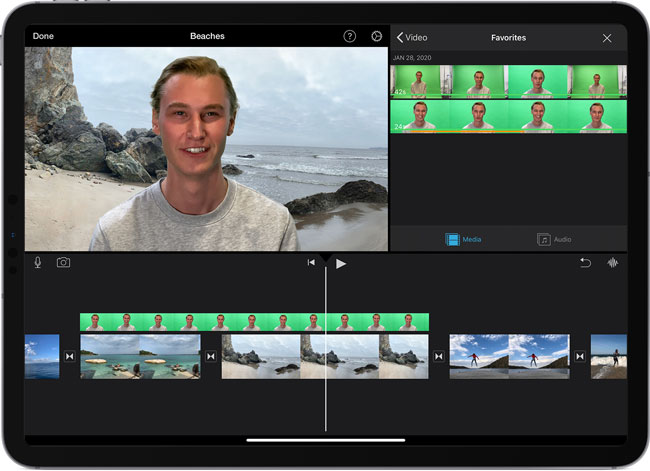 OS: macOS v10.5.1 (Catalina) and later; iOS 15.3 and later
Trial Version: Free of use
Full Version: Free of use
Pros:
Magic Movie picks up the best parts in your imported clips automatically
Shift the focus in your movie by keyframes
4K video for stunning and cinematic clips
Video background changer app
Fine-tune your videos using the masking-controls and strength adjustments
Completely free
Cons:
Unavailable for Windows and Android devices
Top 3. Final Cut Pro - Multiple-Panel Video Background Changer
Final Cut Pro is a smart and professional background changer for video developed by Apple. It has several notable features and has many built-in tools for adding effects, eliminating background noise, adding audio, and much more.
Although this tool can help a lot in eliminating the background of a video and replacing it with something else, you also get access to make the background completely black. After that, a new video or picture can be used to replace the black background. With Final Cut Pro, moving and trimming clips, completing circle VR editing, multi-cam editing, motion graphics, and high definition video are supported.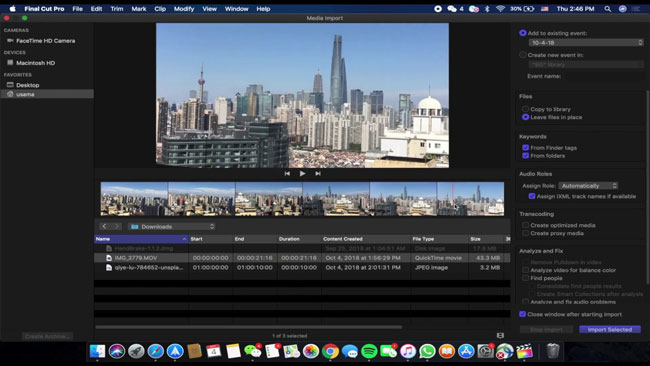 OS: macOS v11.5.1 and later
Trial Version: 90-day free of use with watermarks
Full Version: $299.99/Perpetual
Pros:
Object tracker: detect faces and objects intelligently
Enhance both monoscopic and stereoscopic 360-degree video
Dynamic texts
Color correction
Customizable templates
Cons:
90-day free of use
Hard to learn at the beginning
You cannot download it on Windows
Top 4. Adobe Premiere Pro - Best-in-Class Video Background Changer
Adobe Premiere Pro is a leading video background changer widely used in the television and film industry and web-based organizations. Adobe helps convert average footage into a highly polished and professional film or video.
It is flexible to come up with a new sequence. First, the background needs to be dragged into the sequence and positioned right below the green screen. After that, the ultra key effect can be used to position it over the green screen footage, clean the matte and edges and spill the suppression. Finally, it can be adjusted in the final video depending on scale and crop.
The most prominent features of Adobe Premiere Pro consist of multiple video types, video titling and graphics, multiple audio formats, VR audio editing, and motion graphic effects.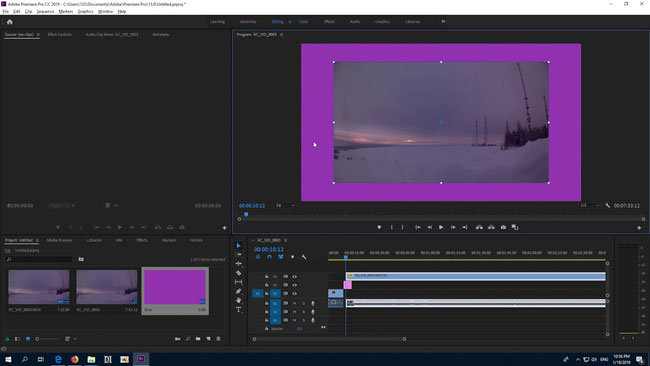 OS: Microsoft Windows 10 (64-bit) version 1909 and later; macOS v10.15 (Catalina) and later
Trial Version: 7-day free of use with watermarks
Full Version: $20.99/Month for individuals; $35.99/Month per license for teams
Pros:
Animated graphics and titles
Smart Creative Cloud service
8K video improvements
A video background remover with lightweight workflows and faster rendering
Fabulous color matching
Top 5. VSDC - 3D Video Background Changer
As an advanced and complicated 3D video background changer and video editor, VSDC features many benefits for enhancing footage and presentations via unique features such as Video Background Changer(Chroma-Key), AI Art Generator, Masking Tools, and 3D Pro Charts(some of the features need a full license).
The tool includes a multi-color chroma to give a professional look to the video. It can be done from the timeline with just a single click. It involves selecting the video or the image file to be kept as the background. There will be a new frame for the new file, and for adjusting it as the background, a single click will be enough to adjust the chosen background.
Suffice it to say that non-linear video editing workflow is easy to do with VSDC Video Background Editor. This tool is HD, and 4K enabled. It acts as a great video stabilization tool and video file converter, which allows exporting and sharing to Youtube and social media channels.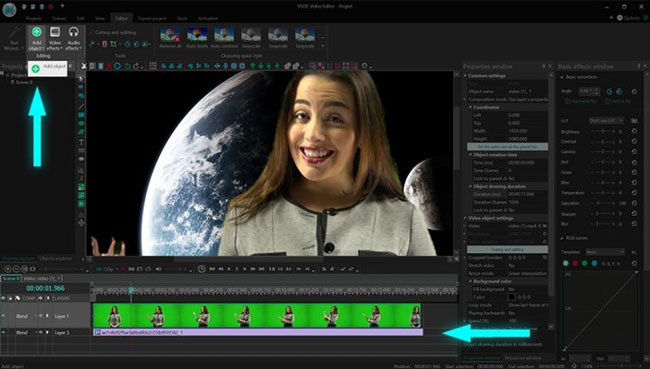 OS: Windows XP, 7, 8, 10, 11
Trial Version: Free without watermarks
Full Version: $19.99/Year
Pros:
Distinguished chroma-key tool to make background removal in images or videos by a couple of taps
Capture screen and video
Create a slideshow with pictures quickly
3k and 4k support
Advanced toolset to attach objects
Cons:
Hard learning curve for beginners(proxy settings)
You need buy the full license to use some of the built-in features
Top 6. Filmora - Easy-to-Navigate Video Background Changer
Wondershare Filmora is an excellent video editing software that can help to alter the background of a video. It can not only extend a variety of templates and video effects but allows to share a video on social media platforms such as YouTube and Vimeo.
Unlike any other software, the AI portrait feature of Filmore V10.5 can easily assist in eliminating any undesired background without using green screen. And it can be done in just a single click. Moreover, the background can be altered by uploading the picture or the video you want to keep as the background.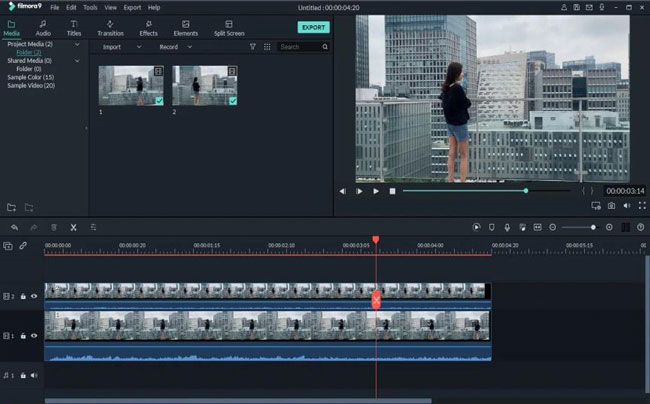 OS: Windows 7, 8.1, 10, 11(64 bit); Mac v12, v11, v10.15, v10.14
Trial Version: 30-day free of use with watermarks
Full Version: $49.99/Year; $79.99/Perpetual
Pros:
Royalty-free stock media and visual effects
AI Portrait
Clean panels
Various video background color
Cons:
Some built-in features are paid like music and VFX
30-day free of use & watermarkings
Top 7. Kapwing - Online Video Background Changer
Kapwing is a web-based video editing tool that can work on Macbooks, Windows, as well as mobile phones. It is an online tool that can change the background of a video with just a few simple steps.
The removal of the video background is quite easy since you are required to upload the video from a local folder or URL, confirm the background genre, and download the final clip having the chosen background. The best thing about this online video background editor is that it can detect an object automatically. It is possible to edit the video clips online, and the background of the video clip can be replaced with almost anything.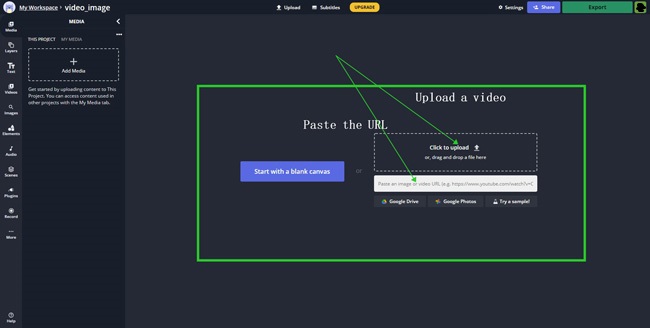 OS: Online
Trial Version: Free with Watermarks
Full Version: $24/Month; $192/Year
Import: URL or Upload from Folders
Pros:
Export without watermark up to 720p
Cloud-based video savings and sharing
A set of color selections for video background changes
Cinematic and soothing templates
URL-import/-export
Cons:
You may need to wait longer when importing and downloading
1080p downloading needs upgraded licenses
The Bottom Line
This article was a detailed guide for those who wanted to know the basics of video background changers. There are quite a few tools available and the 7 discussed above are the most recommended after professional tests. These can certainly help to edit videos and remove the background.