After video shooting, there is so much professional video editing that goes on before the final release, you agreed with me? At a professional level like in Hollywood, post-production workers use green screen video editing tools to write movie background. This means that loads of movie backgrounds are not shot in real scenes instead are edited into the video to entice viewers. You can also do that for your YouTube Channel or Video blog site for more views.
However, most green screen programs are far more expensive, bearing in mind that they are averagely used for advanced editing. Lucky that we got free options! This article will feature the 9 best green screen software for entry-level and pro users, so that creating stunning videos for your blog isn't a dream.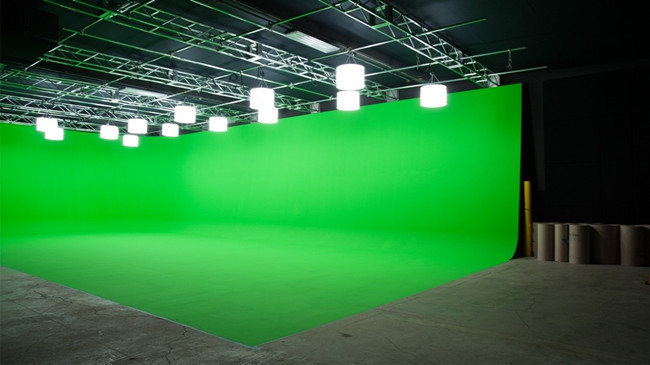 Part 1: Best Green Screen Software with Green Screen for Newcomers
Why do we separate free green screen software recommendations for beginners and professionals? It lies in that video editing tools vary from each other in features, video resolutions, supported formats, user experience, user layout, pricing, etc. At the same time, green screen is one of the sophisticated skills in editing video background and color, usually used in movie creation. The following tools are easy to learn and provide easier green screen solutions.
Top 1. AceMovi Chroma Key Video Editor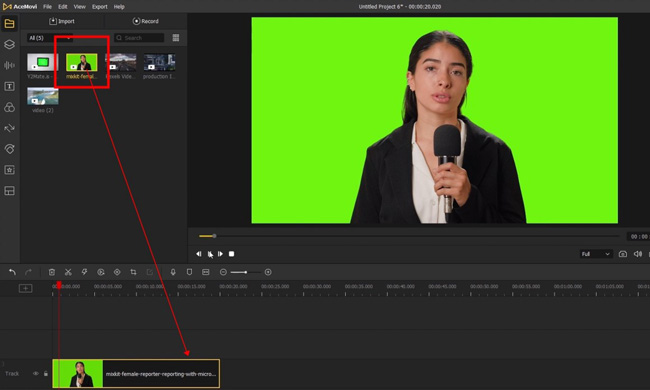 TunesKit AceMovi is a simple yet greatly performed green screen video editor with green screen, keyframing, split screen, and blur and mosaic. The software features a smart user interface and offers a variety of tools like Trimmer, Cropper, Converter, Recorder, Compressor, Titler, Sound Syncer & Equalizer, etc. Both Windows and Mac users can create unique, amazing, and top-quality video using this program.
Green screen edited video can be made more eye-catching by adding effects, animations, transitions, text, and audios. When it is completed, you can easily customize your preferred video output format and upload it for media streaming platforms such as YouTube and Vimeo.
AceMovi Green Screen Tool
Automatic green screen color selection
Excellent media format conversion support
Edit edginess and tolerance of green screen
Improve color and grade color brilliantly
Miscellaneous elements of music and titles
Clutter-free user interface and toolbar menu
Enough for both Windows 64-bit and 32-bit
Video Tutorial: Edit a Video with Green Screen
Top 2. OpenShot Free Green Screen Software
OpenShot Video Editor is a cross-platform free green screen software for Windows, Mac, and Ubuntu Linux. It is a free and open-sources software that helps video editors create astonishing videos for both individual commercial use. Among its unique features is the 3D animation effects that your videos more cinematic, real, and amusing.
The software also allows for easy video trimming and slicing, audio waveform alteration and animation, and keyframes editing. The UI is easy to use and makes it easy to export, resize, and reposition video files.
OpenShot gets unlimited tracks, you need to put wanted green screen video and raw clips under different tracks. Go to "Effects" > "Show All" > "Green Screen". OpenShot can lengthen the duration on the timeline directly. If you find it unavailable, try to exchange the location of the tracks.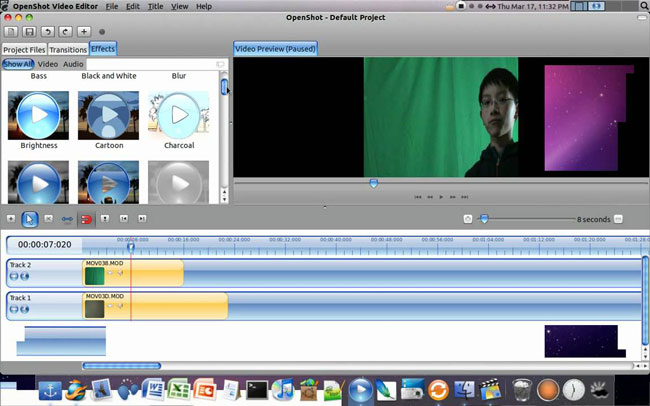 Pros:
Device-friendly green screen software
Watermark-free for beginners
Supports slow motion and time effects
Lots of video effects and transitions
Advanced green screen variables
Cons:
Lacks channels to export at social media format
The music resources are in shortage
Top 3. iMovie Free Green Screen Software
If you are looking for free green screen software for Mac, iMovie is undoubtedly your best option for the job. The software is somewhat a utility software that often comes with new Mac devices. The app is designed to help Mac users turn their raw video footage into magic.
With its excellent interface, iMovie guarantees a fantastic video editing experience. The app is fitted with studio-quality features that allow users to add animations and transitions for more attractive videos. You can also access color grading tools, narration, soundtracks, among others.
iMovie is an open-source and free chroma key video editor for Mac and iPhone/iPad. If you got a Mac or Studio, you can download this program for free, while if the iMovie is inherently built-in the iOS systems. Click the Overlay to edit videos with the green screen effect. And try to right-click to slide the degrees.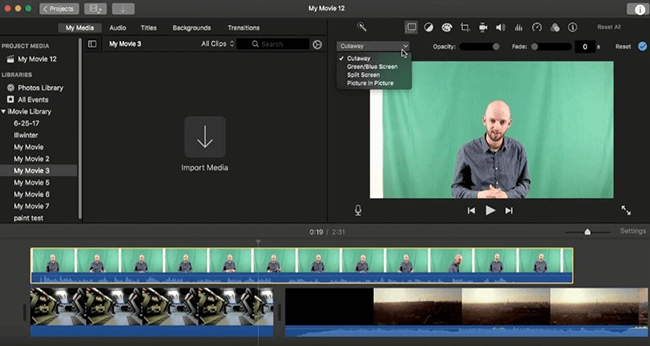 Pros:
Classical Mac UI
Great movie templates
No watermark
Supports 4K resolution
Amazing high cinema-quality
Cons:
lacks music resources
Only available for Mac/iPhone
Top 4. Wax
Wax is the best free green screen software choice for new learners. It has pretty basic but essential features that help users create presentable videos for YouTube or video blogging sites. Ideally, the program is not so much powerful, but I could get the job done!
Wax also comes with essential video editing tools like swap audio tracks, audio adjust, video trimming, and add filters. However, VitualDub gets a limited track so you cannot edit multiple videos. This software was designed with a plethora of effects and features to improve your video quality like color balance and auto titles. More importantly, this video editor won't print your video with a watermark.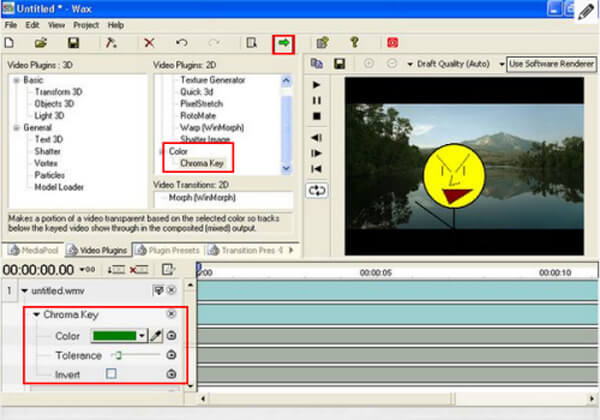 Pros:
Additional editing features
Easy to use
It is stable
High-Rendering speed
Pro audio qualizer
Cons:
Obsolete interface
Available for Windows only
Part 2: Best Free Green Screen Software Professionals Use
In this part we dive into a bunch of advanced green screen editors with complicated yet excellent features built-in such as HDR Color Grading, Sound Equalizing, Knit-by-Knit Frame Editing, etc. For video uploaders who are interested in rendering and applying visual effects including green screen, scroll down to continue to review.
Top 1. VSDC Free Gren Screen Software
As the name suggests, VSDC is one of the best free green screen software for Photography. The software can be to create home videos or commercial videos. Along with is developed green screen editing feature, VSDC has an arsenal of additional abilities that allow users to add filters, effects, and transition for more enhanced videos.
VSDC software file is very small, and you certainly do not have to worry about space on your PC. It has a uniquely easy to use interface that makes every operation simple to execute.
Getting the hang of VSDC is uneasy, you may learn some tutorials in advance. However, you'll find it powerful and quick to render the green screen effect with VSDC. This is a piece of software that will make your effect perfect with precise presets.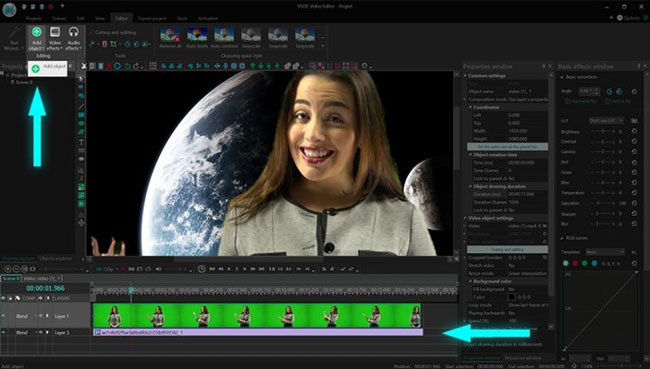 Pros:
Pre-made photo slideshow templatessss
Easy to download and install
No export watermark
Offer many special effects for 3D video
Professional green screen editor
Cons:
Steep learning curve
For Windows only
Top 2. DaVinci Resolve Green Screen Editing Software
DaVinci Resolve is an all-time best free green screen software no watermark. The application is a top-professional application with incredible green screen editing capabilities.
It has improved optimization, an excellent interface, and top- color correction features. Most importantly, the free version does not imprint watermarks on your final video output. It has 5 main chroma-key plugins that allow users to alter color modes, adjust brightness, and customize other video specs. DaVinci is available for Mac, Windows, and Linux.
DaVinci Resolve is powerful in grading color and editing batch videos. Drop audios and videos under the timeline will be very easy. Any other shortcut is available as well. This app can export your video at HD and 4K video with the wanted aspect ratio and resolution for free. If you want to try more advanced effects, you need to follow their subscription.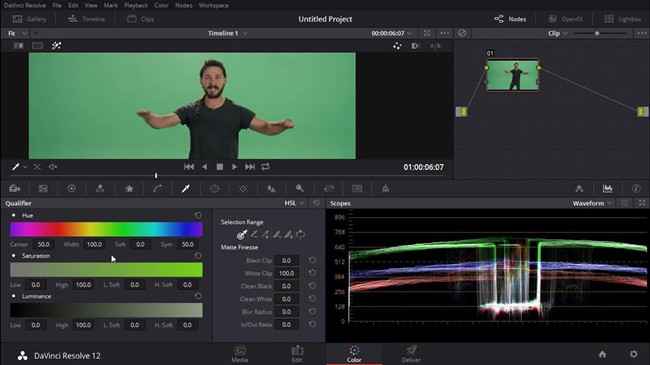 Pros:
Fast processing
Excellent support resources
Cross-platform software
Outstanding color feature
Cons:
Might be challenging to learn
One-time purcahase only
Top 3. Lightworks Green Screen Software
For close to 25 years, Lightworks has been the best free green screen software for streaming available on most conventional operating systems, i.e., Windows, Mac, and Linux. The program is essentially a popular green screen editing tool, even for professionals. It works fast and comes with advanced editing tools.
With advanced real-time effects, users can enhance their video footage using color grading, masks, and blur tools in specific areas. Even though its interface is complicated, it is easy to learn and use. Lightworks supports 65 languages, which means it is convenient for use all over the world.
If you want to edit green screen video in Lightworks, you need to drop the files under the interface, you can open up the second windows to make comparisons as well. Now drop the background into a new track then change the edginess and other related settings to make it seems perfect.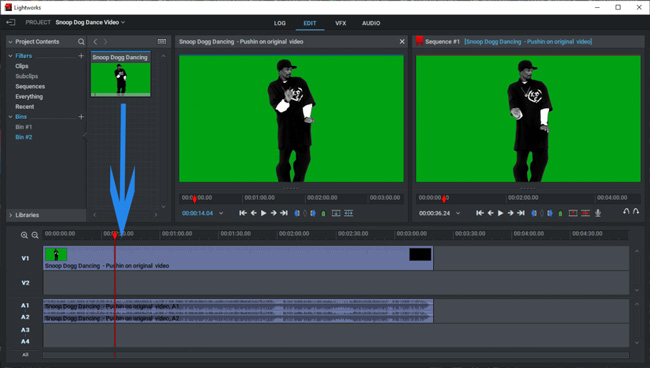 Pros:
It is professional
Support multi-languages
Allows for direct video online upload
Easy to use
Full of VFX
Pro color grading
Cons:
You need to insert an audio device to begin
Registeration is required
Top 4. ZS4 Free Green Screen Software
Here is another free green screen software masterpiece from Zwei-Stein. ZS4 is an advanced software built to assist users in editing green screen backgrounds on videos. Along with its abled chroma-key editing abilities, it offers a plethora of video editing features with over 150 effects, which include amazing color and chroma keys.
With the program, it is also possible to customize video output, width and height, add slave effect, and unlimited tracks, among other things.
Even if ZS4 gets an outdated interface, you can still use it flexibly. You can do drag-n-drop and click the "▶" to play a video in real-time. More settings are set inside the timeline like degrees and waves.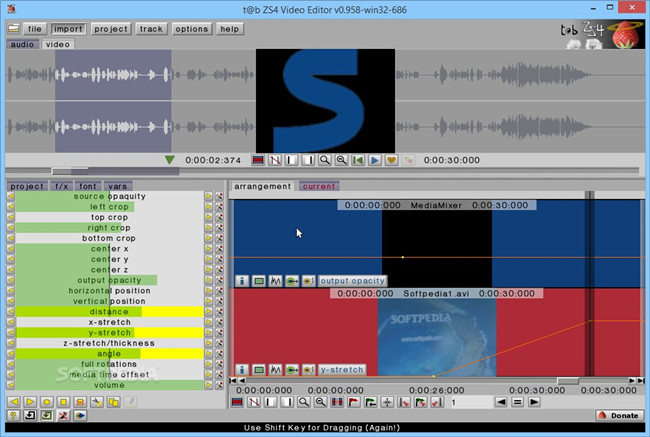 Pros:
150+ integrated video effects
Top-level features
Advanced video editing
Great sound effects
Cons:
Outmoded interface
No QuickTime format support
Top 5. HitFilm Express Green Screen Software
Created by FX Home company, HitFilm Express is a simple free chroma-key software solution designed for pro video creators. FX Home developer company also provides easy-to-follow guide, making it easy for users to navigate and operate the application.
To edit the green screen background, video editors either use the Hue & RGB key plugin or the available regular chroma-key plugins. If you are into presets, the software provides for more than 140 effects.
HitFilm Express released a series of versions and bags, among them you can pick up the Ultimate one. Ultimate supports recording video by the webcam in high quality. If you'd like to edit the recorded videos, just go to EDIT & EFFECTS where you're empowered to make precise edits.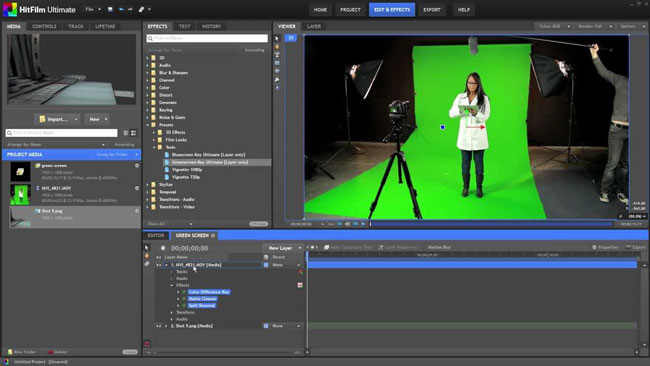 Pros:
Unlimited tracks and transitions
Free tutorials
Two flexible green-screen effects
Drag-and-drop effects
Cons:
Needs some time to learn
Pricing policy is complicated
Part 3: Which Green Screen Software Is Better for You?
To dinstinguish the best green screen editor from a bunch of tools seems not easy, as the pros and cons of each option are diverse. In the chart given below, you're able to compare the differences among recommended green screen software to meet your requirements in editing video background as well as execute other powerful functions for improving the quality of the output.
| | OS Supported | Green Screen Difficulty | Automatic Chroma Key | Meticulous Variables | Pricing |
| --- | --- | --- | --- | --- | --- |
| AceMovi | Windows & Mac | Easy | √ | √ | $19.95/m, $49.95/y, $69.95/p |
| OpenShot | Windows, Mac, & Linux | Medium | √ | √ | Free |
| iMovie | macOS & iOS | Easy | √ | √ | Free |
| Wax | Windows | Easy | √ | √ | Free |
| VSDC | Windows | Hard | × | √ | Free |
| DaVinci Resolve | Windows, Mac, & Linux | Hard | √ | √ | $299/One-Time |
| Lightworks | Windows, Mac, & Linux | Medium | √ | √ | $24.99/m, $174.99/y, $437.99/p |
| ZS4 | Windows | Hard | √ | √ | Free |
| HitFilm Express | Windows, Mac, & Linux | Hard | √ | √ | $7.99/m-Creator, $12.99/m-Pro, $Custom/m-Enterprise |
Part 4: Things You Need to Consider before Making Green Screen Video
When you make a video with the green screen technology, in fact, finding the proper software is just the first step. After launching the tool and uploading your media to the timeline. Video project presetting including video resolution, file name, and other metadata belongs to the aspects you need to pay attention to. For different social media or computer displays, the aspect ratio of the content is specific, for example, you need to crop the media to 9:16 for Instagram Reels or 16:9 for YouTube channels.
Second, use the auto-color green screen function. If you don't know which color is preferred to be used on the background of your video. Clicking on the "Auto" icon, then the background of your video will be automatically rendered while the objects or man on the screen still exist. A the same time, to smooth the effects of your green screen work, it will be better to edit the variables of edginess and tolerance as you see fit.
Lastly, in response to exporting your video from the green screen video maker, video format and quality are important to enhance the overall quality. For example, if you choose to set the format in .mp4, with H.264 codecs, rather than .wmv format, then the output file's quality is higher and more accepted by social platforms. Other parameters like codec, frame rate, channel, and bit rate are used to manipulate the performance of your video as well.
Part 5: Bottom-Line
The above list consists of the top green screen software available on the internet. All of the software guarantees you a smooth and comfortable green screen editing experience. We have also closely evaluated each software's pros and cons, paving the way for easy decision-making; you can now make an informed choice of software with regard to your needs and preferences. If you can't make a decision, AceMovi Video Editor is recommended.