Do you know what this world needs? Good movies to consume - Movies that viewers can resonate with, movies that have some meaning, and movies that leave lasting impressions. To create fantastic cinematic content for your audiences, you need to edit and compound effects, filters, and the techniques of black bars and aspect ratios. This is why today we'll talk about cinematic video editing software that will allow you to turn your videos into a movie.
Not every tool is created equal, however. While some will be good but expensive and others will be free but not impressive. That's why you need to know which cinematic video maker you should trust and which one you should skip for good. So, without further ado, let's start this guide right away!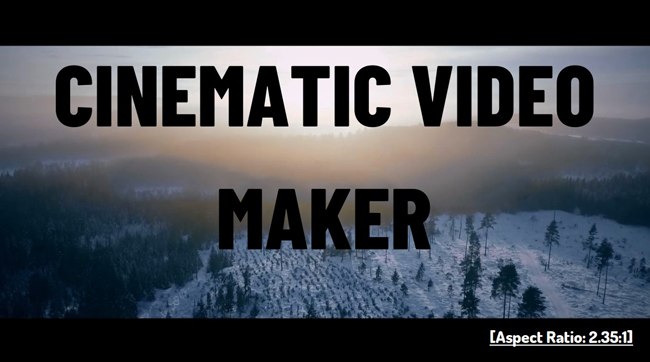 7 Top-Ranked Cinematic Video Creators for Windows & Mac
1. TunesKit AceMovi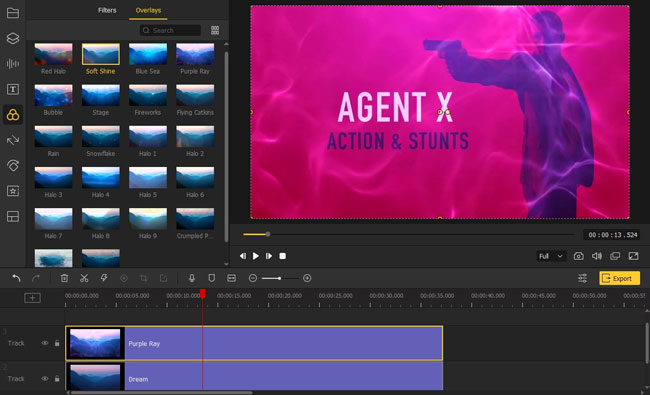 AceMovi is a powerful and one of the best cinematic video creators that comes with beginners-friendly interface. This is a tool to make movies with subtitles and music and will let you edit your videos in a way that will impress your audience. It is loaded with HD video parameters of resolutions and aspect ratios.
This software supports up to 60FPS and 4K video outputs. On top of that, AceMovi can be used by both Mac and Windows 10 users, and before you buy it, we recommend trying its free version. Some pro functions worth discussing are cinematic filters, audio noise equalizer, green screen, color grade saturation, and keyframes.
AceMovi Movie Maker
High-fidelity cinematic filters
Free trial version
Royalty-free music
A library of transitions
1080p and 2160p resolutions
Unlimited file tracks
All popular formats offered
Predesigned film aspect ratios
AceMovi's tutorial on making cinematic videos for Windows and Mac
2. Davinci Resolve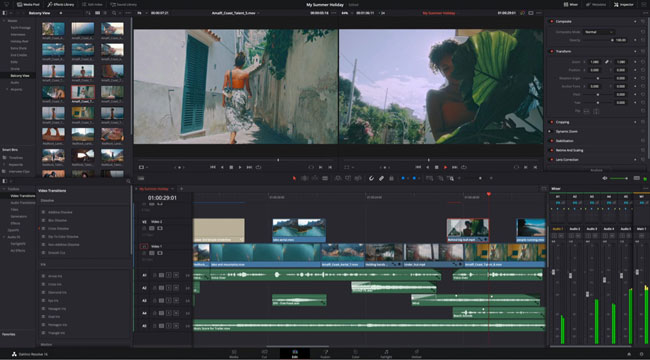 As a cinematic video editing software that provides users with a variety of effects and filters, DaVinci Resolve 17 can be used by Linux, Mac, and Windows 10 users. It has cool features, yet most effects cannot be used for the trial version. Some features that will help you edit your videos are color correction, node-based special effects, and pro-level audio tools.
Although it is quick to download, it offers advanced-level editing features, which makes DaVinci Resolve not an easy tool to use. This software is quite complex, and if you are new to video editing software, you may want to use a more straightforward tool. But overall, DaVinci Resolve is a hard contender to compete with.
Pros:
Full of free video filters
Multi-task timeline
Up to 8K resolution
Share editings on media
No expiry and watermarks
Cons:
Most video effects are paid
You need to download a plugin to use background music
3. Lightworks
If you are a beginner and want a simple cinematic video creator, try Lightworks, which is often used by entry-level users and is available for Windows 10, Linux, and Mac. It also has optimized features and effects like 360-degree flipping and blurring, the interface is customizable, and it offers multi-track editing.
The basic version comes for free yet you can merely download video at H.264 Codec/MP4 with 720p resolution. And if you need an advanced-level video editor, you may want to try the pro version. New users can take help from the contextual help window to understand how to work with it.
Pros:
Watermark-free
2160p resolution
More video effects
Pro color grading
Sound mixing panel
Cons:
Only one format for free licenes
Intricate interface for editing audio and color
Top 4. HitFilm Express Pro
HitFilm Express Pro will cost you $341.01 and there is no free trial. The cost is a one-time expense only and if you want their free version, try others. HitFilm Express Pro empowers you to fine-tune meticulous color grading and automatic audio syncing, comes with multiple presets and video effects, the workflow is pretty familiar and easy to work with, and its 3D graphics are impressive.
The best part about HitFilm Express Pro is that it puts a lot of emphasis on graphics and ensures editing the video with the best resolution. If you want, you can add different plugins as well.
Pros:
A plethora of VFX
Double-canvas interface
Motion detection
HD quality resolution
Colorful music resources
Cons:
It cannot edit video
No free version
Complicated VFX
Top 5. Blender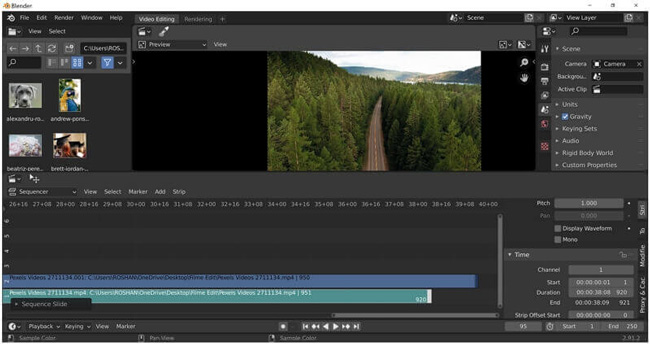 Blender is a free cinematic video editing software and is extremely powerful to use. It offers excellent 3D video editing tools and easily lets you add effects or texts to a clip. But there's one catch! If you wish to edit audio files as well, unfortunately, that can't be done with Blender.
The main reason why Blender was developed is to create high-quality animations. However, its video-making functions are good enough for beginners who don't want multiple features. If you are making a 3D film, Blender will be an ideal choice for you.
Pros:
360-degree video editing window
Rotate and flip a clip
Mixed soundtracks
Specific plate for video-making workflow
Boost audio volume easily
Cons:
You should switch to the video-making panel at the very beginning
The interface should be updated for users who want to add subtitles
Top 6. Final Cut Pro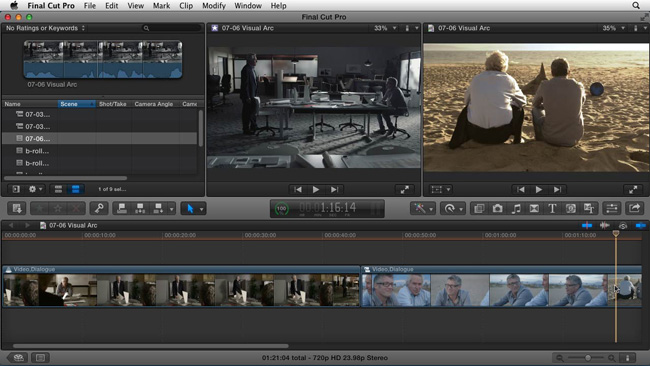 Anyone with a Mac will love to work with Final Cut Pro for the powerful system and responsive actions. This should tell you that Final Cut Pro is for apple users only. It offers cinematic mode adjustments, magnetic timelines, motion graphics, and color grading.
The interface is clean and pretty intelligent and lets you edit your videos to make them look professional. You can pay $300 once and keep using it for a lifetime. You will get access to all its features at a one-time fee. One thing that you might really like is its adjustment focus. It does come with a steep learning curve and is not advisable for beginners.
Pros:
Motion-track feature
Licensed audio effects
Add keyframes no hiccups
Trim out unneeded parts
Filters for movies
Cons:
7-day free trial
One-time purchase option
Top 7. CyberLink PowerDirector 365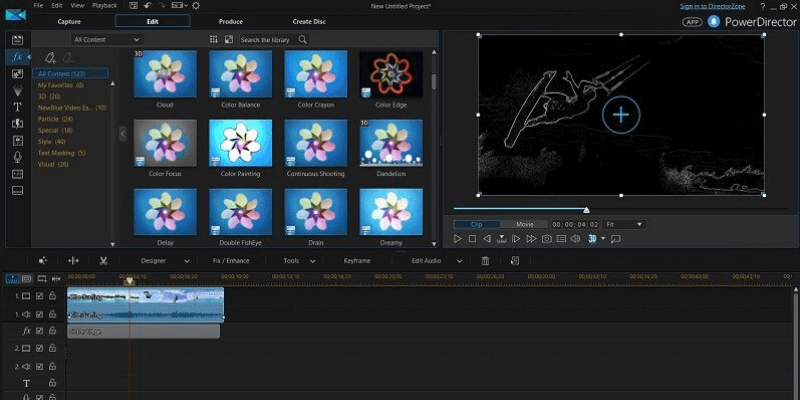 CyberLink PowerDirector 365 offers multiple features, including overlay effects, templates, built-in transitions, powerful plugins, and advanced video editing tools. It lets you directly publish the video on various platforms, such as Facebook and YouTube.
This premium tool has a user-friendly interface, and you can edit in vertical and square aspect ratios. There is a drag-and-drop feature, which means you can simply drag a video and drop it here to start editing it. PowerDirector 365 is available for both Mac and Windows 10 users.
Pros:
Beautiful layout
Full of color boards
Selective background music
Grade colors
Take a snapshot
Cons:
This software needs to update more supported video and audio formats
How to Make Your Videos Look Like Movies - 5 Tips
Tip 1. Fit Aspect Ratio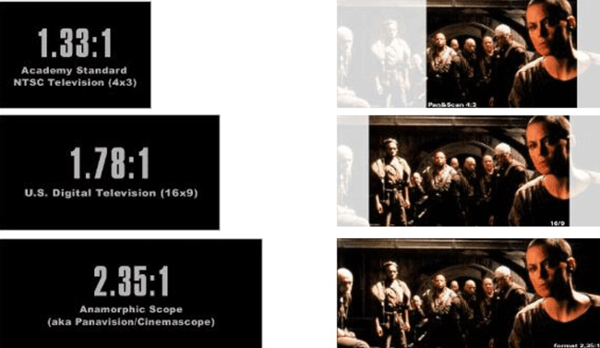 Let's say you have recorded a film and edited it using a professional tool, but did you pay attention to its aspect ratio? Do you know that the aspect ratio can make or break the video-watching experience? Always go for an aspect ratio that is accepted by most digital devices.
The standard aspect ratio of a cinematic video should always be a widescreen ratio, which is 1.85:1, while there is an anamorphic 2.39:1 widescreen. This aspect ratio will enable your video to fit into any screen without any hassle. Besides, 2.35:1 is the Widescreen Cinemascope format, which is the established type for movie theater or "Video for Big Screen" and comes with no black bars.
Tip 2. High Video Resolution
Ensure you use a high-resolution camera whenever you record a film or video. Your videos need to have the best resolution to stand out in most cases. Since you will record a film or video to share with your audience, we suggest buying an excellent quality camera with the highest resolution. Your viewers want to see professional-looking videos, and HD or 2160p videos will enhance your brand image.
Tip 3. Relevant Filter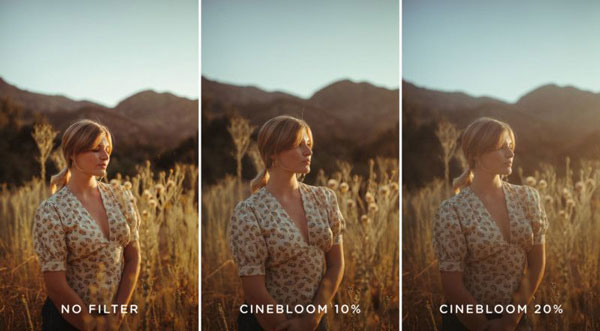 When we say filter, we don't mean the filters you see on Instagram. Like resolution, your videos need to have a professional-looking filter that will boost the overall video-watching experience. Let's say you are shooting in cloudy weather but want the video to look bright. How will you make it happen? By using filters, of course, and that's why filters are essential.
Tip 4. Movie Black Bar
Apart from resolution, there's one crucial thing that you shouldn't miss, and that's a black bar. You should always add a black bar to your videos. When you use a wider aspect in a video, what happens is it is shown on a digital screen with multiple dimensions, which may not look good. In such a case, a black bar adds black bars to the screen with an empty space.
Tip 5. Synchronized Background Sound
A video can have a mixture of scenes, meaning that the background sound you add is required to make sense for each scene. Background sound can enhance the overall experience especially if they are in sync with the video. For example, you should think of adding ambient sounds, audio effects, and music in some places. That's how you create a good cinematic video.
Conclusion
This is the list of cinematic video editing software that you can explore. Every tool that we have mentioned here is used and trusted by thousands of users from all across the world. Luckily, many of these tools offer a free trial so that you can test them first before investing money. So, try the free trial first before making a decision.