Learning how to change the aspect ratio of a video is a basic requirement for all video makers who work on a Mac. As the recording device — your phone, computer, digital camera, and so on — sets the aspect ratio by default, the footage could have wrong resolutions while being watched on your Mac's screen. In this case, you may need to set the monitor to 16:9 (e.g., 16:9 for YouTube), 9:16 (e.g., 16:9 for Instagram and TikTok), or 1:1 (e.g., 16:9 for Facebook), etc., depending on the size of the project. However, not every video editing software is capable of doing this easily because they may lack some common aspect ratio options. So here I'll give you the 3 easiest strategies of how to change aspect ratio in Mac easily and quickly, along with the best reliable video editors you can use. Here goes!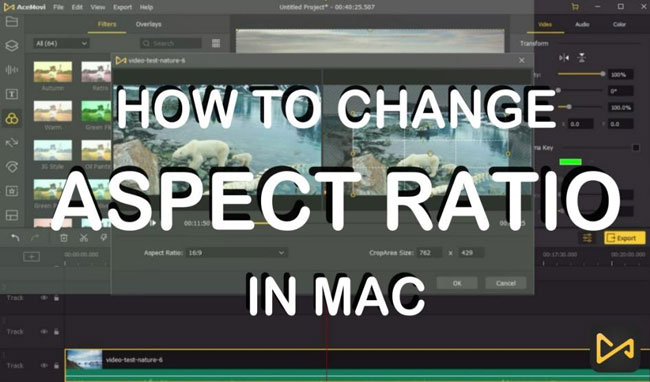 Basic Aspect Ratios Knowledge You Need to Know
What Do You Mean by Aspect Ratio?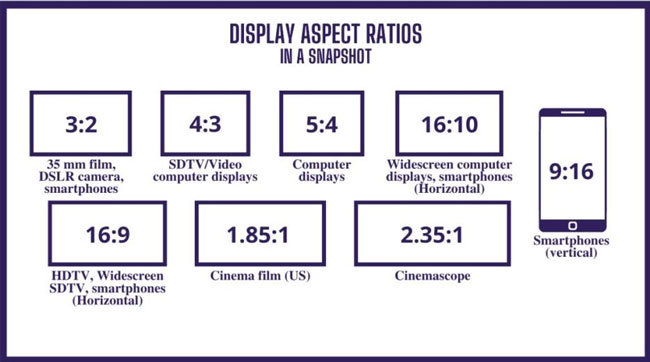 An aspect ratio defines the width-to-height ratio. Frame aspect ratios exist in both still images and video. The aspect ratio of the pixels that form the frame is called the pixel aspect ratio (also referred to as PAR). Different aspect ratios are used in different video recording standards. For example, you may capture video in either a 4:3 or 16:9 aspect ratio for television.
Why Change the Aspect Ratio of a Video?
Basically, you need to change to the vertical video for mobile phones; while for computers, the horizontal is acceptable. There are numerous specific situations when you need to change the aspect ratio of your uploading to suit the parameters due to the varying needs of different platforms or devices.
What Are Some Popular Types of Aspect Ratios for Platforms?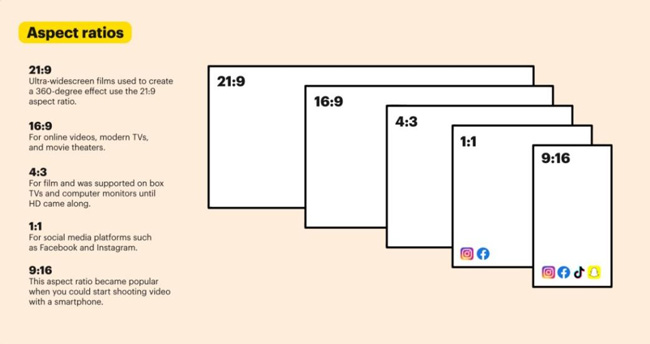 ✦ Vertical (9:16): It's the video you took with your phone;
✦ Anamorphic (2.40:1): It's a widescreen format often seen in movies. It has a 16:9 aspect ratio; however, the top and bottom are clipped. It also has a cinematic air to it because of this impact;
✦ Widescreen (16:9): The most prevalent aspect ratio for web videos, documentaries, and films. It records a significant quantity of information in great detail;
✦ Square (1:1): It's a perfect square ratio that you'll see all over Instagram;
✦ Full-screen (4:3): It is the aspect ratio used on television before the introduction of widescreen. It concentrated on one aspect at a time.
How to Change Aspect Ratio of a Video on Mac by TunesKit AceMovi Video Editor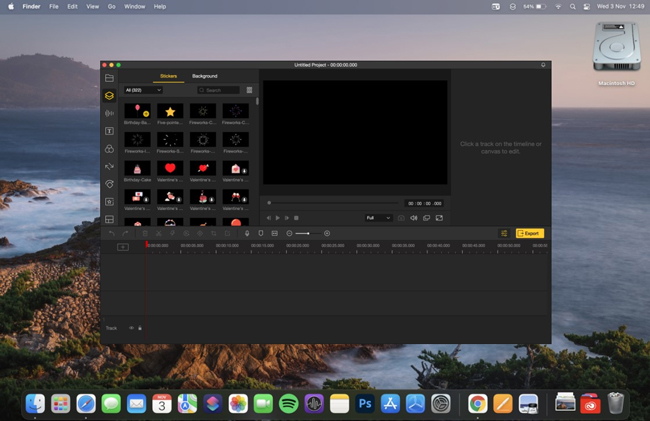 TunesKit AceMovi is the best one-stop aspect ratio video editor with all frequently used aspect ratio settings even you can customize aspect ratio with which. It comes with a screen and webcam recorder that can capture both pictures and sound from your Mac.
More features are builtin including the split-screen, filters, animations, texts, and a music library. AceMovi's basic capabilities enable you to trim an MP4 video without any loss, rotate video from 0 to 360 degrees, split the whole video into many parts, create a photo slideshow by a few clips, etc. All of the effects and tools you'll need to enhance your movie are included in the self-explanatory user interface.
When it comes to the workflow, TunesKit AceMovi — the finest video editor for beginners — can quickly resize your movie on Mac. You may modify the aspect ratio of your video in AceMovi to 16:9, 4:3, 9:16, 3:4, or create your unique ratio. Before the workflow, ensure you have TunesKit AceMovi downloaded and installed on your Mac in advance; this program presently supports all Mac platforms. Now, follow the below-mentioned steps to change aspect ratio of video and image in mac.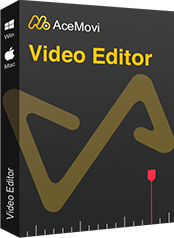 TunesKit AceMovi Video Editor
Security Verified. 6,113,097 people have downloaded it.
Change aspect ratio in Mac via two ways: Fixed & Customized
Change resolution of a video effortlessly
Easy-to-use toolkit
Unlimited export opportunities
Lots of online tutorials
Cheap licenses to remove watermark
Download at HD quality
Hundreds of video elements like transitions and filters
How to Chage Aspect Ratio in Mac with TunesKit AceMovi
Add Video Files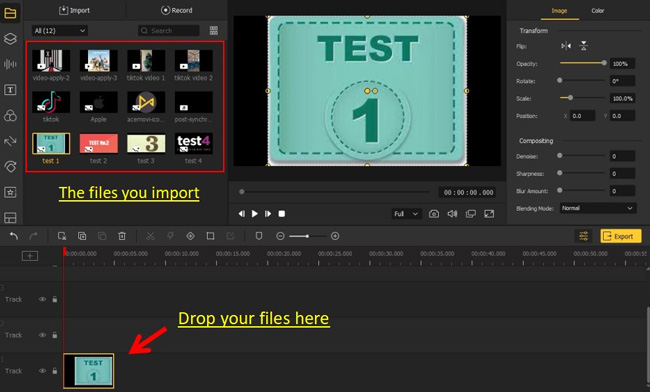 Open AceMovi in your Macbook, and then drag-and-drop wanted clips into the media box. Alternatively, you may just drop your clips into the timeline/track.
Begin to Change Aspect Ratio in Mac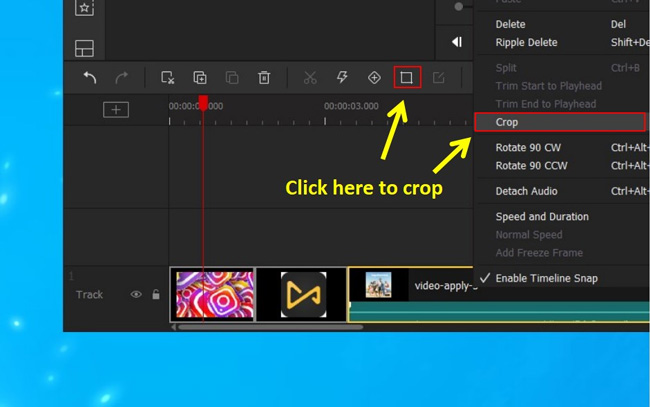 On AceMovi's interface, now click the Crop icon from the toolbar. The window to change aspect ratio will pop up instantly. And 2 ways are available here to change the external monitor scaling of your video: (1) Choose a fixed aspect ratio, or; (2) Customize aspect ratio.
1. Choose a Fixed Aspect Ratio with TunesKit AceMovi for Mac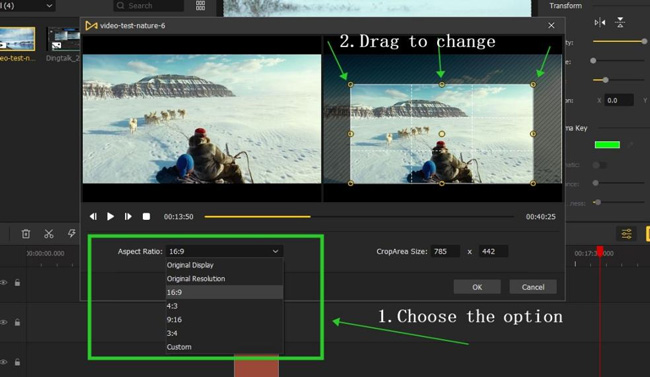 With AceMovi, for example, if you're a YouTuber who wants to change aspect ratio to 16:9, you need to click the Aspect Ratio > 16:9. Then resize the canvas on the Mac window, here you'll see the width and height are linked so they will be changed based on the fixed aspect ratio 16:9.
2. Customize Aspect Ratio with TunesKit AceMovi for Mac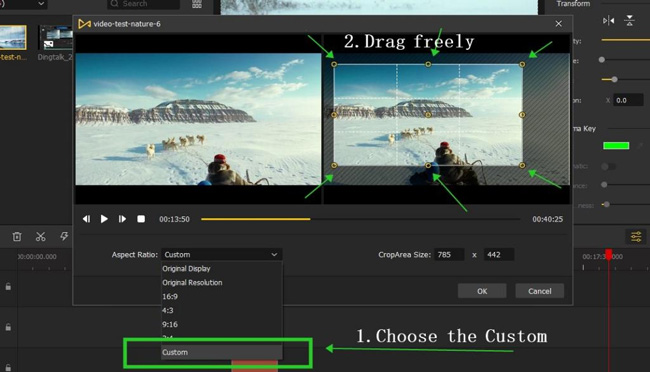 On AceMovi's video-cropping area, go to Aspect Ratio > Customize. In this case, when you resize the display width, the height won't be changed accordingly. You're allowed to move the display window everywhere. And you'll see the result in real-time by clicking the ▶icon.
Set Up the Output Parameters and Video Output
Once the aspect ratio changing workflow is done, go to Export and choose a video format. The exporting area will appear, allowing you to choose formats such as MP4, M4V, AVI, WMV, MKV, MOV, etc. You may also choose the output device or social media platform.
You may resize the output codec, resolution, frame rate, bit rate, quality, and audio settings to your liking by selecting Custom from the Settings menu in the center of the screen. Well done! Now, click the Export button again to download it. For more great video editing effects and functions, join us here.
How to Set Monitor Resolution of a Video on Mac by VLC Media Player
VLC Media Player is a widely used piece of software free for Mac. It contains a plethora of functions to thoroughly delight its consumers. It provides a wide range of video download and streaming options. VLC also searches the internet for the covers you're looking for. In terms of media players, it is the greatest alternative available. Above all, it is free, supports various media types, and allows you to optimize films and audio.
A distorted screen or video is quite annoying. It reduces the overall viewing experience while using VLC or any other media player. Fortunately, VLC has a feature to change the aspect ratio. To alter the aspect ratio of the video you're viewing in VLC, all you have to do is follow a few easy steps.
Import Video Clips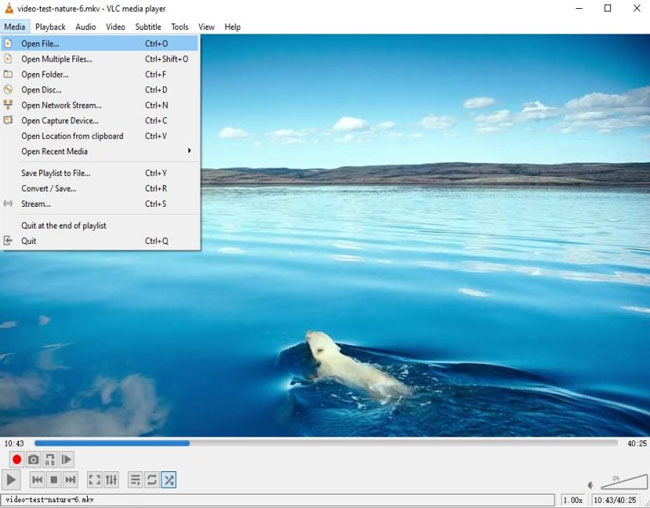 With VLC, go to Media > Open File to select one or more files to open. Or just drag-n-drop the files on the playing window.
Commence Changing Video Aspect Ratio in Mac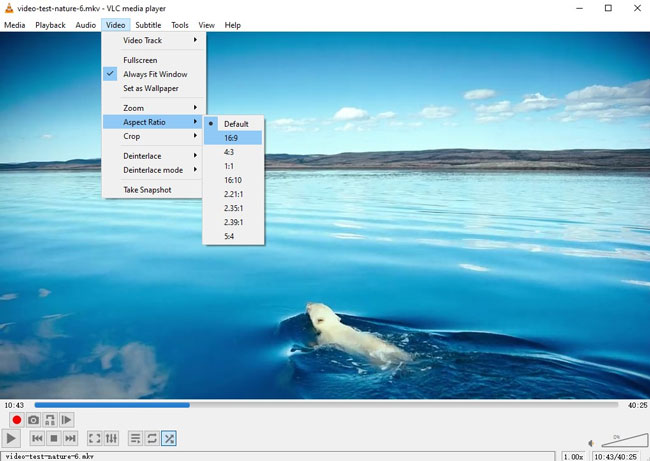 On VLC's interface, select the menu bar from the top of the screen. In the menu bar, choose the video option. After that, go to Aspect Ratio. There are various distinct dimensions possibilities in the Aspect Ratio sub-menu. Select the one that best meets your requirements.
Import/Convert the Aspect Ratio Changed Video
Bingo! You just changed the aspect ratio of a video successfully. If you want to convert this video, go to Media > Convert/Save. And if you're satisfied with the works, choose the Media > Save Playlist to File to save your video in local folders.
How to Change Aspect Ratio of a Video on Mac by iMovie
iMovie is a watermark-free & simple video editing software for both Mac and iOS users. So apart from changing a video's aspect ratio in Macbook, you can also make it on your iPhone or iPad. iMovie compiles a vast selection of features like transitions, filters, images, text modes, overlays, music resources, and so on. You can use them in your video for completely free. Now, let's dig into the tutorials!
Import Video Clips
On iMovie's interface, click the menus File > Import from Camera or Import.
Start Changing Aspect Ratio of a Video in Mac with iMovie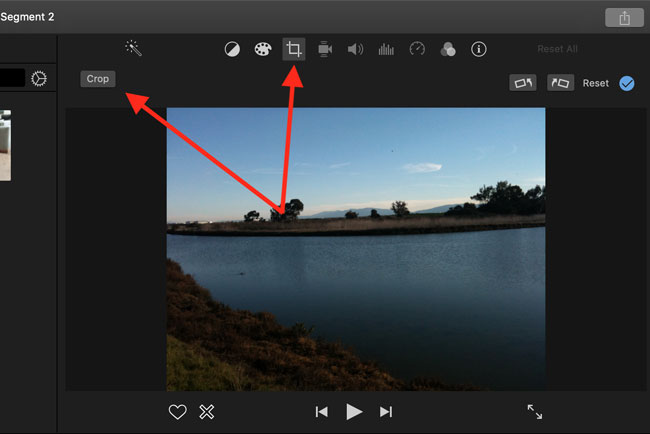 Same as TunesKit AceMovi, with iMovie, you need to go to the toolbar and click the ◻icon to change aspect ratio. You can choose a fixed option or customize it flexibly.
Download the Improved Video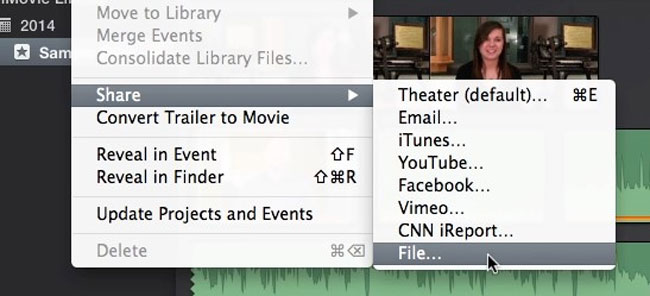 To export or share the video those aspect ratio has been changed successfully in iMovie, go to File > Share. Now click the File to download video or share video by e-mail, iTunes, YouTube, Facebook, Vimeo, etc.
Things are a little different when you are planning to resize a video for multiple devices. However, if you want to resize your movie accurately, you'll need a proper computer video editor. And I think the three recommended tools can be of help to you! Got better ways to change aspect ratio in Mac? Share with me!