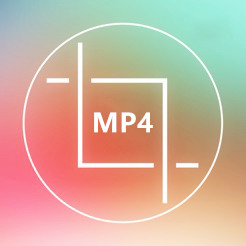 When you found your MP4 videos that you shoot have black edges or unnecessary parts, what would you do? The first thing comes up to minds of most of us is to crop MP4 in desired parts. Without a doubt, cropping MP4 videos is the easist way to fix such an issue with a useful tool.
There are so many MP4 video cropper programs in the current market that claims to crop MP4 files without effort. In this case, you may be confused which one to choose from. So, in this guide, we just show the top video cropping software and how to use them to crop MP4 video on Mac, Windows, online, and for free efficiently.
Part 1. How to Crop MP4 Video with Best MP4 Cropper
In order to crop MP4 video files, what you need is a useful video cropper tool. Among multiple different programs in the market, the AceMovi Video Editor from TunesKit Software is a nice option. It can help users to crop not only an MP4 video but also any video file on Mac and Windows computers within a few clicks. Most important is that, it will not lose the original quality of the file after cropping an MP4 video. You're also allowed to change the aspect ratio of MP4 files according to your needs.
This powerful MP4 cropper is well-designed with a simple interface, with neat buttons and navigations. Both beginners and professionals can easily learn how to crop MP4 on Mac and Windows computers in a few minutes. In fact, this video editing software is also equipped with many advanced editing tools as well. You can record the screen and edit the video by applying filters, transitions, animations, split-screen effects, text or background music, etc. In addition, there are so many flexible output options for you, including various media formats, mobile devices or web video sharing platforms, etc.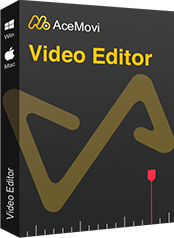 TunesKit AceMovi Video Editor
Security Verified. 5,481,347 people have downloaded it.
Easily crop MP4 file on Windows and Mac computers
Crop MP4 or other videos with high quality retained
Allow you to adjust the aspect ratio of your MP4 video
Provide filters, transitions, text, sound effects, background music, etc.
Friendly UI and easy of use
How to Crop MP4 Video on Mac/Windows Computer
First of all, you're suggested to hit the 'Download' link above to download and install TunesKit AceMovi video crop editor on your Mac or Windows laptop. Then, you can follow the simple steps below to crop MP4 videos without compromising the original quality easily.
Launch AceMovi and Add MP4 File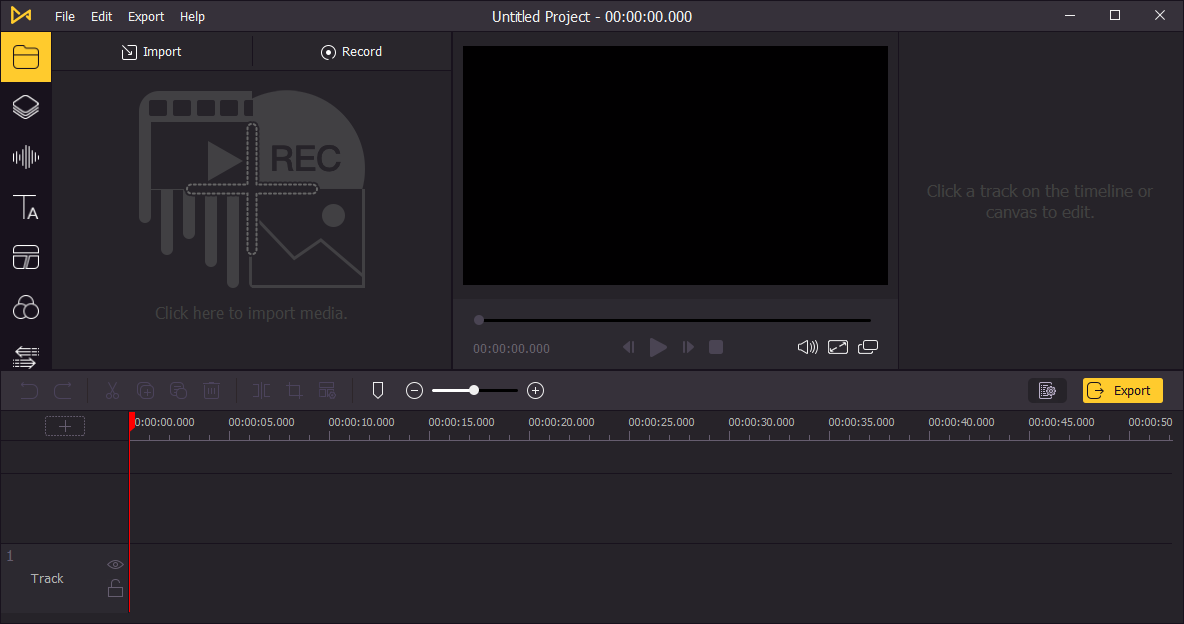 Open TunesKit AceMovi Video Cropper program on your computer running Mac or Windows operating systems. After that, click the big '+' icon or 'Import' button to add your target MP4 video files that you need to crop. Next, you can drag the file from the media bin and drop it to the timeline for cropping.
Crop MP4 Video on Windows 10/Mac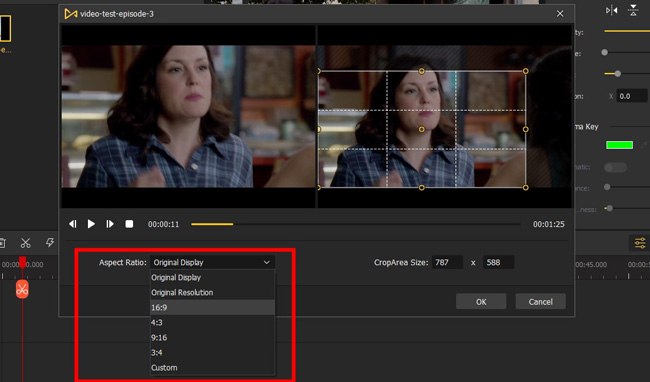 There are two ways to crop a MP4 video on Mac and PC. One way is to right-click on the file and choose the 'Crop' option. A new window will come, along with two preview sections for you. You can now crop the unnecessary parts of your MP4 files and see every change you made on the preview windows. The other method is to click on the file to choose the 'Crop' icon

on the toolbar. And then you are able to crop MP4 on Windows or Mac computers based on your needs.
Export the Cropped MP4 Video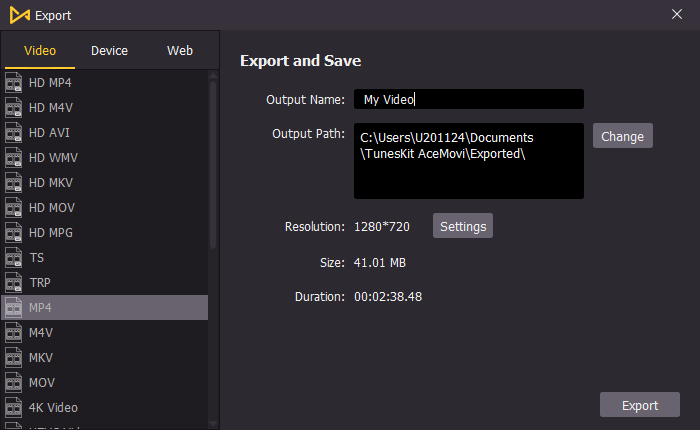 After you've set it all, just click the 'OK' button to confirm it and exit the cropping windows. Then click the yellow 'Export' button to save your cropped MP4 video file. Here you'll be able to select an output format for your file, change the file name or output path. Then click the 'Export' button again to confirm the action. Your cropped file will be saved to your local computer in one minute.
Part 2. How to Crop MP4 on Mac/Windows via Video Cutter
Although it's usually used as a lossless video cutter, TunesKit Video Cutter also works well in video cropping software. Not only MP4 video files, it supports tons of other video file formats including MOV, AVI, WMV, M4V, MPG, MPEG, 3G2, 3GP, ASF, RM, RMVB, DAT, FLV, MKV, VOB, OGV and so forth. Besides, you can also save and export the edited video file onto various portable devices such as iPhone, Galaxy, Windows Phone, Xbox, PS4, smart TV, etc.
It provides you a real-time preview function to crop an MP4 video on Mac and PC, so that you see any change you made in the preview windows. Furthermore, this video crop editor can do more than just cropping videos; users can also add background music to the video, apply watermarks, subtitles, special effects, trim and rotate the video clip, and more.
Key Features of TunesKit Video Cropper:
Easily crop MP4 video on Mac or Windows platforms
Support numerous video file formats and mobile devices
Provide multiple other video editing features
Real-time preview function is offered

How to Crop MP4 on Windows 11/ Windows 10/ macOS 12
Cropping MP4 files with this robust MP4 cropper is very easy and users can finish it in just 4 steps. The free version of TunesKit Video Cutter offers you five chances to crop MP4 video for free. Now let's dive right in.
Open TunesKit Video Cutter and add MP4 file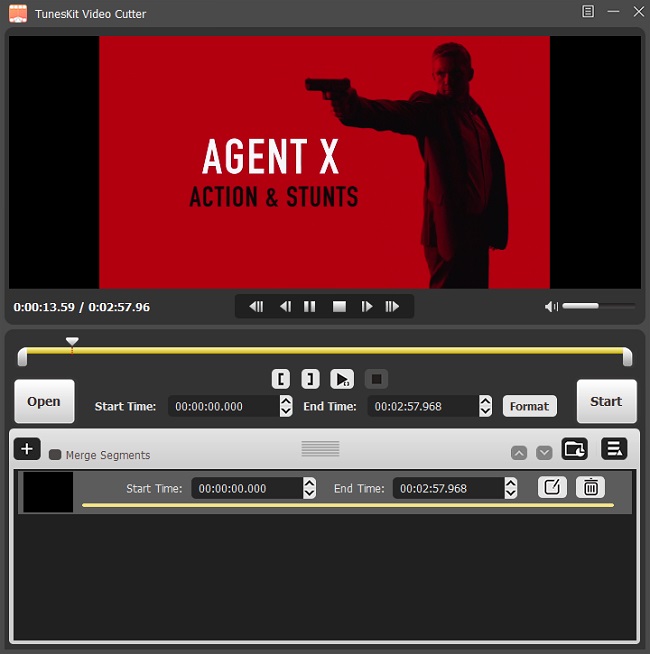 Before getting started, you need to download and install TunesKit Video Cutter program on your computer. After that, just double click the icon and launch this excellent MP4 cropping tool. Next drag and drop MP4 file you'd like to crop to the software, or click the 'Open' button to browse your target MP4 file from the local folder of your computer and upload them.
Crop MP4 on Windows/Mac for free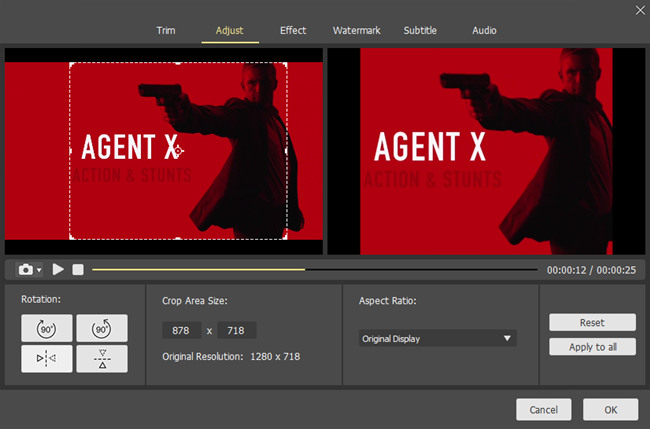 Once the file is imported successfully, you can then click the 'Edit' icon

and here comes a editing window. There are six options on the top menu bar, press the 'Adjust' option to crop MP4 on Mac and PC. You will see two preview windows. You can move the white lines to zoom in or out the original video file in left window and then see the effect in the right window. Alternatively, you can simply enter the accurate value for the width and height of the video file in the section of 'CropArea Size'. Afterwards, click the 'OK' button to escape the window.
Select an output mode for cropping MP4
Then you need to choose an output format for cropped MP4 videos in this step. Select the 'Encoding Mode' here and you're also allowed to change the file format, quality and codecs. And then choose an output video format or device according to your needs. Hit the 'OK' button to close this popup window.
Start to crop and save the MP4 video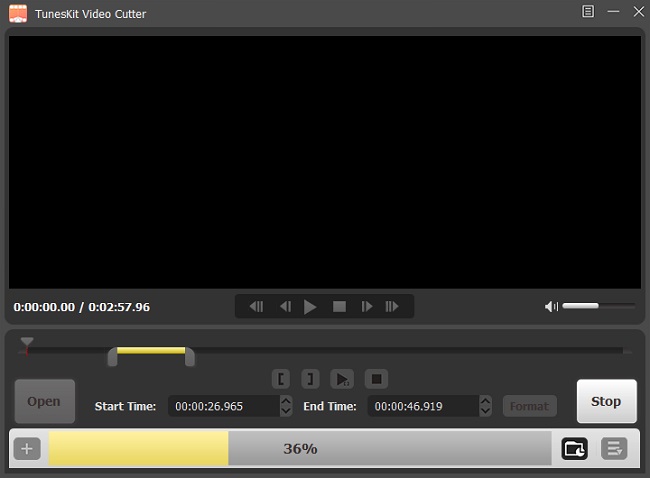 After all settings are ready, you can now click the 'Start' button to ask TunesKit Video Cutter to crop an MP4 video for free for you. A few seconds later, you can find your new cropped video file from the destination folder.
Part 3. How to Crop MP4 Files via VLC Media Player
Apart from using some third-party MP4 video editing and cropping software, an all-in-one media player also a recommended appoarch to crop MP4 files. VLC Media Player is one of the extraordinary multimedia players that are capable of cropping videos. What's more, as a free and open-source program, it enables users to crop MP4 for free.
As a class-platfrom media player, VLC is compatible with not only desktop operating systems but also mobile platforms. That's to say, you are bound to rely on this tool to crop MP4 files on Mac, PC, iPhone, Android devices, and more. But it's well noted that there is no real-time preview window while cropping MP4 videos using VLC. You can get the route on how to crop MP4 files with VLC Media Player below:
How to Crop MP4 Files for Free on Mac / PC
Step 1. Please fire up the VLC Media Player and click the 'Media' > 'Open File...' button to load MP4 files to this player.
Step 2. Hit on the 'Tools' > 'Effect and Filters' option from the top-right menu toolbar, it will pop up an 'Adjustments and Effects' setting window. In the new panel, you can touch the 'Video Effect' > 'Crop' section to customize the value in pixels. It will remove parts of your MP4 files from those four sides according to the values you set.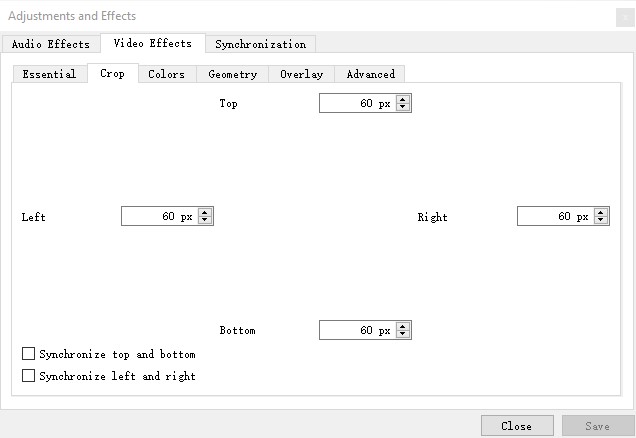 Step 3. Click the 'Close' tab, and go back to the interface. Please press the 'Tools' > 'Preferences' button to open the preferences setting window. Click the 'All' on the option of the 'Show settings' section, it will change to advanced preferences.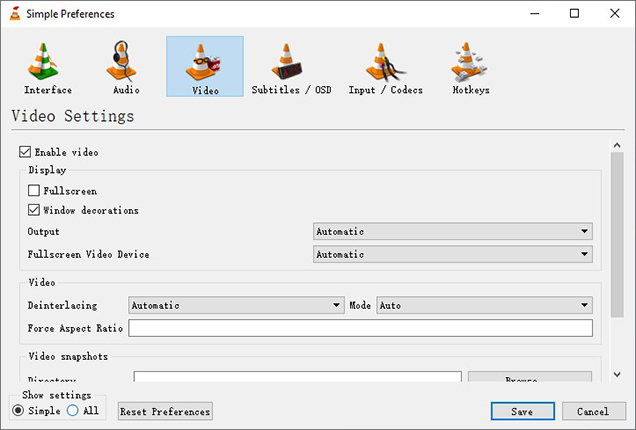 Step 4. Go to the 'Video' section, and choose the 'Croppadd' option under the Filters by clicking the arrow. You will need to type in the same pixel values that you set before. Click the 'Filter' again to check the mark before the 'Video cropping filter' option and press the 'Save' button.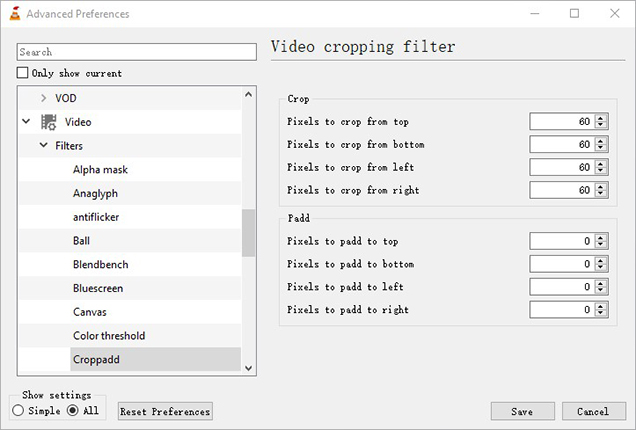 Step 5. In the main panel, click the 'Media' > 'Convert / Save' > 'Add' button to import an MP4 file to VLC Media Player again. Click the 'Convert / Save' button at the bottom corner to the conversion window.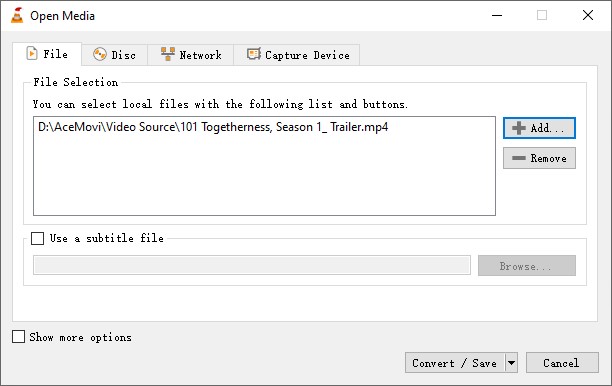 Step 6. Please scrool down under the 'Profile' to choose the target output video parameters. And then, click the 'Edit' button to open the profile edition window to hit on 'Video codec' > 'Filters' > 'Video cropping filter'.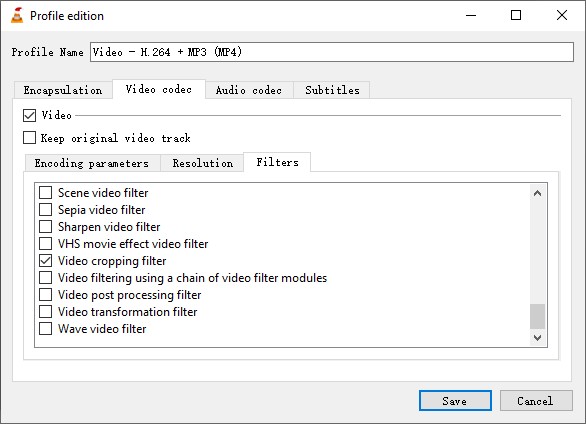 Step 7. Now, please tap the 'Browse' button to define the destination folder for cropped MP4 files. After that, you can click the 'Start' button to crop MP4 videos for free with VLC Media Player.
Part 4. How to Crop MP4 Video Online with Online Video Cropper
To use the above MP4 video cropper tools, you have to download and install an extra application on your device. You might also want to know whether there is another method to crop MP4 online. Then, an online video cropper could be the answer, which is able to make it possible.
Let's take advantage of some online video cropping tools to crop MP4 video online for free. There are several such tools on the Internet such as Online Video Cutter, Ezgif.com, Clideo, and so on. After testing some of them, Online Video Cutter is recommended here because of its speed and simplicity. The following is the quick instruction of this smart video cropper online.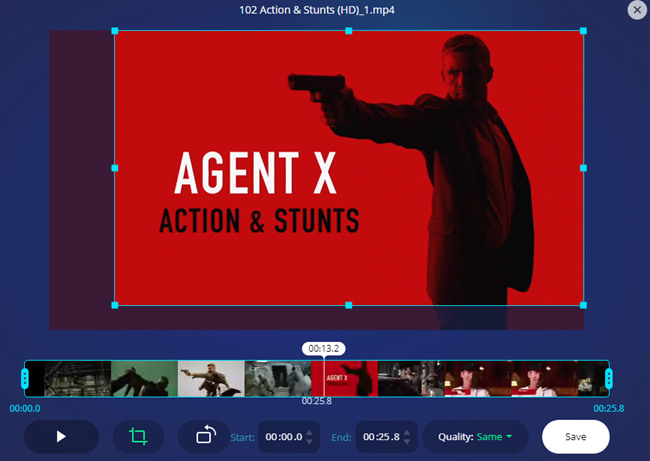 Upload an MP4 video file online
First of all, please visit the official site of Online Video Cutter on your web browser. Then click the 'Choose file' button and import the MP4 video you want to crop. Click the small dropdown triangle button and it offers you opportunities to upload video from Dropbox, Google Drive or online.
Crop MP4 online for free
Then you'll see your MP4 video in the preview window. You can now move the blue frame to crop the MP4 file online based on your requirements. Or click the 'Crop' icon on the left to choose a resolution ratio you want. There are several ratios for your reference like 4:3 for classic TV, 4:5 for Instagram, 16:9 for widescreen TV, etc.
Save the cropped MP4 video
After set all the preferences, now click the 'Save' button on the lower right corner. Wait a while until the processing is done. Afterward, you can click the 'Download' button to export the new MP4 video to your Mac or Windows computer or transfer it to the Dropbox or Google Drive.
Part 5. FAQs about Cropping MP4 Videos on Windows / Mac
Here are some frequently asked questions by users about cropping MP4 videos. Hope you can find an answer or solution to your question about cropping files in this part.
Q1: Why do you need to crop MP4 Videos?
There is a common perception that Windows Media Player doesn't feature an 'Edit' function. Therefore, if you'd like to crop an MP4 with Windows Media Player, you'd better install plug-ins, like SolveigMM WMP Trimmer to achieve this goal.
Q2: How to crop MP4 videos with Windows Media Player?
Under the following three situations, users need to crop MP4 videos. Different video-sharing platforms have different requirements of aspect ratio. And users have to change the frame proportions of video files. The MP4 video you shoot has black bars and cropping is the easiest way to remove black bars. Besides, some users just want to delete unnecessary video content via cropping way.
Q3: What you should do before exporting cropped MP4 files?
Please preview the cropped MP4 files to confirm that the exported video is what you want, such as the cropped video's aspect ratio. You also need to check that the output parameters match to get the best video quality.
Q4: Which is the best MP4 video cropper?
Take a quick look at the chart comparison among the top 4 video cropping software below. Then you can find the answer for the best MP4 cropper.
| | | | | |
| --- | --- | --- | --- | --- |
| | TunesKit AceMovi | TunesKit Video Cutter | VLC Media Player | Online Video Cutter |
| High-quality Cropped Video | Very High | High | Medium | Medium |
| Aspect ratio options | √ | √ | √ | √ |
| Other basic editing | √ | √ | √ | √ |
| Other advanced editing | √ | × | × | × |
| Ease of use | Easy | Very Easy | Complicated | Easy |
| Supported system | Desktop (Mac & Windows) | Desktop (Mac & Windows) | Desktop / Mobile | Web-based |
| Price | $19.95/month | Free (5 times) | Free | Free |
Part 6. The Bottom Line
So these 4 methods can help you crop MP4 video on Mac, Windows computers and each has its pros and cons. You can try them and find the best option.
The online tool doesn't require you to install any software, yet its success rate has many relations to the Internet connection speed and it might be unstable sometimes. The VLC media player is too complicated to operate, which is not friendly to new beginners.
TunesKit AceMovi is chargeable, yet it will guarantee a good user experience with high performance and high output quality. So you can give it a try if you care more about the quality of cropped MP4 videos. If you still want a free tool, TunesKit Video Cutter can also be a good choice to crop MP4 files.