Many people love free video cropping software. After all, who doesn't want to get the video cropped without charge? But most free video cropping software suffer from drawbacks, such as slow and laggy operation speed, constant crashes, risk of downloading malware or virus, etc. Luckily, you can stop looking now and take a look at the list of the 7 best free video cropping software.
How Do We Rate Video Cropping Software
1. Authenticity: Since we are looking for freeware, the most important thing about the reviewed software is that it should be really able to crop videos without any problem. This will also help you avoid malware and viruses.
2. Cropping Ability: A enjoyable cropping experience speaks louder than anything.
3. Smoothness: The program should not be too laggy for the users to tolerate.
4. Features: Additional and useful features come as icing on the cake.
5. Results Exportation: It whether the cropped videos can be output to various formats fast enough.
6. Customer service: Most freeware providers wouldn't even bother to listen to their users, but some are exceptions.
The Best Video Cropping Software
TunesKit AceMovi (Mac and Windows)
After our close review, TunesKit AceMovi Video Editor is awarded the best on the list. TunesKit AceMovi is a powerful video cropper that is designed to be as user-friendly as possible. Cropping is intuitive, as you simply need to mark the clip you want to crop and adjust the crop area, whose ratio can also be configured. Aside from the amazing cropping ability, the software has other useful features, such as splitting screen, rotating which becomes very handy combined with cropping, text adding, templates for transitions, and filters, which are all highly useful when combined with cropping. All those features, though sound a bit complicated, can run smoothly and are easy-to-learn.
In terms of results exportation, dozens of video formats with customizable resolutions are presented for you to choose from. The free trial version really allows the users to save export projects with a tiny watermark, which will be gone once you purchase the program. Feel free to consult their customer service team with any trouble you have, as they always give you timely feedback. There are many tutorials on their website to help you get over the difficulties.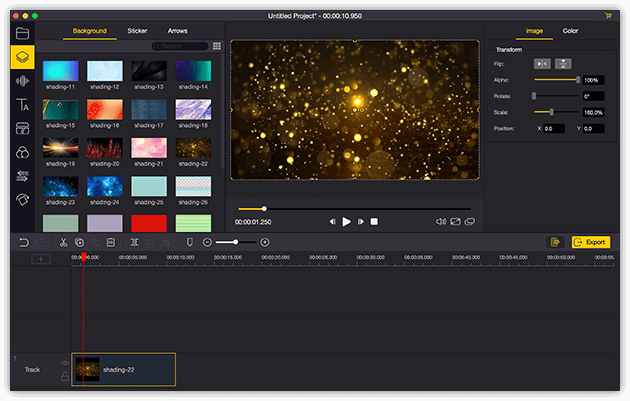 Pros:
1. Smooth and convenient cropping experience
2. Diverse features for professional editing
3. Well-designed learning curve
4. Timely and effective customer service
Cons:
1. The watermark can only be removed after subscription
See More: [Fixed] How to Crop MP4 Videos on PC/Mac
Other Free Video Cropping Software
iMovie (Mac Only)
iMovie is being pre-installed on every mac device free of charge, but that doesn't mean it's not good enough. Just like most Apple-designed apps, it's highly useful and user-friendly. A beginner user who might just want to crop videos from time to time won't need too much time to get used to iMovie. As long as the video is of extremely high quality, such as 4K or 8K, the cropping will work with little to no lags. The fact that you can even use it on portable iOS devices, such as iPad and iPhone, increases your cropping efficiency. The customer service is above the bar of Apple customer service. You can even expect new features from the developers even though iMovie is merely a freeware.
Upon using the app, you have to accept the fact that it is not equipped with many extra features. Plus, Windows users might not be able to enjoy it, not to mention the export options is pretty limited.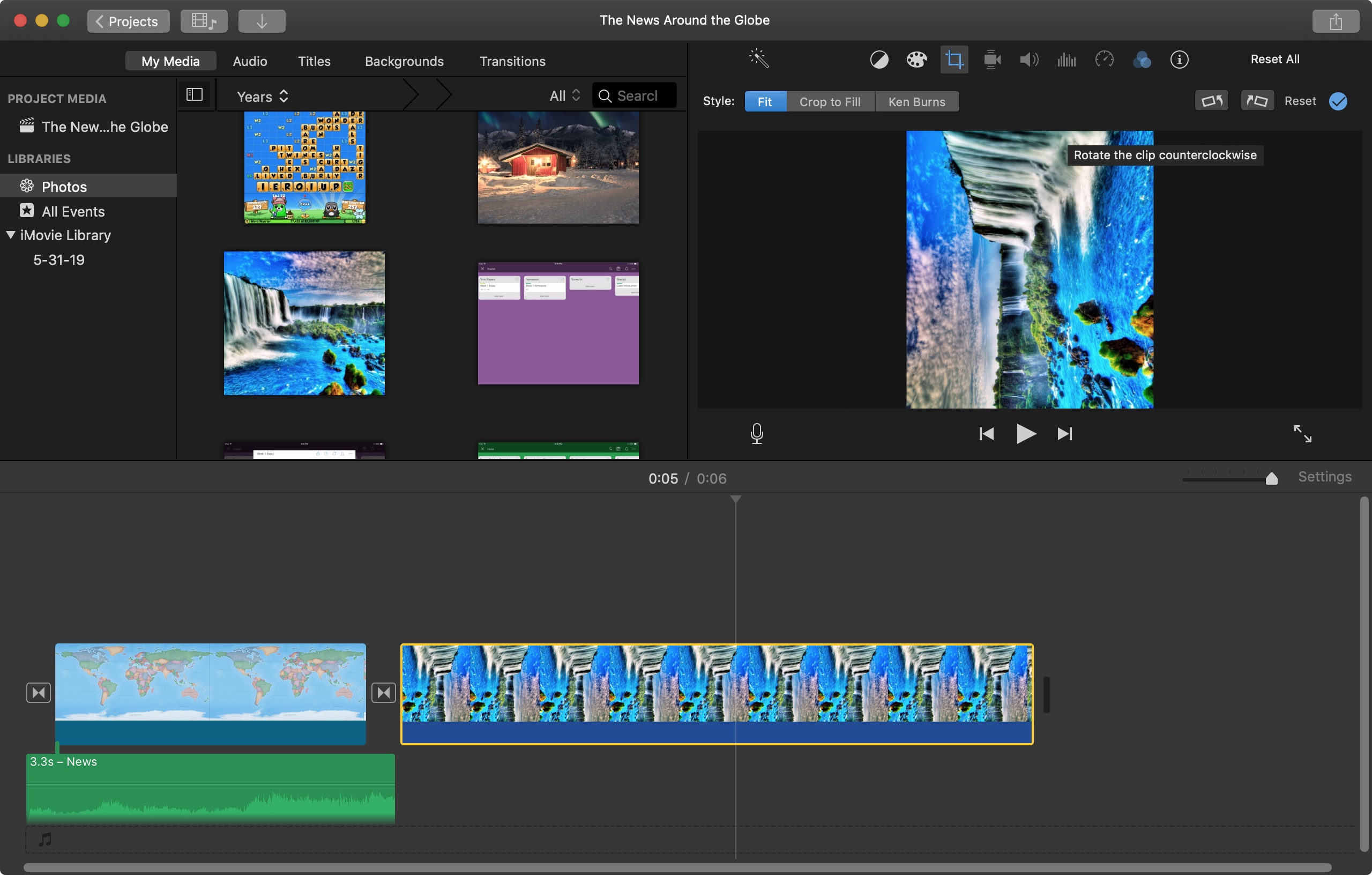 Pros:
1. Clean, intuitive and user-friendly design
2. Available on iOS mobile devices
3. Free of charge without any watermark
4. Apple ecosystem
Cons:
1. The functions are too basic
2. Not available on Windows
3. Limited export options
4. Do not support videos of 4K or even higher quality
Freemake Video Converter (Windows Only)
Freemake is a famous freeware provider target at videos specifically, therefore, its video converter maintains the high quality of Freemake. The program comes with many strong features, one of them is to stretch, zoom or crop videos easily. The "Auto-adjust" features are quite useful as it will automatically reshape the video dimensions according to the targeted devices, such as TV and desktop. The cropped videos can be converted to a large number of formats. If you ever find trouble using this established video cropping tool, just resort to their tutorial videos on YouTube to solve your problems.
Unfortunately, Freemake is only available on Windows, which is bad news for Mac users. The UI design is not as good as other software in this list. Plus, the frequent ads in this software are rather annoying, so you might want to think twice before you install it.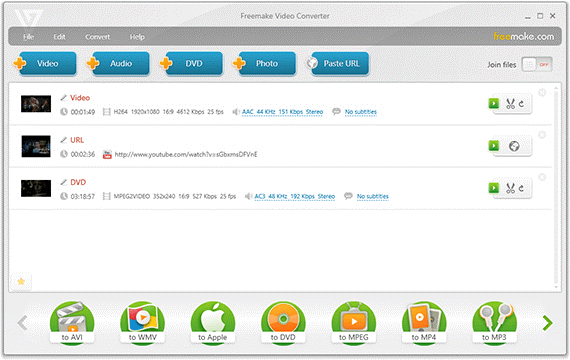 Pros:
1. Reliable brand
2. Useful "Auto-adjust" feature for users
3. A great number of tutorial videos
4. Abundant export choices
Cons:
1. Poorly designed UI
2. Available on Windows only
3. Frequent ads
Handbrake (Mac and Windows)
Handbrake is an all-in-one video freeware toolkit, and video cropping is one of its major functions. The program processes and crop video at a fairly high speed, and most projects run smoothly in it. Besides, it is able to maintain the original resolution ratio while cropping. Extra features include import of subtitles, customizable filters, audio adjustment, etc. The batch processing really draws our attention because it will potentially increase the cropping efficiency greatly. Specifically, it allows you to edit a folder of videos at one time.
It is worth noting that Handbrake will crop the whole video, which means it's impossible to crop selected clips in Handbrake. Also, it cannot zoom a specific clip in a video.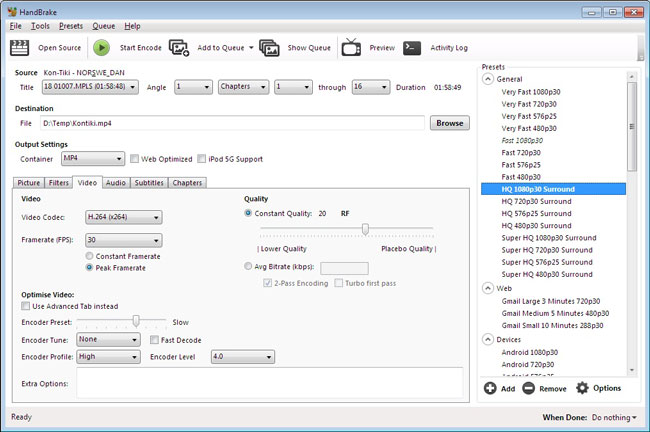 Pros:
1. Fast video loading and processing
2. Maintain resolution ration while cropping
3. Batch processing a folder of videos
4. Useful extra features
Cons:
1. Crop entire videos instead of letting users select parts of them to crop
2. Unable to zoom
VLC (Mac and Windows)
It might surprise you, but VLC is more than a good video player. The program is able to process videos of different formats and render them. To crop video, simply input the pixels in the settings menu and export the video. About the extra features, you can customize filters, audios, and subtitles.
However, it can only crop a whole video instead of selected segments. The UI design is more suitable to play videos rather than editing them.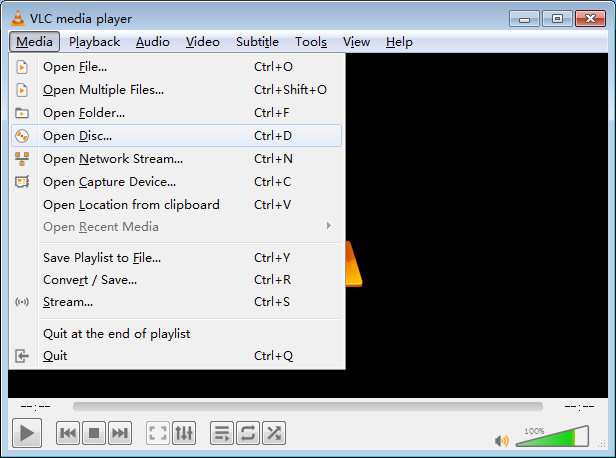 Pros:
1. Fast video loading and processing
2. Able to process videos of various formats
3. Useful extra features
Cons:
1. Crop entire videos instead of letting users select clips to crop
Clideo Crop Video(Mac and Windows)
Clideo Crop video is hands-down the best online video cropper. The UI is so beautiful and intuitive that you will know how to crop your video the second you enter their website. Just by clicking the big Upload button to upload your videos and a few minutes later you can crop them. What amazes us in the testing process is the great compatibility. When your browser is not compatible with the Clideo cropping tool, the online cropper still extracts a still image from the video to let your finish cropping. Also, unlike many online tools, Clideo doesn't shuffle a ton of ads on your face.
But Clideo is still an online tool with many drawbacks. The length of video uploading and processing is considerably long, and the cropping options are very limited. There is no much extra feature, which might disappoint professional users.

Pros:
1. Easy to use – with a stable Internet connection
2. Beautiful and intuitive UI design
3. Little to no ads
Cons:
1. Limited features
2. Slow video uploading and processing
Online Video Cutter
Online Video Cutter is another amazing online video editor. When you crop video with it, many preset options, such as 4:3 and 16:9, are provided to make the cropping easier. Of course, the ratio can also be customized by yourself through dragging the crop frame or input the exact pixels. As its name indicates, this online tool comes with video trimming and cutting ability to seconds. It can also adjust volume, rotate, change the play speed, which all come in handy. It's also worth noting that the website is clear from ads.
As for the drawbacks, it doesn't allow you to select clips to crop, nor you can add filters to the video. Besides, the processing takes a pretty long time.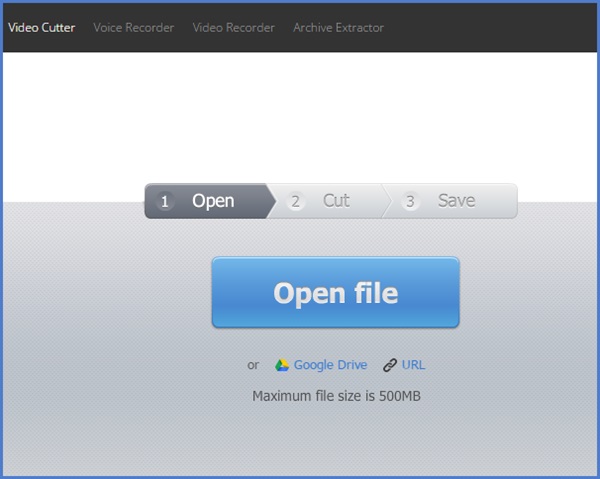 Pros:
1. Easy to use
2. Enough number of features for an online tool
3. Little to no ads
Cons:
1. Slow video uploading and processing
Conclusion
To fulfill different cropping demands of different users, we have listed the 7 best free video croppers. Part of them may export videos with watermarks but also offer many extraordinary editing features other benefits, while the rest are freeware that is easy to use. Some of them are online tools that can be easily used, and others are not even cropping software. Nevertheless, we can guarantee the quality of our recommendations and hope you can find the perfect one on the list that suits you.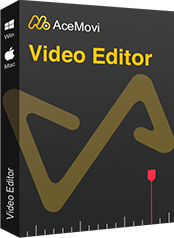 TunesKit AceMovi Video Editor
Security Verified. 5,481,347 people have downloaded it.
Best easy-to-use non-linear editor for cropping video
Make and enhance videos with basic and advanced editing features
A wealth of filters, transitions, PIP, sound effects, text, templates etc.
Flexible and numerious output options including format, device, social platform