Showcasing videos on social media is a booming norm. Besides common users, brands are intend to tell stories on different platforms to enhance business reputation and make a packet. The engagement you could get through is immense, and video content draws more engagement than any other method.
Nevertheless, you cannot generate a perfect clip in one go as you might need to tinker with the video to make it eye-popping for a particular project. Of all the things you could do to make the content go viral, cropping a video is one of the most significant things. Since MP4 is the most trendy video format, you might consider looking for a reliable MP4 cropper. This post reveals the top MP4 video croppers with and without watermarks.

9 Best MP4 Croppers for Windows & Mac [2022]
It's a better choice to edit multiple files on your computer compared to those online tools. More professional and cool features are involved in computer video editing software to burn your clips into the top. Here are the easiest MP4 video croppers are proven excellent. Let's move on!
Top 1. TunesKit AceMovi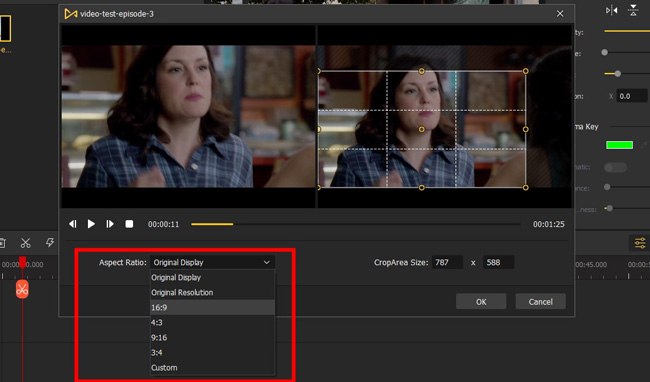 Not many video editing tools offer more quality services than TunesKit AceMovi MP4 Video Editor and Cropper provide. If you're to crop an MP4 video to make it relevant and ideal, you won't find any better MP4 cropper than AceMovi.
The best talking point about AceMovi as the best video cropping tool is that it maintains the original quality of your video. It means zooming in and out your clips without losing resolution quality. Apart from cropping your videos, it has more versatile features; some of the most popular would be the use of split-screen, chroma-keying, and slow-motion.
More than that, AceMovi enables you to trim, adjust the speed of the video, apply filters, overlay animated texts, and explore various themes. Of all the things you discover from here, the presence of a user-friendly interface that covers all the buttons on one screen will leave you with quicker and easier video-creation experiences.
AceMovi MP4 Cropper
Contain Square(1:1), Horizontal(16:9), Vertical(9:16)
Customize your MP4 videos with meticulous values
A standalone advanced canvas for MP4 cropping
Export video in any video format up to 60FPS
Run on Windows and Mac systems for a free trial
Clutter-free user interface with trackless timeline
Video Tutorial: How to Crop an MP4 Video with AceMovi
Top 2. iMovie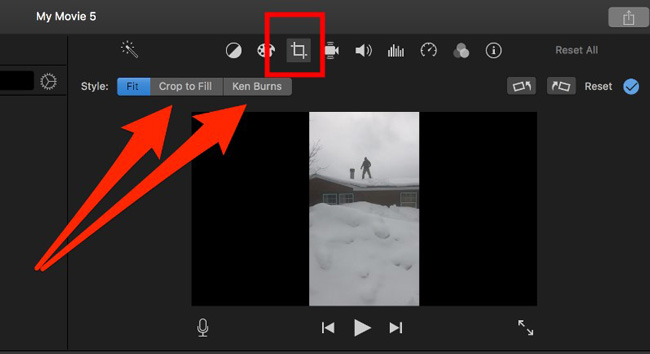 iMovie is a reputed free MP4 cropper that allows you to crop and adequately edit a video. If you want to crop MP4 videos on iPhone and Mac, iMovie is supposed to deal with it in a couple of clicks. Apart from cropping the video, you can add titles and effects to enhance the beauty of your video.
Once you're done editing the video, you can share it with your friends on social media, including Facebook, Instagram, and other platforms. iMovie makes itself stand out for the reason that it's an MP4 cropper with no watermark left after the project is completed. For Mac users, you need to hit the "Cropping" button in the upper right corner; while for iPhone users, it's required to click the button by sliding the toolbar.
Pros:
Performs excellent on iOS and Mac OS
A free MP4 video cropper without watermark
Many transitions and music tracks in the stock
Simply quipped user timeline and track
Cons:
The storage requires high, while Windows and Linux are prohibited from downloading it
Top 3. Avidemux
You may want to find an MP4 Cropper free and no watermark for Windows, Mac, and Linux. In this case, Avidemux comes up and shows its ability in the cross-platform state. It is a high-quality video editor that aims to make your video worth remembering. On top of that, cropping the video on this tool is pretty simple as it embraces an easy-to-use interface.
From adding the brilliant filters to applying breathtaking transitions, Avidemux has got all covered. So, how to crop MP4 video with Avidemux? All you need to do is upload the files into the timeline, then click the menu "Video Filter". Then you see the "Video Filter Management" where you can customize the canvas's aspect ratio or make MP4 cropping.
Pros:
MKV, MP4, WebM, AVI, and FLV are provided
You can convert video and audio into other formats
720p resolution downloading
Zoom 2:1, 4:1, 3:1, and 1:1 with one click
Cons:
It's not fit for editing and cropping multiple MP4 videos
With Avidemux, you may need to learn from tutorials the same as using VLC Media Player
4. Windows Movie Maker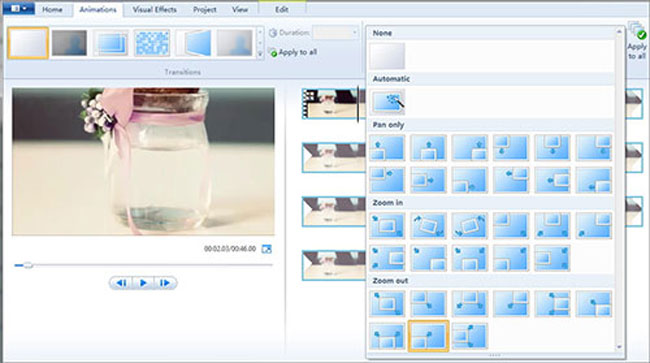 You'd have heard about Windows Movie Maker, an actually hidden yet quite stylish video-cropping program that empowers you to crop the video and make it perfect for the current projects.
It is a free MP4 cropper that doesn't charge any fee and comes with no watermark. Instead, you can perform various video editing activities for free. Apart from cropping the video, you have the opportunity to explore other fascinating features, including titles, translations, effects, and video publishing.
Pros:
It's a video cropper leaves no watermark
A bunch of classic and smooth transitions
Trim out unwanted clips
Share to Instagram and Facebook
Easy-to-navigate user interface
Cons:
The software needs more advanced editing features, such as chroma-keying and color grading
Top 5. VLC Media Player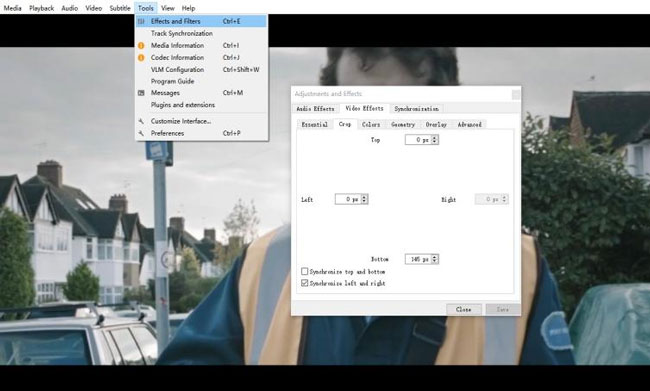 As one of the most engaging linear MP4 video cropping and resizing software free for Linux, Windows, and Mac, VLC is a media player that allows you to mix audio and videos. Surprisingly, it comes with fascinating video editing abilities, and the ability to crop MP4 videos is one of the significant features of this tool.
Using this breathtaking tool, you can easily crop the video without compromising the resolution quality of your video by going to the menu "Tools" > "Effects and Filters" > "Video Effects" > "Crop". Moreover, you can also reveal some other features, including trim, filters, text, and many more. You need to click the menu to learn how to make accurate parameter settings, including but not limited to the values of audio bitrate, codec, and sample rate.
Pros:
Compatible with various platforms
Add subtitles to the clips without delay
Render 3D effects from the stock
Open-source MP4 cropper and player
Cons:
It's not a streamlined video editor
Hard learning curve
Top 6. Easy Video Maker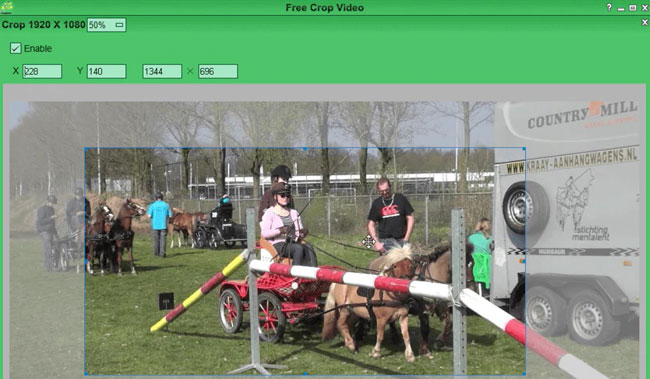 Easy Video Maker is a free MP4 cropper that can make your video top-notch. Interestingly, it allows you to crop the video in various output formats. The best thing about this tool is its interface; you'll only need to skim through a few steps to get your job done.
Furthermore, this tool doesn't threaten your system, and you can install it on your PC without any fear. You can crop the MP4 footage into 1920*1080 resolution, or directly fine-tune the window in real-time. Easy Video Maker displays your actions without the loss of time.
Pros:
Beginners-friendly profile
Customize the aspect ratio in real-time
High-quality outputs
Fill in the blank dialogue boxes
Cons:
It needs professional skills, like split-screen and slow-motion
Top 7. Sony Vegas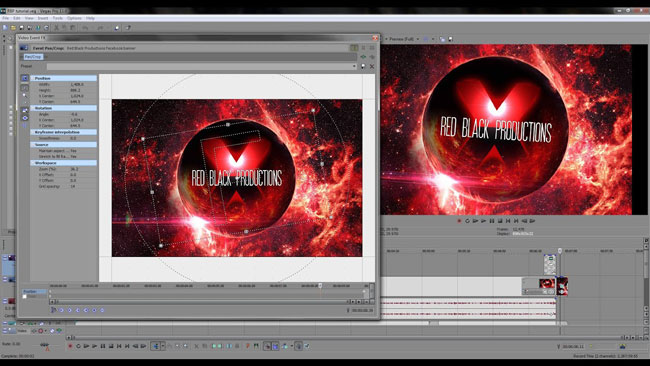 Although you can only use this tool on Windows, it has superb features to help you crop the video with minimal effort - The Sony Vegas. Many people rate this tool highly, and you won't face any difficulty cropping and editing MP4 videos on this tool.
One of the best things about this MP4 cropper is that it comes with 24p, which makes it an excellent video converter. Surprisingly, it also allows you to explore various breathtaking features and effects, including 3D charts and VR editing mode.
Pros:
Unlimited tracks for adding MP4 clips
Accurate parameters for the four directions
A specific window for the video-cropping workflow
Turn to edit, trim, crop, split, and speed MP4 videos
Cons:
Not easy for those first-time users in the video editing field
High-end system required
Top 8. Lightworks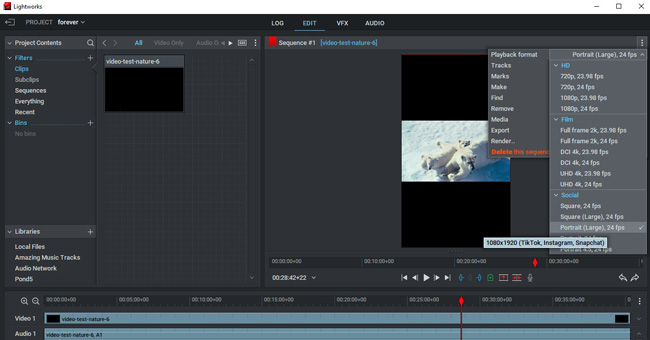 Lightworks is a watermark-free (up to 720p) MP4 video cropper that performs multiple editing operations on your videos and helps you generate attractive and pleasing to the eyes' content.
If you're to crop a video on Lightworks, it won't disappoint you as it allows you to cut the video from any angle you'd want. Or you can bluntly select the ready aspect ratios for social media and other projects, including HD, Film, and Social panels.
Surprisingly, it also doesn't tinker with your video's quality; you can download the video in original quality after editing it on Lightworks. But for free licenses, only H.264/MP4, with HD resolution is accessible.
Pros:
Professional audio mixing
Export video into pre-made aspect ratios
Save videos in the stock
Watermark-free service up to HD resolution
Cons:
You cannot download the Full HD videos or convert videos to other formats on the free version
You may need to log in every 7 days for the safety concerns
Top 9. Kdenlive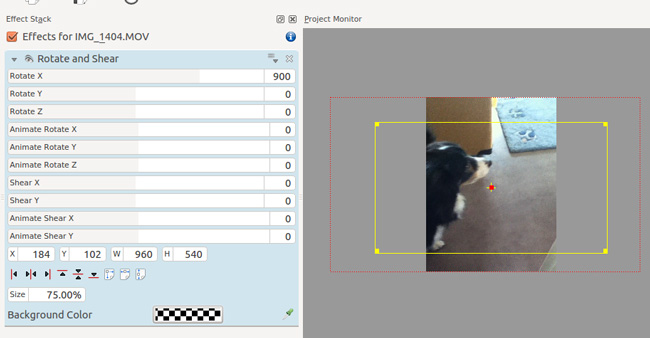 Kdenlive is certainly a fantastic video editor that can be a game changer if you're looking to make it worth watching. You can use this tool on Linux, Mac, and Windows. This video editor has advanced and essential video-cropping features that can take your video to the next level.
You don't need to put hard yards when cropping a video on this tool to get your thing done. In practice, all you need to do is install the software and then launch it afterward. After uploading the video to the timeline's interface, you can perform multiple editing operations.
Pros:
Object detection and monitoring
Fade in and fade out the audio track
Change video background colors
Accurate values to put in the clip
Cons:
Fewer buttons to set the aspect ratio
6 Best MP4 Croppers Online Free [2022]
Want to know which one is the best MP4 video cropper for online free? Here are some of the best customer-centered video MP4 cropping, editing, trimming, splitting, and converting programs that will surprise you! Just scrolling down.
Top 1. 123APPs

If you want to know which one is the best MP4 cropper free online without watermarks (720p resolution is free yet 10800 is not). 123APPs online video-production toolkit must be one of the good options. You don't need to install software to edit the video on 123APPs.
To crop MP4 videos with it easily, all you need to do is visit any web browser and navigate to the official website of 123APPs. Next, you'll need to upload the video you'd like to crop, and this online tool won't take extra time before getting your video cropped. It is worthy of mention that the interface has access to turn to edit, split, speed, split, and do more jobs.
Pros:
MP4 video editor without leaving any watermark up to the HD
Easily switch to other features
Newbies find it straightforward to use
Many preset video dimensions included
You don't need to log in at the first hand
Cons:
A lot of annoying ads will come up
The large file is not suggested to upload to this tool
Top 2. WeVideo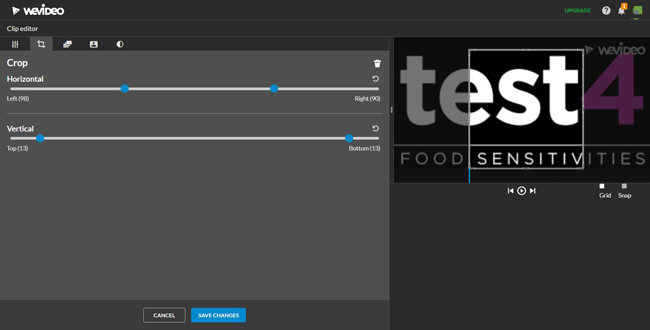 Before editing and cropping your clips on WeVideo, you'll need to sign up with this free online MP4 cropper. After creating the account, you've got the leverage to visit this tool's website and perform various video editing activities on your video.
This tool is also embedded with a premium version that enables you to explore advanced features, and in this way, you can apply breathtaking features to your video content. One of the notable things you do need know is that you need to click the clip in the timeline to launch the Video Cropper. When you see the professional window, you can choose to customize the canvas or adjust the sliders.
Pros:
Streamlined online MP4 cropper
A plethora of video transitions
Export audio only or convert video into GIF
SD resolution (852*480) is free
Share video to YouTube, Vimeo, Google Drive, etc.
Cons:
A new account necessary
HD, Full HD, and Ultra HD are provided only for premiums
Top 3. Media.io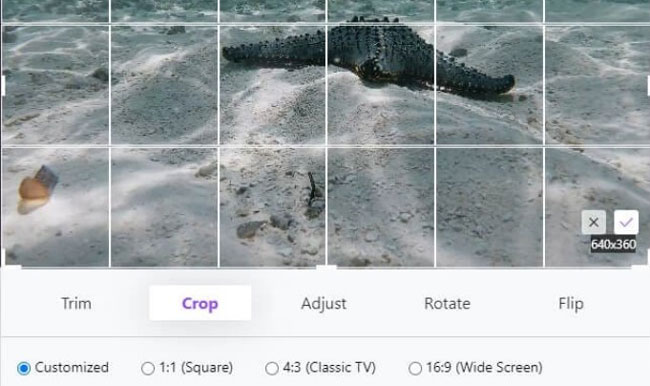 If you don't want to install software to crop a video, Media.io can be an appropriate option. It is an outstanding cropper online that enables you to crop the video according to the needs of the platforms you'd like to upload the video into.
Uploading the video on this tool is pretty simple, as you'll only need to visit the tool and then upload the video or paste the link of the video out there. On top of that, this tool also comes with an aspect ratio preset that allows you to crop your video into square, horizontal, or vertical directions.
Pros:
Customized dimensions for Square, Classic TV, and Wide Screen
Save to MP4 and other formats
Trim, rotate, flip, adjust, and crop as a whole process
The web-based ability makes the workflow simple and direct
Cons:
There are limits in the file size and duration when exporting if you are trial users
Top 4. Kapwing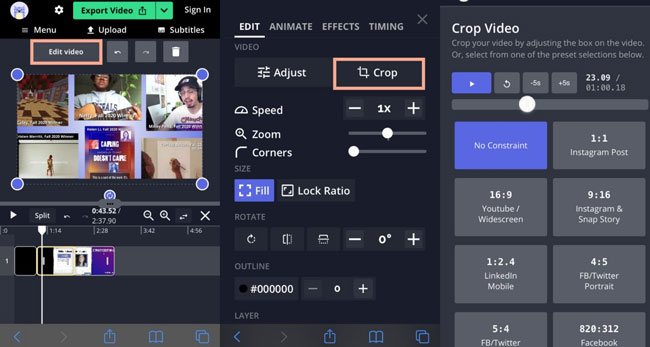 You can't rule out Kapwing when you intend to crop MP4 video for online free. It is a brilliant online toolkit that allows you to resize your video without compromising the quality and codec of the video based on your requirements.
To crop your video, all you need to do is visit the official website of this tool and then paste the video link there. After pasting the URL to a video, you can crop your video with customized aspect ratios, such as 1:1 and 9:16. Kapwing shows the power in editing batch videos easily, so you can directly corp a bunch of MP4 files with it.
Pros:
Export video up to HD at MP4 with no watermark
URL importing channel
A comprehensive video editing toolkit
Tons of new templates for different projects, like YouTube intro/outro
Cons:
Registration needed
The Full HD resolution is locked for free accounts
Top 5. Animotica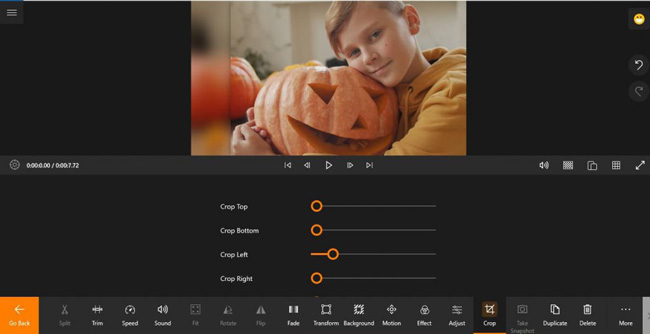 Animotica can be a befitting tool to crop MP4 videos. Although this tool comes with different techniques to crop a video, you won't see any issues using this tool. On top of that, this tool doesn't endow with the aspect ratio and original resolution of the video. It allows you to blur the entire area you'd want to crop from there.
Moreover, it has some other editing features, including adding filters and changing speed. More importantly, it doesn't offer a hectic user interface. As a matter of fact, you can quickly edit the video after installing it from the Microsoft Store.
Pros:
Multifunctional toolbar
Crop to all directions using the sliders
Add your brand watermarks
Apply speed slow-motion and fast-motion features
Cons:
The canvas cannot be resized flexibly
Top 6. Clideo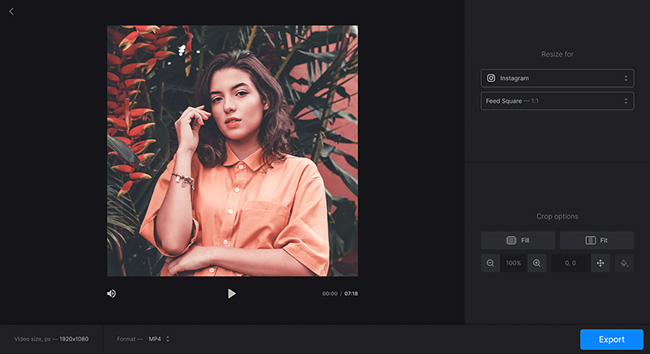 The best thing about this Clideo online MP4 cropper is that you don't need to install the software on your PC. Instead, you can visit the official website to get your job done. Of all the good things you'll hear about Clideo, it doesn't ask you to do much to crop the video. You must upload the video in the tool's interface and let the Clideo do the rest.
There is no channel for you to export videos without watermarks except for licensed accounts. Continuing to trim or merge videos is effortless to execute. What set Clideo different from others is the built-in copping results for social media, including but not limited to Instagram and Facebook.
Pros:
Direct and clean interface
Ready-made video cropping values
Fill the canvas or make it fit
HD and Full HD are allowed to download
Cons:
Watermarkings
It's troublesome to switch to other features
Final Words
Cropping an MP4 video might make your video relevant, but cropping the video inappropriately might harm the reputation of your video. Hence, the importance of looking for a reliable MP4 cropper increases significantly. Luckily, we've highlighted the top 15 video croppers that enable you to crop the videos appropriately.
All the tools are significant in their ways that add colossal value, some of them are endowed with designed options beyond expectations.