Linear video editors and streamlined video editors spread out in the digital era, they are also the main categories of software for video editing. The former is a video editing process of selecting, arranging, and modifying for entry-level users, while the latter is complicated yet multipurpose for enthusiast-level and professional-level users. There is a surprising online tool that compiles both linear and nonlinear (NLE) functions - Clideo, with 4.1M+ monthly users and 110M+ videos made in total. Audio cutter and video cutter are popular built-in features. If you'd like to know how to use and master Clideo, this post is a complete Clideo review that will tell you everything!

FAQs to Web-Based Clideo Video Editor
Is Clideo Free?
Clideo is not a free online video editor that embraces the final dumb watermarks. It is allowed to export video and audio after editing on its webpages.
Is Clideo Safe?
Clideo comes with unsatisfactory trustworthiness from WOT (a.k.a. a website safety checker). The domain blocklist status is not detected, while Clideo.com gets a good traffic volume. To conclude, Clideo is safe for common editing, such as trimming, merging, and compressing files, while privacy and confidential workflow are deprecated.
How to Remove Clideo Watermark?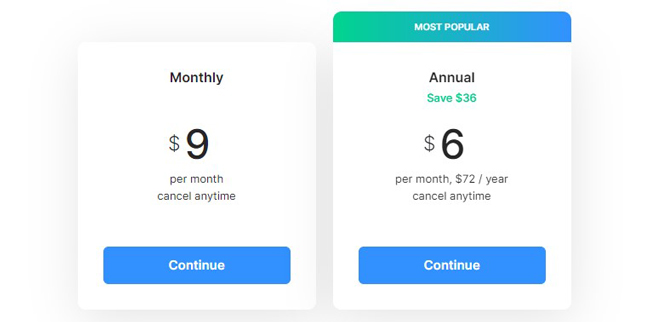 Upgrade to Clideo Pro to get unlimited storage time and make videos without watermarks. Now, Clideo Pro is selling for $9 monthly and $72 annually. The refund policy says that Clideo does not issue a refund for most conditions unless you have a good reason.
How to Use Clideo?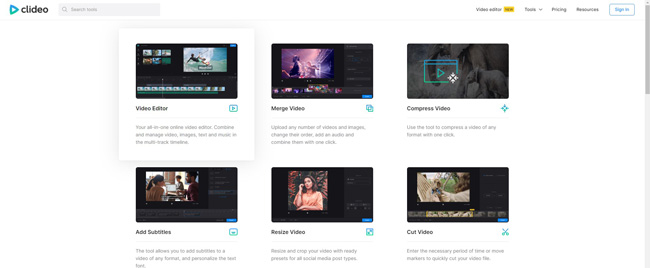 Clideo brings an all-in-one online video maker and specifies various video editing tools, such as Clideo MP3 Cutter and Clideo Audio Merger. Visiting the website of Clideo com and applying the built-in tools. If you are curious about how to make a perfect video, photo, and audio, go to the "Resources" from Clideo's interface on the upper-right pane.
How to Import Videos to Clideo?

Click the "Choose file" button to import videos from folders, Google Drive, or Dropbox. The file size is limited to 500MB max for each trial license.
Alternative: Use AceMovi No File Size Limitation with Quick Importing
Since Clideo is fully web-based, you will find it lengthy to import video files, and even the file size is limited inherently. AceMovi Video Editor has no worry of these problems with which quick importing and unlimited file size are allowed. More than that, AceMovi is feature-rich and all-purpose for the video projects of weddings, birthdays, festivals, explainers, ads, etc. No matter you are a video editing beginner or master, you can use AceMovi to make wonderful videos with ease.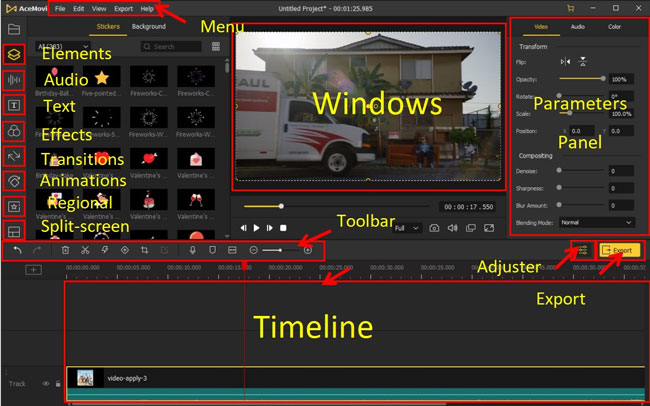 AceMovi Video Maker
All-in-one video-making toolkit for computers
Streamlined 4-panel interface and trackless timeline
Major audio and video formats boosted
Royalty-free background music to add
Cut, crop, reverse, merge, and split-screen videos
Export at a stock of aspect ratios and resolutions
How to Use Clideo Audio Cutter and Video Cutter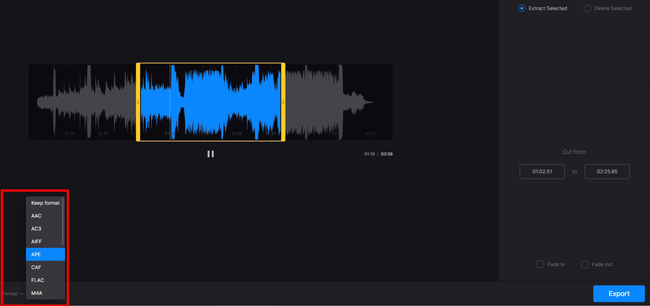 After seconds of uploading, you will be able to use Clideo Audio Cutter online. You need to hold and drop the edges of the clip to make adjustments. Clideo MP3 Cutter supports audio formats of AAC, AC3, AIFF, APE, CAF, FLAC, A4A, MID, MP3, OGG, OPUS, SPX, WAV, W64, WMA, and M4R.
There are taps to extract selected clips or delete selected clips. Fade-in and fade-out effects are applicable as well.

Clideo Video Cutter features video formats of 3G2, 3GP, AVI, ASF, F4V, FLV, M2TS, MP4, MPEG, MTS, and so on. What set Clideo different from other online video editors must include the smart object detection technology, which is bound to help in trimming out the unwanted footage exactly and precisely.
Alike, you need to tap, hold, and drop the starting and editing points of the imported clip to accomplish your video cutting.
How to Use Clideo to Merge Videos into One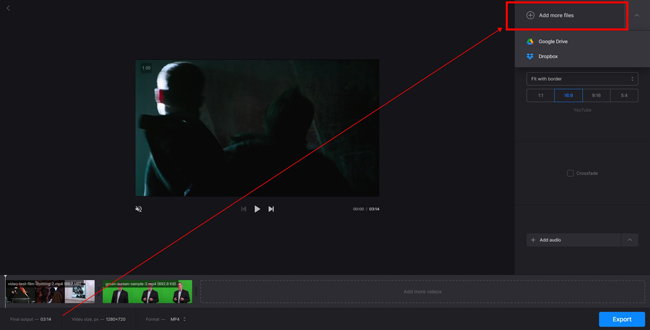 Unlimited files can be added into Clideo Video Merger. You need to click the "Add more files" button or go to the timeline to apply new files. Crop options include 1:1, 16:9, 9:16, and 5:4. Besides, you can even add an audio track to the timeline. It is convenient for users that they can preview the new video in real-time. You can convert the video output format as well.
How to Add Music to Video in Clideo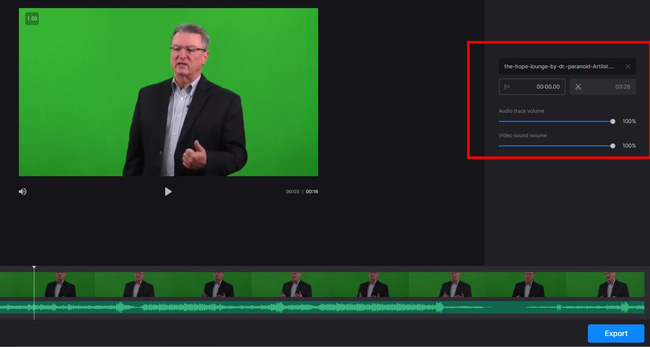 On the interface of the Clideo Music Adder, press the "Add Audio" button to apply new audio files to your video. Trimming out audio, increasing/decreasing audio track volume, or video sound volume are empowered on this webpage. If you want to sync the audio and video, you need to play them in the window. When you find it error, just cut out the unnecessary parts.
How to Add Clideo Filter to Video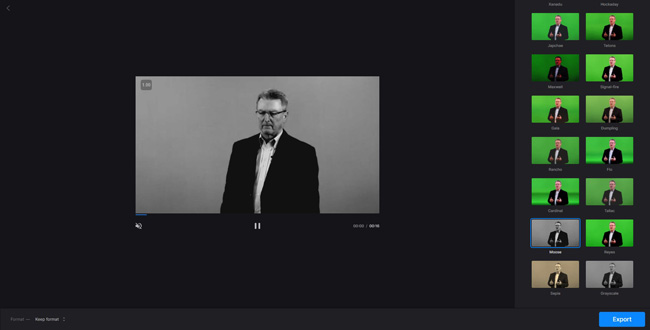 Clideo is embedded with 18 different feelings of video filters in stock. The filters include Yosemite, Xanadu, Hockaday, Japchae, Tetons, Maxwell, Signal-fire, Gala, and more. However, there are no settings of brightness, hue, and contrast. If you want to edit the video filter, you can use AceMovi. In addition, the filter of Clideo will be applied directly without downloading.
How to Compress Video in Clideo
Clideo helps you compress the file size by up to around 20 percent. You need to click the "Video Compressor" from stock and upload the file that you'd like to compress. However, the new, compressed video has a Clideo's watermark on the playback screen.
How to Crop and Resize Videos in Clideo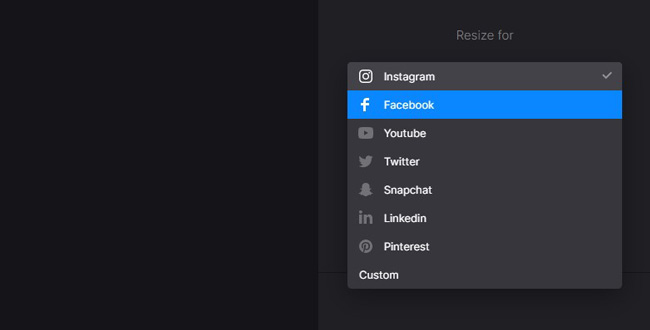 Resizing or cropping videos with ready presets for YouTube, Facebook, Twitter, Snapchat, Linkedin, and Pinterest. Now, click the social media option on the panel.

There are some buttons to customize your videos, such as the Feed Square(1:1), Feed Portrait(4:5), Stories(9:16), IGTV(9:16), Feed Landscape Ads(Ads), and Feed Square Ads(1:1). You need to select from them in one click, then your video will be cropped into the option.

Previously, we talked about the 2 ways to crop and resize videos in Clideo. The third way is to adjust the cropping value by clicking on the "-" and "+" buttons. The background color can be regulated as you want. You can reposition the playing canvas as well.
How to Change Video Speed in Clideo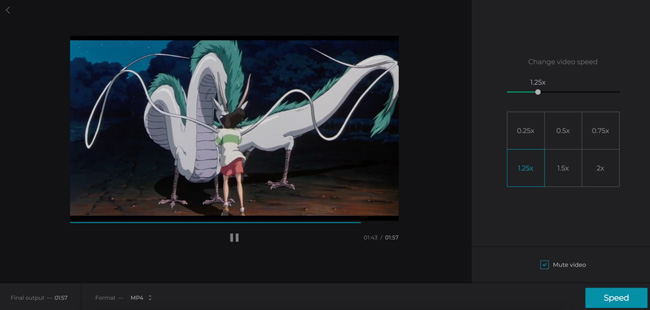 Clideo allows users to slow down or speed up clips in seconds. The speed ranges from 0.25x to 2x. If you want to change the video speed to 0.5x, you need to click the "0.5x" from the box. You cannot customize the speed in other values.
Conclusion
Clideo has designed a full set of tools for video and audio editing. Now, you can use the built-in Clideo Video Maker, which consists of all the toolsets on one screen. However, Clideo is not a safe and professional online video editor, with limitations in file size and watermarks. The way out is to try the alternative AceMovi to create your masterpiece!