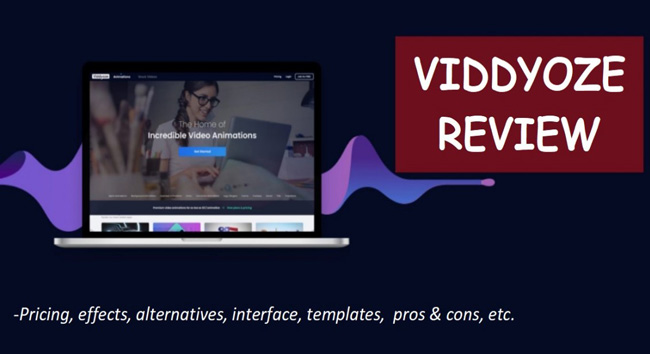 Video editing software has been playing a very important role to this day because they help providing editors with platforms to make necessary changes in captured/existing videos. And Viddyoze video editor is one of such brilliant programs that help you achieve the best content editing results.
Viddyoze possesses all the features and effects required to create a mesmerizing video. But there is no free Viddyoze trial version in the market so many are wondering whether should they order the subscription. If you're also confused about it, just see this post with which we'll show a complete review of Viddyoze to help you make the final decision. And if you've just ordered Viddyoze but try to know how to use it, this article can be useful as well!
A Complete Review of Viddyoze Online Video Editor 2022
Viddyoze Online Video Editor is a video-making & web based in-video animation software that assists both individuals and professionals in creating and rendering videos. With its help, professional editors can convert images into animations and share them with external or internal stakeholders. Likewise, the call to action (CTA) presence makes it simple to gather a team for a unified presence on a project. Viddyoze also allows users to use various studio effects such as filters, lens flaring, color grading, film grains, lighting, and more.
Most importantly, Viddyoze helps you create fast, effective, and mesmerizing videos with loads of mind-blowing effects and features. So let us dig a bit deeper into the software!
User Interface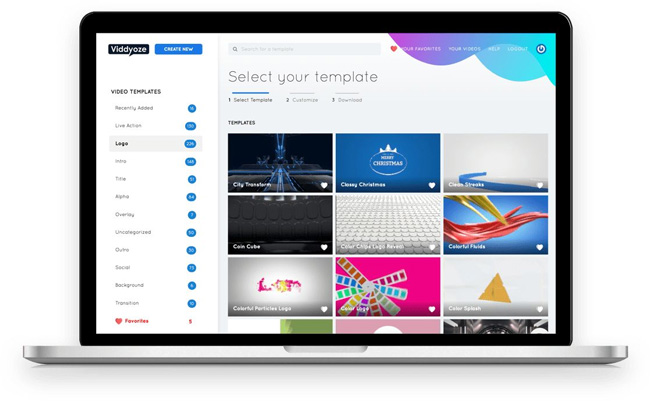 Viddyoze's user interface is such that it helps even a novice to select the options for animating or use the available features with ease. With this online tool, one can start away with a new project effectively without much assistance.
Video Templates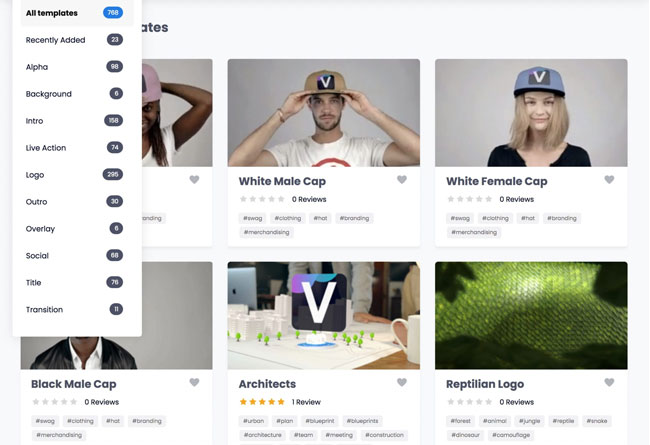 The massive collection of templates make Viddyoze an effective platform to edit videos. You do not need to start anything from scratch because you can use the ready-made video templates for different industries, niches, and audiences. You can also create studio-quality live animations, editing options, and customizable options for your requirement/brand.
Suppose that you are a digital marketer and capture a larger audience through social media. In that case, you can pick any one of the templates from the social media templates category. The templates aim at converting the viewers into fans and then into customers. You will find square and vertical formats, share features, subscription features, sales, aspect ratios, and mobile and social platform creation.
Studio Effects
Viddyoze empowers you to create studio-like effects within a few minutes. You can choose from subtle to jaw-dropping studio-quality effects for your creations such as the lens flare, film grain, light effects, blockbuster-style grading, and so on.
Animations
The built-in transparency technology built in Viddyoze helps you create some of the finest animations for your video requirement. No other editor comes close to Viddyoze for making marketing videos look incredible and fascinating.
Customization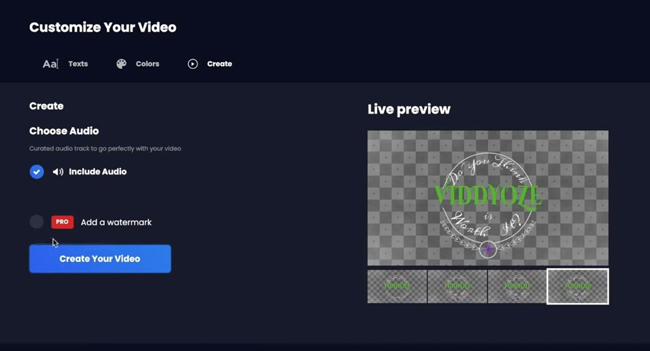 Viddyoze gives you the freedom to use customized colors and fonts for a video. And there is a massive collection of visually pleasing fonts, which you can add to your dashboard for a project. Likewise, you can crop images and add custom-created audio to display your content as well as personal branding/custom watermark.
No Distraction
Viddyoze's specialty is the ability to create astounding lower thirds for a video, which otherwise would not create an impactful video. You can now add easy-to-read content without causing a distraction to the viewers that help boost engagement and authority.
Subscription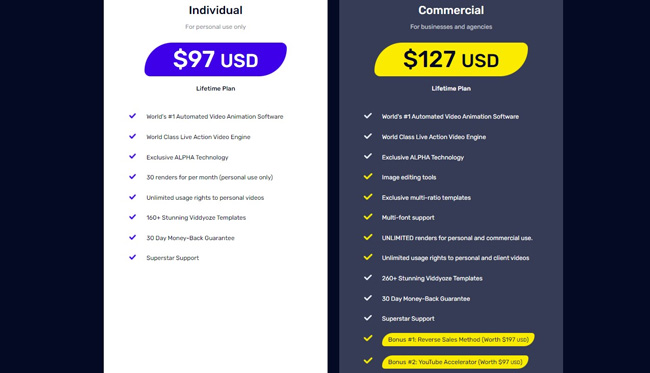 Viddy video editor is available for both personal and commercial use. The subscription is a one-time purchase of the license, after which you will enjoy corresponding benefits. The individual plan costs $97, while the commercial plan costs $127. Specifically, with the 97-plan, you're granted to use automated video animations and exclusive ALPHA technology. For more pricing details, just check the above picture.
Pros & Cons
In the following, you can have a view of Viddyoze's pros and cons shortly and quickly.
Pros:
Creation of video in less than five minutes
170+ readymade templates
Fully automatic video creation
Beginners can also use it and create animations in a few simple clicks
Extremely user-friendly interface
Cloud-based software and accessible from anywhere
Affordable prices
Cons:
The individual plan offers only 30 renders per month
As it is a cloud-based platform, a stable and high-speed Internet is a must
There is no free trial
Best Viddyoze's Alternative on Windows & Mac - AceMovi Video Editor [Trial Free]
Since Viddyoze has no free version and needs higher internet quality. So if you are looking for an alternative to Viddyoze on Windows or Mac systems, AceMovi Video Editor is worthy of considering very much, which is one of the best answers for your content-making projects.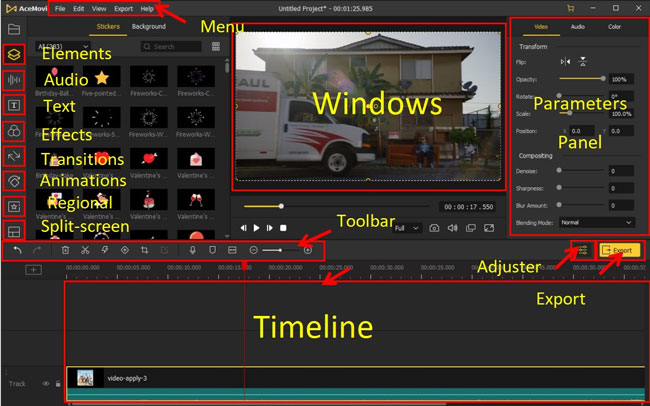 You can unleash imagination with AceMovi because of the features and effects it offers. AceMovi empowers you to import and export any video format and then edit videos by using a plethora of powerful features like cropping, splitting, rotating, zooming, merging, cutting, speed adjusting, reversing, etc. Speaking of some advanced features inside Acemovi, the PiP (makes react and duet video), split-screen (shows more cameras), transitions, filters, keyframing, and blurring will leave your videos with eye-catching effects.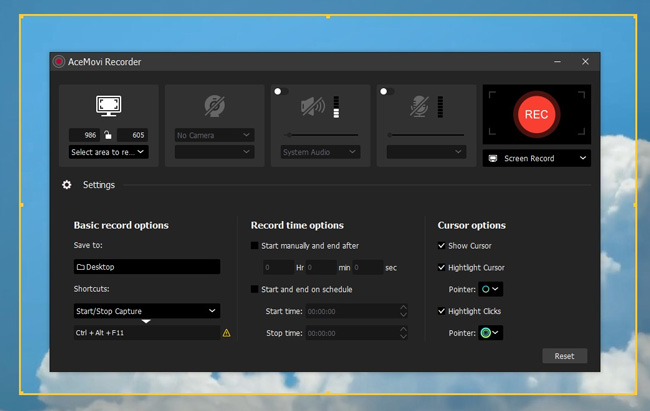 You can capture a video by camera or screen recorder with AceMovi and later apply the built-in tools to make necessary changes. To make this, you should: (1) Download and Install TunesKit AceMovi on desktop; (2) If you'd like to record directly, just find Media > Record; (3) You can click choose to record by camera or screen recorder; (4) Within the Setting icon, you're allowed to set recording duration, saving path, highlight cursor, etc.
With AceMovi, you can save the project in any format, such as MP4, MOV, MKV, MPG, WAV, etc. Or further customize the file to play on iPad, Apple TV, Xbox, PSP, and Android phones.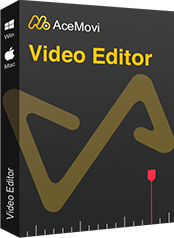 AceMovi Video Editor
Security Verified. 5,481,347 people have downloaded it.



Pros:

Trial version: free & no times and duration limitations
Intuitive interface & responsive
Supports all video and audio formats
Export videos to the best formats that social media platforms accept
A good collection of stock videos, music, and images
Advanced effects like PiP, split-screen, reverse, keyframes, mosaic, etc.

Cons:

It cannot export audio-only content
There is no Linux and online supported version

Comparison Table - Viddyoze Online Video Editor Vs AceMovi Video Editor

Below is a fast checking table to compare the differences between Viddyoze and AceMovi from aspects like price, OS, effects, learning curve, and more.

| | Viddyoze | AceMovi |
| --- | --- | --- |
| UI Style | Non-Linear | Streamlined |
| Video Templates | More | Fewer |
| Reaction Speed | Middle | Responsive |
| Video/Audio/Image Formats | Fewer | More |
| Text Templates | Fewer | More |
| Learning Curve | Easy | Easy |
| Quick Start | Register > Buy > Template/Blank Project > Import > Edit > Export | Free/Paid > Blank Project > Import > Edit > Export > License(Watermark Removed) |
| Reliable | √ | √ |
| Free Version | × | √ |
| Camera/Screen Recorder | × | √ |
| Split-Screen, PiP | × | √ |
| Reverse Video | × | √ |
| Mosaic, Blur, ColorNot | × | √ |




Conclusion

As you have seen, the Viddy video editor is a cloud-based editor and requires a stable and high-speed Internet connection to access files or perform edits. On the contrary, AceMovi video editor is an offline editor and provides impressive features to create beautiful and intriguing videos.

The features and options provided by AceMovi make it a wise choice for marketers, businesses, and individuals who plan to make excellent content, turn them into peers, and then into valuable customers. For more details of AceMovi, click the buttons to have it for fun!