As a content creator, a good video editor can be what separate you from the multitude. There are many video editors on the internet, each reeking its quality, features, and user reviews. One of the most popular video editors users associate with is the VideoShow Pro due to its flexibility but also convenience. The application is now available for watermark-free on both iOS and Android (Apk) and has many features that simplify video making.
Want to use this tool? Here we'll introduce everything you need to begin with VideoShow Pro Video Editor. These include the downloading channel (Apk), pros and cons, various editing modules, alternatives, and some basic tutorials. Let's begin!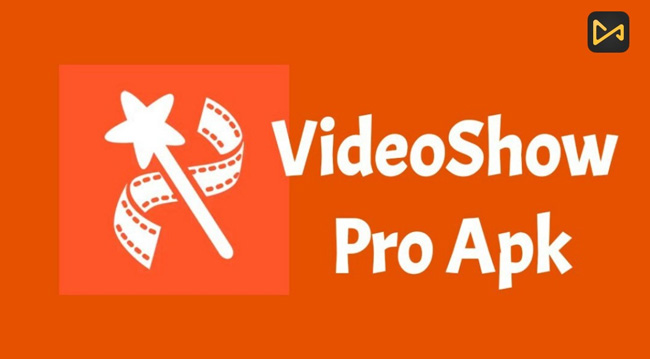 [2022 Latest] VideoShow Pro Video Editor: A General App Review
As one of the most popular editing applications, VideoShow Pro Video Editor provides users with a quite good video editing experience. You can edit your videos with texts, stickers, multi music, filters, and transitions with this nonlinear application. Below are a few pros and cons of using the application.
Pros & Cons of VideoShow Video Editor Pro
| Pros | Cons |
| --- | --- |
| User-Friendly Interface: The application has a good UI/UX design, making it user-friendly. | Constant Push Notification: Enjoying the benefits is only possible after a full subscription. However, the app can be a little annoying, as it has a constant push notification to get you to subscribe. |
| Range of Tools: The features of the VideoShow Pro make it a popular video editor among short video makers. You can apply a lot of small edits. | Limited Video Quality to Export: The free application is only accessible to 480P or 720P. |
| Watermark-Free: On the free version, you can download any newly finished video without a usual watermark, no matter texts or logos. | Paid Subscription: The premium version of the application is $24 (£18.49) on Android via Google Play and $59.99 (£54.99) on iOS. When compared to others, there are cheaper alternatives. |
| Free to Download VideoShow Video Editor Pro: Now, you can download it from Apple Store or Google Play. And the comment of it is good (Ranks 4.3 out of 5 on Apple Store). | Personal Data Sharing: The software also shares data from its users. Therefore, it is not the best video editor for those who value privacy. |
| / | Ad and Unnecessary Restrictions: The free version is subjected to ads, making it an annoying little video editor. For example, every time you download a new effect, you will get an ad. However, on subscription, this disappears. Also, the app developers have some unnecessary restrictions on using the software. For example, users complained about not downloading some transitions without giving the app a review. |
VideoShow Pro Video Editor Apk Download
Downloading VideoShow Pro depends on the OS you are using. Below are the ways for downloading VideoShow Pro Video Editor on Android and iOS.
Android
Step 1. Open the Google Play store;
Step 2. Fill in for searching VideoShow Pro Video Editor Apk on Google Play;
Step 3. Click on install and follow the instruction.
iOS
Step 1. Open the App store;
Step 2. Search for VideoShow Pro Video Editor on Apple Store;
Step 3. Click on install and follow the instruction.
Built-In Video Themes/Templates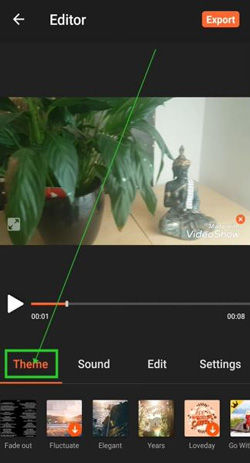 You'll find it become so easy to create a good video with a ready-made theme or template. VideoShow Pro video editor is not an exception. The application has more than 50 interesting themes and templates that video content creators can begin with like Classic, Cinema, Birthday, Vlog, etc.
How to Add Subtitles in Video (Best Alternative Recommended Here: TunesKit AceMovi Video Editor Software on PCs)
Easily adding texts is available on VideoShow Pro. You can add texts to all frames, change the font, customize the size, rotate the box, set the duration, etc. Here is the tutorial on how to add texts/subtitles to video with VideoShow Pro Video Editor.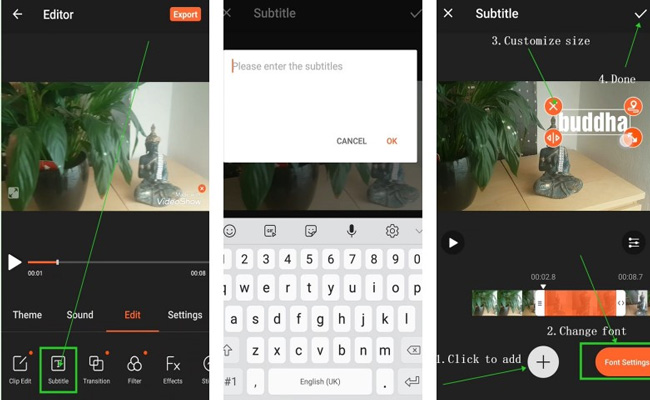 Step 1. Open the application;
Step 2. Create the new project;
Step 3. Click on Edit;
Step 4. Click on subtitle;
Step 5. Enter the text and edit based on the template;
Step 6. Save the video on completion.
However, you'll find it hard to add multiple texts in a short moment because you need to check all the frames and click to add new items with VideoShow Pro. And this is actually a common con for editing video on the mobile phone.
Best Alternative to VideoShow Pro - TunesKit AceMovi
So, if you want to add texts to video quickly and easily, as well as try more text templates like moving text, better to consider a PC video editor. Here comes TunesKit AceMovi - An all-in-one toolkit to edit all types of videos. No matter you want to make a short video, create a Vlog video, process a slideshow video with photos, etc., TunesKit AceMovi Video Editor must be the first choice. Now, you can see how easy using this tool is to add multiple texts to your video.
Import Video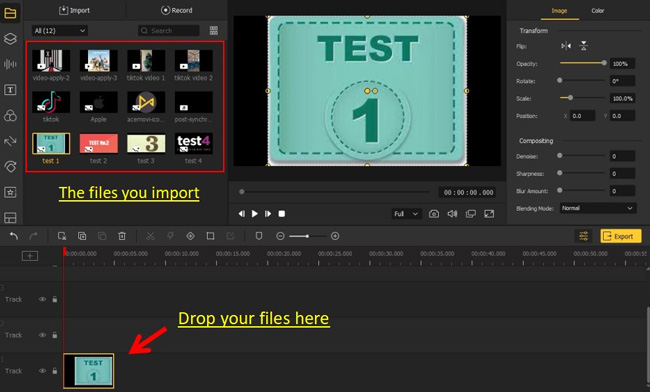 Click on Add Video to import the video you want to add the subtitles on. You can also drag the video to your editing timeline directly.
Begin to Add Text in Video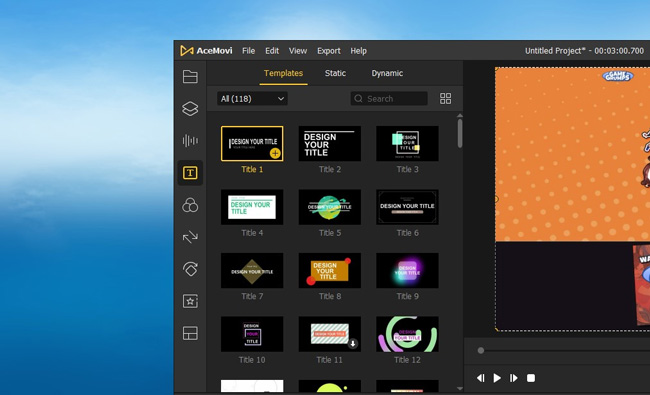 Click on the Text button and choose the text you want the subtitle to look like. Drag this to your timeline to begin the process. The 100+ text templates like Up-and-Down Titles and Moving Titles, static texts, and dynamic texts that built-in TunesKit AceMovi all are free to add in videos.
Fill in, Change Duration, and Set Parameters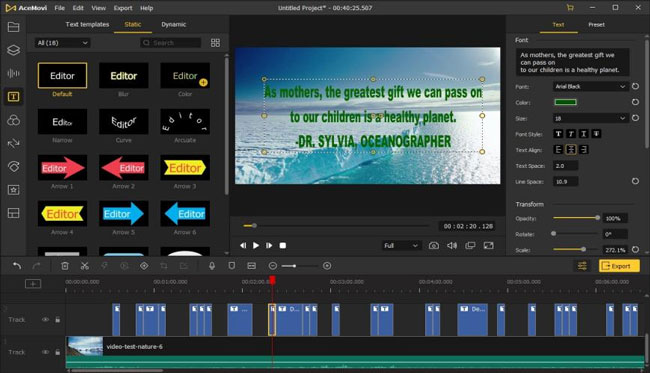 Click on the text to edit it. Ensure that you match the duration of the voice with that of the text. You can also change the font type, position, color and add animation in the Properties plate. If you want to add multiple texts, try shortcuts of Ctrl + C and Ctrl + V. And you can even drag the box's edge to change the duration in the track area.
Export Video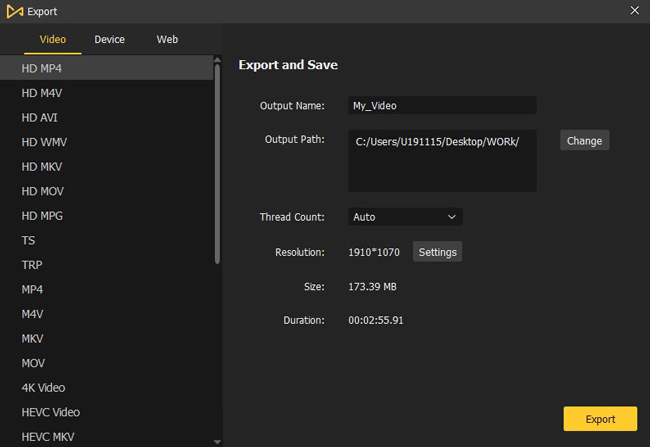 Click on Export to export your video. Before you do this, edit the output parameters such as output format and output location by navigating to Settings > Preferences. The formats you can export/download include MP4, M4V, AVI, WMV, MOV, MPG, TS, TRP, 4K Video, YouTube AutoFit Format, Vimeo AutoFit Format, Facebook AutoFit Format, etc.
Comparisons between TunesKit AceMovi and VideoShow Pro
| Features | TunesKit AceMovi | VideoShow Pro |
| --- | --- | --- |
| OS | Windows and Mac | Android and iOS |
| Pricing | $19.95 | $24/$59.99 on Android via Google Play |
| Interesting Features | Key Framing, Color Grading, Split-Screen, Transitions, Picture-in-Picture, Screen and Webcam Recording, Chroma Key, Mosaic, Voice-Over, etc. | Key Frame, Zoom in and out, Voice Over, GIF Maker, Video-to-MP3, 50 Themes, etc. |
| User Interface | User friendly; Streamlined | User friendly; Nonlinear |
| Rendering Speed | Quick | Medium |
| Best Used For | Multiple video edits; Advanced video edits; Quick and fast video edits; PCs video edits. | Flexible video edits; Phone recordings edits; Edit with themes. |
How To Add Background Music to Video
Want to add background music to a video on mobile? VideoShow Pro can make it in a couple of clicks. You can select music from online stock and download it, or upload music from local folders. You can also increase video volume as well as make the outputs sync. Let's go to see the details below!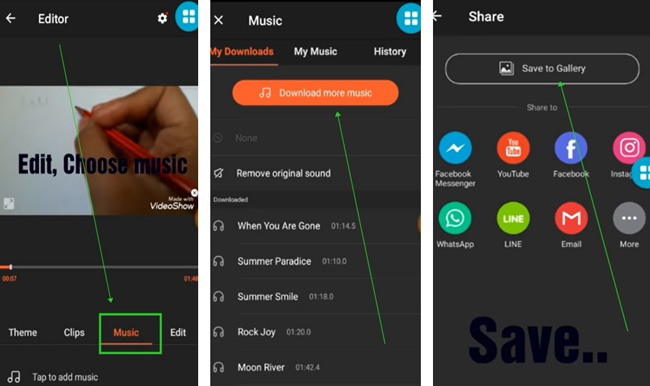 Step 1. Install VideoShow Pro Video Editor Apk on your phone and then run it;
Step 2. Create a new project and add the video to which you want to add background music;
Step 3. Click on Sound;
Step 4. Choose the music you want to add to the video;
Step 5. Set the level of loudness allowed to determine whether the video's original sounds;
Step 6. Export the video.
When it comes to exporting videos on VideoShow Pro, you can save to gallery, share via message, or post the URL on Facebook, YouTube, Instagram, WhatsApp, and More. But as we said before, only with the premium version can you export video at HD or higher quality.
Final Evaluation
VideoShow Pro is one unique mobile video editor you can get for your mobile device. The application allows you to do all basic edits such as trimming, splitting, rotating, and cropping videos. However, for the full features, you need to subscribe. Aside from subscription, the ease of editing is incomparable to editing on the system. Consequently, this article introduced another video editor as VideoShow's alternative called TunesKit AceMovi Video Editor, known for its all-scale functions, interesting tools, ease of operation, free to download, and reliability.