You can find thousands of Apple video editing software in the market, yet sadly, few of them are really worthy of spending energy and money. Have you ever thought of what is the standardization of being a good Apple video editor for Mac or iPhone? Let me give you some answers. Firstly it should be designed for the aim of user-friendliness so that both beginners and skilled men can navigate to the editing tools easily and quickly, but also users can use some of the advanced effects built-in such as Blurring, Split-screen, Clone (or Mirror), and more.
Actually, there are many more qualities in our minds. And if you want to find a satisfied Apple video editor, just scroll down to read this post. Here's a list of 12 of the best Apple video editing software for Macs and iPhone, some of them you can try for free, but some cost a fee and have expiration dates.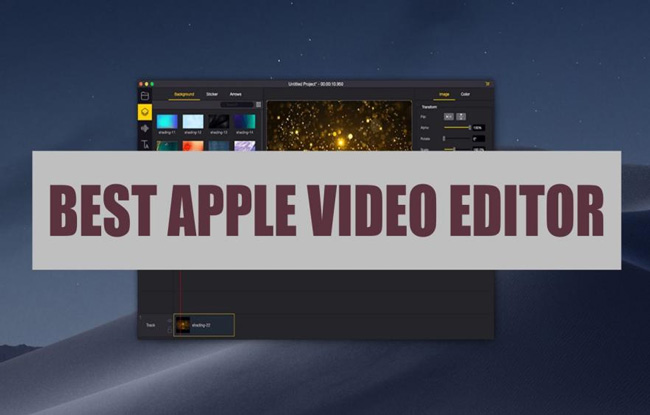 Best Apple Company's Video Editing Software for Macs
1. Final Cut Pro
OS X 11.5.1+, Quad-Core i5+, RAM 4GB+, Resolution 1920*1080
Final Cut Pro is one of the best post-production Apple video editing software for Macbooks with a well-organized timeline and high image quality. What must be amazing is that you can export any format and any frame size of 360/VR equirectangular videos in this Apple video editor, and then choose to crop, cut, reverse, increase & decrease video volumes. Also, Final Cut Pro for Mac allows applying pro color grading features such as HDR View, editing in Rec.2020 as well as HLG color spaces.
But, speaking of the possible limits with this Final Cut Pro video editor for Apple, firstly you'll see a 3-month expiration date. So if you want to use Final Cut Pro for free, you need to care about the period of validity. And if you'd like to buy the subscription, you need to pay $299 once time only so the month-plan and year-plan are impossible to choose from here.
Pros:

Well-performed Apple video editing software for Mac
Unlimited tracks
Able to import/export XML in a third-party process like audio mixing and color grading
4K Editing, 360 Editing, & 3D Titler are covered
Magnetic user timeline to try
2. iMovie Apple Video Editor
10.15.6+, Intel 64-bit processor+, RAM 4GB+, Resolution 1280*720+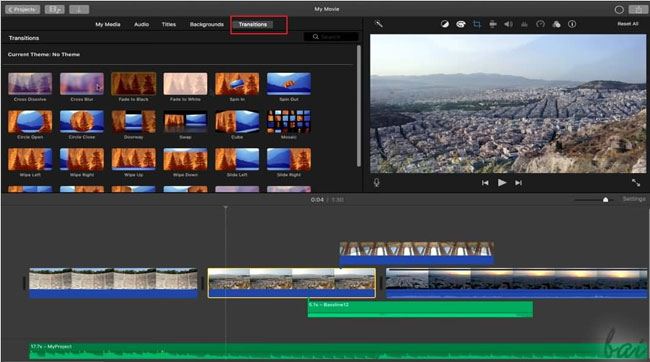 Here we're coming to see a completely free video editing software for Mac - iMovie. The shortcoming of iMovie is that you don't have so many video elements to apply like filters and animations. But you'll find this Apple video editor is very powerful in balancing audio, adding titles, and inserting transitions.
iMovie gets a very clean interface and timeline, and the timeline will detect and track all the important frames in the video, that's of great help, isn't it? Also, iMovie is a watermark-free tool so there are no purchase-in services. Except for the Mac version, you can also download the iOS version from Apple Store.
Pros:

Clutter-free Apple video editing software
Export at 4K quality
Rendering Apple video quickly
Watermark-free
Has phone version
Cons:

Not so many video elements
[2022] Best Easy-to-Use Video Editing Software for Macs
1. AceMovi Apple Video Editing Software for Mac
OS X 10.8+, 1G Hz processor+, RAM 256M+, Resolution 1024*768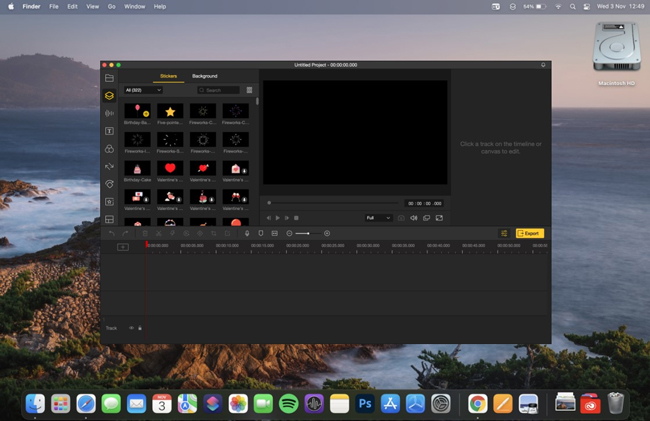 As the best Apple video editing software for Macbooks featured with a clutter-free user interface and 500+ genres of element templates, TunesKit AceMovi will never let you down in creating industry-standard films, short videos as well as Vlogs. This Apple video editor is also professional at editing slideshow with photos, you can easily achieve this by importing clips, changing the photo sequences, and lastly, making a combination.
In terms of some built-in video editing tools like Trimmer, Converter, Cropper, Cutter, Sound Equalizer, Split-Screen Editor, Reversion Editor, Chrome Key Editor, and many, all you can use with this Mac video editing software for free. As for the video elements, AceMovi has embedded with 200+ raw soundtracks, 170+ static & dynamic text templates, 100+ filters & overlays, and 60+ transitions.
More importantly, AceMovi Apple Video Editor has the best customer service - You won't face some of the limitations like expiration data and exporting times. In the following, a downloading button to get this tool is set for free, you can click it to install and launch AceMovi on your MacBook directly.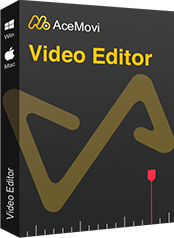 Key Features of AceMovi Video Editor
Security Verified. 8,034,752 people have downloaded it.
Pros:

No video lagging
Drag-n-drop to import clips
Brilliant Apple video editing software on Mac
Apply for all types of Apple/Mac system
Responsive speed in VFX rendering
Edit MP4 videos on MacBooks effortlessly
Processing features in real-time
Advanced tools of Mosaic, Magnify, ColorNot, Blur, etc.
Cons:

Only with the pro version ($59.95/Lifetime, $39.95/Year, $19.95/Month) can you download videos without watermark, however.
2. Adobe Premiere Pro
10.12+, Intel 6theGen+, RAM 8GB+, Resolution 1280*800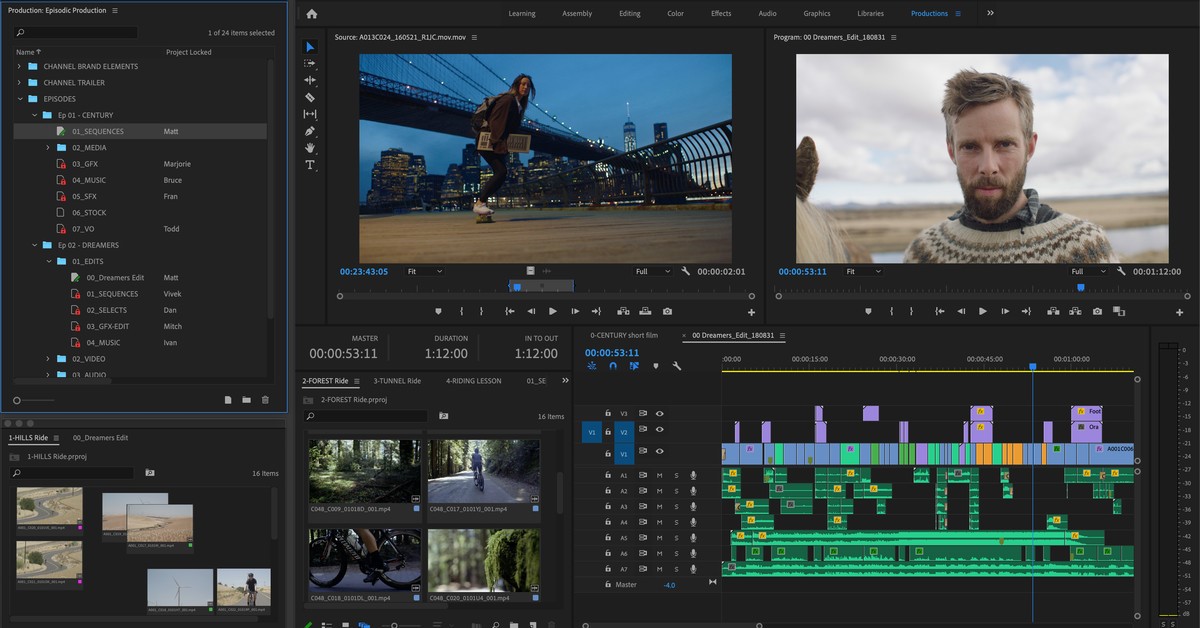 If you're a fan of Adobe products, you'll probably won't unfamiliar with this famous Adobe video editing software for Mac, that is Adobe Premiere Pro. Although this is an apple video editor, you can download it for Windows 10 and 11 also. So if you think it's very good to use and you can share this video with your friends who are Windows fans.
When it comes to the features applied, Premiere Pro not only is able to cut, split, rotate, mirror, and convert videos, but also you'll find some advanced tools like reverse, anti-clockwise counting, VFX editing, and so forth. By the way, this apple video editor is a bit different in workflow, simply saying that you need to open up the specific editing area to hit the road like Audio, Video, Color, VFX, etc., which makes this video editor for Apple professional.
Pros:

Speech-to-text maker
Auto-tone
Advanced Adobe software for Apple video editing on Macs
Two-canvas to compare details
Specialized working plates
Cons:

7-day free of the trial version
3. CyeberLink PowerDirector Apple Video Editor
OS X 10.14+, Apple M1+, RAM 128MB+, Resolution 1024*768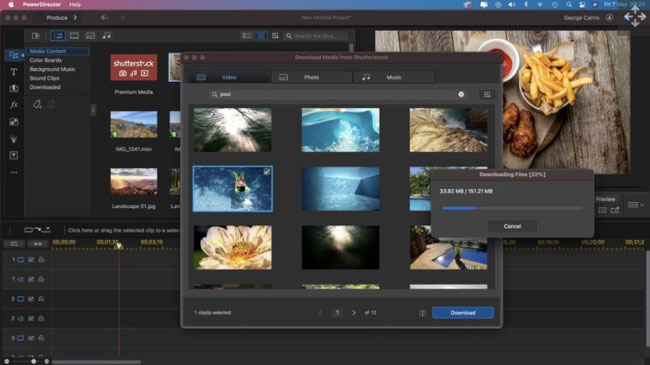 CyberLink PowerDirector is a very user-friendly Apple video editing software on MacBooks. You can upload any format of the video, photo, and audio tracks into this toolkit, and then the imported clips will be automatically set as the AutoFit resolution and codec.
PowerDirector has designed many advanced features like f(x) Motion Calculator which assists you to extract import actions and faces in the Apple video. Speaking of the pricing policy, you can pick up the $69.99-per-year service or $19.9-per-month service, both of them are reasonably provided based on our testing.
Pros:

Multi-cam Apple video editing software with screen recorder on Macs
Loads of effects like filters, LUTs, transitions, and animations
Motion-tracking to help you catch the important actions and faces
21 graphics genres to choose from
Cons:

Cannot make split-screen video
4. Davinci Resolve
10.14.6+, i7 professor+, RAM 8GB+, Resolution 2560*1440
Davinci Resolve, a professional video editing software for Macs in 2022 comes with features like Combines Editing, Color Grading, High Dynamic Range, Quick-Export, Improved Resolve FX, HDR Color Wheels, Vector Shape Nodes, etc. More than that, Davinci is able to live the effects previews, for instance, if you just applied the Abstraction, Blacking Fill, Drop Shadow, Edge Detect in your video, you can check the effect in real-time without any lagging.
And there is no watermark and expiration date in this Apple video editor. But if you'd like to try all series of services as well as VIP features, you need to pay $295 for the one-time subscription.
Pros:

Smart-to-download Apple video editing software
URL importing
Double canvas live
Better experience in color grading
No watermark
Cons:

Higher specs needed
Best Apple Video Editors for iPhone
1. LumaFusion Video Editor
iOS 14.4.1+, 178MB, $29.99, In-App Purchases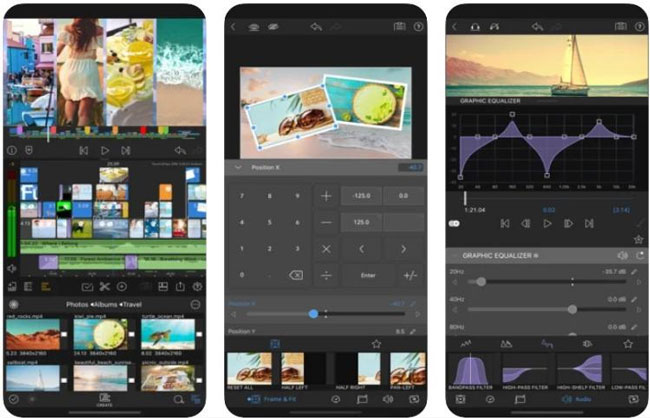 LumaFusion is a paid video editing app for Apple users on both iPhone and iPad. It's a bit complicated to process because some icons are very small and the tracks are twisted together. When you're familiar with this video editor on iPhone, you'll get into a new and wonderful video editing stage.
Specifically, in the practical use of highlighting video, you can control the slider to set the exact percent or fill in the parameter box; when adding text in this Apple video editor, it's very easy to customize the text size in the window and set the opacity degree in the Travel panel. Unfortunately, LumaFusion is not a free video editor app for Apple users, the entrance fee is up to $29.99, but we believe it's worthy of it.
Pros:

Streamlined Apple video editor app
Excellent graphics equalizer which you can change the form as Bandpass, High-Pass, High-Shelter, and Low-Pass.
Edit video for Apple in real-time
A bunch of intriguing elements
Cons:

No free version on Apple Store
2. Splice Video Editor
iOS 11.2+, 239.9MB, Download Free, In-App Purchases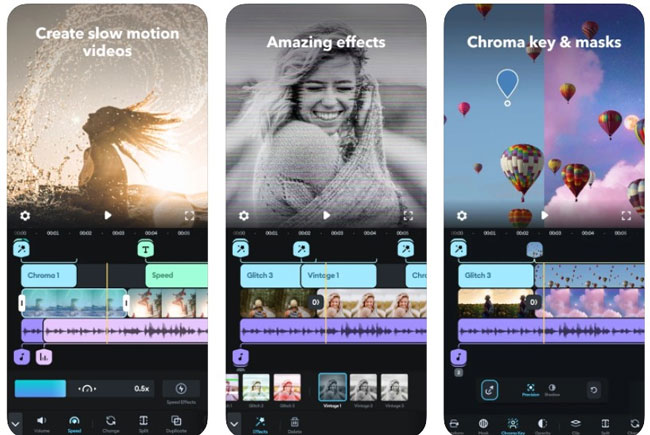 Splice is as streamlined as the previous Apple video editor but it's free and more user-friendly. You can shoot the videos by the phone camera and then edit them with small editing tools like Trimmer, Cutter, Titler, and Cropper.
But what's the different point is that Splice contains the features like Chroma Key and AR masks, which will be of great help in making short videos and showcasing them around your group. You don't need to worry about how to make a green screen video with the Chrome Key with this video editing app on your Apple since you'll see some basic tutorials inside. By the way, you'll find some up-to-date filters and transitions are not free all the time, if you like it, just give it a try.
Pros:

Easy-to-learn Apple video editor
Clean interface
Tracks are oriented for different mission
No watermark
Chrome Key
Cons:

You may encounter copyright issues with some in-app music resources
3. VN Video Editor
iOS 12.1+, 274MB, Free Completely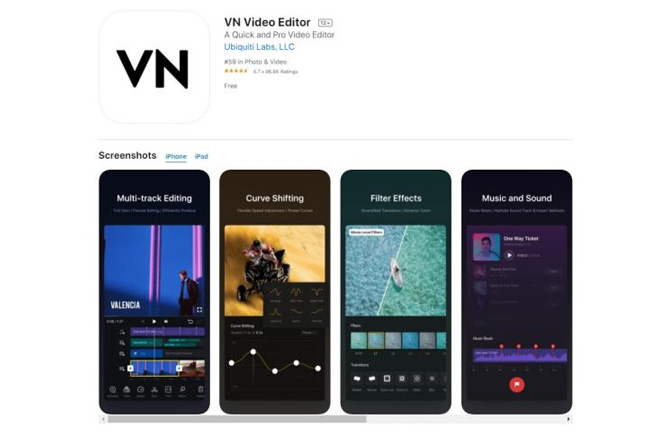 Carrying a multi-layer timeline, VN Apple Video Editor is can help you capture Vlog anywhere anytime. This video editor on Apple is overwhelmingly powerful in audio editing, you can make a soundtrack by the BeatsClips, try more diverse audio genres, or add your own resource into VN.
Besides, when you're going to export the new-made videos on your device, you can post them on some famous social platforms including TikTok, Instagram, Snapchat, etc. And there won't be any branding watermark embedded within.
Pros:

Watermark-free Apple video editor
Multi-track editing style
Full of filters, overlays, and transitions
Apply built-in music without worrying about copyright
Practical toolbar
Cons:

A black screen may occur when exporting
4. Inshot Video Editor
iOS 11.0+, 193.6MB, Download Free, In-App Purchases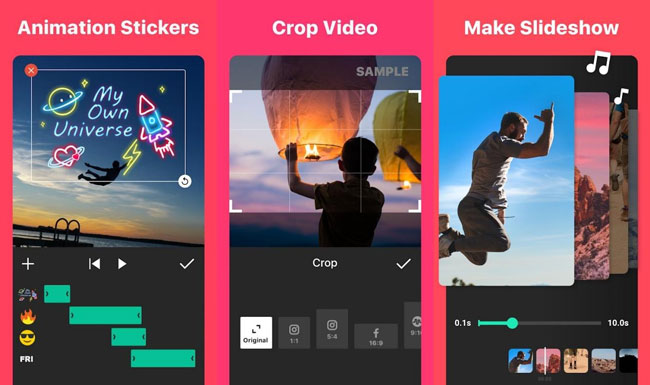 Inshot is a quite trendy video editor among iPhone and iPad users because inherently it's a video-sharing platform. You can add free Vlog music, sound effects, and voice-over freely.
Speaking of the filters and effects, Bright, Dark, Cinema, Glitch, and many romantic elements are provided. More importantly, if you're a Shot user, you'll find it's very convenient to use some of the latest video editing effects and styles like Clone yourself, reversing, slow-motion, etc., because of the high updating speed.
Pros:

Responsive HD Apple video editor
Crop videos as 1:1, 5:4, 16:9, and 9:16 with ease
Thousands of stickers, texts, music, and memes
Preview video in full screen
Cons:

Only one track is available
5. Filmmaker Pro
iOS 13.0, 404.5MB, Download Free, In-App Purchases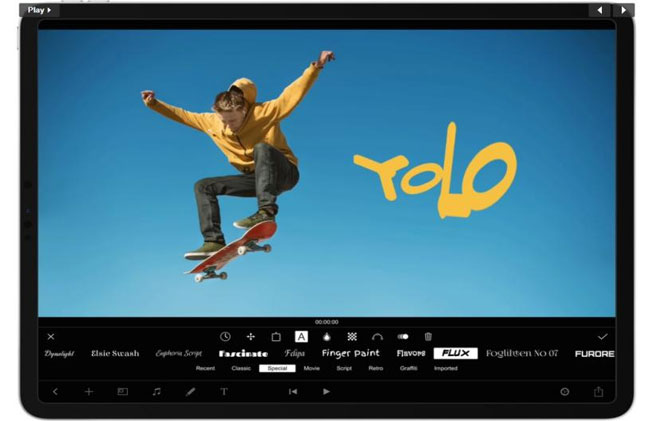 Filmmaker Pro is a robust Apple video editor app with a plethora of text types, sound effects, funny stickers, and lovely video background designs. As a matter of fact, Filmmaker Pro is more fit to use on iPad because the interface on the iPad is easier to operate on. So if you got an iPad, do not miss it!
When it comes to editing videos with this tool, you can add a subtitle or change the speed upon the flexible toolbar. And then you can choose the styles below or switch the themes like Classic, Movie, Script, and more.
Pros:

Simple Apple video editor to download for free
Various interesting stickers
Make video fade in & fade out
Able to edit background without green screen
Cons:

Free users are limited to 3 overlapping layers only
6. Adobe Premiere Rush
iOS 13.0, 452.6MB, Download Free, In-App Purchases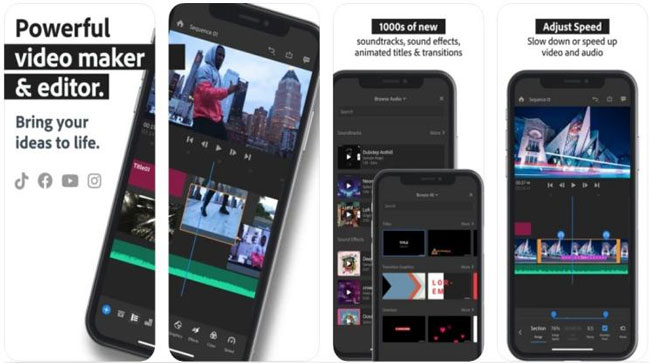 Includes thousands of new soundtracks, sound effects, animated title genres, and transitions, Adobe Premiere Rush has become more and more popular among us iOS users. With this brilliant Apple video editor, you can easily make an eye-catching and high-quality video with great ideas.
Actually, you'll find this is also a product that belongs to the Adobe family so the basic editing experience is the same as Premiere Pro. It's easy to find advanced tools like Customized Titles, Motion Changer, and Video Syncer. If you want more cloud storage, you can promote the service into Creative Cloud Express for US$9.99/Mo. And then you'll have 100GB of cloud storage.
Pros:

Adobe product of Apple video editor
Filled up with soundtracks and sound effects
Tailor transitions
Change the pace with advanced speed to make video slow- & fast-motion
Share to any social channel in different aspect ratios
The Bottomline
You'll find that the 12 video editing software for Macs and iPhone are embedded with their own merits. But if you're a video maker who wants more professional features and elements to apply or batch videos to make, it's suggested to try those video editors on MacBooks. Among them, we believe that AceMovi can be the best choice and you'll discover a new video-making experience with this brilliant tool.