Having free video audio editor software will make your life easy. If you are a creative person and often upload videos with stunning audio, then you need to have a tool that will make video and audio editing smooth. There can be a possibility that the audio track of the video is not impressive, which means you may want to edit it or change it to another track that will represent your video in the best possible way.
If you are looking for video sound editor free software, you have come to the right place. This article will introduce you to the top 6 best free video audio editing software preferred by people from all across the world. Keep reading to know what these tools are and get to know their pros and cons to make an informed decision.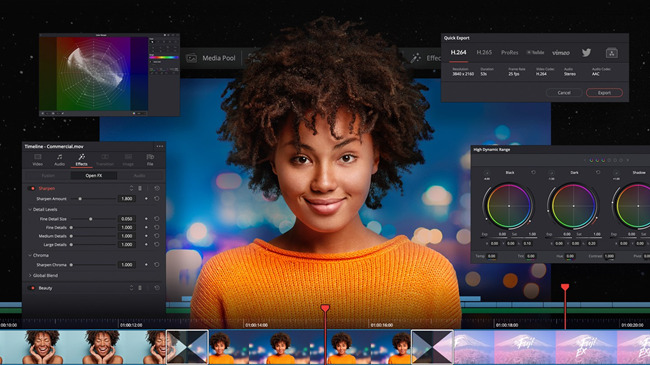 1. The Most Popular Video Audio Editor - TunesKit AceMovi
When it comes to quickly edit audio in your video, the best video audio editor app you should go for is TunesKit AceMovi Video Editor. This all-in-one tool will let you edit audio for your video effortlessly. Using this tool is easy, and the software comes with an intuitive interface making it easy for beginners and advanced video editors to use it.
TunesKit AceMovi is equipped with stunning features; for example, it lets you add filters, audio, titles, cool effects, and more. Not just this, TunesKit AceMovi accepts multiple formats as well. The built-in stock library will provide you with a wide range of audio, image, and video. You can use them to further edit your video.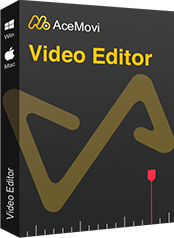 TunesKit AceMovi Video Editor Key Features
Security Verified. 5,481,347 people have downloaded it.
Very easy to use with a user-friendly interface.
Accepts multiple formats.
Available for both Mac and Windows users.
You can try TunesKit AceMovi for free.
It is loaded with impressive video and audio editing features.
You can preview your video in real-time.
How to Use TunesKit AceMovi to Edit the Audio and Video?
Step 1: Download TunesKit AceMovi and launch it. First things first. Visit the official site, and download the correct version of TunesKit AceMovi. Once done, let it get installed and launch it. The main screen of this software will have two options in the top menu bar. One is import and the second one is the record. If you have a video, click on the Import option, and add the video. Simultaneously, add the audio file as well, which you want to edit.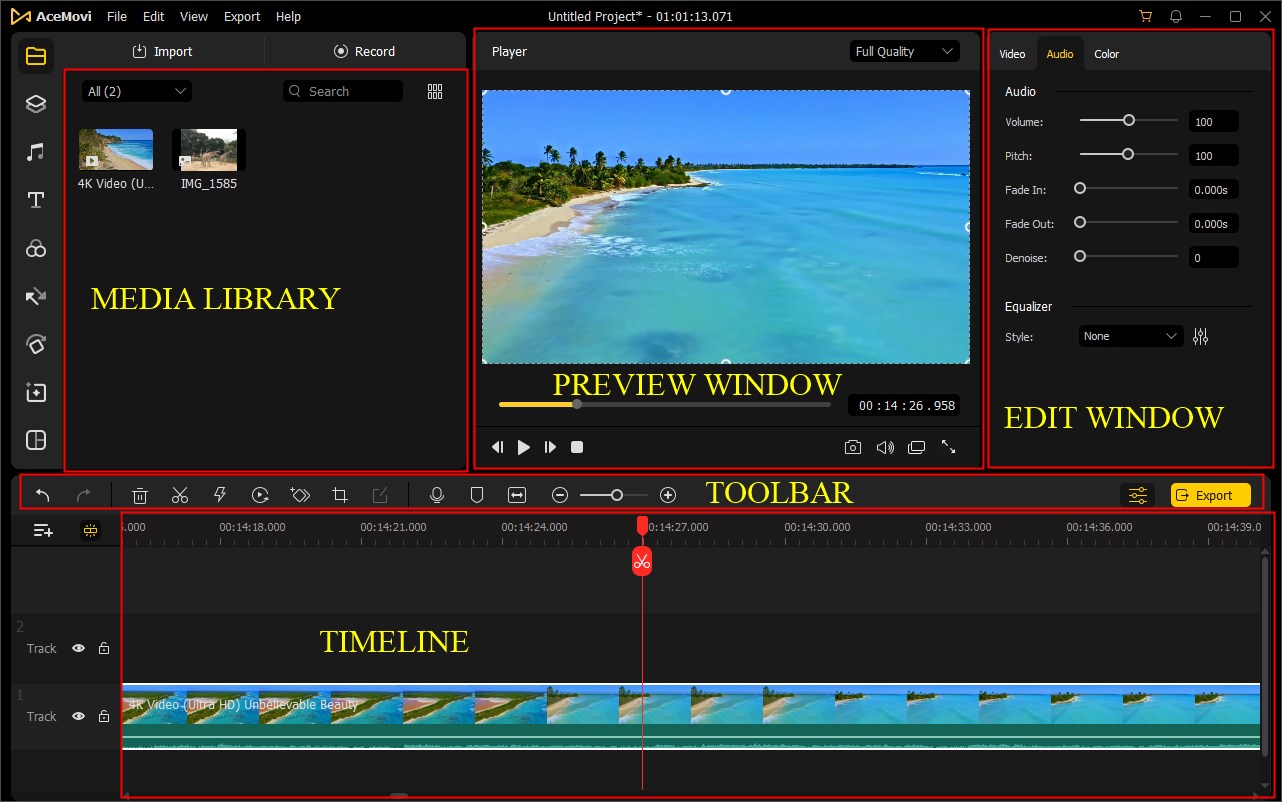 Step 2: Edit the audio and video. You have the Media Library section on the left side. You can click on it to import audio, images, and video. Below is the timeline section where you will edit your video. Towards your right is the audio section, you can increase or decrease the volume, customize fade in and fade out, and more. You can click on the Settings icon and select the Audio option to add royalty-free background music.
Step 3: Export your video audio file. After all the changes have been done, click on the Export button. Select the destination folder where you want the edited video to be saved. Locate the file on your computer, and now it is ready to be published.
2. 6 Best Free Video Audio Editors for Windows/Mac
#1 Audacity
Audacity is one of the best audio editor tools for your videos. It's quite a versatile software and is compatible with Windows PC. If you are looking for a free video audio editor for PC, you can get Audacity. It is equipped with extensive built-in tools for audio editing, which makes editing incredibly easy.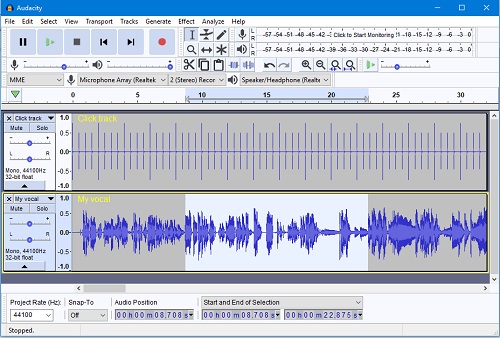 Pros:
1. Easy to edit audios.
2. It's open-source software and always free.
3. You can record live audio.
4. Supports 16-bit, 24-bit, and 32-bit
Cons:
1. Lacks real-time or editable effects.
2. No customer support team.
#2 Clipchamp
Here's another powerful video audio editor for your PC. It's an online tool, and you won't have to download any software. The best part about Clipchamp is that it lets you create fantastic audio videos in just a few minutes. The impressive features of this software are more than enough to edit the audio for a video.

Pros:
1. You can adjust the audio levels.
2. You can add multiple audio tracks.
3. You can cut or trim unwanted audio sections.
4. It has transition and filter effects.
Cons:
1. Expensive premium version.
2. May freeze while working.
#3 Hippo
Hippo is a straightforward video audio editor free that will let you edit audios to add to your videos easily. It's an online tool and enables you to try it for free. It helps you create professional-looking videos and add fantastic sound effects. Apart from audio editing, this tool will let you cut, trim, add emojis, texts, and more.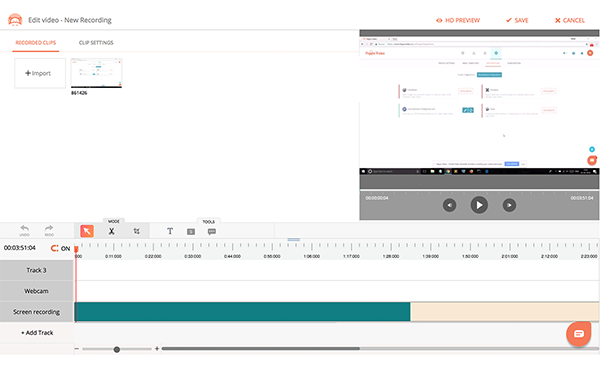 Pros:
1. One-month free trial available.
2. Good video and audio editing features.
3. Unlimited audio and video tracks.
4. Import video and audio from anywhere.
Cons:
1. The free version has limited features.
2. Not many know about Hippo.
See More: Top 7 Best Free Online Audio Editors in 2021
#4 Lightworks
If there is one free audio video editor that can help you create professional videos and audios with the best background sound, it has to be Lightworks. It's a 25 years old company and one of the most preferred audio-video editors for professionals. You get a seven-day free trial, which will let you decide whether Lightworks is suitable for you or not.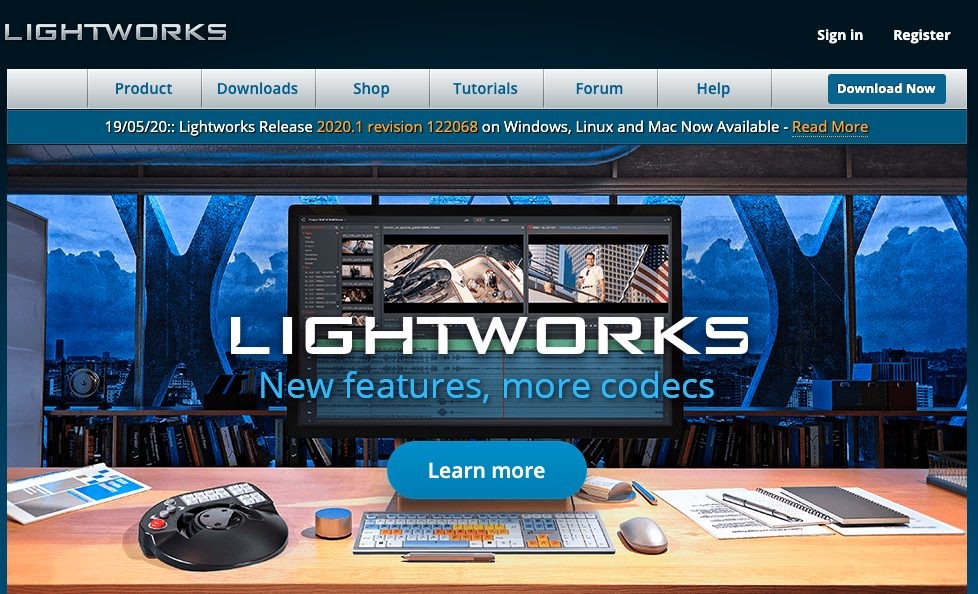 Pros:
1. It is loaded with powerful features.
2. It's good software for professionals.
3. Multi-track editing is possible.
4. The interface is highly customizable.
Cons:
1. Steep learning curve.
2. You can only export the video in MPEG format.
#5 Hitfilm Express
Here's a tool for both experts and amateurs alike. Hitfilm Express is compatible with both macOS and Windows and is a free-to-use video audio editing software. It's a professional video audio editing tool and offers multiple features. Additionally, it lets you export the video in various video formats.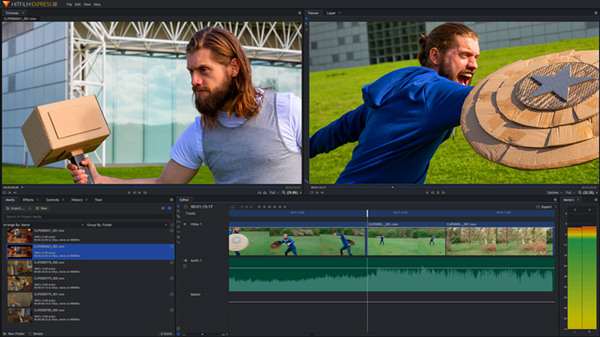 Pros:
1. It's a professional tool.
2. You can get more features by paying a fee.
3. It has an online tutorial.
4. A reliable tool for both experts and beginners.
Cons:
1. Steep learning curve.
2. Requires a high system.
#6 Movie Maker Online
For the last one, you can try Movie Maker Online. It's an online tool and is relatively easy to use. All you need to do to edit video audio is visit the site, upload the files, and get started. That's about it. You can access the site from any browser that you want.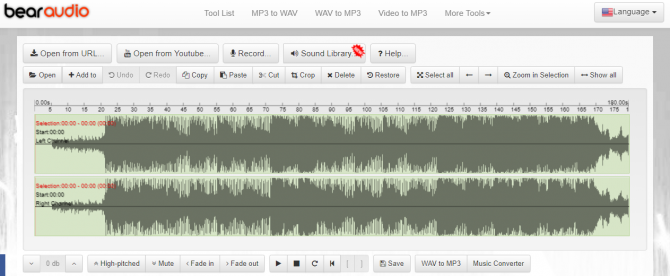 Pros:
1. Free to use online software.
2. Good editing features.
3. Easy to use.
4. Comes along with royalty-free content.
Cons:
1. Lots of advertising.
2. The layout can be confusing.
Summary & Suggestion
Now you know about the top free video audio editing software that you can go for. The one that truly stands out is TunesKit AceMovi, mainly because it is equipped with stunning editing features, and it's a professional video audio editor, which both professionals and amateurs can use. If you want to get TunesKit AceMovi, simply visit the website and download the software. Apart from this one, the rest of the tools we have included are also good enough to do video audio editing.