We cannot deny that more and more people are looking forward to learning remote skills in video and audio software so that they can bring perfection to work. Let's suppose that you are a content creator and are planning to find an easy-to-use software to sync audio and video. In that case, you need to develop the skills with such tools. Through this, your audience will be able to enjoy the harmonious content you produced and shared.
Actually, the best video and audio sync software is the one that perfectly synchronizes your video without losing the quality of the original files, it can be manual or auto. To make the search for such software easy for you, we've mentioned below the 5 best programs, along with user guides!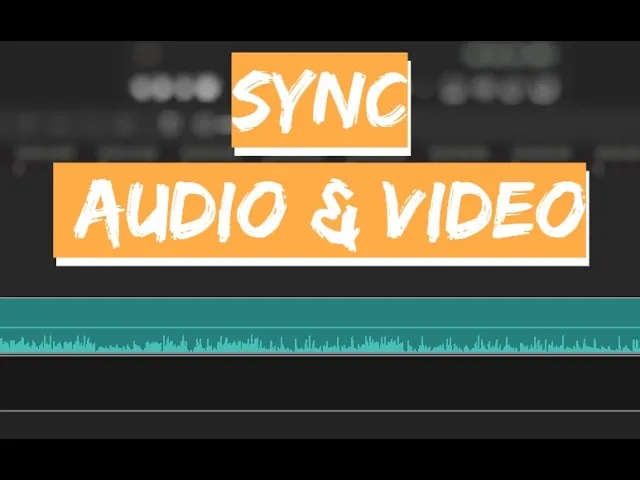 Top 1. TunesKit AceMovi Video and Audio Editor
Are you editing a content creation video for a client and want software that provides advanced and professional file-syncing features? One of the best video and audio sync software, editing through TunesKit AceMovi Video Editor will make your workflow easier. It also allows all basic editing for videos such as rotation, cutting, cropping, merging, text, and speed of the video.
With its advanced features, you'll be able to edit your audio and video in sync like a pro without putting in much effort and time. More of its features include enhancing your video, and flexible customizations, along with letting you record audio and de-noise the background noise.
Video Tutorial: How to Sync Audio and Video in TunesKit AceMovi
AceMovi Syncing Software
Clear, decent user's controlling interface
Trim out unwanted file portions
Equalize the whole video and audio
Detach the soundtrack from videos
Export audio only with high bit rate
Windows and Mac versions can download it
The timeline is able to edit batch files
Download your video quickly without glitch
Here are the text tutorials on syncing audio and video for Windows and Mac. To begin with, you need to download and install TunesKit AceMovi. You can find official buttons to download it, which is 100% safe. And you can enjoy a lifetime free trial without the limits in exporting times and file length. Give it a try and follow the steps now!
Click Import to add new files to the Media. Put your files under timeline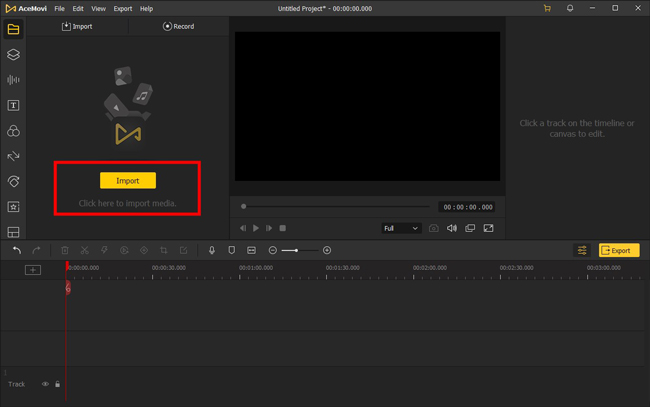 Drag and drop all your files to AceMovi or you can also click the "Import" button from the interface. You find thumbnails from the Media place. After that, put files under the track area to begin a new project. Text, music, video, or photo can be added to the timeline at anytime.
Start syncing audio and video with audio extracting and file trimming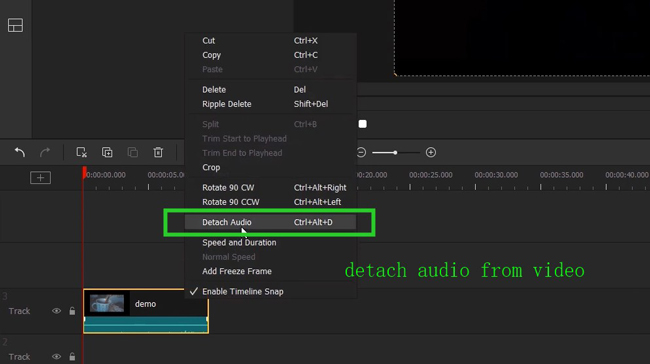 To edit the audio and video separately, you need to extract the soundtrack from the video at the very beginning. To do that, right-click the track and choose "Detach Audio", or use the shortcut "Ctrl + Alt + D". You find a new audio track under the timeline.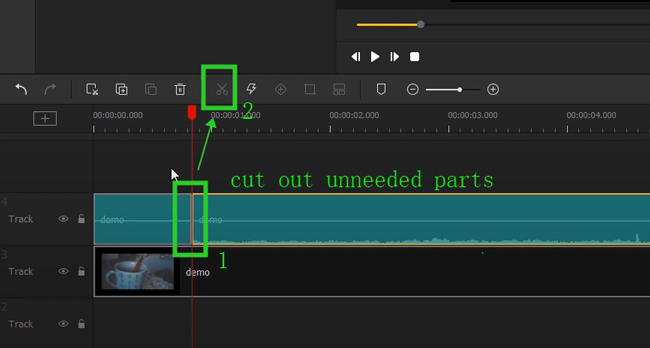 The sound waveforms help you judge which portion is soundless so that you can make a video trimming at once. Now move the playhead under the cutting point, and click the "Split" button from the toolbar. Then, delete the trimmed parts. You can adjust the duration of the video by dragging its edge. Lastly, play the timeline to check whether it is synchronized.
Go to Export to control the output format, location, resolution, and quality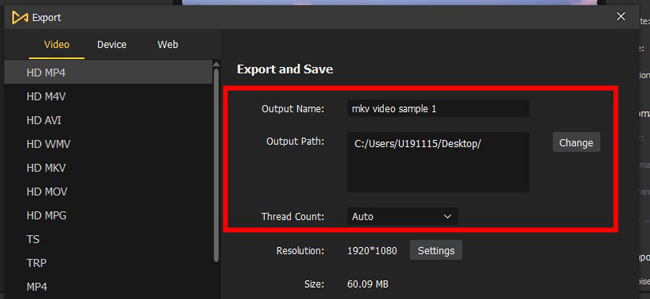 We're going to the final stage now. You need to click the "Export" icon from the interface. When you see the workspace for downloading, try to define the save path, video resolution, file bit rate, or other settings provided by TunesKit AceMovi. For more appealing features to edit audio and video, get it first!
Top 2. Adobe Premiere Pro
Want a program that offers the best features for editing? Having amazing software to sync audio and video is something that every editor dreams of. This is why we bring you Adobe Premiere Pro, which is the second on our list, because who isn't aware of Adobe software? Through Premiere Pro, you will be able to create professional and high-quality videos with clear audio.
A favorite amongst students and teachers alike, Premiere Pro allows you to edit your videos with ease through the use of innovative tools like auto sync and smart green screen. The software is also great for editing footage in all kinds of formats as it lets you render your work the way you want to.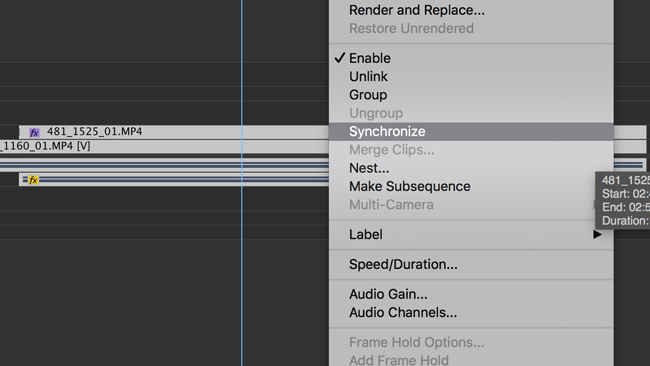 How to sync audio and video in Premiere Pro:
1. Import your audio and video media files to the timeline;
2. Highlight the track to right-click it to choose Synchronize;
3. Select Audio, and decide which track you want to make it be in sync with the video;
4. Right-click the track once again to choose "Link". Finally, download the synced files to your computer.
Pros:
Creates fast video content
Provides access to 20+ applications
Ideal for trimming and arranging clips
Produces high-quality video
A vast library of VFX and SFX
Cons:
Subscription-based software
Requires strong computer specifications
Top 3. Final Cut Pro
Final Cut Pro is a synced audio and video software designed by Apple. It works as an editor for complex projects without worrying about the complicated user interface. It allows users to experience an improved workflow. And it is video editing software along with motion graphics, color grading, right delivery, and next-level professional features.
If you're looking for maximum portability and performance, then the Final Cut Pro can be a good choice, which is alive with maximum portability and multiple resolutions on 4k and 8k projects.
Furthermore, Final Cut Pro automatically crops your video to the desired size. It allows you to make audio adjustments to individual and whole clips depending on your requirements. As software to sync audio and video on Mac, it lets you experiment with your edits, whether it is audio or video files.

How to make the audio to be in sync with the video in Final Cut Pro:
1. Add videos and songs to this software from the menu;
2. Choose the clip and go to Synchronize Clips (Or you can press Option-Command-G);
3. Name the synchronized clip, choose the starting timecode, and decide whether to use audio for synchronization or not. You can choose to disable audio components on AV clips.
4. Click OK to operate the sync operating. And download the files with the wanted parameters.
Pros:
Multi-camera editing
Advanced color grading
2D and 3D motion graphics
Improved workflow
Auto motion tracking
Cons:
Doesn't support previous versions
Higher subscription costs
Windows cannot operate it
Top 4. DaVinci Resolve
Part of the list of free software for syncing audio and video, DaVinci Resolve is popular among professionals for being feature-rich, allowing high-end video and audio editing, and the best color grading. It doesn't matter if you're using DaVinci for the first time as it has smart edit tools which offer fast sound editing and clip adjustments for the video however you like it. The software offers clip adjustments, waveform editing, professional mixing, and much more.
All of the DaVinci features are just a click away for you to explore and make good use of. It helps you edit high-resolution footage without disturbing the pixels and has incredible levels of precision to offer.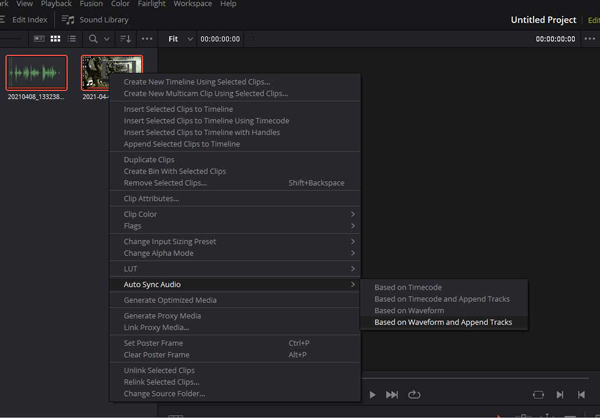 How to use DaVinci Resolve to sync video and audio:
1. Create a new project by uploading files to the Media;
2. Right-click the thumbnail, choose Auto Sync Audio > Based on Waveform and Append Tracks;
3. Play the file with the performance monitor and check whether it has been synchronized already;
4. Download the file, or share the content on social media like YouTube and Facebook.
Pros:
User-friendly interface
Easy to adjust settings
Amazing features to choose from
High-quality video and audio edits
Plenty of video effects
Cons:
Issues with exporting work
You cannot enjoy music resources with registration and downloading plugins
Limited transitions and effects for free licenses
Top 5. iMovie for Mac and iPhone
In search of the best software to sync audio and video so that your edits are less time-consuming and don't drain all of your energy? Give a try to the iMovie software by Apple, which promises to be the best video editing software by turning your videos into magic. Available on both iOS and macOS, it provides stunning resolution and audio when editing clips and videos.
iMovie is alive with extra-special effects, high-fidelity filters, and easy cutting and transformation options so that you can come up with amazingly edited videos. It has some useful commands and automatic features, making this software a must-have for all your video and audio editing needs.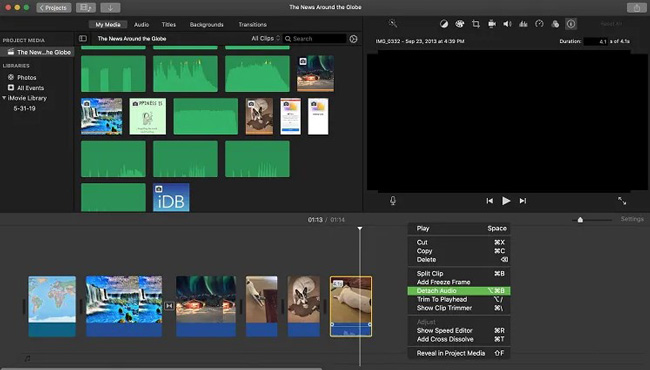 How to make the audio and video synchronous in iPhone or Mac iMovie:
1. Start a new project, import files from the album;
2. Highlight the audio track, right-click it to choose Detach Audio.
3. Cut out unneeded parts of your video or audio clips;
4. Set the resolution and bit rate of the final output files.
Pros:
Supports Full HD videos
Can edit on iPhone, Ipad, and Mac
Multiple customizable features
It helps make easy cuts
Crop files for Instagram, TikTok, or YouTube
Cons:
Works on Apple devices only
Offers basic editing
The Final Verdict
Finding the best software to sync audio and video can be a tricky and challenging task if you're new to editing software. While it takes a lot of practice, time, and energy to become good at editing, a useful tool helps make editing easier and less time-consuming.
When finalizing a good video editing software, make sure that you go through the features, pros, cons, and packages it offers. If you're working in the professional field, then we recommend you choose software that is used by professionals. If you are in search of basics, then we have provided enough options above which you can choose from such as TunesKit AceMovi and DaVinci Resolve.