There is no denying that more and more people are learning new skills in video and audio editing. These skills help them to bring perfection to the work that they do. For instance, let us assume that you are a content creator and planning to sync audio and video using simple software.
In such instances, you need a worthy app to sync audio and video for producing professional content. Several editing programs are offered in the market that helps you sync media. However, picking the correct tool for your need could be challenging if you are a beginner. Today, we will list the 5 best beat sync video editing apps on mobile phones.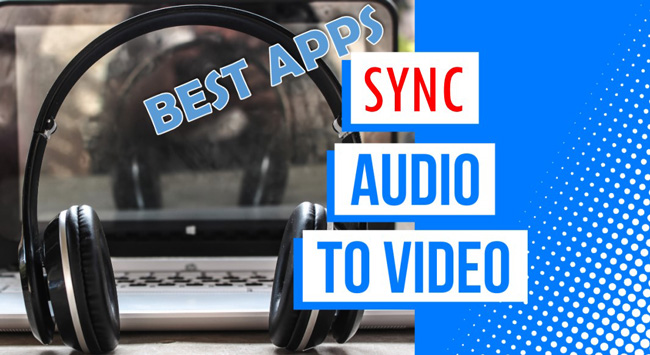 [2022] The Best Apps to Sync Video and Audio
1. GoPro Quik
Quik, a free iPhone and Android app to sync audio and video, is one of GoPro's two video editing applications. The app promises excellent edits, and it's fair to state that it does deliver incredible results. What makes it different from others is its ability to use AI and 360-degree preview.
With its help, the application analyses the videos to detect colors, faces, and audio from the footage. Apart from syncing audio and video, you can add effects and transitions, rotate clips, trim clips, and pick a theme from 26 different themes.
If you'd like to sync video and audio on GoPro Quik, apply the auto-sync to music feature or trim out unwanted parts manually under the timeline.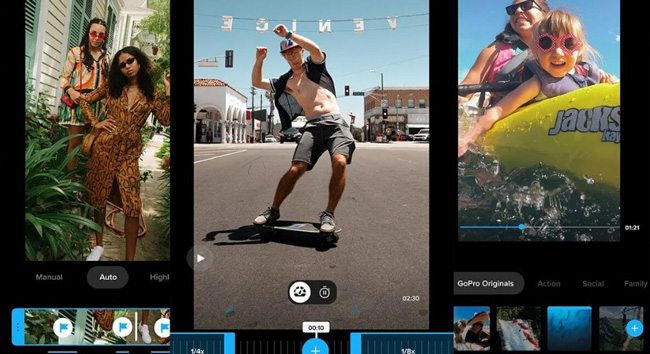 Pros:
Change video background with different colors or virtual canvases
Auto-sync feature
VR preview and editing
Import videos from GoPro camera
Screen recording and live streaming
Cons:
Single timeline for each project
Free version lacks advanced tools
2. Adobe Premiere Rush
As you will expect from Adobe, the Premiere Rush app to sync audio and video is available for Android and iOS devices. It has excellent features and helps you capture professional videos directly through the app. You can sync the video to selected audio and complete it by giving final touches such as titles and transitions.
The excellent feature of the application is its ability to handle multiple tracks at the same time. Therefore, you can create exceptional results using effects such as picture-in-picture and split views. In addition, this app allows you to resize any length of video clip quickly and share them on Instagram, TikTok, and Facebook.
When you want to make the video to be in sync with the audio, find "Audio" from the toolbar, choose the auto-sync effect, and play the rendering in real time.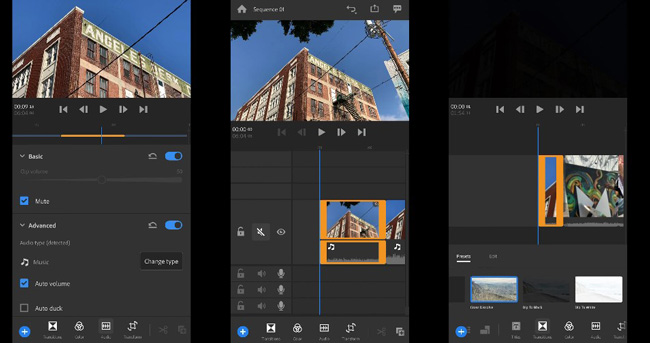 Pros:
Capture pro-quality video (1080p/4k)
Customizable animated titles
Graphics templates
Multiple tracks under the timeline
Detach/separate audio from video
Cons:
It lacks audio enhancement capabilities
Changing the video background by the green screen is not possible
3. WeVideo
WeVideo is an app available for both Android and iOS platforms. You can use this app to sync video and audio without losing the original quality. The simplified interface allows straightforward access to the features, easing the editing process.
Additionally, you can create 4K movies and add transitions, text, and motion effects.
Different from Adobe Premiere Rush, the availability of basic green screen editing of WeVideo helps you give life to your imagination. Besides that, the cloud storage option allows you to save the project on the device and pick it up from the same on another device.
For syncing audio and video on WeVideo, click "Edit" > "Trim" from toolbar. Drag and drop the edges of the timeline to define the areas that you want to keep.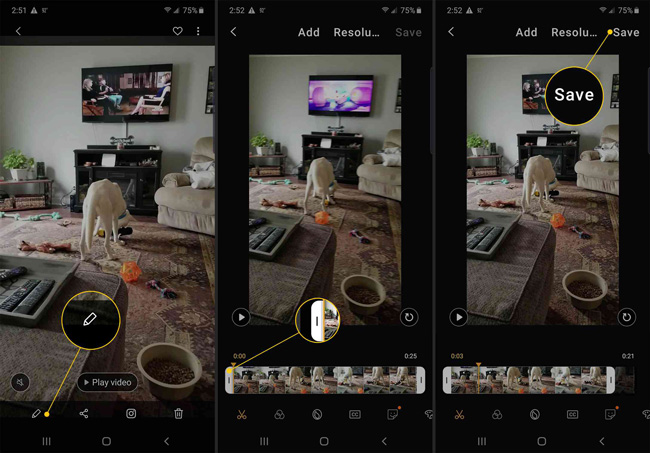 Pros:
Crop video at 1:1, 4:3, 3:4, 16:9, etc.
Transitions, filters, and animations abound
Animated texts and moving captions
Customizable user interface
Convert video playback speed from 0.01x to 100x
Cons:
No auto-sync audio and video option
High-quality file editing rushes often
4. Vimeo Create
Vimeo Create sync audio to a video app allows users to edit and create simple videos from the 3000+ media templates. The availability of stock images and footage also helps add them to an existing video file for professional results. By the way, the built-in features give you chances to fine-tune the video by using synchronization, adding captions, creating transitions, and customizing the colors.
Once the edited video is ready, you can save it on the device or share it on Vimeo and other video hosting and social media platforms. Although the audio sync app is free, possessing a Vimeo Pro account helps you have access to crucial features. The royalty-free music resources help you change the background soundtrack at an ultra-high speed.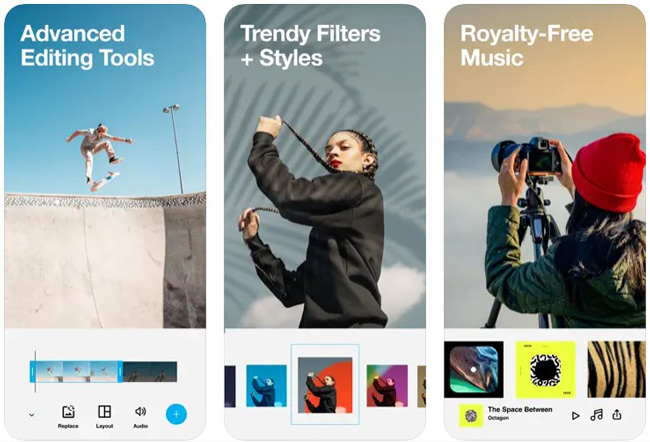 Pros:
Off-the-shelf video templates
Create a brand kit with logos, colors, and fonts
Photo slideshow maker with music
Share videos on Instagram, Facebook, YouTube, and more
Precision trimming and cropping timeline
Cons:
Watermarkings for downloading or sharing
5. KineMaster
KineMaster is suitable for professionals. However, the interface, performance, and learning curve make it easy for a beginner to utilize them efficiently. You can use this sync video to music beat app free and use advanced features such as frame-by-frame granular editing, instant previews, and unlimited audio clips to create an appealing result.
KineMaster allows you to create 2 video layers, which you can animate using keyframe animation, preset effects, chroma key compositing, speed control, audio pitch distortion, and precise color adjustment. Nevertheless, the free version will leave a watermark and requires a purchase to access full features.
As regards syncing music and video by KineMaster, users should extract the audio from the video in the first place. Try to add a new voice-over or narration to the video.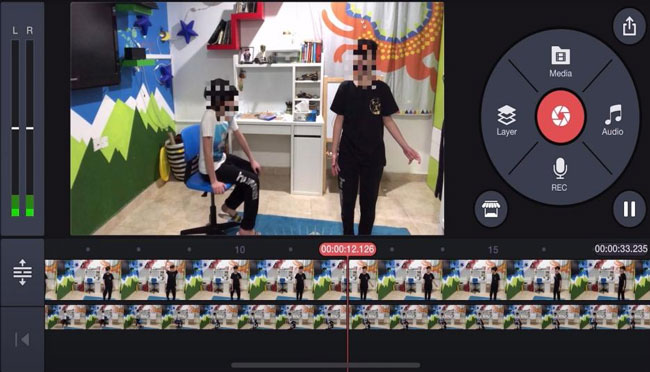 Pros:
Horizontal, streamlined screen operation interface
Record a new narration or add background music
Split or combine batch files at one track
Extract audio from the video
Add effects and overlays
Cons:
The demo version has watermarks
Advertisements
The Best Audio Video Sync Software for Windows/Mac
As a content creator, you must have access to the features that help you edit the video syncing to your requirement. In fact, computer video editing software performs better than many applications on mobile phones in handling batch files and operating advanced effects like the green screen.
TunesKit AceMovi is software to sync audio and video in its category. The robust algorithm makes it proper for you to make synchronous processes without hassle. You can proceed with the editing without hesitation, even if it is your first time using a video editor. The software is alive with complete functions and thousands of material resources.
The advanced features provided by TunesKit AceMovi help you create a video like a professional. The intuitive interface, performance, and layout give a good balance and save time and effort in editing. Features include filters, reverse video, keyframing for creating animation effects, split screen, picture-in-picture to create an interactive video, green screen editing, and mirror effects.
AceMovi Syncing Software
Trackless screen operation UI
Add overlays, transitions, filters, etc.
Webcam or screen recording
Edit high-quality video media
Ready-made text templates
Set personalized bit rate and codec
Add narration or voice-over
Free demo version to try
Audio and Video Syncing Frequently Asked Questions
A. What is syncing audio and video?
Audio and video synchronization is a procedure where you will be syncing the relative timing of an audio file with a video during post-production, transmission, playback processing, and reception. AV synchronization is a significant problem in film, video conferencing, and television. With the best app to sync audio and video, correcting the lip sync error is possible.
B. Why my audio and video are out of sync?
The reason you are experiencing out-of-sync for your video and audio file could be outdated device drivers or corrupted device drivers. In most cases, updating or reinstalling the device drivers will help fix the synchronization issue. Otherwise, you'd better download a tool to make them synchronous by trimming or else.
C. Why is the sound on my TV not matching the lips?
There are several reasons why the television audio does not match the lips. First, the problem could lie with the broadcast itself or a bad connection between the cable or satellite set-top box. In other instances, if you are using a DVD player or a home theatre system, a poor connection or a faulty optical cable will cause audio delays. The other reason could be a setting mismatch on your television.
Conclusion
Creating an intriguing video is challenging when you need access to the best app to sync audio and video. Fortunately, the availability of video editor applications made it easy to synchronize any file. The list of programs discussed here gives you an insight into the tools' performance, features, and availability. However, you cannot compare the performance of an application running on a smartphone to that of a desktop.