One of the most necessary parts of music production is to record a clip. From capturing sound while decreasing background noise to changing your voice in real-time or adding mind-blowing audio effects (e.g. Bleep and Shot) to your audio track, a sound recorder with powerful features is needed.
You might want an easy yet one-stop voice recording and editing app that can record a piece of perfect voice clip just on a mobile phone. Since you see the prevalence of different tools having respective functions and user experiences, finding a satisfying one will be tricky. But, that didn't stop us from guiding and preparing an insightful top-list of the 6 best voice recorder apps. Ready? Let's hit the road!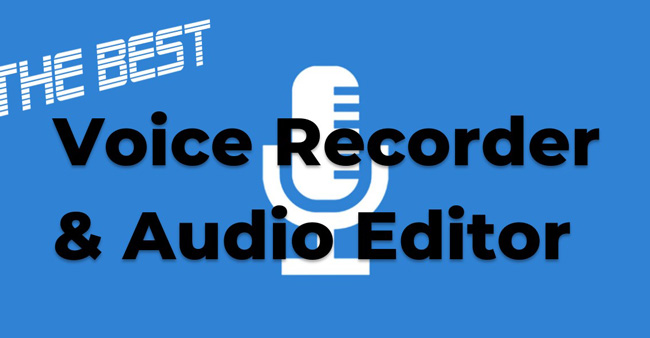 Why We Picked Them Up
A good voice recording app is decided by many aspects that are appealing to users. We believe that such an app should help you operate an easy recording process, along with performance editing skills. For instance, you can continue to trim unwanted parts or choose to convert between different formats.
Also, you may need to consider whether this app is capable of editing recordings professionally. To be specific, a piece of HQ music needs 320 Kbps bitrate and 44.1 kHz, while there are few voice recorder apps that can operate it. Not to mention the codec and mic settings.
On top of that, we integrated the pricing and user experiences that the app offers. Those recommendations are tested and proven to be perfect in audio editing. You can download and use some of them completely free.
7 Tips to Record Voice in High-Quality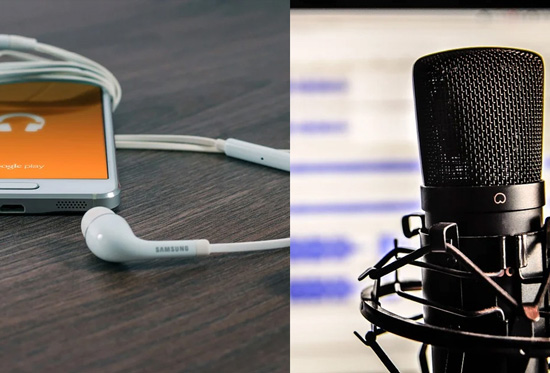 Tip 1. Find a good application. You need to make sure that it is compatible with your device.
Tip 2. Denoise the background. It's necessary that the recording should be operated in a silent place. Even if you can denoise the background after recording, you'll find it better if you keep the background silent beforehand.
Tip 3. Select correct formats. In fact, the type of music file will influence the quality to a large extent. Those lossless and high-quality music formats include MP3, FLAC, WAV, and AIFF.
Tip 4. Set related parameters. It's required for professional audio editing that users should customize the file to a high standard. Generally speaking, you should take the codec, bit rate, sample rate, and more into consideration. Those features are unlikely to be performed in an app, you can try AceMovi or Audacity.
Tip 5. Increase or decrease the volume properly. Users may neglect the importance of volume. To be detailed, you will find the waveform of clips overflowing the detector. In this case, you'd better manipulate the volume and remove the unstable parts.
Tip 6. Trim out unwanted soundtracks. Almost every clip of the audio file needs to be trimmed. The front and rear parts may cover unnecessary voices and dialogues. You can use those apps to drag the edges of every recording to achieve it.
Tip 7. Prepare equipment to make an HQ recording. Microphones and headphones help a lot. They can automatically denoise the background and provide you with a relatively clean channel to record any track.
Free or Paid Voice Recorder Apps: Which One is Better for Me?
Many people believe that those tools that come with paid services will give users a better experience and advanced settings. However, that depends.
Let's take the following sound recording apps as examples, the VOZ is easy and quick in recording, which can be used while you switch the phone screen randomly. It's completely free. Consequently, you can use it firsthand if you want to record a voice in a simple way.
As for paid tools, some of them provide you with cool features and customized services. For example, if you want to keep the recordings privately, you can use the Memos. While the Rev is able to auto-transcribe dialogues in your recordings.
6 Best Apps to Record a Voice on HQ in 2022
Top 1. VOZ
Availability: iOS 11.0 or later
Price: Free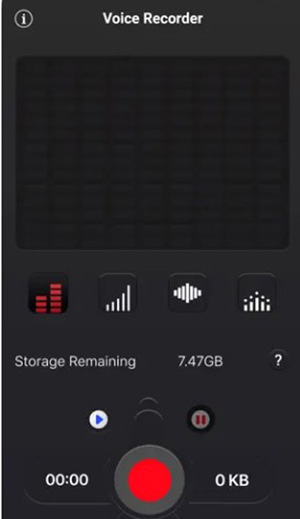 If you intend to record your audio and are looking for a free sound recorder app, VOZ can be a befitting idea. It is one of the easiest tools that stimulate recording the audio track at high sound quality.
Apart from that, the installation process of VOZ is effortless, meaning you can grab this app on your iPhone without breaking a sweat. Surprisingly, this tool also empowers you to adjust the mic and recording quality per your requirements. The sound waveform feature helps you navigate to the parts that you want to trim out losslessly.
Pros:
Trim out unwanted audio tracks
Loop voice
Improve recording quality via bit rate and codec
Real-time sound waveform
Cons:
Call recording is not supported
For iOS only
Top 2. ASR
Availability: Android 5.0 or later
Price: Free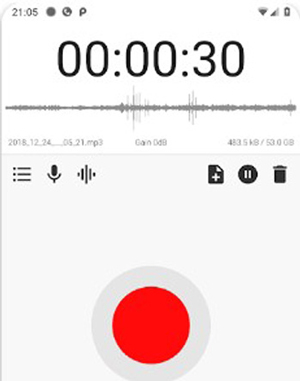 One of the multifunctional sound recording apps that makes your voice recording look as if a professional singer or podcaster has recorded the audio is ASR. You can record meetings, lessons, notes, and songs without any hassle with it.
Still, when you alter the settings to audio input recording, ASR won't disappoint you by creating flawless and soothing audio. The best thing about the audio record app is that it offers a straightforward workflow so that you can continue to edit the music file tremendously.
Since this sound recorder app is free, beginners who are new to this field can take their time and test the ability they have got.
Pros:
Audio formats: MP3, AMR, WAV, M4A, OGG, FLAC
Note addition
Change bit rate and sample
Record from Bluetooth headset mic
Multiple languages supported
Cons:
This app needs an audio trimmer
Created for Android users merely
Top 3. Memos
Availability: Android 10.0+; Android 5.0+
Price: Free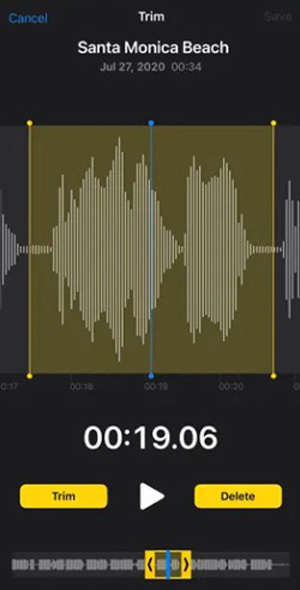 You'd have heard about Voice Memos as it is a pretty popular app that activates recording the audio without noise and allows you to flag recording points and lock private files. It even provides you with bitrate conversion service up to 320 Kbps.
This sound recorder app is pleasing because of the pretty straightforward installation process, and you can grab it with minimal effort. The best thing about this tool is that you can mix the audio after recording it. Additionally, it can set the recording as your ringtone directly.
Pros:
Chop out unneeded audio
Arrange audio files
Private recording
Share to most social media
Loop recording
Cons:
You will be asked to watch ads before some of the actions, so don't use it if you think ad videos are generally infuriating
Top 4. Awesome
Availability: iOS 9.0+; Android 5.0+
Price: In-App Purchases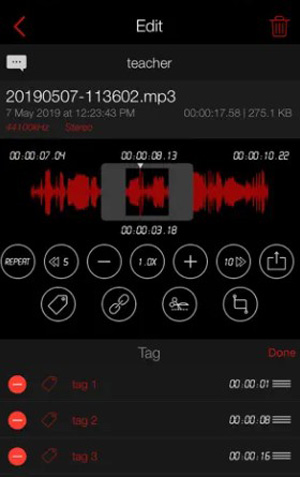 The next reliable app to record sound is Awesome Voice Recorder. It has been reported that Awesome is one of the most used recording apps for mixing multiple audio files. Accordingly, big production houses have also acquired the services of this tool which is itself a moment to take pride in.
This tool empowers you to record different formats of audio, add other sound effects, and increase or decrease the pitch of your audio files. It lets you directly share the recorded and edited sound files to different social media platforms. Moreover, you can also select manual controls to reproduce, remix voice recordings and add tracks.
Pros:
Various music formats
Cut out unnecessary clips
Sound tag
Post on social media
Audio files combination
Cons:
Premium accounts: Playback Controls, Voice Trimming, Audio Combination, and Tagging
Top 5. Rev
vailability: iOS 10.0+; Android 5.0+
Price: In-App Purchases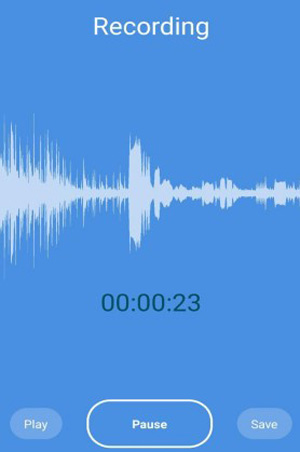 Rev Voice Recorder isn't a bad sound recorder app when it comes to creating high-quality sound without effort. It is a versatile tool that allows you to record any type of clip and transcribe it automatically.
Using this tool, you've got the luxury to control different components of your audio files, make changes to the rate and sample of your sound and perform various other activities, like trimming and sharing.
This sound recording app comes up with a brilliant interface, and the unbelievable thing about this tool is that you can capture unlimited memos, lectures, recordings, and meetings. However, if you intend to unlock all the features, you have to purchase the premium package of this voice recorder app.
Pros:
Advanced auto-transcribe
Audio trimming
Share via message or email
Easy-to-catch interface
Pauses for coming calls
Cons:
Order for human, professional transcripts
Frequent error after upgrading
Top 6. AudioShare
Availability: iOS 10.0 or later
Price: In-App Purchases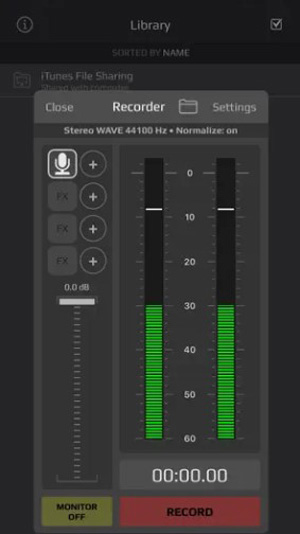 Last but not least, AudioShare makes our list of 6 incredible sound recording apps courtesy of the undeniable qualities it possesses. It empowers you with studio-like facilities that can turn the original sound into a glorious one.
Luckily, this brilliant sound recorder app comes up with a noise reduction tool that helps you eradicate the unwanted sound from your audio, making it relevant and flawless. Despite offering high-quality features and various sound effects, AudioShare doesn't shy away from providing you with a straightforward audio recording interface.
Pros:
Fade in and fade out
Sample rate up to 8K
Convert between audio file types
Trim, normalize, and share songs
Cons:
It's a bit intricate for beginners
Android users cannot use it up to now
The Best Software to Record a Voice-Over on PCs - AceMovi
We've shared with you the best apps to capture your voice and music. However, if you want to operate advanced editing features (e.g. conversion and speeding) easily or deal with multiple audio files, an app is not enough. So, you may need to use your computer to do the process workflow.
TunesKit AceMovi is a remarkable software that can record, edit, trim, combine, reverse, convert, equalize, sync, and adjust your audio. The Music Library of AceMovi has built-in background music resources and effects, like Bleep. Now, let's see how to record voice-overs with it.
Conclusion
This post should be good enough to help you find a reliable sound recorder app. We were keen to review and test some of them to help you record and mix your voice as you'd have intended. And every voice recording app in this article makes complete sense and won't shy away from giving you the best experience.