Using a different voice for work and playing a prank on your loved ones is both amusing and useful. Voice changing is also used for live discussions and voiceovers for videos to hide your identity. However, you require reliable apps to produce convincing results with voice change.
Since so many applications are available for Android and iOS, voice-changing applications tend to get lost in the shuffle, making it tough to find reliable tool. However, if you're looking for the best voice changer app, don't worry. In this article, you'll discover the finest option for your devices. Let's get started!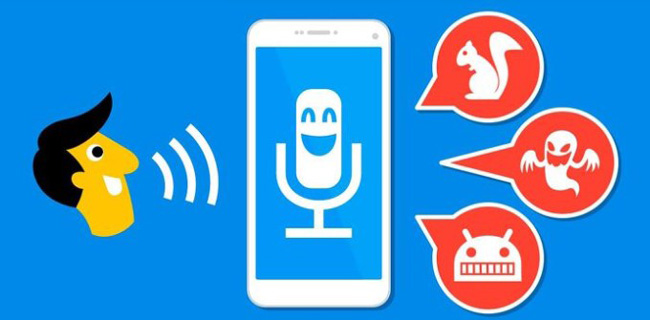 Top 6 Free Voice Changing Apps on iPhone & Android
Top 1. CyberLink PowerDirector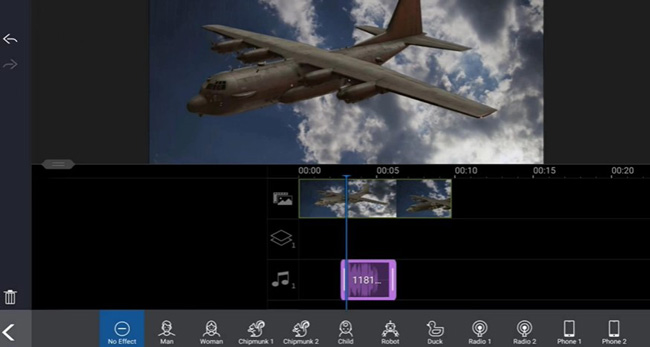 Available for: iOS and Android
PowerDirector provides various tools for editing and modifying audio, including tools for modifying one's voice. It is a free voice changer app that automatically fixes or improves audio by using AI to detect frequencies and find errors. You can use this application to modify the audio in your videos or only the audio clips. It has a simple and uncomplicated user interface that allows you to be up and running in a matter of minutes.
It features straightforward, easily understood controls, leading to an improved process that shortens the time required to generate a disguised voice. PowerDirector is not only user-friendly but also very entertaining. The ability to change your voice in different ways is both fun and original. You have a wide variety of voices, and radio/phone sounds to experiment with, from duck to kid to robot to man to woman.
Top 2. Baviux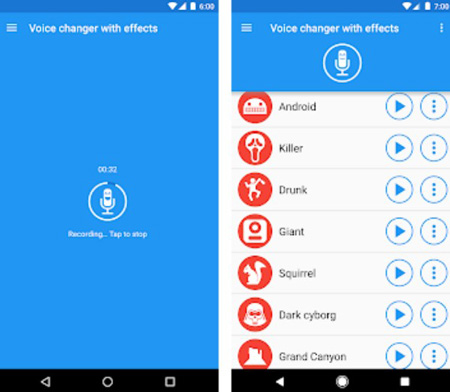 Available for: Android
Baviux is not only one of the most well-known voice-changing applications on an Android device but also one of the easiest to use. It allows you to record audio, add effects, or import files. It is simple to use, and there are over 40 different effects from which to pick. It includes all the typical suspects, such as zombies, robots, squirrels, and aliens.
Using the app also makes it simple to store or share your audio clip, as well as use it to customize your ringtone or notification tone. The software is free; however, in-app purchases are available for some premium effects, and further effects may be unlocked by viewing advertisements. However, this application does not allow you to alter your voice while on a call.
Top 3. Call Voice Changer – IntCall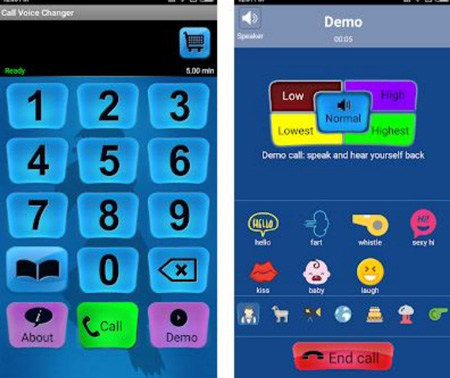 Available for: iOS
Call Voice Changer – IntCall is the software for you if you are searching for a tool that will allow you to alter your voice while you are on a phone call. This voice changer app iPhone enables you to alter the pitch of your voice while you are on a call and use several other sound effects.
During calls, you can play various amusing sound effects, such as characters from cartoons, birthday songs, greetings in various languages, and a great deal more using this tool. Because it uses Voice over Internet Protocol (VOIP) to connect users' phone conversations, you need a reliable Internet connection before using the app.
Although there is no free option (you are charged by the minute), you may try out the app in a demo mode before deciding whether or not to make a purchase. You can hear what you sound like and experiment with the effects while in demo mode.
Top 4. Voice Changer Plus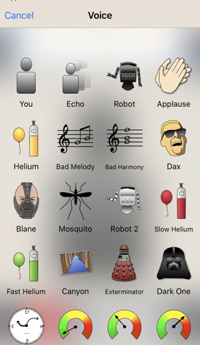 Available for: iOS
Voice Changer Plus is amongst the top voice changing applications for iOS devices. Over 55 unique speech effects and music loops are available in Voice Changer Plus. The user can add many audio effects, which may be stacked on top of one another. With this voice changer tool, making humorous voices is a breeze.
It is not just restricted to changing audio clips; you can also change your voice while singing via this tool. It has a Bad Melody feature that allows you to change the tempo of your voice, making your (tuneful) singing into something that no one wants to listen to. The captured sound may be edited to get tailored results.
The Voice Changer Plus app provides full integration with VoiceOver. You can utilize the app with numerous pre-recorded audio recordings for optimal results. The app is available in premium and free editions. The app's premium version allows you to share pictures without advertisements. The app is amazing since it allows users to record inside the app, alter their voice to that of a woman while on a call, and import audio clips for conversion purposes.
Top 5. VoiceChanger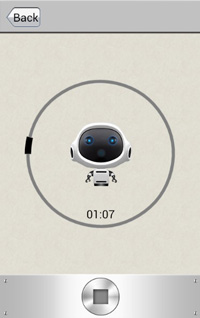 Available for: iOS and Android
Designed by AndroidRock, Voice Changer is a voice changer app during call that lets you add various audio effects to your outgoing calls to make them seem funny. The user interface of the tool is plain and archaic but is straightforward to use. There are a few basic editing features available in Voice Changer.
The app allows you to send the altered voice to other users wirelessly using Bluetooth or several social media sites. This free anime voice changer gives some of the most realistic robotic effects compared to all other robot voice changer programs to make your voice tone high, hilarious, deep, and terrifying.
Recording your voice will allow you to imitate various characters, from chipmunks to demons. There is also an option to import voice files or record new ones. Some effects are underwhelming, such as the Old Radio, which generates a wall of noise.
Top 6. SnapChat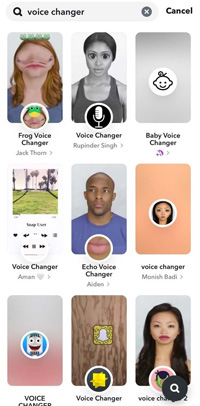 Available for: iOS and Android
The 'Snapchat voice changer' feature of the multimedia messaging application Snapchat enables users to make their voices sound strange and humorous. Millions of people all around the globe use Snapchat because of how intuitive it is. You can use Snapchat's video recording and live messaging features to create and share video snaps with your friends. Moreover, the app allows users to add various effects to their videos and record comedic voices to accompany them.
To use the Snapchat voice changer, mute the video snap, then hit the speaker button to choose from various voice changer Snapchat effects. Also, the alien voice filter on Snapchat can make your voice seem unearthly. Using the kid voice changer filter, your voice will be altered to sound like a baby's.
You can also alter your voice by experimenting with speed modifiers provided by this tool.  Once you've recorded your video, you can change the pace of your voice by tapping the Snail or the Rabbit in the filter's menu.
What Are the Differences among Those Best Voice Changer Apps?
Voice changing is an amazing and funny thing to do if you wish to disguise your voice to someone else. Using the Voice Changer App, you can easily prank a friend. However, finding a good voice changing app is difficult because of the many apps available. This part is mainly about the differences among those voice changers from available system, basic functions, and more aspects.
| | Operating System | Many Voice Types | Basic Volume Editing | Auto-Save | Calling Voice Change |
| --- | --- | --- | --- | --- | --- |
| CyberLink PowerDirector | iOS and Android | √ | √ | × | × |
| Baviux | Android | √ | √ | √ | × |
| IntCall | iOS | √ | √ | × | √ |
| Voice Changer Plus | iOS | √ | √ | √ | × |
| VoiceChanger | iOS and Android | √ | × | √ | × |
| SnapChat | iOS and Android | √ | √ | × | × |
An Alternative Way to Change Your Voice Easily
Since you may find some apps are not good enough to change your voice in a recording or video and edit the changed voice in volume, speed, pitch, bit rate, and more, using voice editor software is better than an app. For one thing, the user interface is more convenient, while there are more powerful functions set inside for free. The best voice changer software is AceMovi Video Editor, which is excellent to edit voice and video on your computer. Aside from changing voice, converting the playback speed, adding a voice over, and more features are at your disposal.
Video Tutorial: Use AceMovi to Change Your Voice