With advancements, content on social media changes its trends every day. Likewise, speed adjustment in videos is a creative technique that enables users to engage the audience with uploads. Social media like Instagram and TikTok are full of creative ideas with slow motion and fast motion videos and GIFs. Speeding up and slowing down is easy if you have a vigoroso video speed editor.
This article will provide you with the differences between slow and fast-motion videos. Also, you will get to know why films have been frequently using slow-motion moment scenes. After that, we're about to provide you with the seven best video speed editor tools perfect for generating speed motion videos. Now, go through the whole article with me.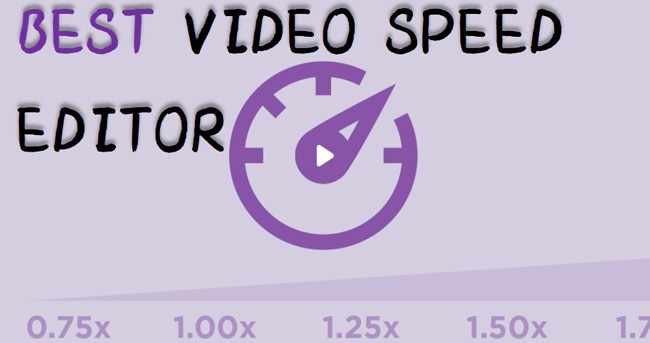 Slow Motion Vs Fast Motion
Slow motion effects record videos with a fast speed of 240 fps and 960fps. The common video of 30 fps is usually used for normal purposes. If you create a slow motion video of 240fps, then the file will be eight times longer than the original one. It is mostly used for commercials, movies, and decisions in sports events. The super slow motion of 960fps is used by slowing the normal video to 32 times. It will capture facial expressions and fast-moving objects.
At the same time, fast motion videos are actions faster than the original action taken in any situation. When you plan to make a video with fast motion effect, which will pass the things and events unnecessary for the viewer's attention. For instance, the scene of a flying airplane will speed up in a film.
Why Do Films Use Slow Motion Effects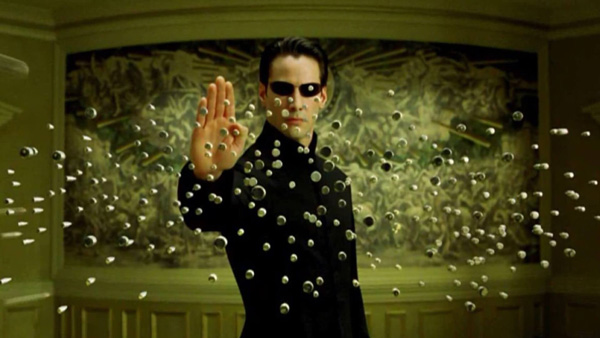 We often see slow-motion episodes and pictures in a film. Have you ever wondered what the purpose behind using this effect in movies is? The slow motion effect is used to emphasize and give importance to something. Usually, intense scenes, decisive moments, and nature documentaries are slowed down to give viewers the essence of movement or action. In addition, to create catharsis, a slow-motion effect is the best way. Videos that are in slow motion produce the feel of time-lapse to viewers.
The following are the purposes behind using slow motion in films:
· For action
· For death scenes
· For emotional moments
7 Best Video Speed Editing Tools in 2022
This section will introduce you to the seven best video speed editors that will allow you to speed up or slow down your videos. Here we go!
1. AceMovi Video Editor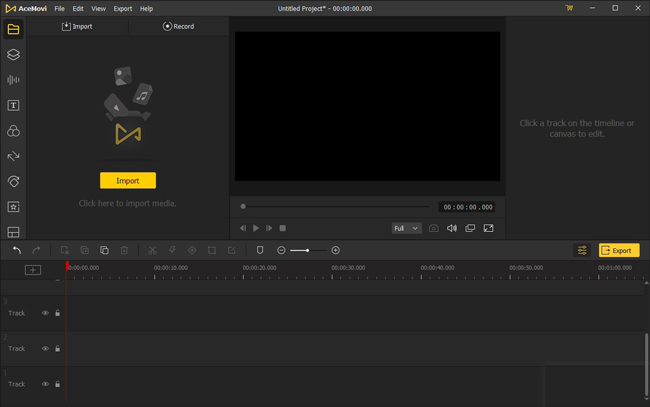 TunesKit AceMovi Video Editor is the top video speed editor compatible with Mac and Windows computers. The editor performs multifunctions and provides an easy and friendly interface. You can upload videos in numerous video formats, such as MP4, M4V, MOV, MKV, MPG, etc. On top of that, to speed up or slow down your videos, it just needs a couple of clicks.
The range of speed degrees you can set is from 0.01x to 100x. Moreover, it is simple to enhance your videos with additional tools of the editor, including audio effects, split screen, adding moving texts, filters, and transitions. Here, download AceMovi for making slow-motion videos.
AceMovi Speed Changer
Lightweight, easy-to-control system design
A wide range of speed degrees to apply
Edit multiple video files at one track
Download the free trial on Win or Mac
Play the slow motion clip in the real-time
Trim out unwanted parts on timeline
Export video in HD/720p or Full HD/1080p
No in-app purchases and extra plugins
How to Change Video Speed with AceMovi Video Editor
2. EaseUS Video Editor
EaseUS has a speed control function that enables you to adjust the speed for your slow-/fast-mo videos. If you want to change the pace of your video clips, the editor allows you to set the number from one minute to 10 minutes with 0.1x. Also, you can use tools like reversing, rotating, color correcting, and audio effects applying.
As a one-stop video generator, EaseUS Video Editor also allows you to create stunning, attractive videos on social media platforms with easy and simple steps. The filters like Rainbow, Vignette, and Negative can be set from the interface. On top of that, the editor is compatible with Mac and Windows computers at present.
Pros:
Burn videos to DVDs
Smart text-to-speech transition
Mix multiple audio and SFX
The trial version comes with no video file size and length limits
Record a narration/voice-over
Cons:
Watermarkings
Limited to advanced effects and filters on the trial version, and you cannot export videos on 1080p resolution
3. OnlineConverter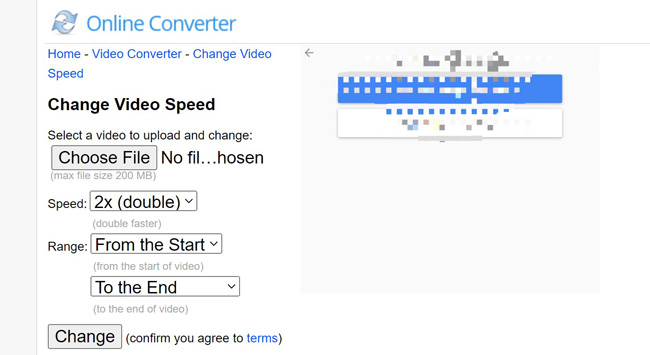 Online Converter belongs to one of the best video editor speed up tools that is totally free, and is capable of speeding up and slowing down your video clips within seconds. The editor is simple-to-learn, and you don't need to buy premium plans. It supports multiple video formats such as MP4, AVI, FLV, MOV, 3GP, MKV, and so forth.
An easy interface allows you to edit your videos and change their speed according to your requirements. The Speed tab on the editor provides different speed options from 0.5x to 4x. The only drawback, the editor, has is that you can import videos of specific sizes within 200 MB.
Pros:
Control media speed from 0.5x to 4x
Edit video speed without spending a penny
You don't need to register first
Change the duration with specific time points
Switch to other tools on the interface
Cons:
The file size is limited to 200 MB
It is unfit for batch file speeding
A lot of advertisements
Top 4. Clideo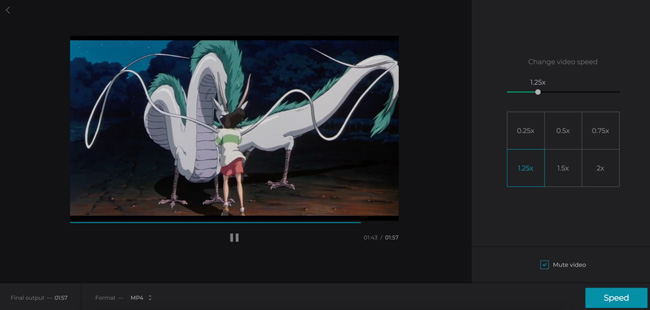 Clideo is one of the most catchy and popular free online video speed editors. Along with many features and editing tools, the editor enables you to speed up or slow your footage. You don't need to install software on your computer or any other device to edit your videos. Open Clideo and create amazing videos with funny VFX like mosaic and blurring is supported. The video speed editor offers you six-speed adjustment options. You can use the slider to adjust or change the speed according to your needs or requirements. Other tools that you can use for editing contains trim, cut, merge, convert, and add audio. With an easy interface, beginners can edit their videos on Clideo without difficulty.
Pros:
Specific workspace that simplifies video editing
Upload files from local folders, Google Drive, or Dropbox
Convert video to 3G2, 3GP, AVI, MP4, OGV, RM, etc.
Adjust playback speed from 0.25x to 2x with one click
Cons:
One-file editing is not allowed
You will see a watermark without upgrading accounts
Top 5. Kapwing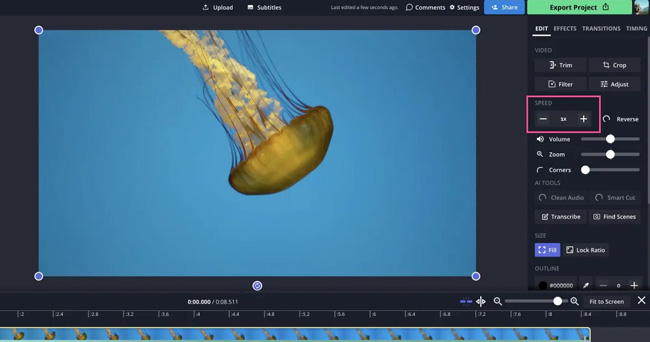 As an online video speed editor that enables you to import videos from all platforms or by URL, Kapwing adjusts the speed with options from 0.25x to 0.75x for slow-mo videos and 1.25x to 4x for faster videos. It provides users with stunning editing tools like screen recording, splitting, and color grading with an easy and friendly workflow. You can get the hang of how to speed up videos with youtube editor on Kapwing.
Kapwing empowers you to convert your footage from video platforms. Also, you can share your edited videos on all social media platforms like YouTube and Instagram. The only drawback of the editor is that you are restricted from uploading videos with limited sizes. And there is no free exporting channel right now.
Pros:
Upload files via URL
Auto object detection
Reverse audio or video
Extract sound track from your files
Crop out the aspect ratio of a video
Cons:
Kapwing do not support free exporting channel right now
Downloading video is laggy
Top 6. KineMaster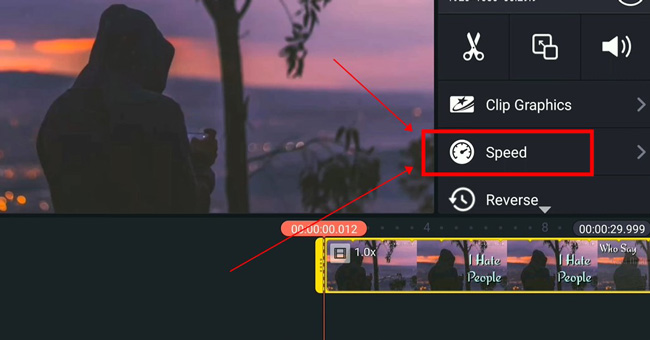 KineMaster is a free video speed editor app compatible with mobile phones. You can adjust and change video speed based on detailed needs with simple and quick steps. As a beginner, you can feel a little bit of difficulty in editing your videos. But by following the right instructions, you will have a good understanding of the process.
The app offers many editing tools such as record, trim, cut, merge, overlay, reverse, and advanced features like the chroma key and split-screen. This free video speed editor enables you to export your slow motion or fast motion videos in high resolution up to 4k. However, you cannot edit two videos at the same time.
Pros:
Compatible with both iPhone and Android
Drag-n-drop user interface
Intelligent motion tracking
Combine and merge multiple files on one track
A lot of filters and transitions
Cons:
You cannot control the audio speed or pitch without editing the video
Top 7. iMovie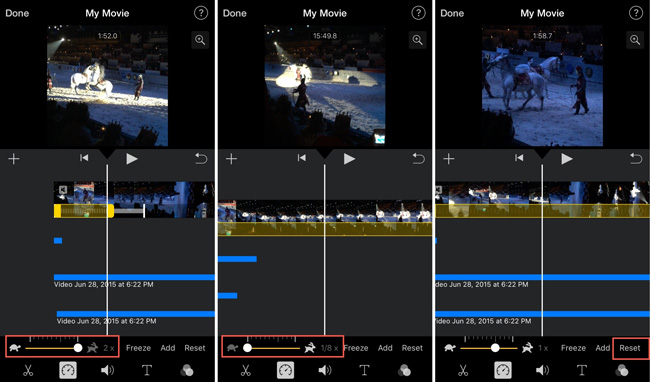 Created for iPhone and iPad, the iMovie video speed editing app is not supported to be installed or downloaded for Windows. It is pre-installed on your iOS system. Other than iPhone, you can also use the editor on your Mac. This video speed editor allows you to adjust the video speed at 0.5x, 0.25x, or 0.125x.
iMovie has multiple editing tools such as cut, crop, trim, merge, and special filters and effects that enable you to create amazing movies in a short time. With simple steps, you can make slow or fast-motion videos under the non-linear editing (NLE) interface. By the way, users do not need to buy premium services for advanced editing up to now.
Pros:
Run on both iPhone and Mac
Streamlined using interface
Pre-installed on your device
Manipulate video speed from 1/8x to 2x
Edit one or more files at once
Cons:
You cannot use iMovie on Windows or Android devices
There are few music resources or sound effects
Lastly
We've provided you with information about slow motion and fast motion videos. Also, the frequent use of slow-motion videos in films is explained in detail. You can choose from the best 7 video speed editors based on UX and UI. It's easy to enhance your videos with motion effects to produce exceptional outcomes. Now, learn about the amazing features and editing tools of all recommended video editors and create stunning videos for your social media platforms.