Speeding up a video or slowing down it, which is known as fast or slow motion, can make your video faster or slower than its original speed. In general, changing the speed of video clips can improve the video's visual effects - Speeding up your video may create a funny and dramatic result while slowing down shows viewers a time-lapse feel.
To achieve this effect, users need to find a good video playback speed editing tool. If you want to get such a tool to adjust your video speed, you can read this tutorial. We will offer you 5 detailed descriptions about how to speed up and slow down a video on diverse platforms. Ready? Let's move out!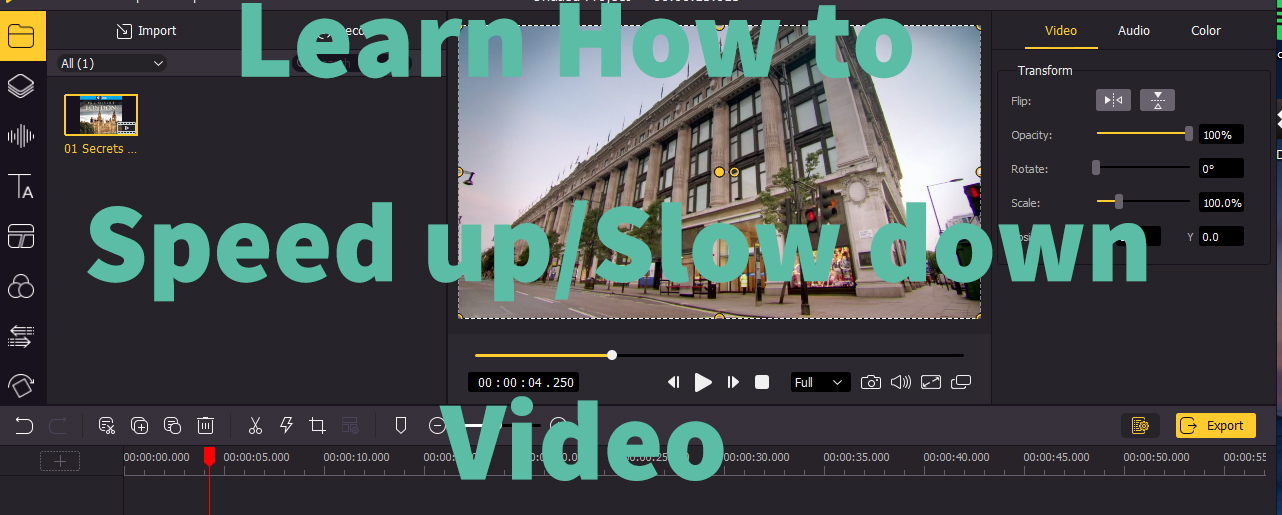 The Easiest Way to Speed Up or Slow Down Video in Computers - TunesKit AceMovi
Firstly, we'd like to introduce how to change video speed on a computer for those who tend to select powerful desktop software. TunesKit AceMovi Video Speed Editor is such a multifunctional yet user-favored pick. No need to worry about system compatibility, as TunesKit AceMovi develops both Mac and Windows versions.
This software deals with videos with different formats, including MP4, M4V, MOV, MKV, MPG, etc. Whether you hope to speed up video or slow down it, you will complete adding an effect with a few clicks. Ready-to-use speed presets include 0.25x, 0.5x, 0.75x, 1.25x, 1.5x, 2x, 4x, etc. There is also more interesting experience you can enjoy, such as adding moving texts, audio effects, transition, split screen, etc.
AceMovi Video Speeder
Speed up a video up to 100x
Slow down a video up to 0.01x
Customize any speed degree as want
Straightforward working interface
Trim out a video to reach the best quality
Convert file format with wide ranges
Background music and sound effects library
Auto high-quality or low file size outputs
A step-by-step guide to speed up and slow down a video
In this part, the detailed guide is going to meet you. You will know you do not need professional video editing skills after reading this.
Start TunesKit AceMovi. Find Import and click it to select videos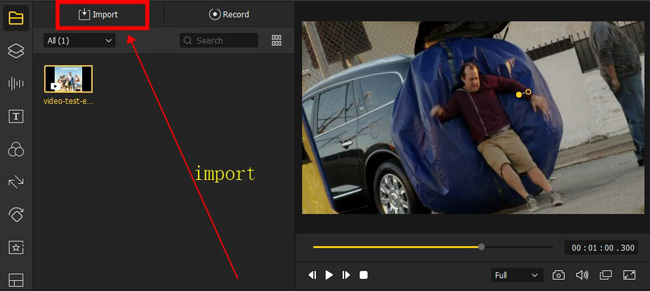 First, open AceMovi and find the video you plan to speed up or slow down. Then. drag the file to the biggest Media box circled on the screen. Other alternative methods you can choose include pressing "Ctrl+O" or tapping one of the three red boxes circled. Now, drag and drop the video to the track.
Highlight clip, click Speed from toolbar, and change the speed
You can highlight the video clip in the timeline and then the "Speed" icon (similar to a lightning bolt) will occur on the central toolbar of the interface. This icon is used to speed up video or slow down it.
Fast-Motion Effect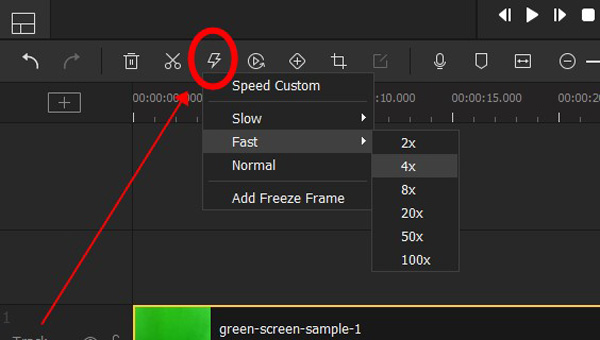 To speed up video, go to "Speed" and then select "Fast". There are 2X, 4X, 8X, 20X, 50X, and 100X you can choose. After that, preview the video to render and check whether it need more editing.
Slow-Motion Effect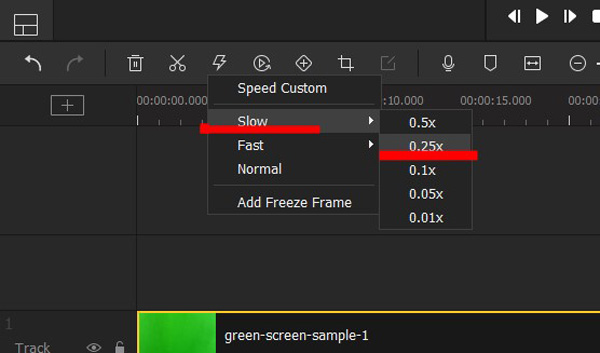 To slow down video, tap "Speed" and then select "Slow". There are 0.5X, 0.25X, 0.1X, 0.05X and 0.01X you can set.
Customize the Video Playback Speed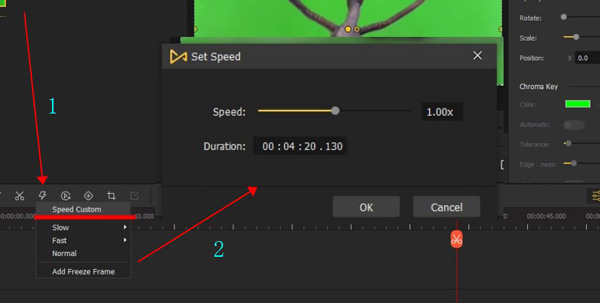 To customize video speed, choose "Speed Custom" or right click the video track to choose "Speed and Duration". Then a pop-up window will occur and move the slider to the right to speed up the video or the left to slow down.
Find Export, choose output format, and set save path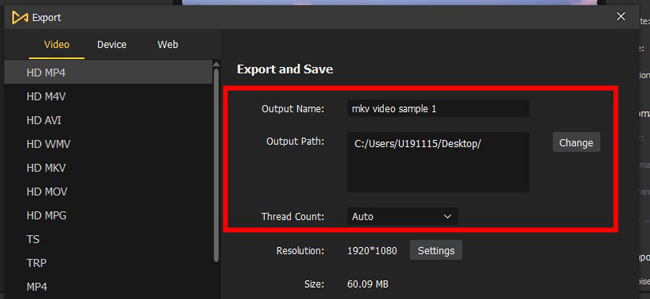 Now, if you are pleased with the video speed, click "Export" to save your edited video. A pop-up window will occur, and you can type in the file name or change the video format or output path. Then hit "Export" again. Wait for a while, your final video will be saved on the computer. Join us and use TunesKit AceMovi for more creativity!
How to Change Video Speed Online Free with OnlineConverter
Now, in the market, many online video speed editing tools have emerged, most of which can speed up or slow down the video. If you do not want to download the desktop software or have a good internet connection, feel free to try this tool. OnlineConverter is an absolutely no-cost website that lets you adjust your video speed by choosing to make it faster or slower.
Go to OnlineConverter, find Video Converter and Change Video Speed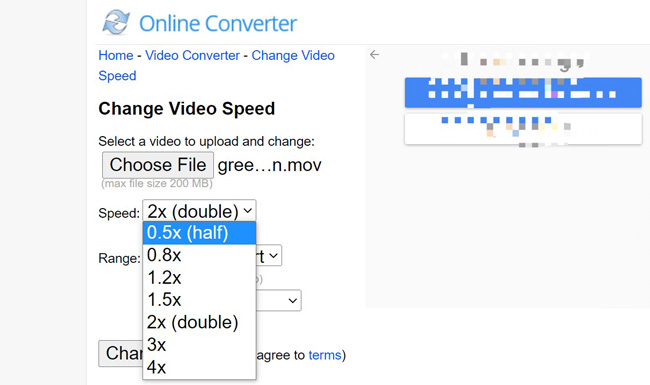 Click "Choose File" to upload your media. After that, select a preset speed for your video, such as 0.5x or 1.5x. The following buttons help control the speed-changing range of the whole video. When it is ready, click "Change".
Click "Download Now" to get the converted file. Or share it on community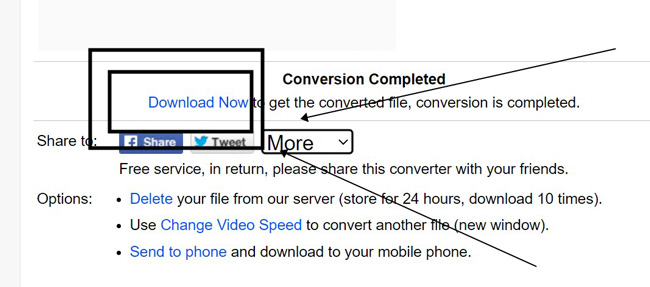 After a while, you're empowered to download the converted file from OnlinConverter without watermarks. It is accessible to share the video on social media like Twitter and Facebook.
How to Speed Up and Slow Down Videos on TikTok
We know that TikTok is compatible with both iPhone and Android platforms, in other words, if you acquired the skill following, you will know how to speed up or slow down a video on iPhone and Android. TikTok is more than adjusting the video speed, which can be used to create a wonderful video posting with music, filters, subtitles, and super amazing effects. How to change video speed in TikTok: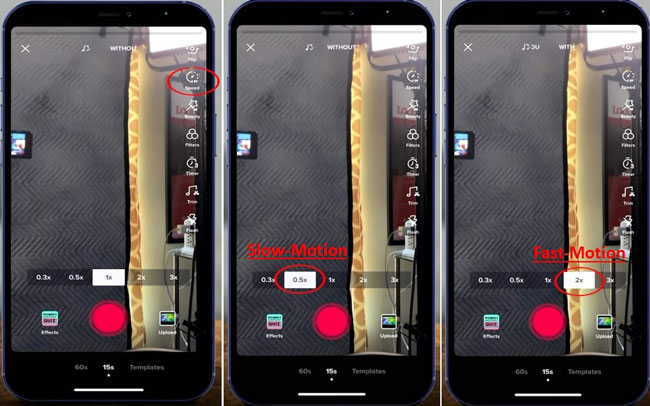 Follow the linear editing guides. To begin with, record a video or select a media from your phone album. Next up, go to "Speed" on the screen. Choose the presets to set the video speed at 0.3x, 0.5x, 2x, or 3x. Finally, render the effect and preview the video to check if it is your goal.
How to Slow Down and Speed Up Videos on Snapchat
As a social communication provider, Snapchat is devoted to generating a fun atmosphere for sharing and chatting. You can take a photo or a video clip, and then make some edits before posting it on Snapchat to attract others. Without a doubt, Snapchat is able to make fast-motion or slow-motion videos: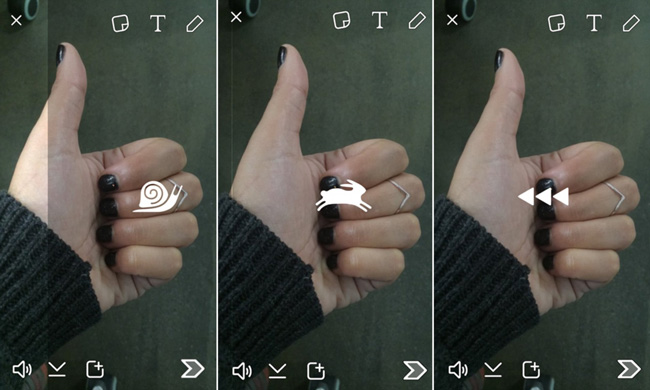 Users should first make a recording with/without sound or upload personal videos to the project. When you're swiping through the phone screen, the system allows three effects, they're "Slow-Motion", "Fast-Motion", and "Rewind". Choose the target and set a precise speed degree. Before sharing the video, it is essential to give titles and descriptions.
How to Adjust Video Speed in iPhone with iMovie
Since TikTok and Snapchat leave a branding watermark on your work. And you need to download those apps from the phone store. So you may need to use iMovie to create a fast-motion or slow-motion video. By comparison, iMovie is a professional video maker rather than a video-sharing platform. It seems like TunesKit AceMovi and OnlineConverter but cannot operate online. Here is the user guide: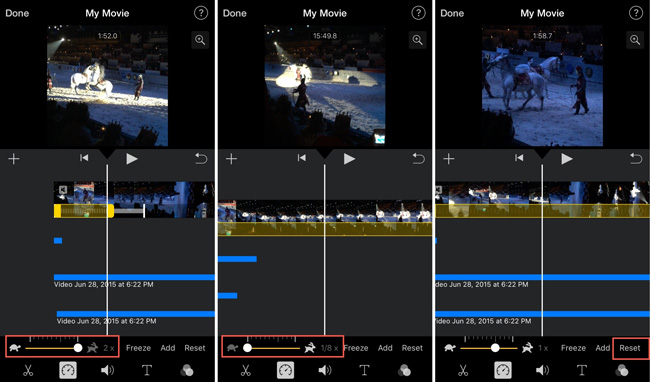 Start a new project and import your videos to the streamlined timeline. Slide the toolbar, find "Speed" and click it. It is permitted to set the video speed from 1/8x to 2x manually. When finished, play the video in real-time. As for exporting, there are options for format changing and file size definition.
Final Thoughts
We have provided five different tools to speed up or slow down videos. However, we highly recommend you give AceMovi and iMovie a chance to edit your video. Compared with online video editing tools, they can offer more advanced functions. By the way, remember to tell me about your practical experiences with those video speed editors.