Whether you are a video maker or vlogger, text or subtext are a critical part of the video. The text can deliver more information in a clear and straight manner. However, static texts may be too plain and can only convey messages. If adding additional effects, not only can the text itself be more interesting, but your video will be animated and further catch viewers' eyes.
Now that this effect is so important, people may wonder which tool can let them add moving text to video easily. Just keep reading, and we will give you a step-by-step guide on this topic. Through this tutorial, people can learn the simple steps, so as to add animated texts with a few clicks of buttons.
The Best Way: Using Desktop Software
To add moving text to video, the first tool we will recommend is the powerful and functional desktop software. Compare with online tools or phone apps, this kind of tool will not be limited by video file size and can ensure a fast processing rate.
TunesKit AceMovi Video Editor is easy-to-use yet powerful desktop software. Even if you are a novice in video editing, you can get something useful from it. To add moving texts, AceMovi offers you a rich template of dynamic texts. With a few clicks, you can choose the template you like. It has other basic features like video splitting, trimming, merging, or cropping. In addition, it can give users a richer experience with more special effects like adding transition, filters or animations, and brightening a video.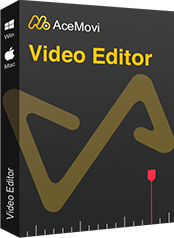 TunesKit AceMovi Video Editor
Security Verified. 5,481,347 people have downloaded it.
Add moving text to video with simple steps
Easy-to-use interface and multiple functions
A library of auido effect templates to make video attractive
Additonal ability to record a video
Windows or Mac version for users to choose
A step-on-step guide
As AceMovi is a desktop software, the user may need to download and install it on the computer before referring to the following guideline.
Step 1: Add a video file and drag it to the timeline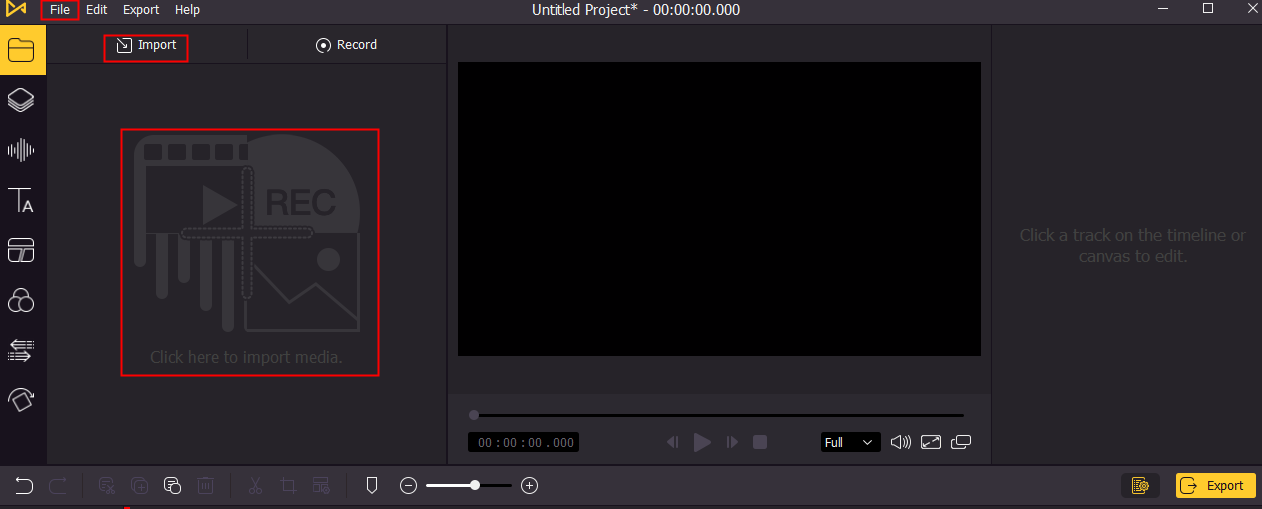 To import your video, three methods are feasible: press Ctrl+O, drag the file to the biggest red box or click one of the three red boxes. Now, your video can be dragged and dropped to the track.
Step 2: Add moving text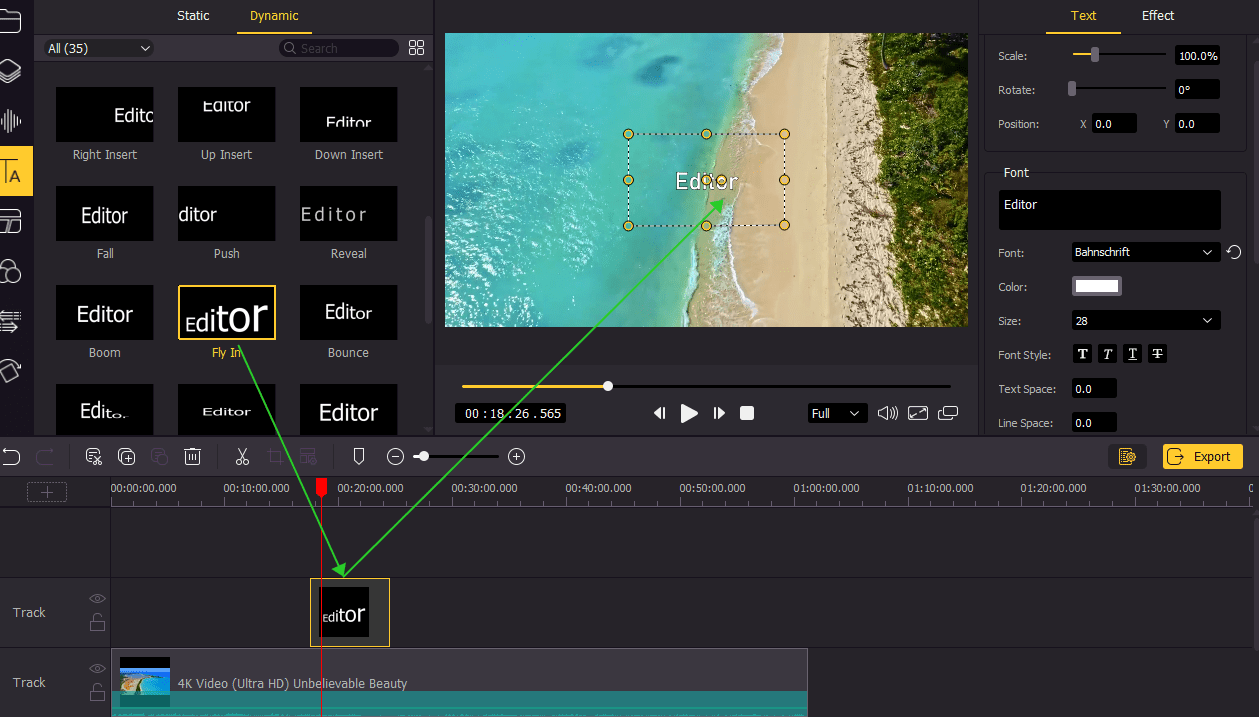 Before applying moving text, it is better if you can find the video segment you want to edit. Then, find the Text button and choose Dynamic. Various dynamic texts are provided for you. Users can choose a template they like and then drag it to the timeline or right-click Add to the Timeline.
Step 3: Edit the text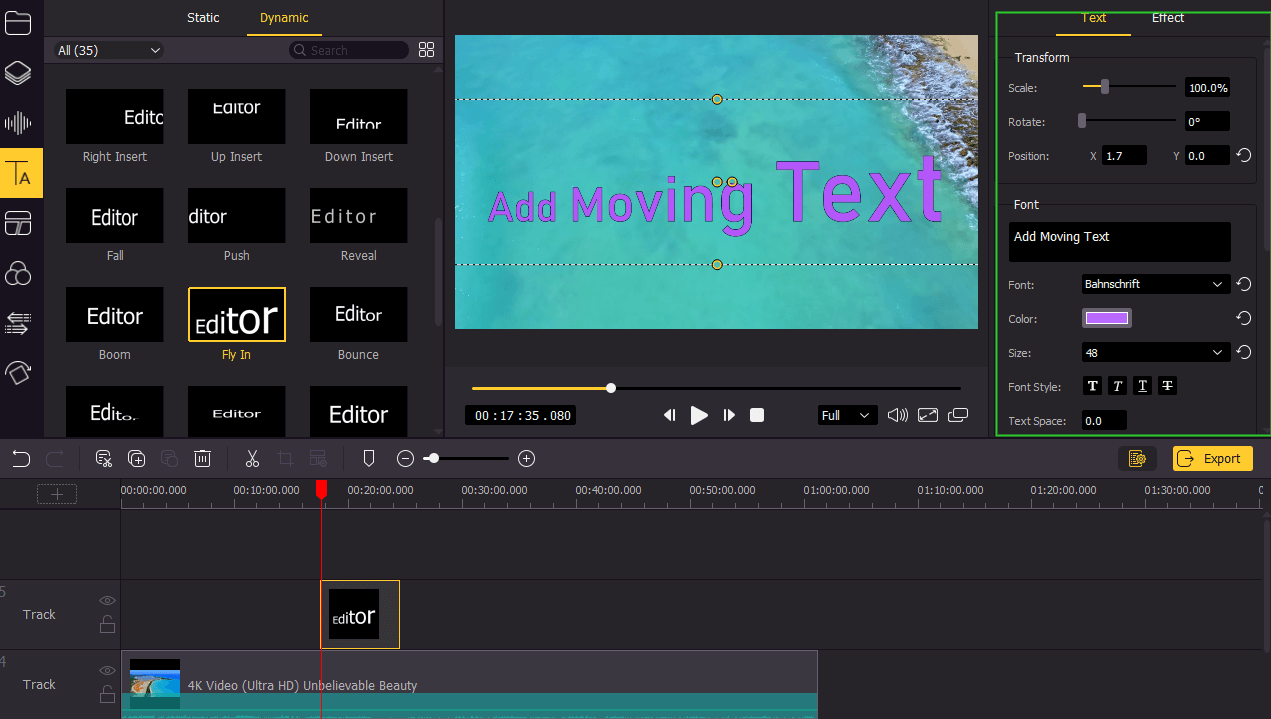 We guess users may want to have their own words or are not satisfied with the position, size, font, or color of the text. Do not worry, users can change these elements one by one in the right setting frame.
Step 4: Output the final video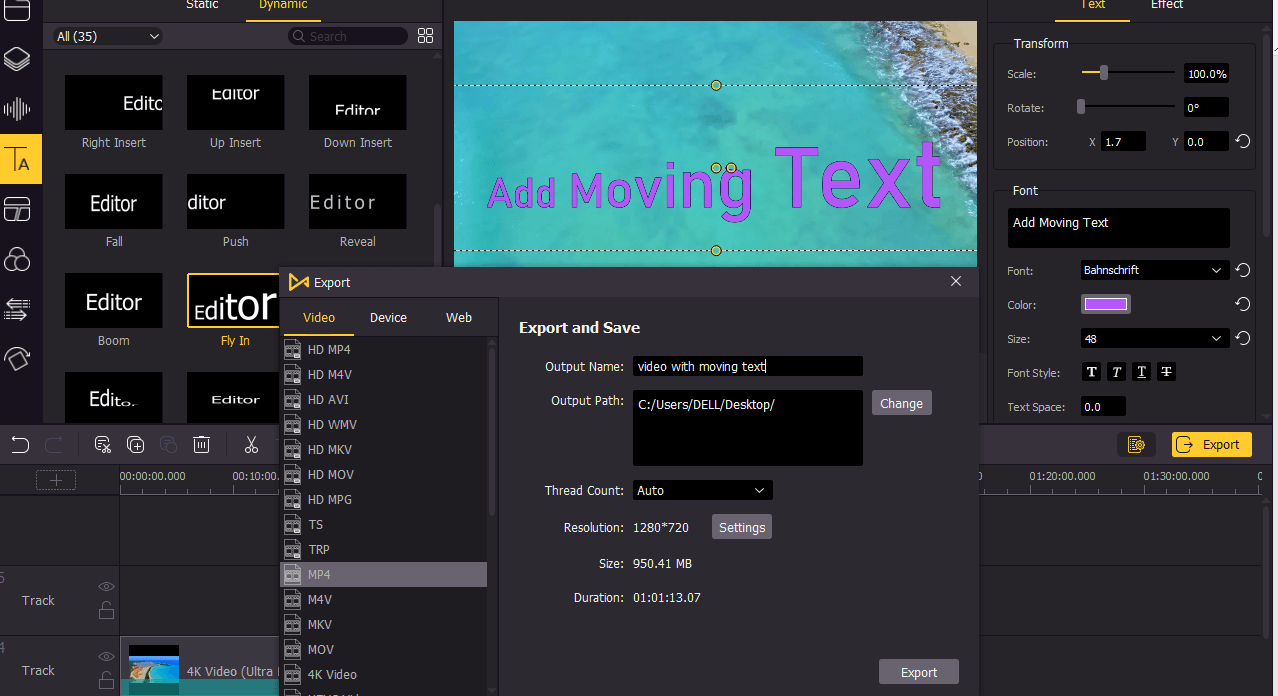 Lastly, users can preview the moving texts added and check if they need another adjustment. When all is done, you can click Done. A pop window will appear and then you can alter the video format, rename the file or adjust the resolution based on personal preferences. Then click export. Wait for a while, your final video will be saved on your computer.
Video Tutorial: How to Add Animated Text to Video (2021)
The Alternative Way: Using Online Tools
We know some users will search on Google about how to add moving text to video online, so we also discuss the steps to make your texts move with online tools. If you do not want to download software or there is a good internet connection, you may choose this way.
After a close study, Kapwing is suggested here. This online tool will offer moving texts that will make your video look more lively. Follow the steps below to learn how to add animated text to video.
Step 1: Open its website and upload your video;

Go to its official website. You may choose to sign in to enter your workplace if you have registered an account, or simply click Start Editing on its home page. Then, tap Click to upload or drag the file to the frame. Keep in mind that you'll need a Pro Account if your video file is larger than 250 MB.
Step 2: Add your text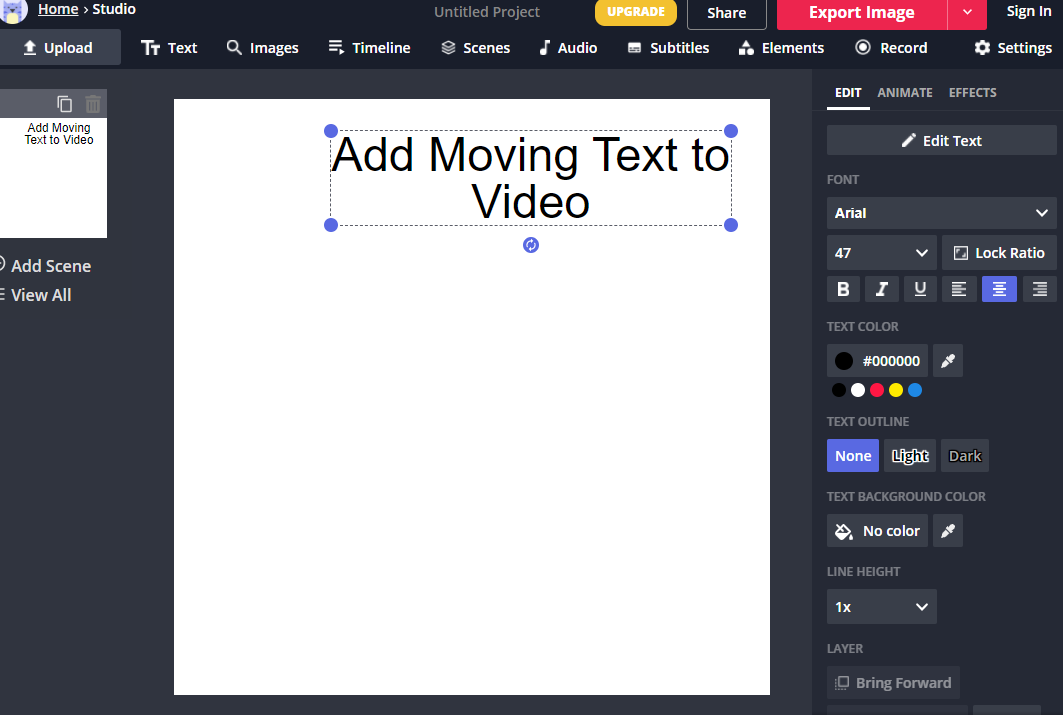 After the video is uploaded, it's time to add the text. You need to click the Text icon on the top-left to type in your text. Then, based on your needs, you change the font, color, and background.
Step 3: Animate your text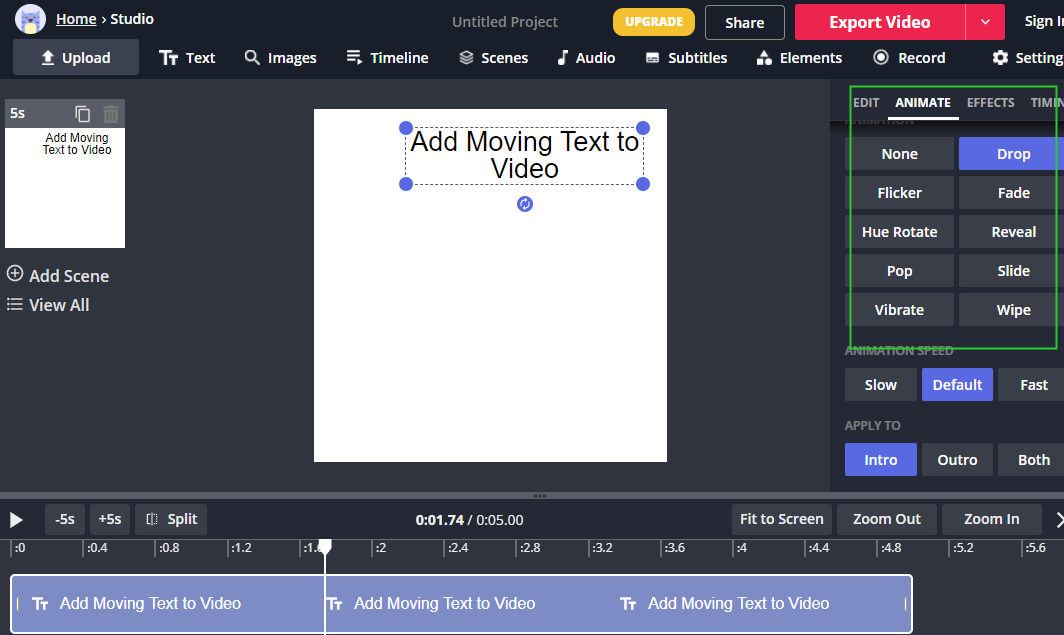 Now, try your moving texts. Just click Animate in the right-hand corner. This tool will allow you to select animation, such as flicker, fade, hue rotate, and so on. Next, you can select the animation speed. Once you're finished, simply click Done.
Step 4: Download your final video

Lastly, your video with animated text will be ready. Simply hit Export Video, then download the video to your computer or use the provided links to share it even more easily.
Final Words
Two different options are offered here and we believe users can always find a suitable way. Whether AceMovi or Kapwing, they are good tools to add moving text to video. In terms of processing rate or more powerful effects, we recommend users to use AceMovi. It will not depress you whenever you want to edit your video.