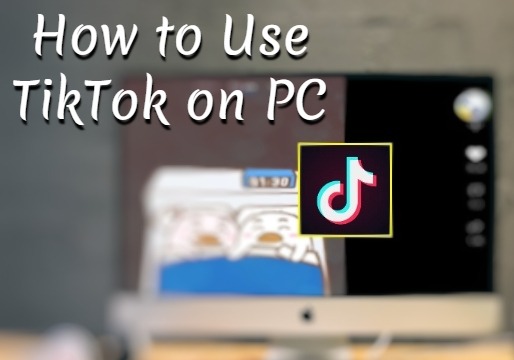 TikTok has become one of the biggest destinations for the latest trends and internet sensations. Compared to using it on phones, a great number of people who still tend to use the app on their computer. But for quite a while, trying to use TikTok on a PC has been a tough challenge. Whether it's strange a desktop app or an Android emulator, you can't get the same experience as on the phone.
In this post, we'll help you break through the obstacles and give you a complete guide on how to use TikTok for PC.
How to Use TikTok on PC without Emulator
You might have tried download TikTok on your PC through emulators like BlueStacks and other Andriod emulators. But since the app is originally made for phone users, it'd be a bit unnatural to use it on your desktop. The good news is, TikTok has now finally released its PC version of the app and it's available straight on within the browser. Here's how to use TikTok on PC:
1. Open your favorite browser such as Chrome, Firefox, then visit tiktok.com.
2. Find and click Log in on the screen, then log in with your TikTok account. The recommended content will be based on the country you're in. You can immediately start scrolling through the videos on the homepage.
3. On the left-hand side, you will find For You, Following, Suggest Accounts, and Your Top Accounts.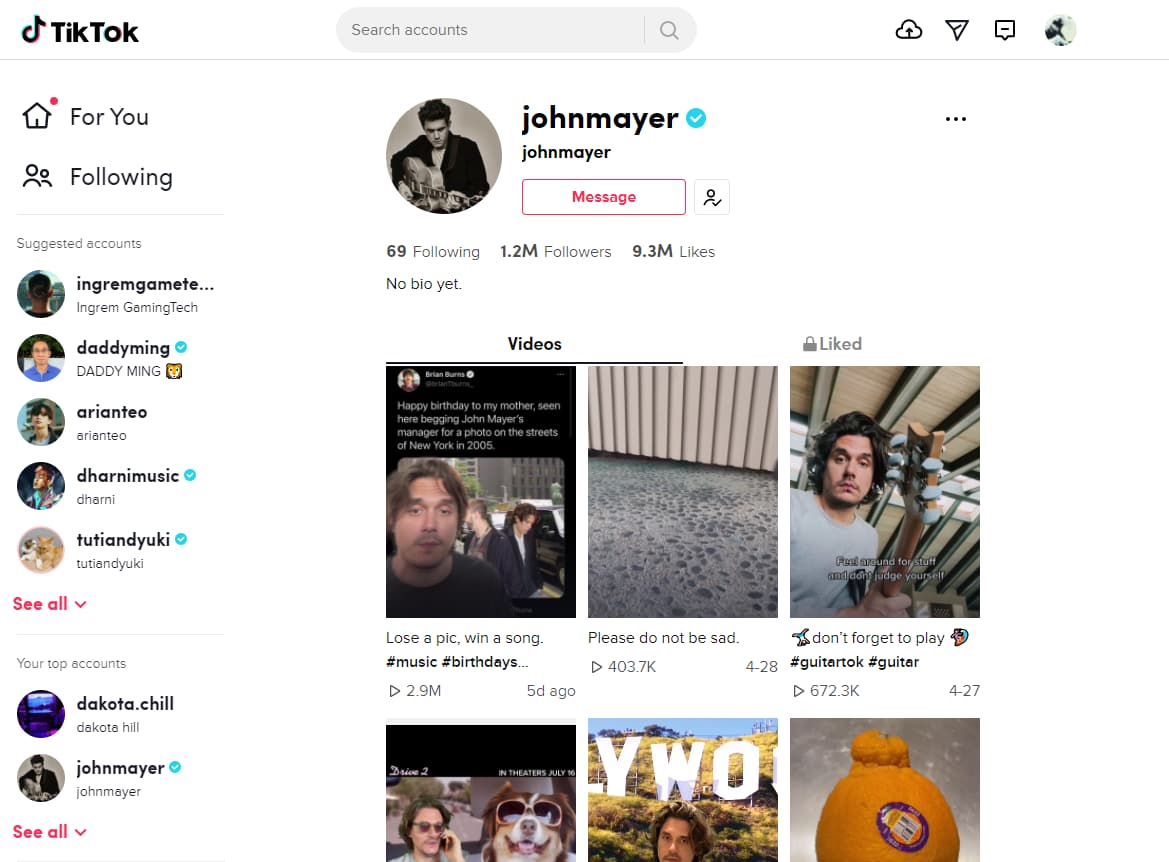 The For You tab shows TikTok's recommended videos for you depending on your preference and the accounts you follow. You can see the people you follow and their videos by clicking on the Following tab. The Suggested accounts are recommended users that you should follow. Lastly, Your top accounts are the creators you interact with regularly.
How to Search on TikTok PC?
Many users have been struggling with the search feature on TikTok PC, since previously there's no such option for users to search for a specific user or tag.

But now the TikTok for PC has enabled the search bar, you can directly type in the account name to find the specific user. However, you still won't be able to search for the tag you want to view. A workaround for this is using the URL tiktok.com/tag/ and type in the tag name next to this link on your browser.
How to Upload Video on TikTok PC?
You can still upload videos on the TikTok PC, here's how to do it:
Step 1: Open any browser and go to tiktok.com.
Step 2: You will see the upload button on the top. Click on Upload Video.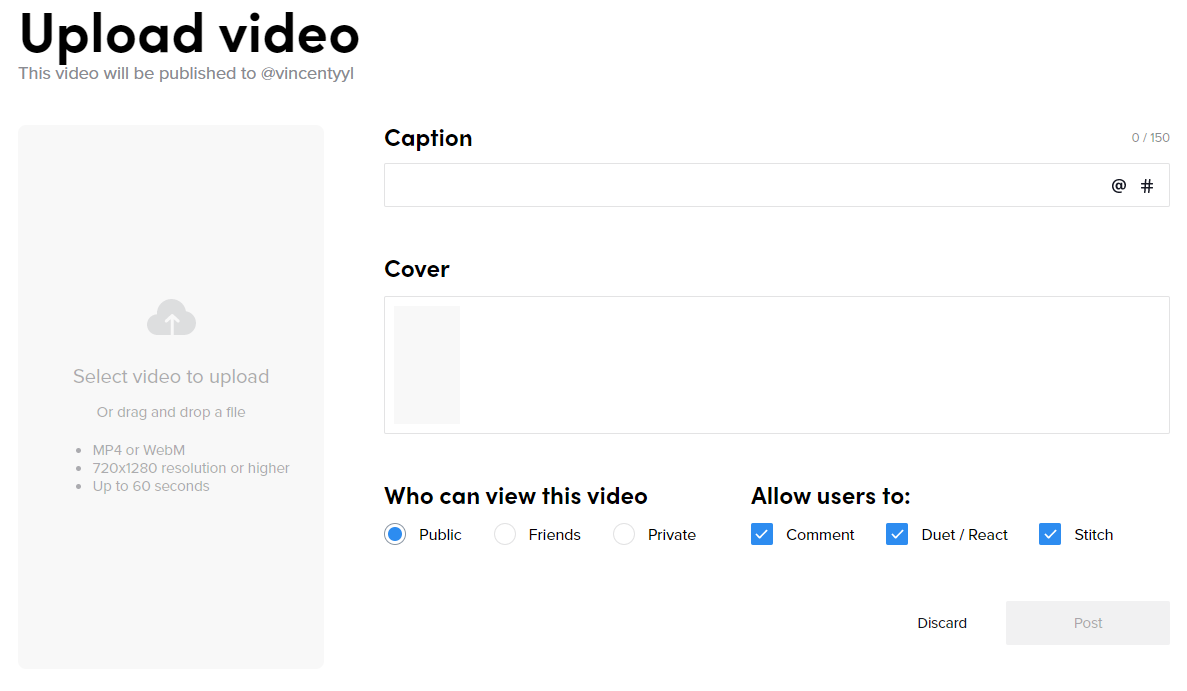 Step 3: Upload video from your computer. Then fill in the title, description and other information.
Step 4: Click Post to post your video.
How to Edit Video for TikTok on PC?
You can upload videos on TikTok PC, but the app is still limited. You won't be able to edit your video on the desktop app, so what you need is a video editor on the computer to help you edit TikTok videos. With TunesKit AceMovi, you can easily edit your TikTok video and upload it directly on TikTok.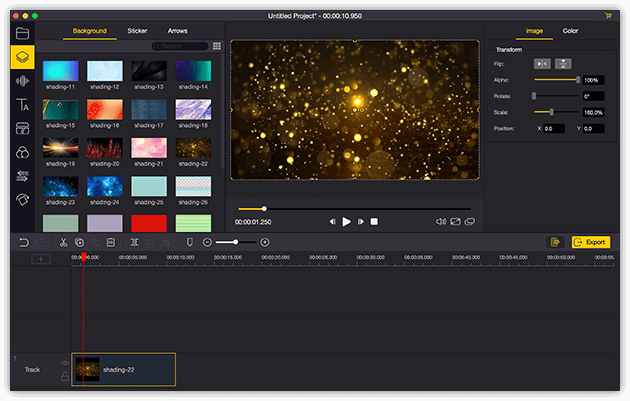 TunesKit AceMovi Video Editor is a powerful video editor that provides multiple effects and transitions. It comes with a screen recorder which can record images as well as the sound coming out of your computer. As a well-established video editor, AceMovi is mounted with features like split screen, filters, animations, texts, and music library. The user-friendly interface comes with all the effects and tools you need to embellish your video.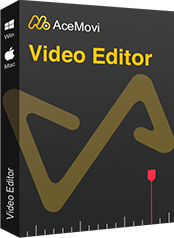 TunesKit AceMovi Video Editor
Security Verified. 5,481,347 people have downloaded it.
Basic and advanced features that make your video better
Multiple filters, transitions, text, sound effects, music
User-friendly interface
Import as many photos or footage as you want
Edit TikTok videos in just a few steps
Next up, I'm going to show you how to edit TikTok video in TunesKit AceMovi. Before you edit your video, make sure that you have already installed TunesKit AceMovi on your computer, this software currently supports Windows and Mac systems.
Add Media Files to TuneKit AceMovi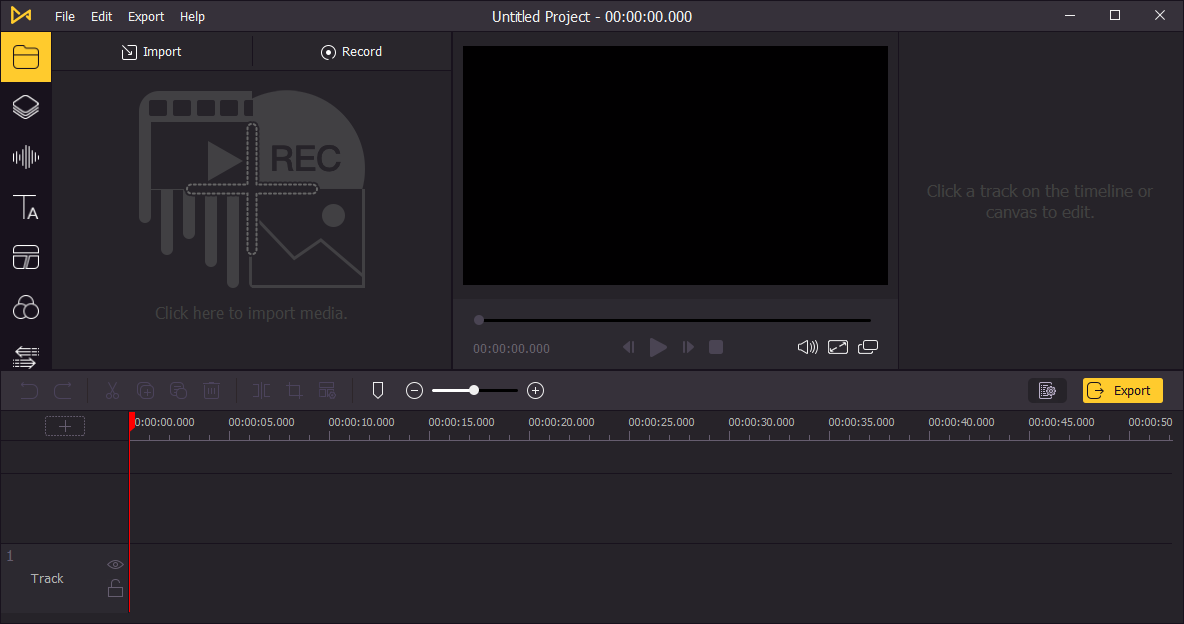 Open TunesKit AceMovi on your computer, then import your video to the media box. You can click on the import button to upload or directly drag and drop the video files into the box.
Add Video to the Timeline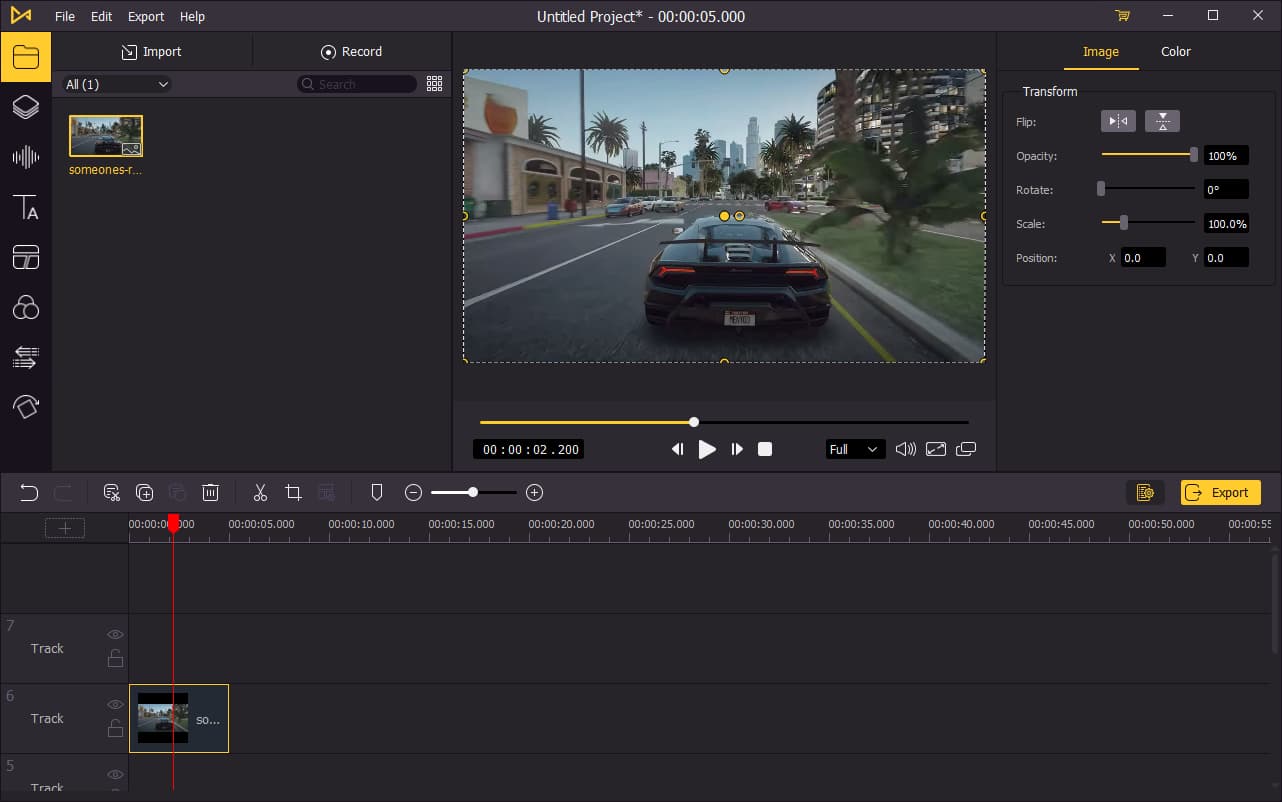 To add your video to the timeline, you can directly drag and drop them one by one. Or you can press Ctrl+A to select all the media files and drag them to the timeline. You may want to drag the slider above the timeline to zoom in/out the timeline so that you can edit your video more easily.
Edit Your Video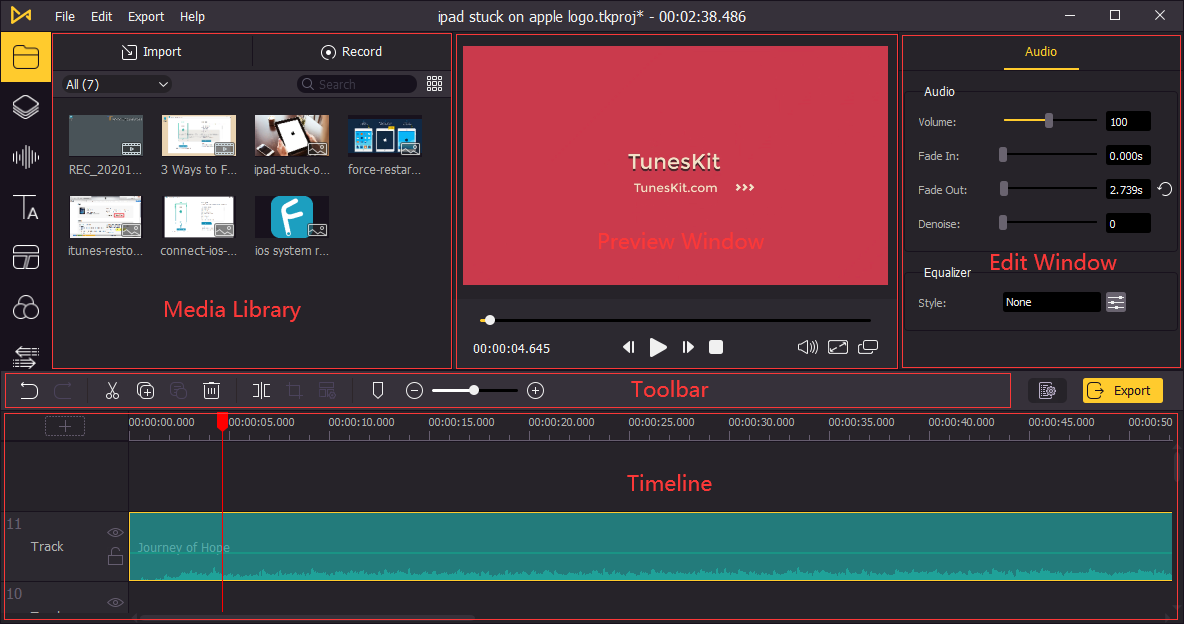 After adding your video to the timeline, now you can start editing. On the left bar, you can add elements, sound effects, background music, text, filters, transitions and animations to your video. To edit each of these effects and materials, simply go to the upper right panel to change the parameters.
On the timeline, you can cut and change the duration of your video. To cut your video, move the playhead to the point where you want to start cutting and then click on the

icon to cut. And then move the playhead to the end of the cut, and click the split icon again. Now, select the part you've cut out and then right-click on it > Ripple Delete. The unwanted part will be deleted and the interspace will be filled up so that the video will stay smooth.
Export Video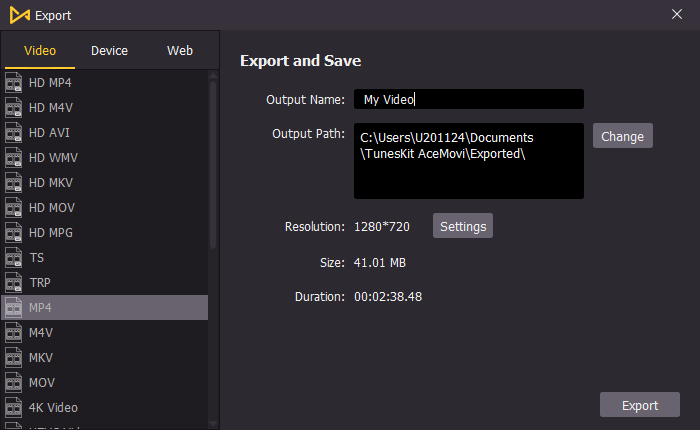 Once done editing your video, click the Export button on the middle left and export your video. Click the Settings, you'll be able to choose the output parameters. And by clicking the Change button, you can change the output location. Now you can post the video on TikTok PC.