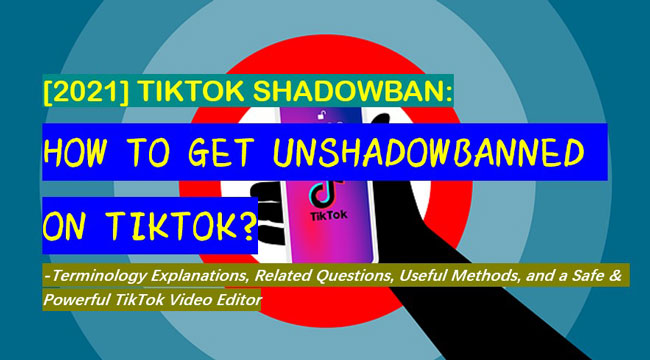 Recently, the shadowbanned account has been a debate topic on TikTok. Many users are caring for the definitions of what is TikTok shadowbanning exactly, the reasons it happens, and how users should do to get unshadowbanned on TikTok.
Most of the media platforms including Facebook, Ins, and YouTube as well as other online forums that have created community guidelines contrapose the shadow-ban/ghost-ban. Without exceptions, as the user amounts of TikTok is growing spree crazily, this word has tied TikTok together as closely as TikTok Shadowbanned/Unshadowbanned.
We have made a review here with the main purpose to solve the matter of how to get unshadowbanned on TikTok via explaining the term of shadowbanning, its related FAQs, the practical methods and the useful TikTok tools.
Ⅰ Related Questions to "Getting Unshadowbanned on TikTok"
In the following, we listed some of the basic & heated questions referring to "How to Get Unshadowbanned on TikTok" that many TikTok users have proposed. Whatever you're TikTok PC or App users, it would be very useful to understand how to unshadowban your account.
What Does TikTok Shadowbanning Mean?
TikTok Shadowbanning is programming based on the TikTok algorithm to block their users from accessing the videos that will be uploaded on the online For You profile without even knowing anything in advance, sometimes it will forbid your account and decline the messages on the TikTok platform as well.
The terms shadow-banning or ghost-banning has been arousing many topics on social platforms such as Facebook, Instagram, and Twitter for years, while TikTok doesn't belong to the exceptions.
The Reasons Why TikTok Shadowban Happens?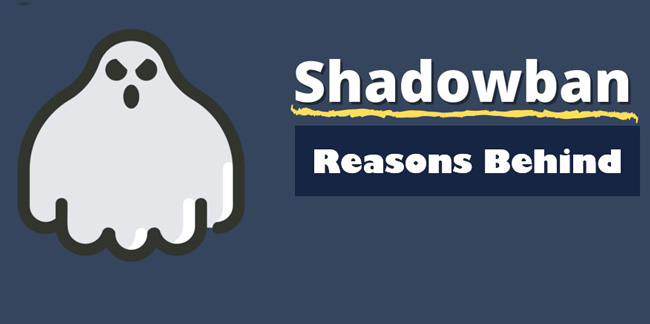 Generally speaking, any video with spam conduct and illegal content that leads to harming users' sentiments, triggering people's violence, or disobeying special city ordinances might be shadowbanned by TikTok for the constructions of an inclusively & safely short-video platform, here're some examples:
Spam Conduct:
Robot behavior - Taking up a spree of likings and followings for others' follow back, for instance, you should pay attention when your likes 100+ post or follows 50 accounts per day.
Repetitive/excess comments – Making the same comments to different videos without amount limitations, such as advertising by inputting 20+ item links.
Illegal Content:
· Give personal hate speech
· Mutilate others or animals with violence
· Propaganda bloody scenes
· Spread false & panic-stricken news
· Posting pornography and obviously seductive content
How to Know Whether You're Shadowbanned on TikTok?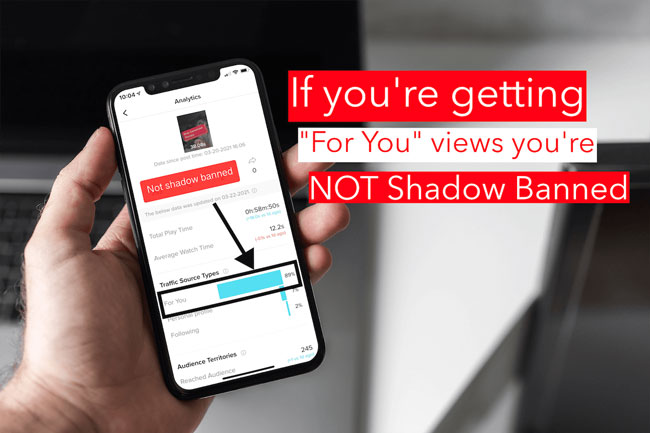 The best way to make sure that you're shadowbanned by TikTok is to check whether you'll show up on the online For You profile or could be found by hashtag searching box, during this process you'd better change your account or switch to another device.
Another way is to compare the views and likes of your video with the previous data, commonly, both of which won't increase at that moment in case the videos have been shadowbanning for a while.
The Duration TikTok Shadowbanned Usually Takes?
There will be a drop in your followers and views in the first week, you won't be accessible to enter any tags and make new videos on TikTok. And until now TikTok hasn't released any documents about the exact duration of shadowbanning, but based on statistics, those shadowbans by TikTok usually last for approximately two weeks.
Is It Possible that TikTok Account Will Be Banned Permanently?
Surely it could happen to your account. If you're continuing to post or repost videos as we mentioned above that are against safe & healthy community regulations, your account will be shadowbanned even forbidden forever.
Ⅱ How to Get Unshadowbanned on TikTok 2021 - Three Methods
First Things First: Delete Your Mistaken Videos ASAP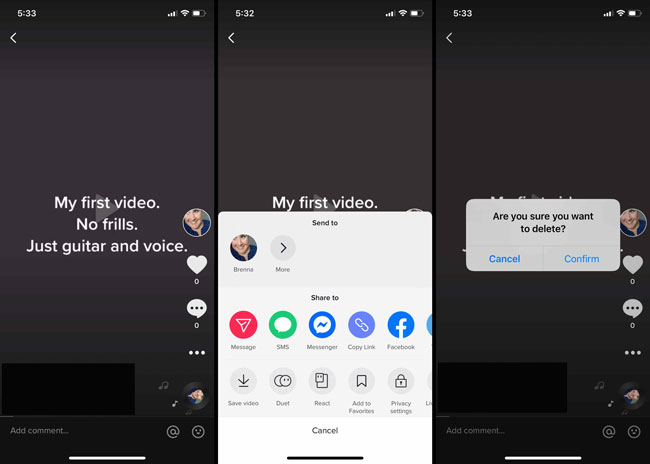 The most obvious reason that gets unshadowbanned is your unpleasant and mistaken videos, so right now deleting them as soon as possible before more drops of followers or other serious consequences. If you're unknown which one disobeys the rules, just choose the latest uploads to delete.
Upgrade TikTok Account into Pro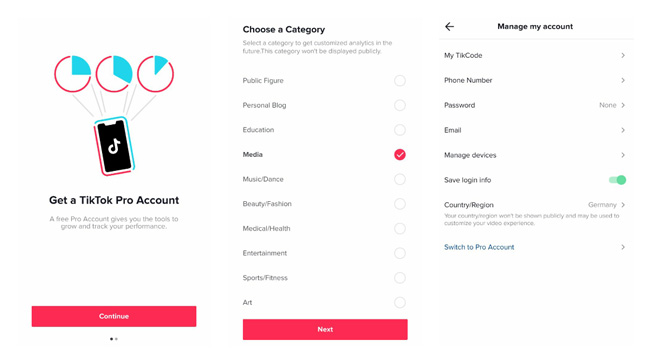 The Pro TikTok Account provides an overall view of detailed analytics of followers, likes, downloads, & commends, which helps you a lot in figuring out when and why you're unshadowbanned. So, how can you switch to the TikTok pro account? Open "My Account", "Get a TikTok Pro Account", "Choose a Category", and "Management my account".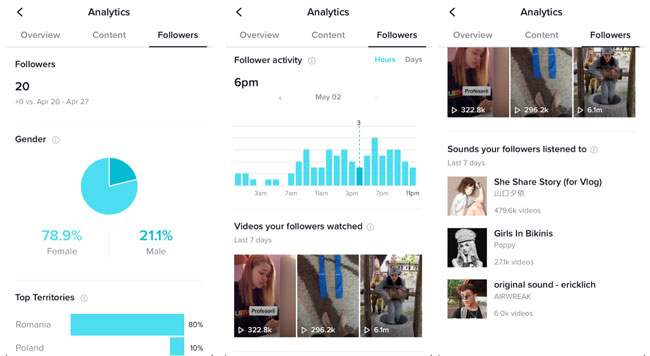 Now you're allowed to the function of Overview, Content, & Followers. Specifically, the Content helps you analyses current increased/decreased likes, comments, and downloads with graphics and charts, while the Follower includes gender, top territories, and more. With the pro account, you can check it to see whether it's likely to have been shadowbanned.
Uploading TikTok Video in accordance with Community Guidelines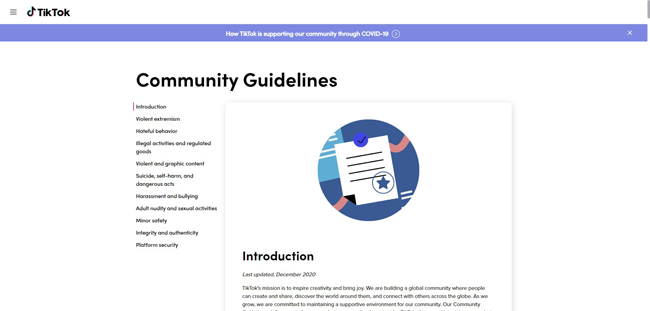 As we mentioned before, posting spam content would lead to the shadowban on TikTok. So, try to post content that is unrelated to spam conduct and illegal content. Also, for more information or more precise tips, you can see the official guidelines given inside TikTok, click here to see the Community Guidelines online or review it on the TikTok app.
Ⅲ Best Toolkit to Make Unshadowbanned TikTok Videos – AceMovi Video Editor
Have you thought of a question of how to get unshadowbanned TikTok videos originally? It must be to create the TikTok video with a safe-to-use and professional-oriented video editor, which won't be applied to add any disobeyed content.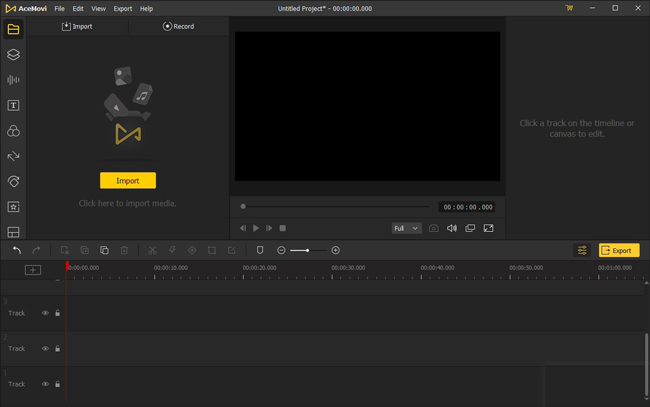 Here we highly recommend AceMovi, a fully-fledged & one-in-all toolkit for any video editing. With AceMovi you can trim, merge, cut, rotate, convert, and post video clips, or apply compelling video filters, music, texts, transitions, and more advanced features. Most importantly, you'll never encounter unshadowbanning by using all the built-in elements in AceMovi.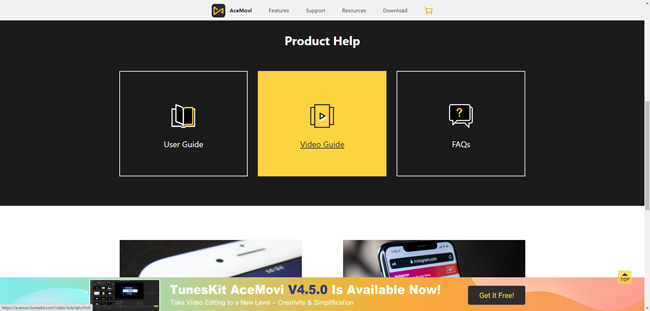 Meanwhile, the official website of AceMovi provides users with a free-to-downloading channel, where you can find a set of basic & advanced tutorials to help you stay away from spam conduct & illegal content and get unshadowbanned on TikTok also.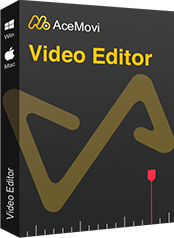 TunesKit AceMovi Video Editor
Security Verified. 5,481,347 people have downloaded it.
Built-in features: Basic and advanced features that make your video compelling
TikTok elements: An abundance of filters, transitions, text, sound effects, music
User experience: User-friendly & clutter-free interface
Output formats: Import as many sorts of photos or footage as you want
Video quality: Edit TikTok video losslessly & effortlessly
Ⅳ Conclusion
That's all for today's post, but we have to mention again that almost all the captivating and unshadowbanned TikTok videos are edited with an array of elements, creative and new ideas, and abide by the basic rules. When it comes to the safe & wonderful video editor, AceMovi Video Editor is what we trusted the most, and within it or its official website you can conceive more creative ideas. Lastly, we have to admit that getting unshadowbanned on TikTok is not as tough as we think, just calm down and follow the right advice.