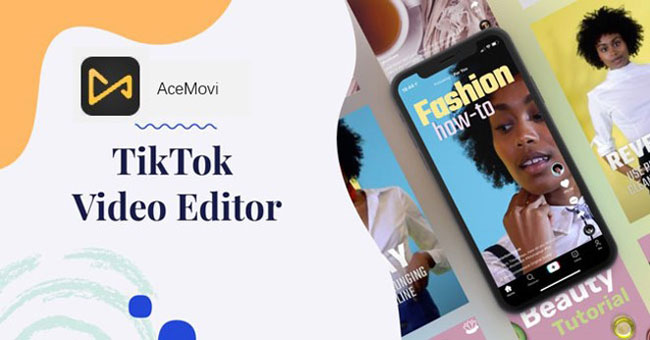 TikTok, the trendiest short video sharing platform, nowadays has made its video philosophy of making your day count by few clicks come true. The questions of how to edit stunning TikTok videos and which editor is the best one to choose are of much concern, especially for new users who find it's not so easy to create a TikTok video, but relax, we have figured out solutions for you.
Seven best TikTok video editors on PC are listed one-by-one herein, some of them are supported by a self-governed websites system which offers the services of TikTok editors' specification, how-to guides, and customer center, while some are operating just on few website pages which offer the fast-channel to edit TikTok videos online.
Top 1. AceMovi Video Editor (Windows & Mac)
AceMovi Video Editor, as an one-of-a-kind multi-functional video editor, has emerged talent showing itself among the rest of the TikTok video editors for PC. The most attractive features in AceMovi to make a TikTok video are its interface, various filters, pro screen effects, and supported formats.
Below, for beginners and professionals, we got three very easy steps for you to create perfect TikTok videos.
Step 1 Import the original TikTok video
Download AceMovi Video Editor from the official site or any other available websites in advance. In the trial version, by the way, you are given access to most of the functions in the full version.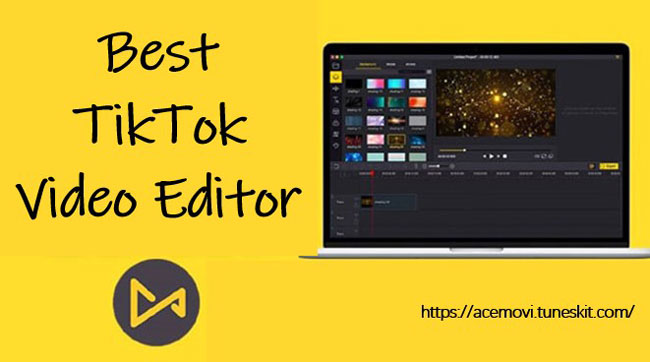 Two ways for you to import the original TikTok video into AceMovi:
→ Drag your TikTok video and drop it in the timeline panel;
→ Or click on the Import icon, then choose the Add the Timeline.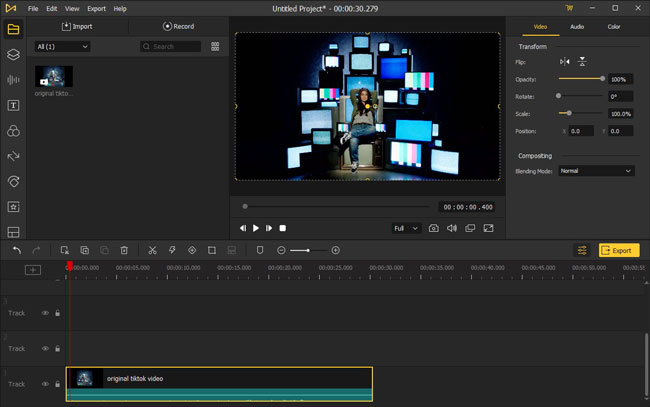 Step 2 Take up the TikTok video editing by AceMovi
It's portable to find the editing features in your left hand, like static & dynamic text, stickers & background, filters & overlays, and transitions, etc.
All the effects could be displayed on the canvas in real-time. For example, when you've added the "Slide Right" transition, by tapping the Play icon, you'll see how AceMovi makes the transition between the adjacent videos.
One word of caution, according to the user specification of TikTok, you're required to keep your TikTok video lasts between the 30s to 60s.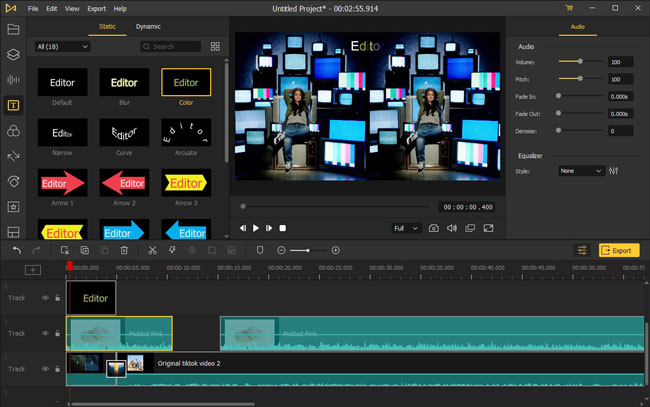 Step 3 Save your edited TikTok video
AceMovi contains more than one hundred different sorts of video formats, so never worry about the formats
More specifically, AceMovi supports the channels of Video, Device, and Web to export your TikTok video. In the Video channel, MP4, M4V, AVI, WMV, MOV, and MPG, etc., as well as the HD version all can be opted. For example, after selecting "HD MP4" at the Export dropdown menu you can harvest the TikTok fruit in your target directory.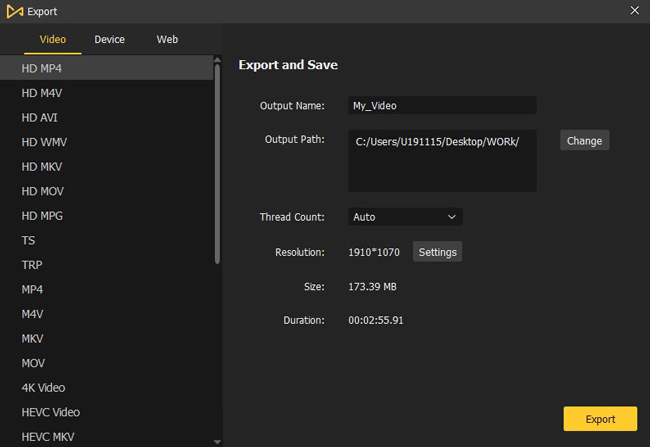 Top 2. Vimeo
Vimeo is a powerful video editor that offers an abundant of multifarious & easy-to-customize & ready-made templates for you to polish the TikTok video.
To enhance the sense of classic and structure stereoscopic, you can pick up one of the desirable & thematic templates as background. And make a selection of stickers, texts, as well as filters, then put them into suited place. Lastly, to see how the amazing TikTok video will be shown by playing your video.
Pros:
Various ready-made & classified TikTok video templates
Bountiful video effects, like filters, images, and stickers, etc.
Real-time TikTok video editing
Easy-to-follow & all-sided tutorials
Supports different video formats
Cons:
Need to be registered beforehand
Watermarks on the free version
Not pro in editing personal TikTok footage
Top 3. BeeCut
BeeCut is a very fashionable and gratis TikTok video editor not only has a clutter-free interface but also carries built-in video editing functions. For example, the timeline area is divided into Video, PIP, Text, Audio, and Voiceover to intensify your TikTok video editing in a more multidimensional and real-time way.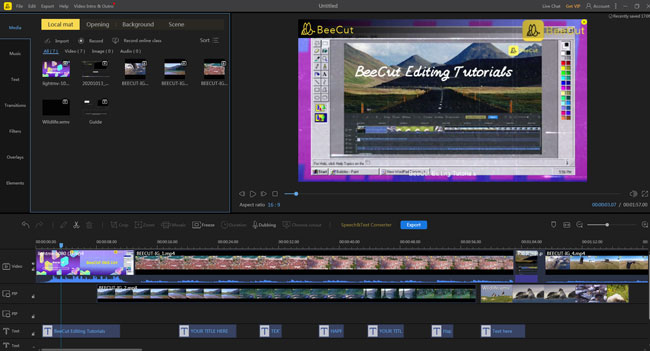 Pros:
Built-in TikTok video effects source
Auto-stabilizer for better video quality
Multi-functional layout and a slew of pro functions
Comprehensive guides for new users
Various transition choices are provided
Cons:
Little disordered timeline panel
Need pay for auxiliary functions, like Speech & Text Conversion
Top 4. Wondershare Filmora
Wondershare Filmora contains a standalone software library to edit your TikTok video where you are accessible to a vast number of video effects, for example, more than five hundred kinds of titles & transitions are offered for you to decorate the TikTok video.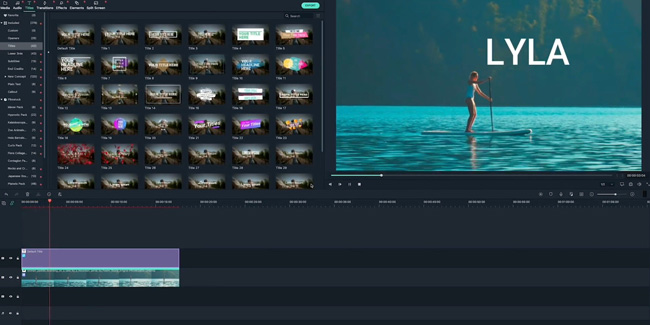 Pros:
Professional functions like Motion Tracking and Color Matching & Correction
Dedicated interface for TikTok videos creation
Built-in paid resources and sharing store
Lots of effects and animations
Cons:
Not customizable: Canvas and timeline cannot be detached
Hard learning curve & not cost-efficiently
Top 5. Adobe Spark Video (Online & Free)
Adobe Spark Video is an online-free and creative TikTok video editor, which is integrated with tons of advanced graphics, flyers, animations, and collages. Opening its official websites and then you'll be guided the whole steps to edit.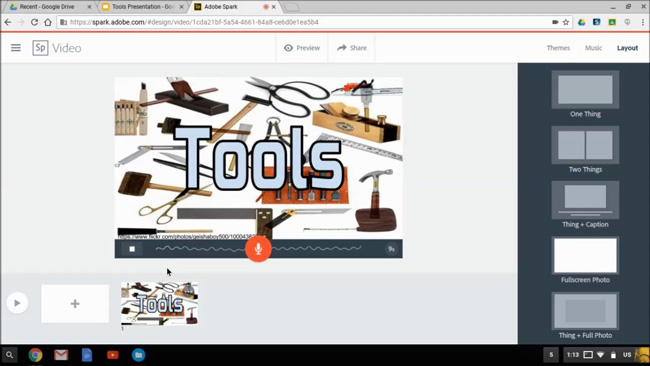 Pros:
Free online TikTok video making
Customizable transitions
Advanced elements, such as graphics, flyers, and animations, etc.
Easy-to-use interface
Cons:
Unstable internet environment
Limited days of gratis-using
Top 6. Clideo (Online & Free)
Clideo is an online-free as well as a collection of TikTok video making toolkits where you'll get access to popular features to have your video edited, like resize, loop, and subtitle add, etc.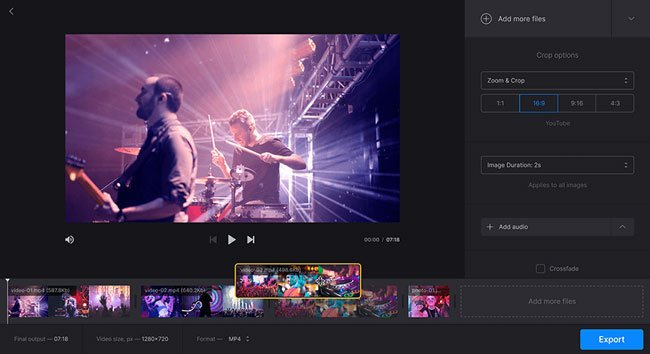 Pros:
User-friendly interface
Drag-and-drop functionalities
Easy-to-follow tutorials
Cons:
Not suggested for advanced projects of TikTok video making
Fewer video formats supported
Top 7. VEED (Online & Free)
VEED is an online-free and multi-task solving video editor to polish your TikTok video where you can draw on your own footage with a brush or add filters, elements, text, subtitles, and more.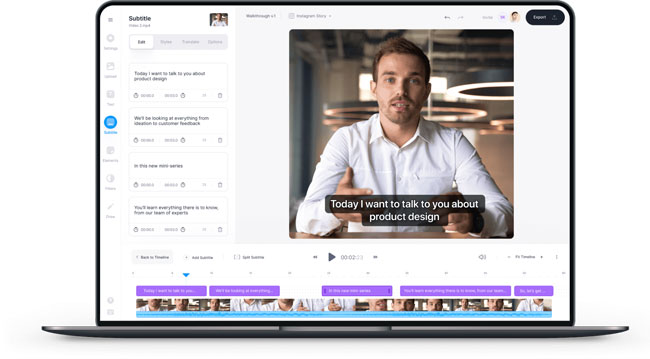 Pros:
Online-free service to edit your TikTok video
More pro video editing functions, like durations & size set
Easy-to-master video process
Social media sharing feature
Cons:
Demanding system and internet
Fewer video formats supported
Summing-up
All the above seven TikTok video editors are providing copious functions and tutorials. However, differences appear under the water, the TikTok video editors on PC carries more pro features and all-sided service but you need to pay for its full version to unlock some of the advanced functions, like deleting the watermark.
When we are talking about the online-gratis TikTok video editors, all of them could be operated just on one page with great ease, but bear in mind you'd better prepare a good system & stable internet in advance and you pay should attention to the matter of privacy issues after uploading. Also, some of the pro functions may not available.